This was one of the most anticipated games of the 2020 regular season. Two of the best quarterbacks and offenses in the NFL went head-to-head on Monday night — what's better than that? But instead of the back-and-forth affair that many expected, the Kansas City Chiefs controlled the game from their first possession following a Baltimore Ravens field goal.
Patrick Mahomes looked like his same MVP self, Andy Reid once again reminded us why he is one of the best coaches in the game and Eric Bieniemy continued to show he has the qualities of an NFL head coach. With the help of PFF's advanced database and play-by-play grading, let's dive deeper into the five biggest takeaways from the Chiefs' 34-20 win over the Ravens.
Editor's note: ELITE subscribers can view player grades, advanced statistics, positional snap counts and more in Premium Stats 2.0. Subscribe today for access.
It's pretty wild that Mahomes can have games like this and no one bats an eye
Mahomes making ridiculous throws under pressure and putting up elite performances has become second nature to all of us. He did that last night, and not a soul was surprised to see it. Mahomes posted a 91.5 passing grade for the game, his fourth 90.0-plus grade since 2018 (tied for second-most). Mahomes also had his 18th game in that span in which he produced at least three big-time throws (had four against Baltimore), which leads all quarterbacks.
The backbone of his success last night — similar to most games — was his fearlessness under pressure and ability to extend plays long after the snap. When the Ravens got pressure on Mahomes, he still managed to post a 93.5 passing grade. That was higher than all but one quarterback's grade when kept clean in Week 3. Only Russell Wilson had a higher grade when clean compared to Mahomes under duress this past week.
It was just another day at the office for Mahomes.
This was Baltimore's worst passing offense in a single game since Lamar Jackson's starting debut in 2018
There's no doubt that Lamar Jackson had a great night on the ground for the Ravens — he earned a 90.3 rushing grade and had three of his nine carries result in 10-plus yard gains. The passing attack, however, could not get anything cooking. Jackson's passing grade for the game sat at 61.1, tying for his fourth-worst mark in a game since 2019. The offense as a whole failed to produce positive expected points added per pass play. Baltimore's mark for Week 3 was -0.32, the second-worst of any team this week. That was also the second-worst figure in a game during the Jackson era in Baltimore, with his starting debut in Week 11 of 2018 just barely worse at -0.34.
Some of Baltimore's struggles through the air can be attributed to Jackson, but it's not entirely on his shoulders. He did have a couple of poorly thrown balls that were dropped interceptions: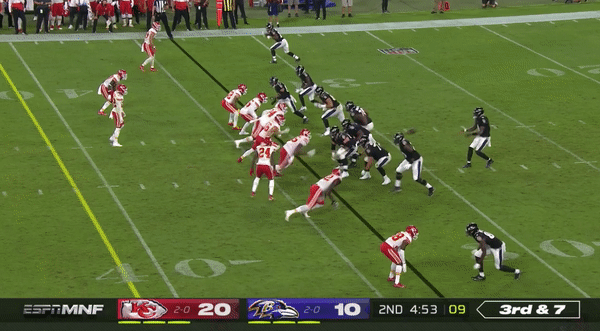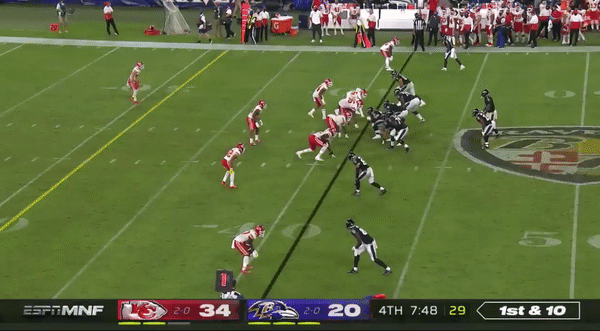 On top of that, Jackson was accurate on just two of his seven targets thrown 10-plus yards downfield to a receiver with separation. And both of those were dropped. The first one came in the second quarter when Baltimore was down just three points, and it would have put the Ravens into Chiefs territory. Baltimore subsequently had to punt a couple of plays later.
The other came in the middle of the third quarter with the Ravens trailing by 17 and would have resulted in a touchdown. Instead, Baltimore had to settle for a field goal. Overall, the Ravens' receivers dropped nearly a quarter of Jackson's catchable targets on the night.
Jackson didn't have his best game as a passer, but he isn't the lone culprit — it was a bad night from all parties involved.
While Aaron Donald steals the spotlight, Chris Jones is still one of the best pass-rushing interior defensive linemen we have ever seen
Chris Jones entered the game as the fourth-highest graded pass-rusher in the NFL and ended the night ranking first after putting up an incredible 93.3 pass-rush grade. This was actually his eighth game since 2017 in which he earned a pass-rush grade above 90.0, the second-most at the position. Aaron Donald leads the group with 21 and has overshadowed Jones' dominance over the past few years (and rightfully so).
Jones had only a couple of pressures on the night, but he still won on 21% of his pass-rush reps (12th-best rate in Week 3). And of those two pressures, one was a strip-sack in the final minute of the second quarter that kept Kansas City heavily in control entering the second half.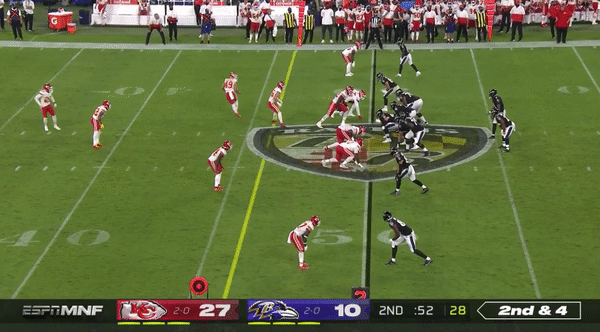 This game was one of many that have helped Jones forge a 92.4 pass-rush grade and an 18.9% win rate over the past three years, both trailing only Donald at the position. Donald deserves to be crowned the best interior defensive lineman in the NFL, but let's not forget about Jones. He may be second-best, but his consistent disruption as a pass-rusher isn't something we see often at the position.
No offense has come remotely close to crushing the Ravens' blitz as much as Kansas City did last night
Ever since Wink Martindale took over as Baltimore's defensive coordinator in 2018, the Ravens have been one of the heaviest blitzing teams in the NFL. He's dialed up a blitz on 49.2% of their defensive plays since then, the highest rate in the NFL by over 8 percentage points. 
The Ravens blitzed Mahomes at a high rate in their first two matchups in 2018 and 2019, and that remained true in their Week 3 matchup — they sent a blitz on 47% of his dropbacks. Most quarterbacks have struggled against Baltimore's blitz, but Mahomes is a different breed.
He shredded it in their 2018 matchup, as his passing grade that game on such plays — as well as Kansas City's expected points added per pass figure — was the best in the Martindale era. Mahomes managed to top that on Monday Night Football by quite a bit. He led the Chiefs to 1.02 expected points added per pass when the Ravens blitzed, which was two times as high as the previous best against Martindale's defense.
Most EPA per pass vs. the Ravens' blitz in a single game since 2018
| | |
| --- | --- |
| Team, season, week | EPA per play |
| 1. Kansas City Chiefs (2020, Week 3) | 1.02 |
| 2. Kansas City Chiefs (2018, Week 14) | 0.51 |
| 3. Cleveland Browns (2019, Week 4) | 0.46 |
| 4. New Orleans Saints (2018, Week 7) | 0.37 |
| 5. Cincinnati Bengals (2018, Week 2) | 0.35 |
Mahomes earned a 93.2 passing grade against Baltimore's blitz, completing 19 passes on 23 attempts for 255 yards and three scores in the process. Three of those pass attempts were 20-plus yards downfield, and all three were a big-time throw. On the play below, Mahomes threw a perfectly placed ball to an open Mecole Hardman while being 12 yards behind the line of scrimmage with a defender running right at him.
No other quarterback can carve up a blitz like Mahomes.
Andy Reid is very good at his job, and Eric Bienemy is bound to get hired this offseason
Andy Reid is the mastermind and primary play caller behind this potent Kansas City offense, but offensive coordinator Eric Bienemy plays an integral role in the design and execution of the offense, too. And last night, the Chiefs unveiled a handful of creative plays en route to having the best-scripted offense of the week.
On the first 15 plays of the game, which are referred to as scripted plays because they are typically planned ahead, Kansas City produced 0.62 expected points added per play. That led all 32 offenses in Week 3. It helps when you have a quarterback like Mahomes, but the play calling is a key part of that. 
The Chiefs had a couple of creative plays deep in the red zone outside of those first 15, too — the first of which was this underhand shovel pass to fullback Anthony Sherman on a pivotal third down: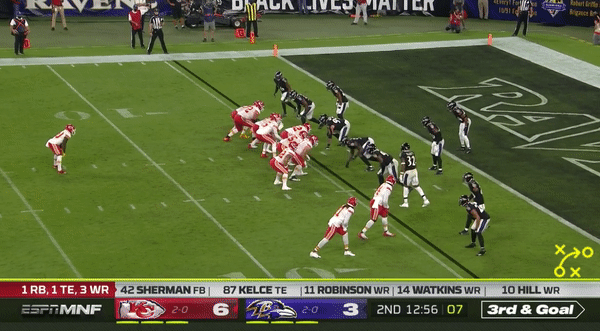 And this touchdown pass to left tackle Eric Fisher sealed the game: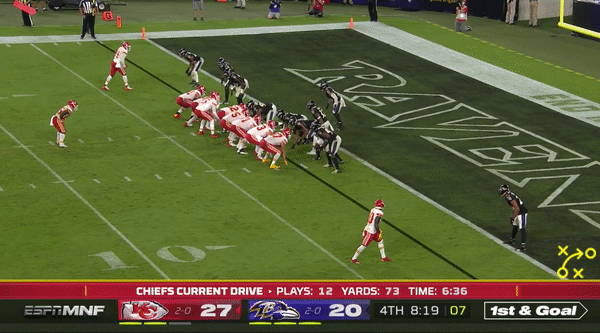 Here's what Reid had to say after the game:
Andy Reid on Eric Bieniemy: "I know he's not going to be here very long."

— Nate Taylor (@ByNateTaylor) September 29, 2020
At this rate, Bienemy is likely to be one of the most coveted coaching candidates on the market this offseason — and understandably so.