The Detroit Lions fought hard throughout, but Jared Goff & Co. ultimately left too much time on the clock before kicking the game-tying field goal. With less than a minute left, Buffalo Bills QB Josh Allen marched his team down the field, and kicker Tyler Bass made no mistake with the game on the line.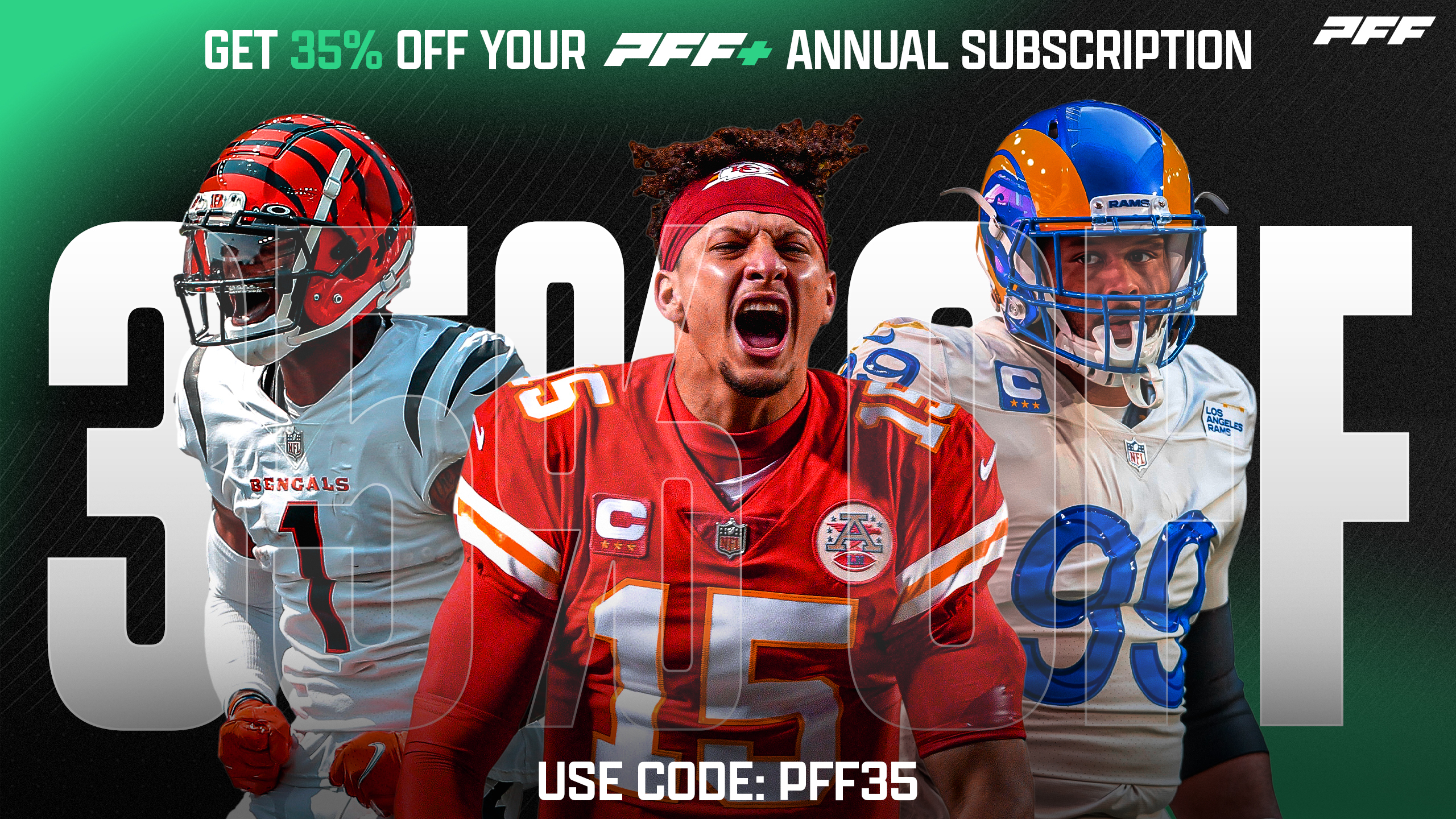 Offensive spotlight: Lions wide receiver Amon-Ra St. Brown is on track to record a game-high PFF grade after hauling in nine of his 10 targets for 122 yards — 44 after contact — and seven first downs, with a touchdown to boot.
Defensive spotlight: Although the pass-rush game is usually where defensive linemen truly make their mark, Ed Oliver proved to be a dominant force against the run. He tallied four stops and a forced fumble on 20 run-defense snaps.
Rookie spotlight: First-rounder Aidan Hutchinson was responsible for three quarterback pressures on first review, but two were of the unblocked or clean-up variety. He's on track to earn an average to below-average PFF pass-rushing grade as a result.
Offensive line spotlight: Greg Van Roten, Ryan Bates and Spencer Brown combined to allow a whopping 12 pressures for the Bills, but Dion Dawkins and Rodger Saffold held their own with just one pressure surrendered between them.
Box Score
Passing
Player
Fantasy
Comp/Att
Yds
YPA
TD
Int
Sacks
Rtg
Josh Allen
30.9
24 / 42
253
6.0
2
1
3
80.8
Player
Fantasy
Comp/Att
Yds
YPA
TD
Int
Sacks
Rtg
Jared Goff
17.6
23 / 37
240
6.5
2
0
2
98.9
Rushing
Player
Fantasy
Car
Yds
YPC
TD
Long
Fum Lost
Josh Allen
30.9
10
78
7.8
1
21
0
Isaiah McKenzie
22.3
2
7
3.5
0
4
0
Devin Singletary
9.0
14
72
5.1
0
19
0
James Cook
3.8
2
4
2.0
0
5
0
Nyheim Hines
0.3
1
3
3.0
0
3
0
Player
Fantasy
Car
Yds
YPC
TD
Long
Fum Lost
Amon-Ra St. Brown
30.9
1
7
7.0
0
7
0
Jamaal Williams
11.6
18
66
3.7
1
27
1
D'Andre Swift
10.3
5
19
3.8
0
7
0
Justin Jackson
2.9
4
4
1.0
0
11
0
Receiving
Player
Fantasy
Tgt
Rec
Yds
YPT
TD
Long
Isaiah McKenzie
22.3
10
6
96
9.6
1
30
Stefon Diggs
21.7
15
8
77
5.1
1
36
Devin Singletary
9.0
1
1
8
8.0
0
8
Gabe Davis
7.8
5
4
38
7.6
0
16
James Cook
3.8
5
2
14
2.8
0
8
Dawson Knox
3.7
2
2
17
8.5
0
15
Quintin Morris
1.3
1
1
3
3.0
0
3
Player
Fantasy
Tgt
Rec
Yds
YPT
TD
Long
Amon-Ra St. Brown
30.9
10
9
122
12.2
1
26
D'Andre Swift
10.3
8
4
24
3.0
0
14
DJ Chark
9.6
5
2
16
3.2
1
15
Kalif Raymond
7.5
6
4
35
5.8
0
13
James Mitchell
3.2
1
1
22
22.0
0
22
Justin Jackson
2.9
2
1
15
7.5
0
15
Brock Wright
2.6
3
2
6
2.0
0
5