• Regardless of their opponent, Giants' consistent man-coverage rate above 50% is making it too easy for offenses to plan.
• Conversely, Buffalo is tailoring gameplans on defense each week to its opponent, successfully playing more man against Lions on Thanksgiving.
• After having the worst EPA per play against man coverage through Week 11, the Jets excelled with new QB Mike White (1.8 EPA per play vs man).

Last updated: Dec. 1, 11:20 a.m.
Estimated reading time: 5 min
---
Whether to run man coverage or zone coverage is a big decision for each NFL team, and many factors influence their decisions during and in preparation for the game, including the talent level of the defense itself and the talent level of the offense they will be facing. Some teams' schemes work better with man coverage, while others work better with zone, and PFF's Arjun Menon and Judah Fortgang analyzed this in a previous article titled "Should NFL teams be playing more man or zone coverage?"
Each week, we will detail how teams varied in the use of man and zone coverage, and how it may have differed from their previous week. As we get more data, we will eventually make predictions for each team's man and zone coverage rates for the next week, and analyze those predictions.
Week 12 Man and Zone Rates
Playing man and zone coverage could depend on the strengths and weaknesses of the opponent the team faces. Last week, the league as a whole ran man coverage 25.2% of the time, down significantly from 30.1% last week. Highlighted in this week's Coverage Update article, here are the teams that ran the most man and zone coverage in Week 12:
Top 3 in Man coverage rate in Week 12
Top 3 in Zone coverage rate in Week 12
Note: From 2019-2021, the league average for running man coverage was 33.9%, and zone was 66.1%.
Week 12 was a big one for zone coverage, as the league played it nearly 5% more than in Week 11. The New York Giants and Los Angeles Chargers still remained heavy man-coverage users, but most teams opted for zone-heavy schemes against their opponents.
The Washington Commanders and Atlanta Falcons decided to create the battle of zone coverage and each ran only one play in man coverage in their game. The Falcons offense ultimately struggled more, with an EPA per play of -0.37 against zone, compared to -0.2 for the Commanders offense. In fact, both of those teams ran their highest zone coverage rate of the season this week.
Evolving Defensive Man and Zone Rates
Some teams' man and zone rates will vary by opponent, while some will stay steady throughout the season. So far, the league as a whole ran man coverage 28.6% of the time, therefore running zone on 71.4% of plays. From 2019-2021, the average man coverage rate was 33.9%, so the league is running about 5% more zone coverage this season. Below, we can see how each team's percentage of running man and zone coverage evolves each week.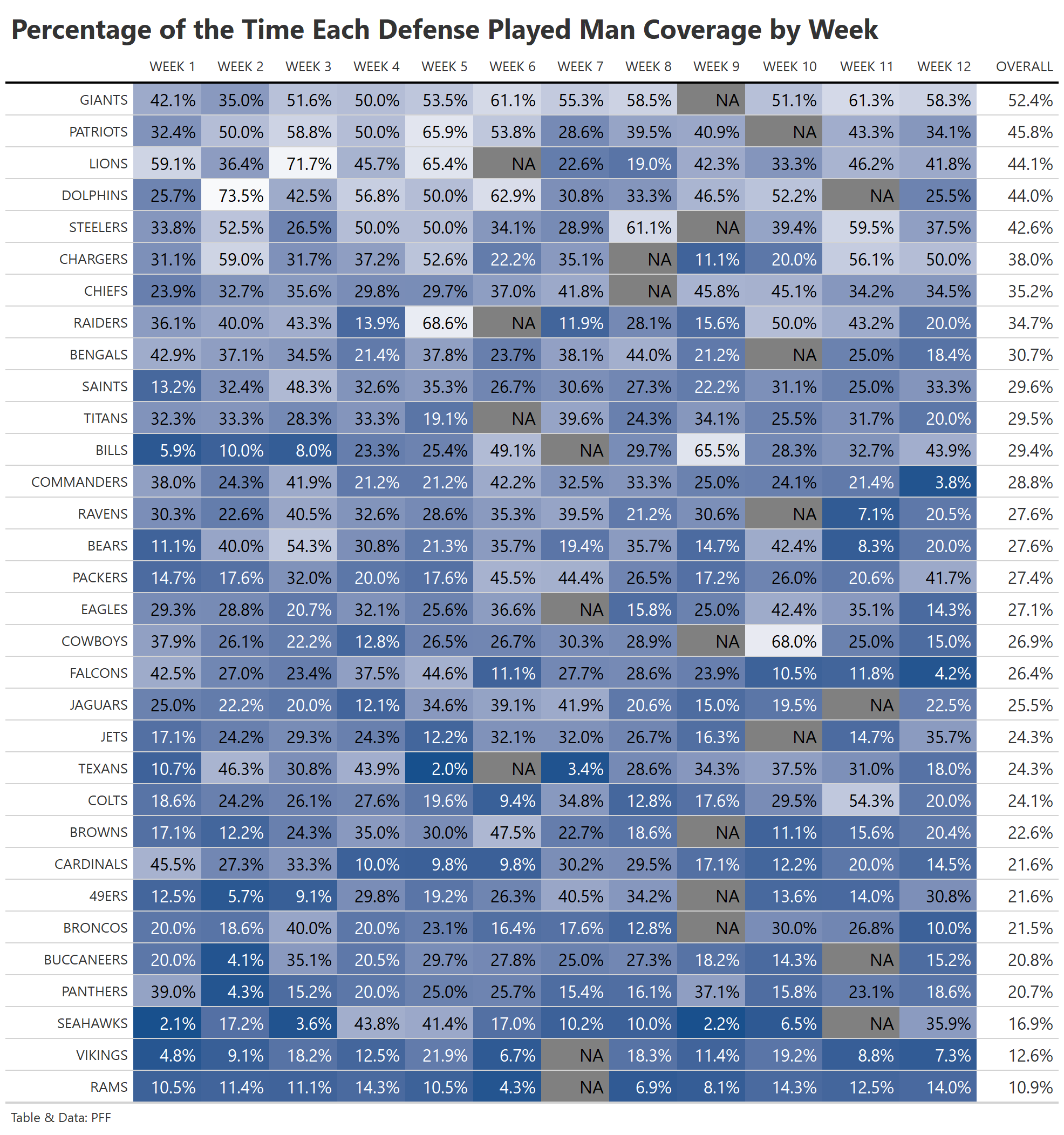 After being one of the zone-heaviest defenses the past 5 weeks, the Seattle Seahawks went back to playing more man coverage in Week 12 against the Las Vegas Raiders. Ultimately, Seattle's defense was torched by the Raiders in both coverage schemes (gave up 0.44 EPA per play in man and 0.37 in zone).
The Buffalo Bills have quietly been playing more man coverage in recent weeks. They've been changing their gameplan to the specific defense they're facing, and it worked this week as the Detroit Lions yet again struggled against a high man coverage rate.
The Giants' defense is becoming one of the most predictable ones in the NFL. No matter the opponent, they're playing over 50% man coverage in every game. It's easy for offenses to quickly pick up on this, and the Giants may need to start tailoring their gameplan to the opponent's weaknesses.
Man and Zone Rates Each Offense Faced
Teams often base their defensive coverage play calling based on the particular opponent they are facing. Let's see how often each offense had faced man and zone coverage by the opposing defense, and how it's differed by week.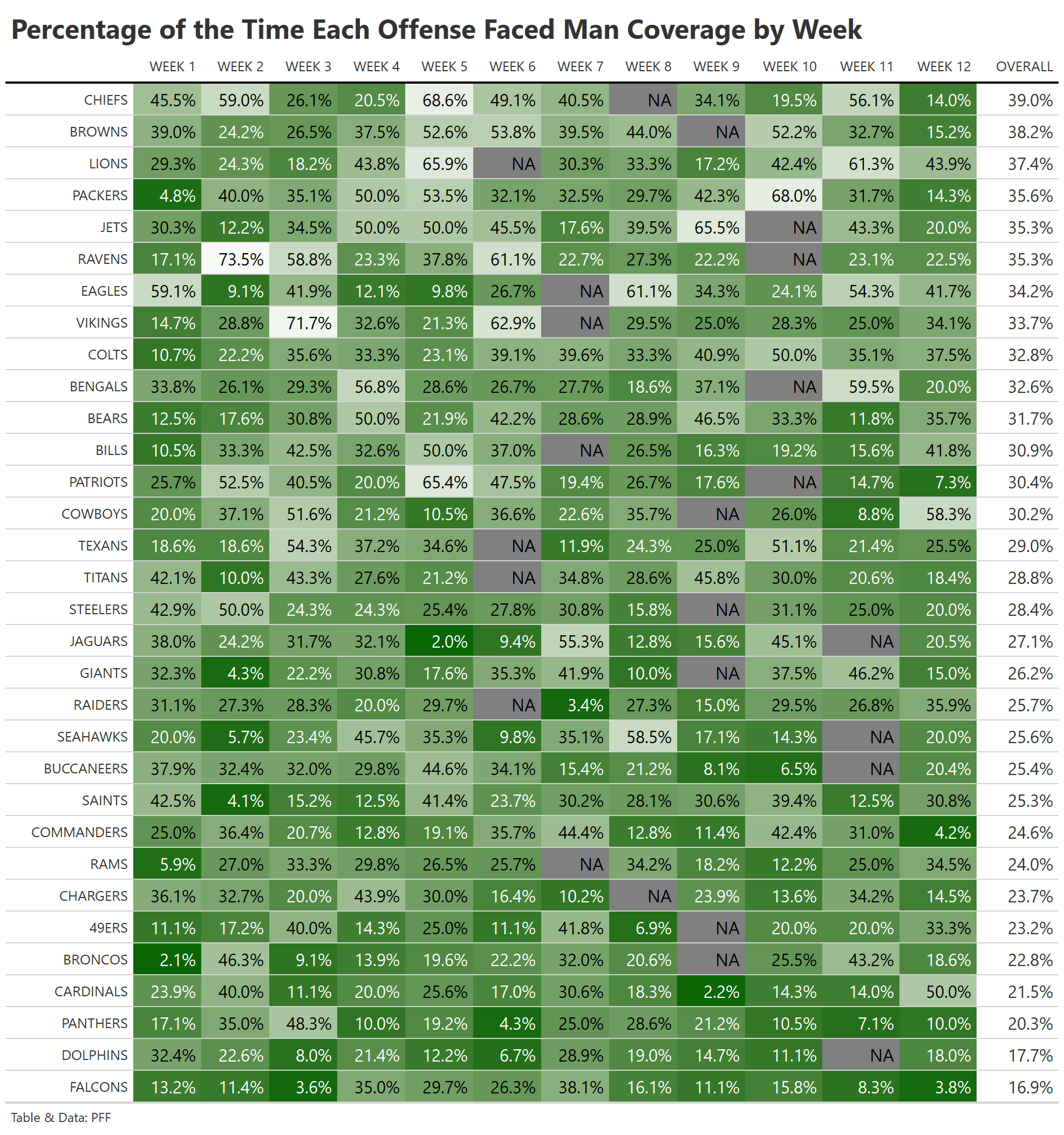 The Los Angeles Rams defense didn't cave, forcing the Kansas City Chiefs to face their highest zone coverage percent of the season. As a result, the Chiefs had one of their worst days against zone coverage (0.09 EPA per play), but averaged nearly 1 EPA per play on the 7 plays they faced against man coverage.
After having the worst EPA per play against man coverage through Week 11, the New York Jets offense had an amazing day under new quarterback Mike White, totaling an average of 1.8 EPA per play against man coverage.
After destroying the Vikings' zone coverage last week, the Dallas Cowboys offense tore up the Giants man coverage in Week 12. They're proving to be a huge threat on offense, no matter the defensive coverage scheme.
Week 13 Predictions and Matchups to Watch 
The Jacksonville Jaguars now have the second-best offense against man coverage, gaining nearly 0.4 EPA per play on average. This week, they'll take on the Detroit Lions, a defense that runs the third-most man coverage in the NFL. As the Jaguars are gaining speed, this could get ugly for the Lions if Detroit doesn't adjust its scheme.
The Atlanta Falcons face the least amount of man coverage in the NFL, and this week they'll take on the Pittsburgh Steelers, who run the 4th-most man coverage. The Falcons have performed better against man coverage, so will the Steelers opt to run more zone?
The Cleveland Browns offense has been average against both man and zone coverage, but they've faced the second-most man coverage in the NFL. With Deshaun Watson's return this week, will the Houston Texans' coverage unit adjust their gameplan?