Another week, another mailbag answering anything you degenerates want to throw my way (except fantasy football questions). While I could certainly toot my horn a little after last week, I'm not going to bring up the fact that Notre Dame upset Clemson last week and is now the No. 2 ranked team in the country. That would be unbecoming.
Let's enjoy another weekend of exciting football games, even if like half of 'em were canceled.
@PFF_Mike for your next mailbag:

I'm sure you've discussed this somewhere along the line already, but with your draft and Packers background, what's the thoughts on the Jordan Love pick? Thoughts on his future in the NFL?

— Coach Lamers (@AndrewLamers) November 11, 2020
My thoughts on Jordan Love's ability aside, I didn't understand the thought process at the time. It looks even more inexplicable in retrospect.
Aaron Rodgers' contract spans the entire life of Love's rookie contract before his fifth-year option, and it has very reasonable cap hits compared to the now-top contracts on the market today. He will turn 40 in the final season of his contract. The only justification that even moves the needle for me is if you say it's injury insurance for Rodgers, given his health record.
If this was a mediocre team that went 10-6 last year and barely made the playoffs, I could understand. But they were 13-3, went to the NFC Championship Game, and still had utterly glaring holes on the roster. This was at least a year too soon and, in my opinion, two years too soon to make this kind of play.
Now, onto Love. Last season, everyone seemed to be in agreement that he is a pure project. It's the reason he's not even the current backup for the Packers. I worry a lot about "projects" now that quarterback development at younger ages is getting better and better. Sometimes people are just inconsistent, and that will never change. I hope that's not the case with Love, but I wouldn't have banked on that with a first-round pick.
Hi Mike
How much does Ohio St.'s rough QB history concern you when it comes to Justin Fields? What separates him from prior flameouts?

— Jeremy Friedrichs (@FriedrichsJk) November 13, 2020
This will be a popular topic next spring. Hell, it already is this fall, as I'm pretty sure I answered a similar question a few weeks ago. I'll add to that previous answer with this: Joe Burrow had as stacked a roster as you'll see at the college level, with the top rookie WR in the NFL and the WR1 in the 2021 draft. When we tried to isolate his contributions, we still saw an elite QB prospect — and he's doing that in the NFL. That's the same with Justin Fields this season.
What were some knocks on Damien Lewis coming out of college? Seems like as soon as he was drafted, everyone was high on him. Was he a "steal" or drafted appropriately (given positional value, etc.)?

— Udit Ranasaria (@uditranasaria) November 13, 2020
Here you go, straight out of the PFF draft guide.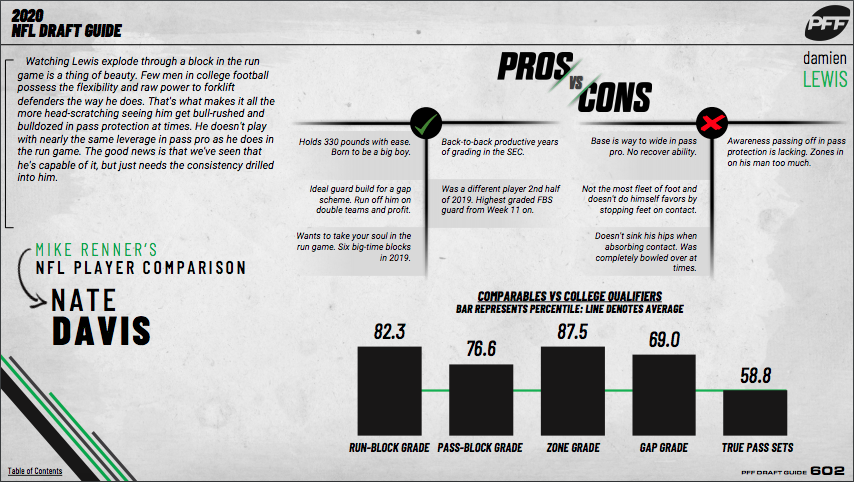 Easily the biggest thing lacking was agility, which can simply limit effectiveness in pass protection. We had almost no issues with our fourth-ranked interior offensive lineman in the run game, though, and he's earned an 87.0 run-blocking grade so far.
Best WR prospects from Bama and Minnesota this year. Who you got from 1-3

— Nouri (@jnouri13) November 13, 2020
Jaylen Waddle
DeVonta Smith
Rashod Bateman
…but damn, are they close. It's more what you want. If you want size, it's Bateman. Speed? Waddle. Overall route-running? Smith.
Desmond Ritter or Jamie Newman for 6th best QB in draft?

— ????Heysharpcoomer???? (@heysharpshooter) November 13, 2020
This one isn't really a debate for me. It's Newman all day because of his accuracy. Living in Cincinnati, a lot of my friends went to UC, and pretty much all of them see Ridder as the weak link on Cincy's roster this season. Among the 91 college quarterbacks with 100-plus attempts this season, Ridder ranks 55th in uncatchably inaccurate throw rate, with 25% of his attempts qualifying as such (Mac Jones leads at 11.7%, for comparison).
I noticed you have Michael Carter in your top 100, but no sign of Javonte Williams. How does Javonte project at the next level?

— Ryan Tressler (@PapaTress) November 13, 2020
That's no knock on Williams. Carter is arguably the shiftiest running back in college football, and we here at PFF don't include too many running backs in the top 100. Williams, though, gives me serious Zack Moss vibes when I watch him. His contact balance is exceptional, as he eats shots to his legs with ease. I think he'll likely test even better than Moss, as well. All Williams has done since the last draft board update is break 29 tackles on only 44 carries. That's an absurd figure, and you can expect to see him move up into the top 100 on the next update.
If you could live one current NFL player's career who would it be and why? For me Aaron Donald. Top of his game, an all timer at the position in my eyes and just to feel what it's like being that big, strong, and explosive.

— TurnFrown360Around (@Frown360Turn) November 13, 2020
First off, this has to be a quarterback. Playing QB — even if it's just in flag football — is the best. It's like being a pitcher that never has to come off the mound and starts every game. The easy answer here is Tom Brady, but I'd rather live a little single life.
That's why my choice has to be Jared Goff. Imagine living in L.A. with $100 million in the bank and Sean McVay doing my job for me. That's precisely what I aspire to in life.
Who's the number #1 pick in the 2022 nfl draft ?

— really depressed pats fan (@lonzo_69) November 13, 2020
While my colleague Anthony Treash believes it will be USC's Kedon Slovis, there's precisely a 0% chance I say something nice about a Trojan. While they haven't generated much national buzz after two early-season losses, Oklahoma's Spencer Rattler is still balling up a storm in Norman. He's got a 92.8 passing grade so far this year — that falls just slightly behind Kyler Murray's 93.7 his final year but decidedly ahead of Jalen Hurts' 90.1 last season.
Remember, though, both Murray and Hurts were in their fourth year of college while we're seeing Rattler in only his second. To ball out the way he is this early with his tools makes him the favorite in my eyes.
Would it be a good move for the Browns trade Jarvis Landry for a mid round pick 4/5 and draft Devonta Smith?

— DavidT216 (@DaveGT5) November 13, 2020
It's no secret that I'm not a fan of Landry pretty much anywhere other than the slot. Since the start of his breakout season in 2015, Landry ranks sixth in receiving yards but only 25th in deep receptions with 33. That's 5.5 per season — 45 guys had more than that last season.
He simply doesn't win in the valuable areas of the field. The problem is, for a little over $13 million next year and $15 million in 2022, I'm not sure you'll be able to coerce even a mid-rounder if Adam Gase isn't coaching in the league. I'd love for them to draft DeVonta Smith — and I mocked as much last week — but if they're parting ways with Landry, it may be for cap space and nothing else.
Can you explain again why FSU has the best D Line in the nation???

— Freed (@The_Real_Freed) November 13, 2020
*Had*… before they all decided to stink this year. It's not my fault Marvin Wilson, Joshua Kaindoh and Cory Durden are all grading out worse this season instead of better. That is NOT the way athletic college players usually progress.
Yes hello Mike why haven't you retracted from your initial opinion on Justin Herbert?

— Charger J (@charger_j) November 13, 2020
Hey Mike still have a "sell" tag on Justin Herbert?

— Charger J (@charger_j) November 13, 2020
You wouldn't happen to be a Chargers fan, would you? I think it's silly to recant an opinion. It happened; I was wrong about how Herbert would translate to the NFL. I wish I could say I saw all this coming, but I didn't.
Now, the more important thing is finding out what I can learn about Herbert's success in the league. I think the biggest takeaway is to remember that downfield production takes two to tango. Herbert flat out did not have the talent to win consistently down the field at Oregon. He didn't take those chances because he didn't trust them. That's been the complete opposite with Mike Williams, Keenan Allen and Jalen Guyton. This season, he's attempted deep targets at the 10th-highest rate in the NFL already.
Did zeke get his contract because he sells jerseys

— rob (@Rroberrrtoo) November 13, 2020
The bottom line is something we here at PFF don't have to factor into our opinions on roster building, but it is a real thing for some NFL teams. The thing is, the Cowboys aren't one of those teams. They print money and sell jerseys no matter who is on the roster. The Zeke extension was purely because they thought it would translate to wins. And…well…you be the judge.
Corey Davis boom or bust?

— Brooks8314 (@Brooks8314) November 13, 2020
You know this doesn't have to be limited to only two choices, right? The outcome of draft picks is still a spectrum, and I believe Corey Davis falls squarely in the middle of those two ends. He's a quality No. 2 receiver. Is that worth a top-five pick? Not even close. Is that a player you want in your starting lineup? 100%.
Which light beer would you pair with the feeling of your men's national ⚽ team qualifying for a major tournament for the first time since 1998?

— Gordon McGuinness (@PFF_Gordon) November 13, 2020
In a situation like this, you're going to be drinking a lot of them, so you'd prefer to keep the calories low. But, you're also going to want to remember the moment and not get blacked out, so you don't want a high ABV. With that in mind, the only choice for me is a Miller Lite.
Brussels sprouts? Yay or Nope?

— mārør (@picksixer) November 13, 2020
I'm a big Brussels sprouts guy. It's all in the preparation. Don't you dare steam those bad boys — they'll taste like wet paper. Get them crispy — either in a pan or oven — and salty, and they're delectable.
Which of the QBs in this draft do you think would be the best fit for the 49ers offensive scheme

— Andy Kane (@ASKBH94) November 13, 2020
The only top one I'd say isn't a great fit for Shanahan is Kyle Trask, and even then, I wouldn't be too worried — Shanny made magic with the damn-near immobile Matt Ryan. However, if I had to choose one I'd want to see, it would be Zach Wilson because of his accuracy on the move.
How high is Zack Wilson's ceiling ?

— Vaasu Gupta (@VaasuGupta007) November 13, 2020
First off, anyone who has followed my draft coverage since the inception knows I hate terms like "ceiling" and "upside." No one can define exactly what it means. Was Tom Brady's "upside" a three-time MVP Award winner? Did people rave about J.J. Watt's "ceiling" when he was coming out?
Ok, now that you've heard my rant, back to Wilson. He's young with accuracy, arm strength, mobility and a quick release. Those are the type of tools that can easily make a top-flight quarterback in the NFL. The rankings on PFF's site right now don't reflect it, but he'll be QB3 in the next draft board update.
Your NFC East Favorite?

— Art Duggan Fan Club (@EllsburyNyy) November 13, 2020
Do I have to? My favorite is whichever finishes above .500 and still misses the playoffs.
Do you think the Saints should extend Lattimore?

— Jepes (@Jepes8) November 13, 2020
It won't be cheap, and he'll likely be overpaid, but they have to do it. The Saints ranked dead last in team coverage grade the two years before Lattimore's arrival. Since then, they haven't been lower than 22nd. They can't afford to bottom out again.