Up until Drew Brees announced that he would be returning to the New Orleans Saints for the 2020 season, there was a period of speculation surrounding the possibility of 30-year-old offensive weapon Taysom Hill — in all his 22 regular and postseason dropbacks of glory — becoming the team's starting quarterback next season. As fun as it may have been to see that play out, the New Orleans Saints simply would not have been the championship contenders that they are with Brees at the helm.
Given their unceremonious first-round exit from the postseason last season at the hands of the Minnesota Vikings, it is easy to forget that the Saints were one of the best teams not in only the NFC but the entire league. They had a talented roster that wasn't thin at many positions, and with Brees returning from injury to play like one of the league's best quarterbacks, they looked primed to make a Super Bowl run. At least, they did, before Brees stumbled down the stretch with his three worst performances of the season coming in the team's final three games. 
Still, his 90.6 overall grade on the season ranked second among 32 qualifying quarterbacks. And until there is an extended stretch of poor play, we have to assume that he is going to come out and throw up another 80.0-plus grade in 2020, something he has done every season of his career since PFF began grading in 2006. 
The deficiencies that the Saints offense overcame made the fact that they finished the season ranked seventh in expected points added per passing play that much more impressive. Brees missed five games with injury from Week 3 to Week 7, and all Teddy Bridgewater did was step in and lead the team to five consecutive wins. 
Both Brees and Bridgewater were throwing to a set of weapons that were far from perfect, as well. Michael Thomas had a historic season — catching a league-high 83% of his targets to bring in a single-season record 149 receptions — but the volume that he saw was largely a function of the offense around him. Don't get me wrong, Thomas earned a lot of those looks; few players can separate in the short and intermediate range as he can, and he was fed early and often as a result. The reality, though, is that Brees and Bridgewater didn't have many other options to target.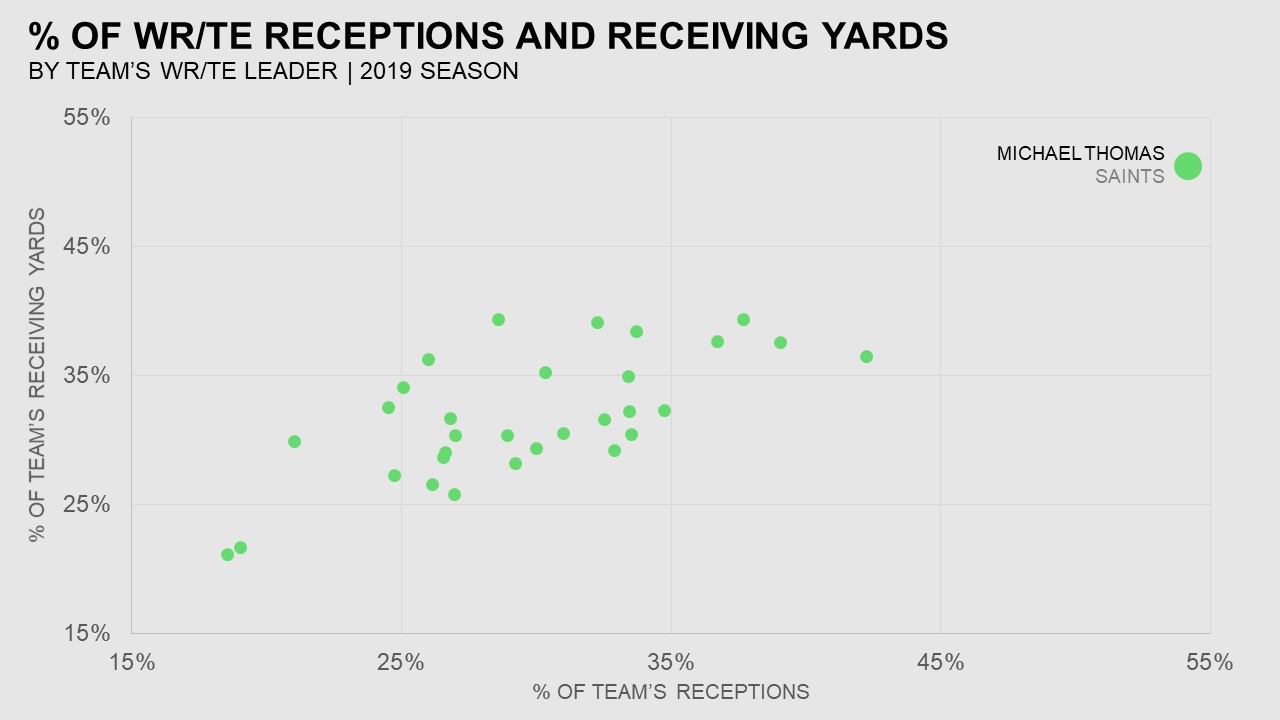 Subscribe to PFF Edge to continue reading
Already have a subscription? Sign In