It's team-building time in the NFL. Between free agency, the draft and even the prospect of a cheeky trade here and there, the NFL offseason presents plenty of opportunities to attack and fix roster weaknesses before the next season rolls around.
In a passing league, quarterback is naturally king, but the next most critical position is wide receiver — giving that passer someone to throw the ball to. So let's take a look at some of the most tempting options to bolster a flagging receiving corps over the next few months:
[Editor's note: PFF's 2020 NFL Draft Guide is live! Subscribe to PFF's EDGE or ELITE subscription today to download your copy.]
There are a few receivers who could potentially be on the market for the right offer (say, pick No. 23 in the draft…), but none more obvious than Beckham. His first season with the Cleveland Browns was rough, and he was consistently on a different page than quarterback Baker Mayfield. Even when he was, he dropped the ball (seven drops) or just wasn't the player we have come to expect. Beckham was dealing with an injury, so his career-low 68.7 PFF grade doesn't represent his true potential in Cleveland, but the Browns can't love how their many strong personalities meshed in the first season together. It would be interesting to see if they could be tempted into moving Beckham rather than risk the group never pulling in the same direction together.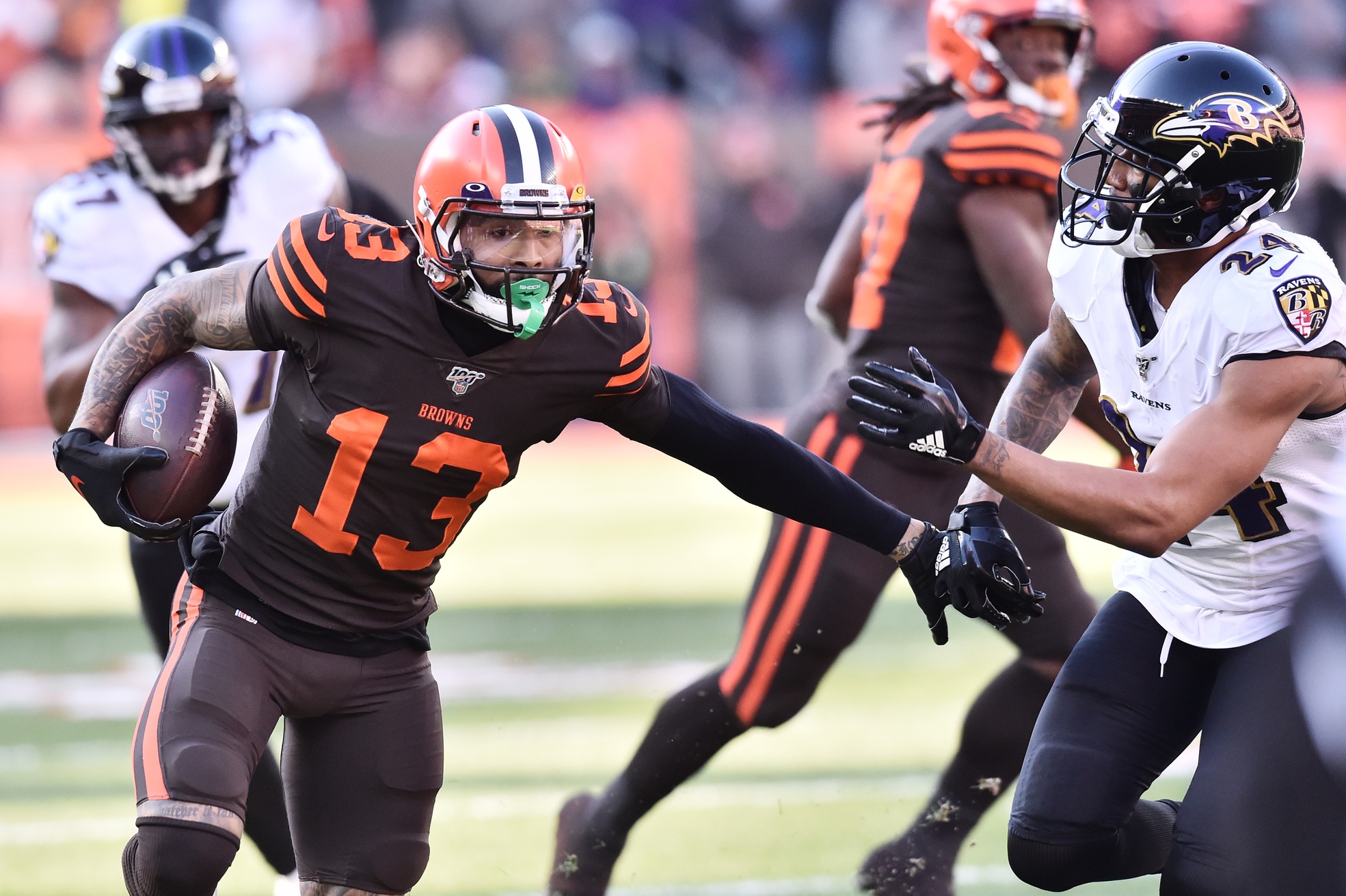 A.J. Green is scheduled to hit free agency, but there's a decent chance the Cincinnati Bengals elect to try and recoup something in losing one of their best players over the past decade by franchise tagging him and then trying to trade him. Green will be 32 by the time the season rolls around — and he missed the entire 2019 season — but at his best, he was a Julio Jones-rivalling talent at the position. Even given the risk, Green should have a market out there among receiver-needy teams and could be the short-term boost needed for franchises that aren't thinking about the long-term yet. Green has multiple seasons with an elite PFF grade of 90.0-plus, but his last one was 2016.
The prize of the receiver group in this year's free-agent period, Amari Cooper is everything a team would want in a free-agent receiver — if he ever makes it that far. Given the fact that the Dallas Cowboys traded a first-round pick to secure his services, there's a good chance they do everything in their power to keep him from the open market. Cooper is young and one of the best route runners in the game. Not to mention, he was an excellent deep threat this past season in Dallas. He caught one fewer deep pass (15) than the league leaders and gained more than 500 of his receiving yards on those big plays. Cooper ended the season sixth in yards per route run at 2.29.
Deep receivers change the game unlike other options, and Robby Anderson has been one of the game's better deep threats despite rarely having strong quarterback play to work with. Since 2011, he ranks 11th in receiving yards on deep shots (20-plus air yards) despite little help throughout the receiving corps or from his quarterback. Anderson is a legitimate speedster who could transform a group the same way Will Fuller does to the Houston Texans' offense by forcing opposing defenses to respect a different threat to anybody else on the field.
Far from a spring chicken, Emmanuel Sanders remains an extremely effective receiver and is one of the most attractive free agents available, albeit not a long-term solution. Despite being traded in the middle of the season, Sanders still finished with a top-20 PFF grade of 78.4 and dropped only one pass all season. He made a clear difference in the San Francisco 49ers' passing offense once he arrived and has the kind of alignment versatility to play anywhere a team needs to deploy him. Sanders won't be the most expensive option in free agency, but he could provide a huge short-term boost to a needy team.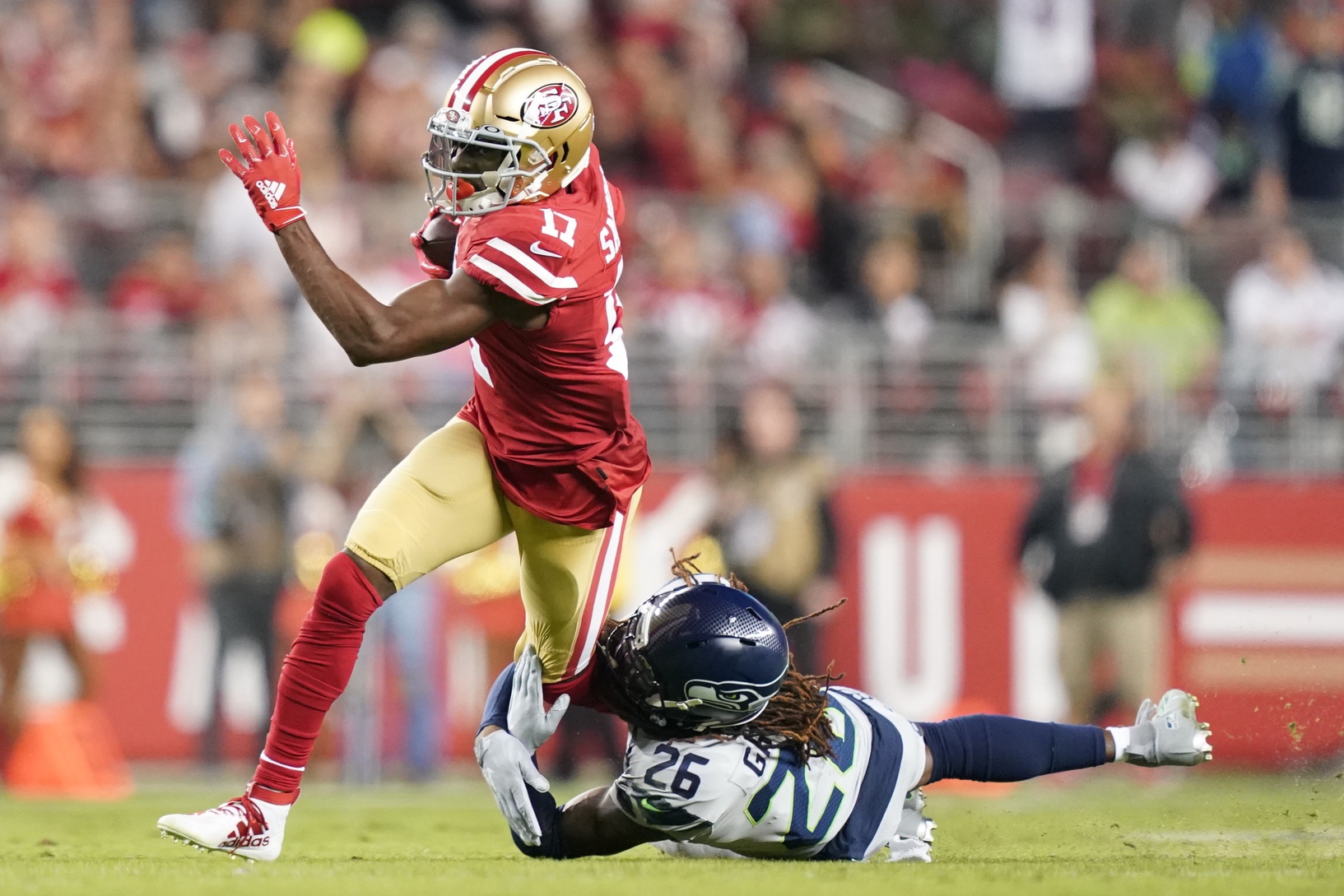 Jerry Jeudy, Alabama — Draft
Alabama has been cranking out some impressive receivers in recent years, including one of the biggest names in free agency this year — Amari Cooper — so Jeudy has history working on his side when it comes to translating to the NFL. What he also has is the most sophisticated route-running toolset we have seen come into the league in some time. He has the same level of ability in that area as another former Alabama product, Calvin Ridley, but Jeudy is quicker and faster in his movements. He is the No. 6 player overall on PFF's 2020 Draft Big Board.
Jalen Reagor, TCU — Draft
Sitting at 28th on PFF's Big Board, Jalen Reagor doesn't have the numbers that some of the other receivers in this draft class do, but he was dealing with abnormally crippling quarterback play. Throw on his tape for more than a few snaps, and you'll see an open Reagor with the ball giving him absolutely no chance of making a play. His best season came in 2018, where he earned a 79.4 overall PFF grade and gained 6.0 yards per reception after the catch. Reagor has speed, burst and significantly more strength than defenders expect him to have — both after the catch and when going for contested catches. In such a strong draft class, Reagor could slip down a little, but he will likely be a steal for whoever picks him up.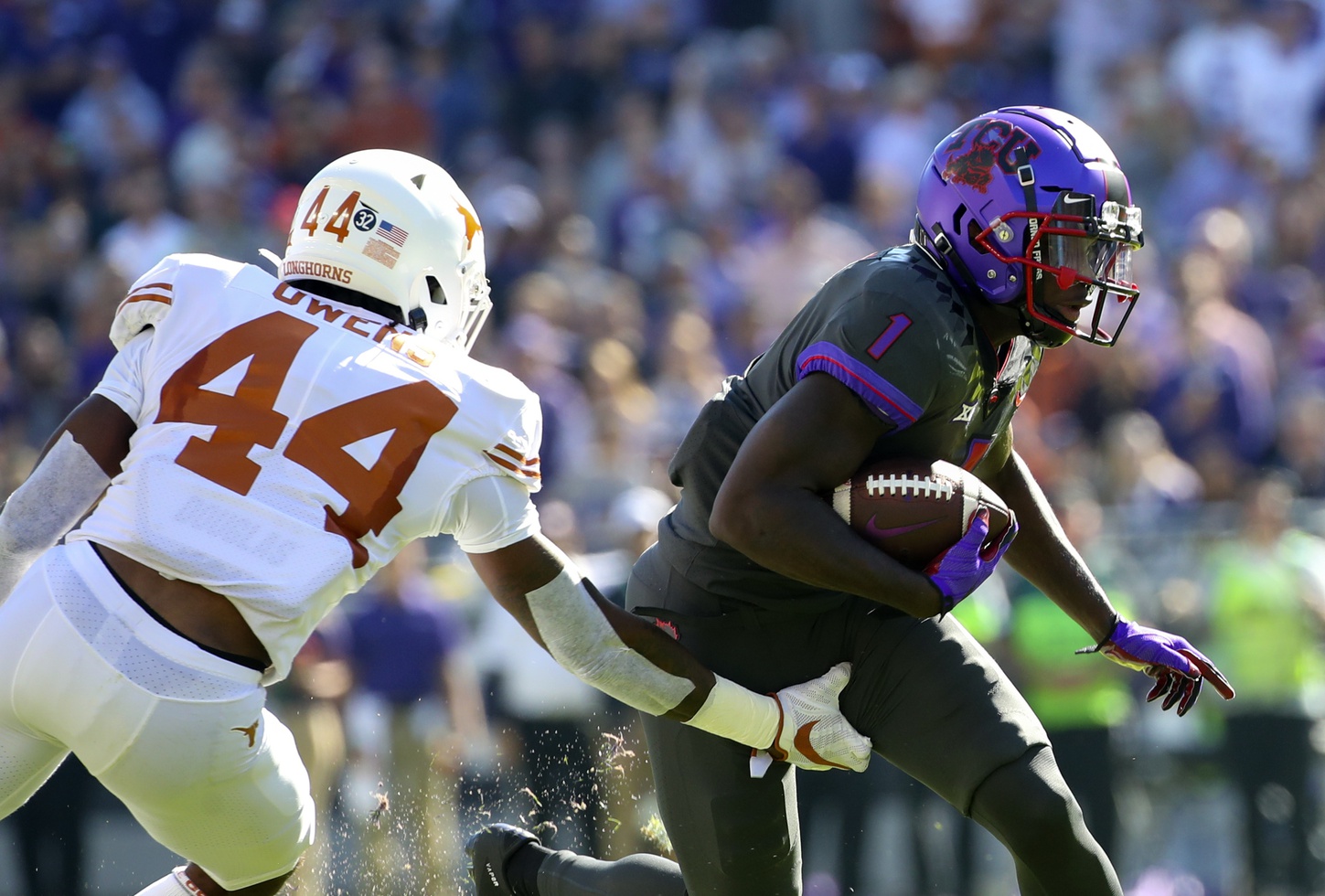 Denzel Mims, Baylor — Draft
One of the problems with evaluating college prospects is strength of competition and the peculiarities of some college systems. The Senior Bowl provides a chance to fill in some of those blanks, giving teams a glimpse of players in a more conventional system and also practicing for a week against college all-star competition. Focusing just on players who consistently dominated Senior Bowl practices in recent years would have pointed you toward Terry McLaurin, Deebo Samuel and Michael Gallup, and this year's dominator was Baylor's Denzel Mims. PFF grades the practices at the Senior Bowl, and nobody was able to deal with Mims, who excelled in particular against press coverage — something that would have been an unknown before that week. Given his impressive physical tools, he should be an exciting prospect after his practice performance.
K.J. Hill, Ohio St — Draft
In a similar vein as Mims, K.J. Hill was another player who stood out at the Senior Bowl during the week, and that has proven to be a solid indicator of NFL success in recent years. Hill wasn't nearly as dominant as Mims, but he showed some slick route running at times that corners just couldn't handle. He never topped 1,000 yards in a season at Ohio State, but he wouldn't be the first Buckeye receiver in the past several seasons to have been a better pro player than he was in college. For his career, Hill caught 75.6% of the passes thrown his way, dropping just nine of them (4.3% of catchable targets) across four seasons.