• It all starts with the quarterback position, and rookie Kenny Pickett's preseason debut was a promising sign in terms of being able to play quickly at the NFL level.
• The Steelers' defense would also need to bounce back after a down 2021 season as far as quarterback pressure goes — and that was despite T.J. Watt's monster campaign.
• Divisional games in the AFC North are routinely close battles, and the Steelers will believe in their chances to win those contests.
---
The Pittsburgh Steelers' projected win total for the 2022 NFL season is set at 7.5 by BetMGM, but head coach Mike Tomlin doesn't do losing seasons. He has never had one as a head coach, and quarterback Ben Roethlisberger managed to go through an entire career from 2004 to 2021 without experiencing one.
In a post-Roethlisberger landscape, here's how Tomlin could defy the odds and finish this season with a winning record.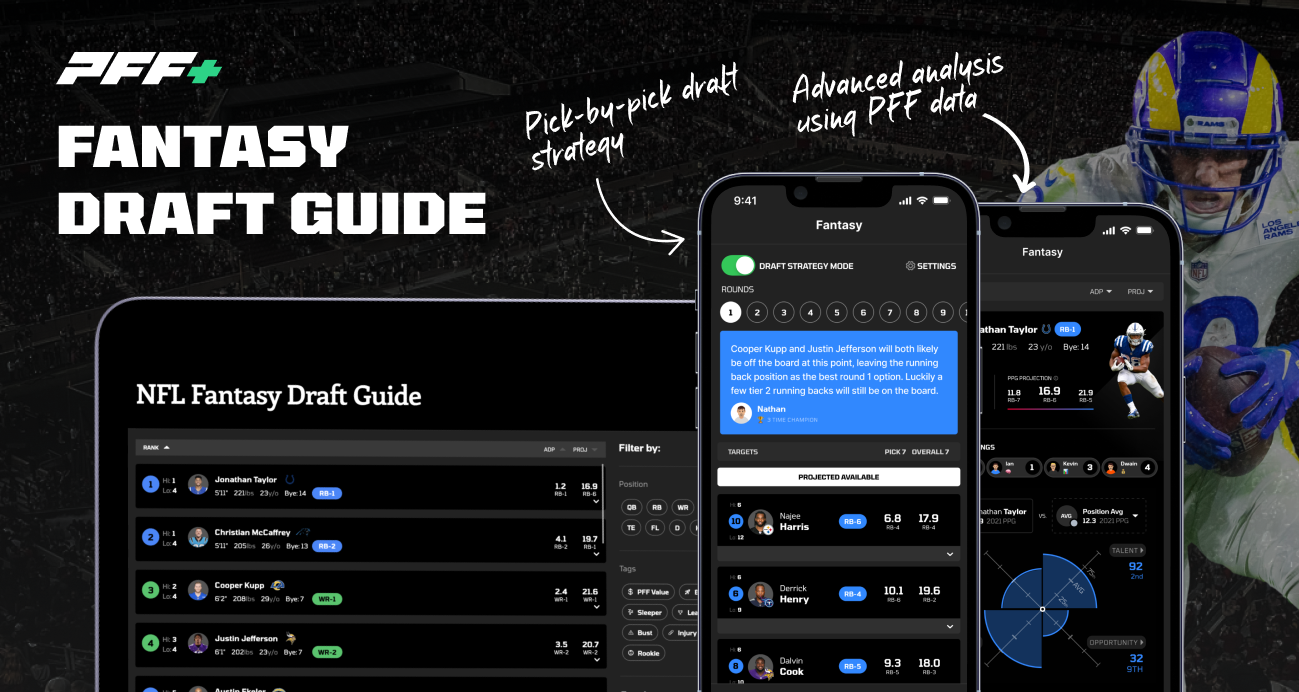 1. Kenny Pickett is for real at quarterback
This was not a feted quarterback draft class. Pickett was the only passer taken in the first two rounds, and the hindsight of where the rest of the group were drafted led many to wonder just where Pickett would have slid to if the Steelers hadn't taken him at Pick No. 20. It's easy to dismiss Pickett in that context, but he earned a 92.2 overall PFF grade last season, higher than Bryce Young or C.J. Stroud, who figure to be the best quarterbacks available next year. Pickett's grade was the second-best in the nation and the best among quarterbacks with at least 300 dropbacks.
The one potential issue for Pickett hitting the ground running in the NFL was a troublesome average time to throw — 3.19 seconds last season in college. That would be the slowest time in the NFL more years than not, and it's a data point that usually gets increases for rookie quarterbacks between college and the NFL.
If Pickett operated at that kind of pace in the NFL, the Steelers' offense would have little chance. We have seen only 20 dropbacks of preseason from him so far, but it was clear Pittsburgh sent Pickett out with the challenge of proving he could speed up his process. His average time to throw was 2.75 seconds in the contest overall, but it dropped all the way to 2.32 if you remove one play where he was forced to extend the play and make something positive happen with his legs.
Pickett's average depth of target was just 5.5 yards downfield, and he clearly showed that he can operate an offense with quick game. Now, his challenge is to maintain that trend as the level of difficulty goes up and the playbook is opened wider. If he can do that, Pickett has the tools to succeed as a rookie and not drag down the Steelers' offense.
2. Pittsburgh found a stud in George Pickens at receiver
The Steelers have an incredible record at drafting receivers and may have done it again with George Pickens. PFF's Doug Kyed reported that Pickens was viewed by many as the top receiver in the draft after the 2020 season before tearing his ACL and falling down draft boards. Pickens has legitimate No. 1 skills in a draft that didn't have a lot of that despite the overall skill level at the position. 
Pickens is seen by many to be a potential wild card from a character standpoint, but Mike Tomlin was able to keep Antonio Brown together for upwards of seven seasons in Pittsburgh before things began to spiral out of control. Pickens has been one of the stars of training camp and backed that up with a preseason debut in which he caught three passes for 43 yards and a touchdown. He earned a 91.4 PFF grade, the third best in the entire league.
Diontae Johnson is an elite route runner and the Steelers have an excellent stable of receivers, but Pickens emerging as a true alpha at the position would move the needle for this offense, particularly as it tries to integrate a new starting quarterback.
3. The defense bouncing back
Last season, the Steelers' defense finished the season ranked 12th in expected points added (EPA) per play. The year before, they were second. Despite T.J. Watt continuing to dominate, Pittsburgh's defense lacked pressure by volume compared to the year before when they led the league with a 45.1% pressure rate. That number dropped all the way to 33.6% in 2021, and they ranked just 13th in pressure rate.
Watt is still one of the very best in the league, and Cameron Heyward is playing his best football beyond the age of 30. There are athletic linebackers and defensive backs able to chip in with pressure on the blitz, and Alex Highsmith isn't a downgrade from Bud Dupree as a pass rusher relative to that league-leading season. The Steelers' defense is capable of getting back to a level where it causes opposing offenses real problems, and that starts with the pass rush.
4. Benefit from a brutal AFC and AFC North
Generally, it's not a good thing that Pittsburgh is in a tough division within a tough conference, but it could benefit the Steelers if teams within the division beat up on each other. Pittsburgh may be the fourth-best club in the division by most projections, but the gap between them and the best isn't as large as in other divisions, and the Steelers won't go into any division game without believing they are capable of winning it. 
It's also entirely possible that the reasons for optimism elsewhere in the division fail to manifest. The Cincinnati Bengals overachieved last season and could regress in several important areas. The Cleveland Browns still might not have a viable starting quarterback depending on Deshaun Watson's suspension, and Lamar Jackson's play was tailing off dramatically last season even before he got injured. If the rest of the division starts to unravel, the Steelers could pick up ground without doing much themselves.
5. Injury Luck
One of the great equalizers in the NFL is injuries. The Baltimore Ravens were the No. 1 seed in the AFC last season before the sheer weight and concentration of injuries reached a critical mass and they ended up slipping to last place within the division. For the Steelers to exceed expectations, they probably need to move from the middle of the pack last year in terms of injury luck to one of the more charmed teams in terms of avoiding significant losses.