It's time to take a step back following the 2023 NLF Draft and look at some themes we noticed for each draft haul.
Here are the major draft takeaways for all 32 NFL teams.
---
More PFF draft content:
LIVE Draft Tracker | 2024 Mock Draft Simulator | 2023 NFL Draft Guide
Top 200 Big Board  | PFF Mock Drafts | Measureables & Workout Data
NCAA Premium Stats | Draft Rankings By Position | Prospect Superlatives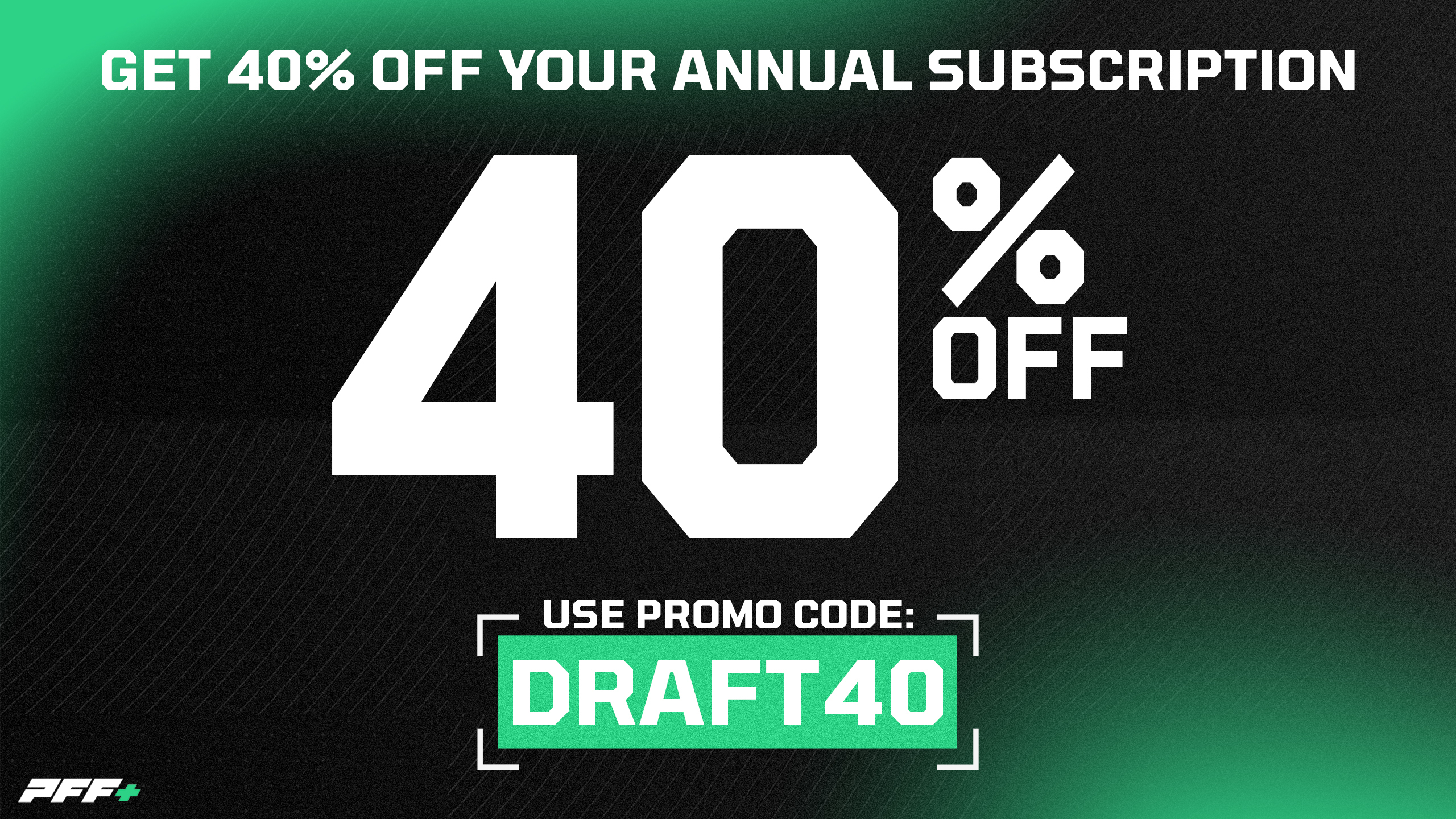 ---
JUMP TO A TEAM:
ARZ | ATL | BLT | BUF | CAR | CIN | CHI | CLE | DEN | DAL | DET
GB | HOU | IND | JAX | KC | LVR | LAC | LAR | MIA | MIN
NE | NO | NYG | NYJ | PHI | PIT | SF | SEA | TB | TEN | WSH
---
Arizona Cardinals: Monti Ossenfort Was The Right Man For The Job
The Cardinals have yet to play a football game since Ossenfort took over as general manager. But with the significant parts of his first offseason in the books, the future looks to be bright. He navigated the draft in a way where he not only added four potential starters with his first four picks, but he also set his franchise up very well to make a major splash in the 2024 NFL Draft talent pool by adding first- and third-round picks via trades. 
---
Atlanta Falcons: They Are Coming For The Rushing Title
The Falcons finished 2022 third in the NFL in total rushing yards. They finished the previous season second. Head coach Arthur Smith wants to win the ground game, and after what Atlanta accomplished this draft cycle, they could be the favorite for that title. Bijan Robinson could be in for Saquon Barkley-like volume and usage, while Matthew Bergeron could be an impact player on the offensive line, especially if he earns the starting left guard spot. 
---
Baltimore Ravens: Patrick Queen Could Be Out The Door
The Ravens drafted Trenton Simpson in the third round of the 2023 NFL Draft, and that could very well signal Patrick Queen's time in Baltimore is coming to an end. The Ravens already invested a ton of capital in acquiring and extending Roquan Smith, and Simpson also plays a similar style to that of Queen. Baltimore then reportedly did not pick up the fifth-year option on Queen's contract.
---
Buffalo Bills: The Offense Is Evolving In Buffalo
By selecting Utah tight end Dalton Kincaid in the first round of this draft, the Bills made committed to changing their offense. Buffalo ran the fewest offensive snaps from 12 personnel last season with 100, just 8% of their total offensive snaps. They already have Dawson Knox, whom they paid and will continue to utilize. But Kincaid's talent as a receiver demands he's on the field, as well. Whether it's on the line of scrimmage, in the slot or through upping that 12 personnel frequency, Buffalo's offense is in for some evolution.
---
Carolina Panthers: The Division Title Window Could Be Open As Soon As 2023
The Panthers' roster isn't as bad as one would expect for a team picking No. 1 or — even No. 9 overall, where they were before the trade. This is a good, young team that now adds a very promising quarterback in Bryce Young. With Tom Brady out of Tampa, that division is ripe for the taking, and the Panthers should be in that conversation with their new coaching staff and revamped roster after the draft.
---
Chicago Bears: They Acquired Many New Starters
The Bears brought in a lot of players who have a chance to contribute as soon as Week 1. Darnell Wright can easily step in at right tackle to kick Teven Jenkins inside, Gervon Dexter Sr. can be a stout run defender on early downs and Tyrique Stevenson has a shot to win the starting outside cornerback job. Meanwhile, Tyler Scott and Roschon Johnson on offense can be rotational players in their first seasons. Scott could even make a big impact as a specialized deep threat.
---
Cincinnati Bengals: They Have The Depth For A Deep Playoff Run
I loved the Bengals draft for where they are in their Super Bowl-contending window. They drafted a high-ceiling edge rusher in Myles Murphy who you might be worried about playing right away, but one who, in a rotation with the experienced edge rushers the Bengals already have, will play a role down the stretch. They picked up a potential starter in the secondary in DJ Turner after losing three starters in free agency. Plus, they drafted experienced college football players in Jordan Battle, Charlie Jones and Chase Brown in the middle rounds who can step in, if needed, and not look overwhelmed due to their high floors.
---
Cleveland Browns: High-Ceiling Players Have A Chance To Make This A Playoff-Caliber Team

Even last year the Browns had one of the best rosters on paper; they just really struggled both with and without quarterback Deshaun Watson. The talent level on the roster is still there for them to be a playoff team, and they brought in potential impact players to fill their roster holes. Cedric Tillman is a possession type of receiver they were missing. Siaki Ika brings them much-needed beef in the middle of their defensive line. And there's a chance they got some draft steals in Cam Mitchell and Luke Wypler on Day 3.
---
The Cowboys drafted Mazi Smith with their first-round selection, and in doing so they set themselves up to field a menacing defensive line. With the news of Micah Parsons moving to full-time edge rusher, they now have Parsons and DeMarcus Lawrence on the edge and a plethora of interior defensive linemen to rotate between them.
---
The Broncos don't have any excuses to not make a run at the division title and advance in the playoffs. They spent a ton of money in free agency shoring up the few roster weaknesses remaining from a disappointing 2022 season. They drafted three potential contributors in Marvin Mims, Drew Sanders and Riley Moss. They also have the head coach who was the best possible choice for them to make the most out of the roster. There are no more excuses for this Broncos team. A winning record is the floor of expectations. Playoffs should be, as well. Anything short of that, and the season is a failure.
---
Yes, the conversation around positional value is an important one. And yes, the Lions deviated from that path with more than one of their premium picks in the 2023 NFL Draft. But the team got better. Jahmyr Gibbs will now start at running back, Jack Campbell could very well be a starter at middle linebacker, Sam LaPorta will at worst be a contributing receiving tight end in Year 1 and Brian Branch could start at nickel cornerback. For a team eyeing a win-now season, it's promising when you can draft with that kind of streamlined expectation.
---
Green Bay Packers: Likely Just A Developmental Year In Green Bay
I felt as though the Lukas Van Ness selection was a reach, but the Packers drafted Rashan Gary at a similar point of his talent journey back in 2018, so perhaps this is the best spot for Van Ness. I liked Green Bay drafting two tight ends in Luke Musgrave and Tucker Kraft, but it will take some time for those guys to make a big splash together. With Jordan Love taking over at quarterback, I expect this to be a developmental year for the Packers as they assess what they have post-Aaron Rodgers.
---
The Texans gave up a lot of future draft capital to select twice in the top three of the 2023 NFL Draft, coming away with C.J. Stroud and Will Anderson Jr. Both were seen as top-10 type of draft picks, so the value is fine, but if the clock wasn't already ticking on general manager Nick Caserio, it is now. With 2024 looking like a strong class in a lot of ways, the Texans have to hope these two players are all they were drafted to be. If they are, they will be the cornerstones of each side of the ball.
---
The Colts were the heavy favorites to win the AFC South last offseason before a meltdown of a year that led to wholesale changes in the coaching staff and on the roster. Anthony Richardson is a big swing of the bat at quarterback, as his floor and ceiling as a player are wide in range. I won't sit here and say the Colts should be favorites to win the division this year, but there is a chance that the new life they acquired via the draft could get them moving in the right direction. Richardson aside, Josh Downs could start in the slot, while Julius Brents and Darius Rush will have their chances to battle for a starting spot and rotational spots in the secondary. 
---
The Jags drafted Anton Harrison in the first round, and in doing so they likely drafted their Week 1 offensive tackle with Cam Robinson's confirmed suspension looming. As division winners the previous season, they'll have some higher expectations for 2022. They can only reach those if their offensive line holds up, both before and after Robinson's suspension.
---
Kansas City Chiefs: They Added Two Good Contributors in Rice and Anudike-Uzomah
As the reigning champs, the Chiefs are, as expected, poised to embark on another title run. Felix Anudike-Uzomah and Rashee Rice were good depth additions to fortify their positions in two very important categories: pass rusher and pass catcher. I believe both players will play pivotal roles in Year 1.
---
Las Vegas Raiders: Big Years Ahead For Wilson and Mayer
We knew it would be important for the Raiders to nail their first selection of the draft in the top 10. Tyree Wilson has a chance to be a high-impact player in Year 1 due to the fact that he should see a decent amount of one-on-one opportunities as teams focus on stopping Maxx Crosby on the other side of the line. As for the offense, trading Darren Waller this offseason was a big blow, but adding an experienced tight end like Michael Mayer in the second round means the Raiders can continue to emphasize that position in the passing game.
---
When reading Chargers mock drafts this offseason, the theme was getting more dynamic in their offense, adding a player with consistent speed to threaten vertically to open things up with Justin Herbert's arm. Though his style in doing so isn't exactly what we're used to seeing, Quentin Johnston can be that guy. 
---
Los Angeles Rams: It Was A Much-Needed Draft Class
After some head-scratching drafts that included taking Tutu Atwell at No. 57 overall in 2021 and not selecting in the first round since 2016, the Rams put together a much-needed, deep draft with a ton of talent to look forward to. Steve Avila, Kobie Turner and Tre'Vius Hodges-Tomlinson could all be starters for them at some point, while Byron Young, Davis Allen and Zach Evans all have a chance to be rotational contributors. They made plenty of picks outside of those players who will also have a chance to make a name for themselves. On paper, it looks like a good class for them.
---
This header might not be what you initially think. I'm not saying the Dolphins drafting Cam Smith in the second round means they should move on from the extremely talented player (Jalen Ramsey) they just acquired. In fact, I'm saying the opposite. I love that the Dolphins drafted Smith as high as they did because now if you take Ramsey off this roster, they have solid starters at all five defensive back spots. That frees them up to use Ramsey in whatever way is most advantageous for them week in and week out — as an outside cornerback, a nickel or even a safety. 
---
Minnesota Vikings: Addison Will Be Rookie WR1 In Fantasy
With Adam Thielen gone, the Vikings knew they had to make a splash at receiver at some point in the draft. They did so with their first-round pick, and with it they acquired one of the most ready-made route runners the draft had to offer. As a former Biletnikoff Award winner, Addison knows how to handle being the focal point of a passing attack. He should be able to step in right away and take on some or all of the 107 targets Thielen saw on this team last season. 
---
New England Patriots: Gonzalez Is Just What The Secondary Needed
When you looked at the Patriots' cornerback room pre-draft, it didn't blow you away, but it wasn't the worst cornerback room in the league by any means. But what they were missing most was size. Jack Jones is 5-foot-10, Jonathan Jones is 5-foot-9and Marcus Jones is 5-foot-8. Christian Gonzalez, at 6-foot-1 1/2 and 200 pounds, fills a need on the back end. He not only has the size but the athleticism to be a versatile player for them in his assignments of who he covers each week.
---
Regardless of what you think of Bryan Bresee, he's a New Orleans type of first-round pick (uniquely big and athletic defensive lineman), so that was always happening. Isaiah Foskey is a high-floor rotational rusher. And then in the fourth round, the Saints drafted Nick Saldiveri, who can be a swing tackle or even a starter along the interior. It wasn't the flashiest of drafts, but it was one that should shore up the trenches on both sides. 
---
I loved the Giants' draft. No team in the NFL played more Cover 1 or Cover 0 (man coverage concepts) last year than the Giants, and they selected one of the best man coverage corners in the draft in Deonte Banks. They also got their future starting center in John Michael Schmitz in the second round while adding one of the best vertical threats in the class at receiver with Jalin Hyatt. This was a home-run draft with three impact players in three rounds.
---
New York Jets: They'll Hope No OT In Round 1 Doesn't Bite Them
I didn't mind the Jets' first-round draft plan. Will McDonald IV should be an excellent rusher in Robert Saleh's defense, so the production will be there. Joe Tippmann could be their future starting center, so he's also a potential key contributor. But I am worried about the depth of their offensive tackles. Mekhi Becton and Duane Brown may be their Week 1 starters, but will they last the entire season and into the playoff run they hope to have? I hope they do, because the depth beyond Max Mitchell could be a reason why New York doesn't achieve its goals.
---
Philadelphia Eagles: The Super Bowl Window Stays Wide Open
I don't know how general manager Howie Roseman does it. In fact, I don't know how the rest of the NFL allows him to do it. Jalen Carter, Nolan Smith, Tyler Steen, Sydney Brown and Kelee Ringo make for an incredible draft haul. All five of those players have the talent to be starters one day, some as soon as this year. And that's saying something for one of the best rosters in the NFL that just went to a Super Bowl.
---
Pittsburgh Steelers: They Secured Potential Starters In All Seven Rounds
The Steelers drafted potential starters in rounds one through seven, and it's very rare you can say that about any team any year. Their start seemed picture-perfect, with them selecting Broderick Jones, Joey Porter Jr., Keeanu Benton and Darnell Washington. But the hits just kept coming with Nick Herbig and Cory Trice Jr. on Day 3. This is one of my all-time favorite hauls when compared to my draft board.
---
San Francisco 49ers: They Drafted A Kicker In The Third Round
I was not a fan of the 49ers' draft. They didn't pick until the end of Round 3, so they were never going to be making huge splashes. But even with the selections they had, I thought they drafted low-impact players. The kicker pick is bad value no matter how you slice it. Ji'Ayir Brown plays a role that Talanoa Hufanga already dominates, and Cameron Latu is likely a rotational receiving tight end. It was an underwhelming draft on paper.
---
For the second year in a row, I love the Seahawks' draft. Devon Witherspoon was one of the best players in the class, so you'll hear no complaints from me about him going No. 5 overall. Then they drafted Jaxon Smith-Njigba to set up a great wide receiver trio for the time being and a smooth transition into life after Tyler Lockett. I believe Derick Hall, Zach Charbonnet and Anthony Bradford also have a chance to be big-time contributors in Year 1.
---
The Bucs knew they needed to replenish the trenches, and that's exactly what they did. They drafted a versatile pass rusher in Calijah Kancey, then got Cody Mauch and YaYa Diaby in Rounds 2 and 3. All three of those players could either start or be heavy contributors in Year 1. There are also depth roles and special teams roles for players such as SirVocea Dennis, Payne Durham and Trey Palmer. Minus not getting a starting offensive tackle in Round 1 (which they didn't opt to do the way the board fell), this was a very solid draft.
---
I love the Peter Skoronski pick. He's the type of player who can be a starter at either guard or tackle for the Titans, and that will come in handy as they rebuild their offensive line. I also love that they got aggressive going up to get Will Levis at the top of the second round. Tyjae Spears should also be a nice complement to Derrick Henry. There was no way the Titans could fill all their roster needs in one draft, but they hit two major ones at the top. I applaud their strategy and aggressiveness.
---
The secondary was a major question mark for the Commanders entering draft weekend. We knew they would upgrade that part of their roster; we just didn't know when. Turns out, it was with both of their first two selections, as they drafted Emmanuel Forbes and Jartavius Martin. Forbes led the country in interceptions over the past three seasons and holds the record for most pick-sixes in a single season (six). They'll need that kind of ball production from Forbes and Martin to justify not taking an offensive lineman until Round 3.