The Raiders arrived in Las Vegas with the league's fifth-worst pass coverage unit from 2019. So, in the early days of free agency, they decided to go for broke by signing the best coverage linebacker on the market, inking Cory Littleton to a three-year, $36 million deal with $22 million guaranteed.
In today's passing league, linebackers who can hit, run and cover are becoming increasingly more valuable, and the Las Vegas Raiders believe Littleton could dramatically upgrade their woeful pass defense.
Littleton Has the Coverage Skills of a Defensive Back
During his four seasons with the Los Angeles Rams, Littleton logged close to 1,200 coverage snaps, earning a PFF coverage grade of 87.3 — second among all linebackers who entered the NFL during 2016 with a minimum of 200 snaps. As an off-the-ball defender in the Rams' sub-package defense, Littleton was often the only linebacker on the field with six defensive backs. With 4.73 speed, he moves well in space and matches up with underneath pass routes well enough to have earned a seventh-ranked coverage grade in both 2018 (83.1) and 2019 (82.3). 
Because of his speed and range, Littleton can perform in any defensive zone scheme, as proven by his four-year zone coverage grade of 80.0, which ranks fourth among qualifying linebackers in the 2016 draft class. His above average ball skills and athleticism for a 6-foot-3, 228-pound linebacker resembles a tall and lean defensive back. Because of his superior pass-coverage skills, Littleton is at his best when used in a 4-1-6 personnel group where he is featured as the lone linebacker in coverage with six defensive backs.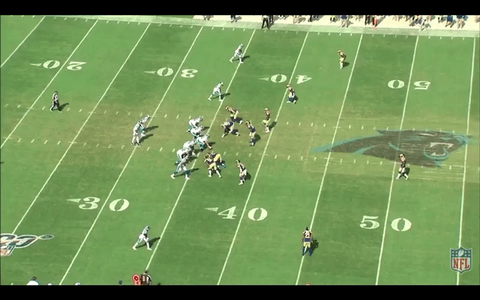 The Raiders' Black Hole
Littleton is expected to fill a black hole in a Raiders pass defense that earned the 29th-ranked PFF coverage grade (48.0) in 2019. Raiders linebackers earned an even lower coverage grade of 38.4 while allowing the league's second-highest passer rating of 122.0. Last season, Raiders linebackers were the primary targets on 155 pass plays and managed a 3.2% forced incompletion rate (25th), while allowing 10 touchdowns with just one interception.
Opposing quarterbacks repeatedly attacked the Raiders linebackers in pass coverage, and they finished last season with a 28th-ranked 0.187 expected points allowed per pass play. In 2019, the Raiders ran a form of zone coverage on 58.7% of their 589 total coverage snaps. Their 30th-ranked zone coverage grade of 51.6 was emblematic of their linebackers' inability to match up with passing routes in space.  
Littleton is more than capable of defending seam routes by tight ends and closing quickly on running backs in underneath coverage. Over the last two seasons, Littleton forced 18 pass break ups with six interceptions and a coverage grade of 90.6, which ranks second among all linebackers behind the Tampa Bay Buccaneers' LaVonte David. The Raiders are keenly aware of Littleton's liabilities as a run defender, where he's earned a 103rd-ranked 50.8 grade out of 126 qualified linebackers over the last two seasons.
To alleviate Littleton from serving in a role ill-suited for his skill set, the Raiders also signed free agent linebacker Nick Kwiatkoski to a three-year $21 million contract to be their primary run-stopper. As a former fourth-round pick of the Chicago Bears, Kwaitkoski earned a four-year run-defense grade of 74.7 and a pass-rush grade of 82.3 with 29 quarterback pressures and four sacks.
Kwaitkoski will be expected to fortify the Raiders run defense, while Littleton should be the centerpiece of their more complex pass-coverage schemes. In 2019, Littleton had the ninth-highest WAR (0.20) among linebackers — he is the Las Vegas Raiders' best bet to infuse their defense with a defender who has superior pass coverage skills.