It was July 4, 2014, and Stacey Tomberlin was growing distraught as she watched over the hospital bed of her son, then-19-year-old Ryan Tomberlin. Ryan, who has autism and epilepsy, had fallen into a coma after suffering a seizure while swimming in his grandmother's pool.
The student manager of Hiram High School's football team, Ryan was a popular figure who provided pregame speeches for his beloved Hornets. Yet, as he fought for his life, only one other member of Hiram's football team came to visit him: current Houston Texan Jonathan Greenard.
---
Click here for more PFF tools:
Rankings & Projections | WR/CB Matchup Chart | NFL & NCAA Betting Dashboards | NFL Player Props tool | NFL & NCAA Power Rankings
---
Ryan and the soft-spoken Greenard had become quick friends since the star athlete sought out Ryan on the first day of practice.
"We showed up at practice, and Jon was the first kid to walk up to Ryan and introduce himself," Stacey Tomberlin said in an interview with PFF. "They just clicked, and they've been brothers ever since."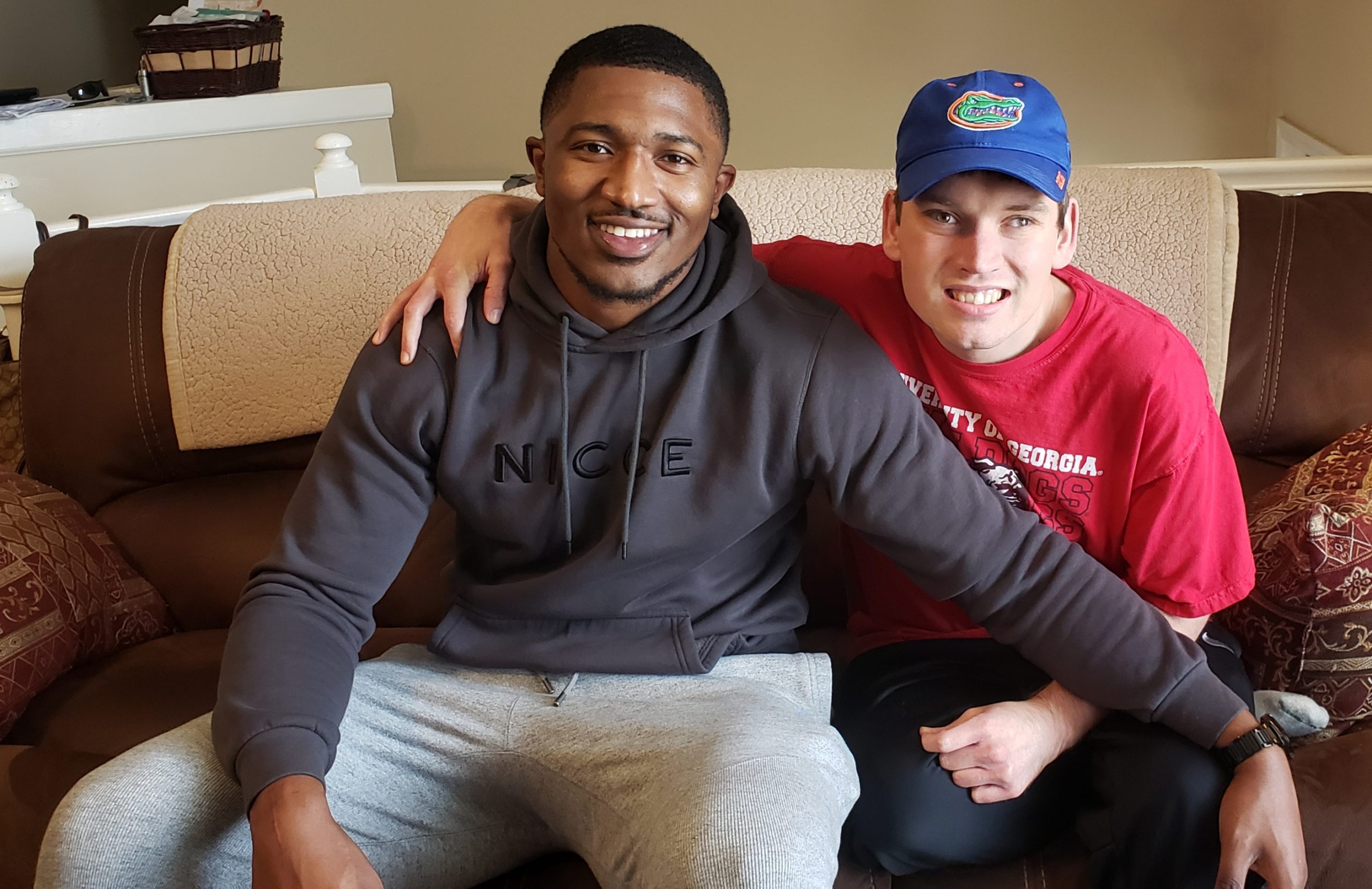 Ryan watched from the sideline as Greenard evolved into one of the best high school players in Georgia, dominating the game in all three facets while playing defensive end, tight end and punter for Hiram. After a stellar senior season that saw Greenard capture a number of accolades, including Defensive Player of the Year for the region, he committed to the University of Louisville under head coach Bobby Petrino.
Before he left, though, he had a promise to make to Ryan.
"It was the last day of school and Jon was signing Ryan's yearbook. Ryan goes, 'I don't want you to forget about me'. And Jon's like, 'I could never forget about you. You're my brother.' Other friends had said this along the way, and I had hoped that they would be able to maintain a connection, but I really halfheartedly didn't expect it," Stacey Tomberlin said. "When life gets ahead of you and out from under you, it's easy to forget the people you left behind. But by God, he told Ryan he wasn't going to forget him, and he hasn't."
The kindness Greenard exudes off the field belies the player he is on it. The second-year edge defender has already established himself as one of the most violent and destructive pass-rushers in the NFL. The Louisville-turned-Florida product has exploded with the Houston Texans under first-time head coach David Culley, who is a member of the Andy Reid coaching tree.
Greenard has registered the league's ninth-highest pass-rush grade — an 84.0 mark — among qualified edge defenders while leading all second-year players with seven sacks and a 13.9% pressure percentage.
Greenard's Stats Through 242 Defensive Line Snaps
| | | | | | | |
| --- | --- | --- | --- | --- | --- | --- |
| | Total Pressures | Sacks | Hits | Hurries | Tackles | Assists |
| 2021 | 18 | 7 | 4 | 7 | 14 | 2 |
"The violence I had to use in college was one thing, but getting to the league where you've got these guys that are much stronger, you have to bring it," Greenard said in an interview with PFF. "These are grown men with families. They're 30 years old. Some guys are almost 40. These guys are pure strength, so you've got to make sure everything you do is violent, has to be violent, or you're not going to get back there."
Greenard's ascension to becoming one of the league's brightest young pass-rushing talents began in the 2021 offseason, as he focused on becoming more dynamic and explosive off the edge. Working with popular pass-rush guru Brandon Jordan, the Texan defender honed in on the fundamentals, making sure his feet and hands were in sync as he deepened his tool bag.
"I prided myself on that in the offseason. Getting stronger and bigger, more physical, getting more flexible in the upper body, so that way, it can be more fluid and more violent and still look natural," Greenard said.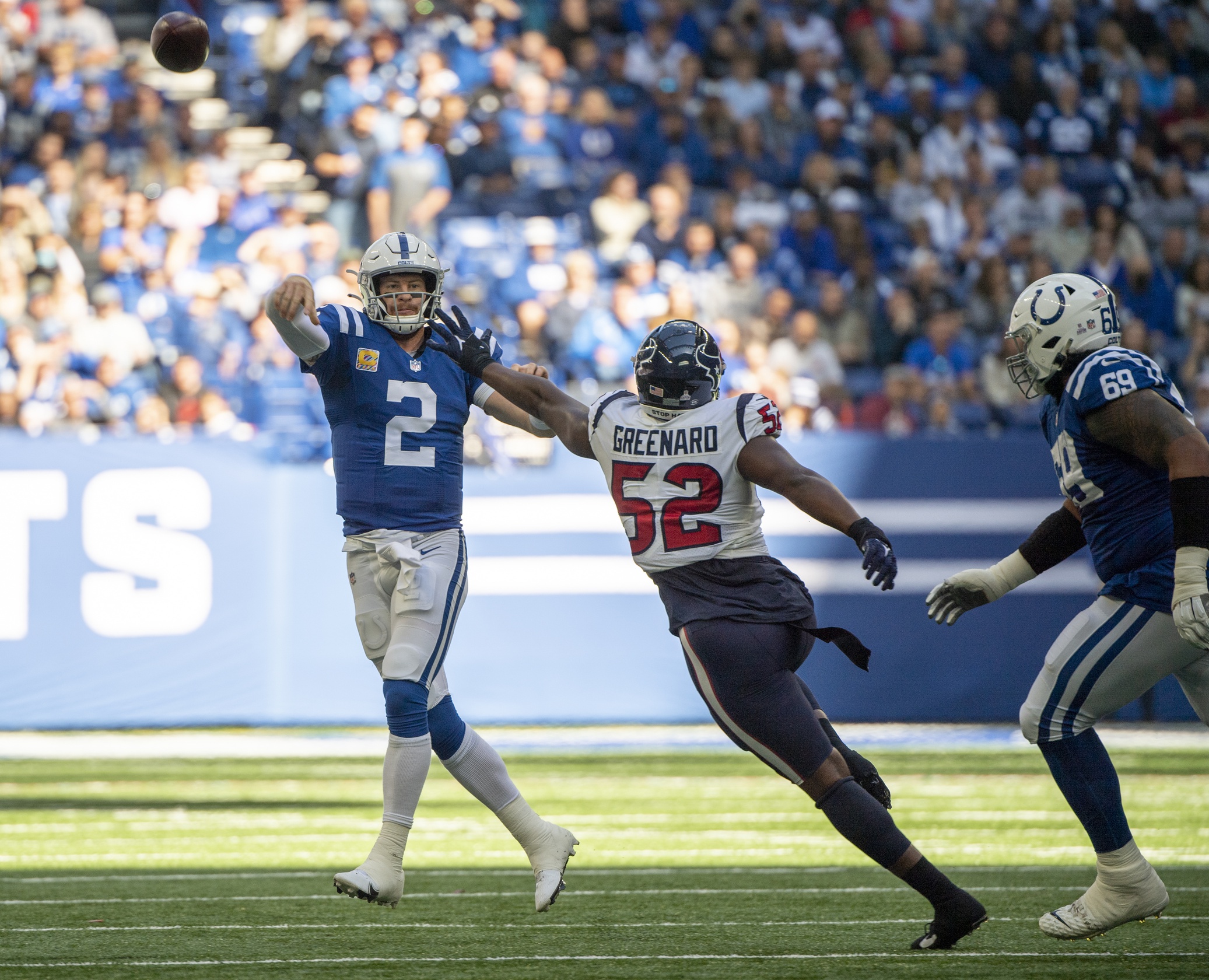 As Greenard worked to add more violence and power to his game, he became cognizant of the necessary refinements he needed to make to his pass-rushing arsenal. In college, he had primarily relied on his favorite move — a hesitation — to get into the backfield. Once he entered the NFL, it became readily apparent that one skill would not suffice, so the former third-round pick began to search for new ways to torment opposing offensive linemen.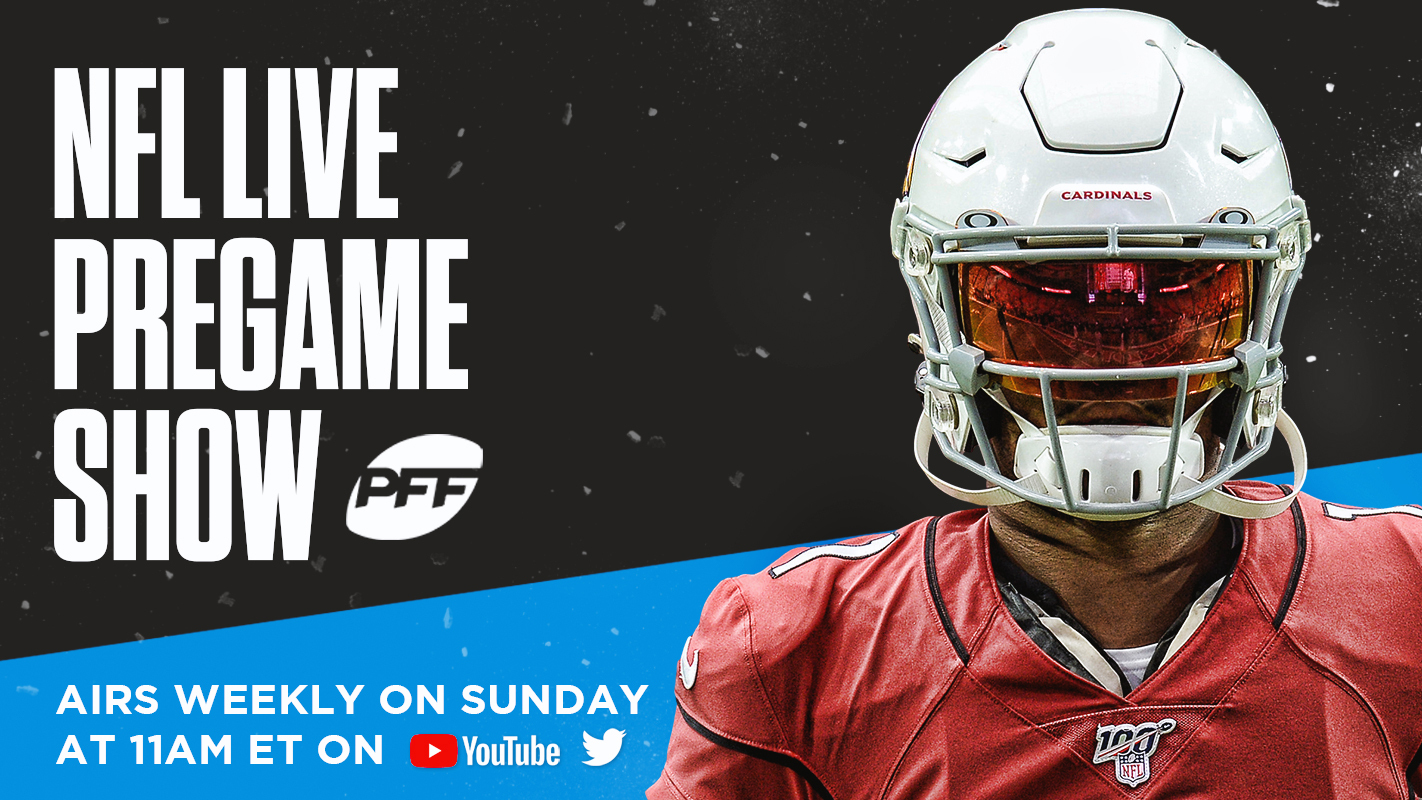 He ultimately added a number of moves to his collection, highlighted by a vicious double hand swipe, a natural counter to handsy offensive linemen. He now relishes the occasions when opposing linemen make the mistake of putting their hands on him just a second too early.
"It's definitely a cat-and-mouse game," Greenard said. "I mean, we're literally trying to figure out who's going to have their hands on each other last, or who can violently get them off faster."
Greenard also strived to improve his ability to interpret an opposing lineman's tendencies, gaining a better sense of not just how they operate, but why. He has become more perceptive of how offensive linemen are playing him, poring over hours of pregame film to better understand the natural tendencies each of his opponents possess and the counters that will have Greenard in the backfield before the lineman even knows what hit him.  
"I get a feel for it going into the game," Greenard said. "How does he set against my speed? If I see he's a guy just trying to get out of there, just beat me to the point, then we might have something on our hands. Or if he's an impatient guy, you got to give them a little hesitation, so that we can kind of get him off his pattern and rhythm."
Greenard's overall improvement from year 1 to year 2
| | | | |
| --- | --- | --- | --- |
| Season | Defensive Grade | Run Defense Grade | |
| 2020 | 51.9 | 51.7 | 62.6 |
| 2021* | 84.5 | 68.7 | 84.0 |
*2021 Grades through Houston's first 9 games
Greenard's development took another positive turn in late January when the Texans hired former Baltimore Ravens assistant head coach David Culley to lead their franchise. The first-time head coach brought in one of the league's most respected defensive minds, Lovie Smith, to command a reeling defense from previous years. Culley and Smith shifted defensive philosophy, simplifying the scheme in order to best accentuate the strengths of their roster.
"When I saw we actually hired Coach Smith, I was like, 'Oh yeah, we're going to a 4-3, it's pretty much hand in the dirt and we going.' That's what I like," Greenard said. "I love to just be on the other side of the ball and always be going forward. I can do the other things, but if you want the best part of me, I'm going to get after that passer and try to wreak havoc on the game."
Jonathan Greenard – 84.0 PFF Grade

Highest-graded 2nd year defender through Week 8 ???? pic.twitter.com/DNkfHGDVVO

— PFF HOU Texans (@PFF_Texans) November 3, 2021
To Culley and Smith's credit, they immediately identified Greenard as one of Houston's core building blocks and empowered the young pass-rusher to play fast and free. Gone were the constricting rules and counter-intuitive principles that had limited Greenard's effectiveness in his rookie season. In their place were looser guidelines that have allowed Houston's crop of talented youngsters to learn on the job and build toward the team's bright future.
"There's no leash on me. They just want everybody to play," Greenard said. "They don't want robots out there. I think that's one of the things I like about this staff is they let you go and let you play free, so that way you're able to make some plays within this scheme."
Culley's emboldening of Greenard on the field has only strengthened the pair's relationship. The rookie head coach has ingratiated himself with a refreshing mix of honesty and humor. Joining the Texans during some of the most perilous times in franchise history, Cullen has grown only more popular while earning a reputation as a straight shooter who refuses to mince words.  
"He got on me a couple of times about some stuff, more so in practice and just technique-wise," Greenard said. "It's funny, but it's also weird because, obviously, he's a new coach and we obviously know he's the new one around here. So we're all still learning about him, and he's still learning about us and things of that sort. So I actually liked it that he called everybody out like that. I actually liked that he held everybody accountable. … You've got a lot of respect for guys like that who basically don't sugarcoat anything."
Culley's straightforward approach has helped solidify one of the league's ill-fated franchises, providing a voice of reason and stability that allows players like Greenard to focus solely on football. The results speak for themselves, as the edge defender now works to put the finishing touches on what has been a spectacular sophomore season.
One of Greenard's remaining goals, though, takes place off the field. He has been working to set up the proper accommodations so that Ryan can watch him play in the NFL for the very first time. Greenard and Stacey Tomberlin remain in almost constant contact as she searches for the perfect opportunity to make her son's dream of seeing his "brother" on the biggest stage come true. Until then, the outpouring of support that Ryan and Stacey provide from home will have to suffice.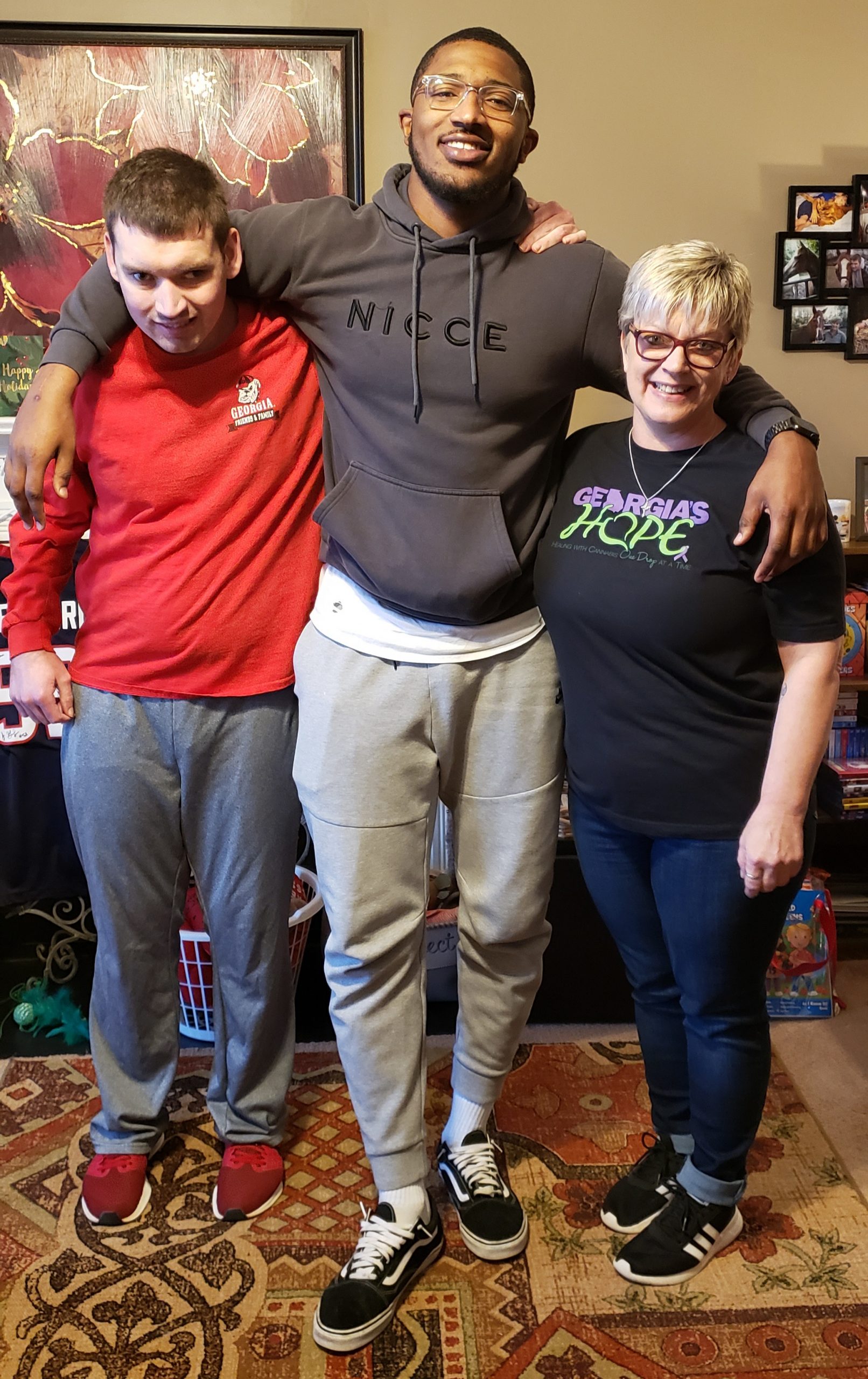 "I just always told the kid, go out there and do it for all the kids like Ryan who can't do it," Stacey Tomberlin said. "Achieve everything you can for all the kids who can't. And he has, he absolutely has."