We can't let the nerds win. First, they said running backs don't matter. We countered by talking about how running backs can work in the quick passing game. They pushed back, of course. Receivers matter only when they create big plays down the field. The Jarvis Landry slander was loud and clear. We have been cornered. We're up against the wall. I am here to tell you there is hope for us running back truthers. NFL teams have found ways to get their running backs open down the field for explosive gains recently, and we can only hope that number will grow.
Slowly but surely, running backs are being used more and more on shot plays down the field. In 2006, the first year of PFF data, running backs were targeted beyond 15 yards down the field when they lined up in the backfield only 23 times. Thirteen years later, in 2019, that number grew to 74. It's not much, but the rate at which running back targets are downfield has been increasing steadily every year.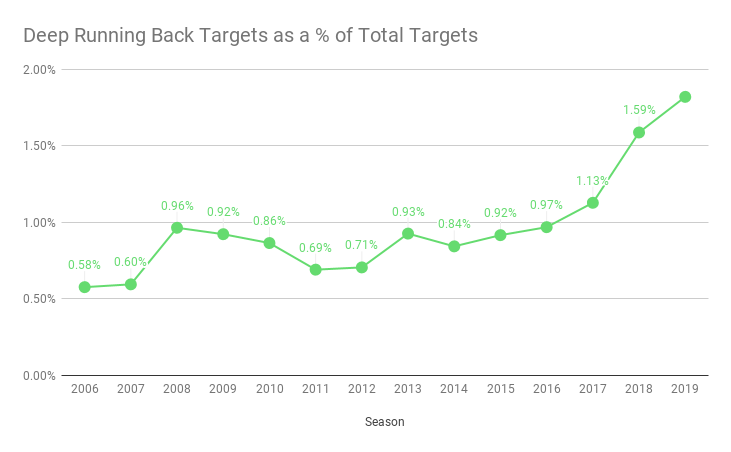 The line goes up — we might even hit 2% in 2020! The 2018 and 2019 seasons are where we need to focus our attention. The jump from 2017 to 2019 is just over half a percentage point. There were 138 deep targets to running backs over the past two NFL regular seasons. The reason why we want to specifically use running back targets when they line up in the backfield is to find the ways NFL teams scheme these plays up. Putting a receiver in the backfield tips off the defense too much, and taking running back routes when they are lined up as a receiver defeats the purpose of this exercise.
Subscribe to PFF Edge to continue reading
Already have a subscription? Sign In