We are now in the scary lull between the AFC/NFC Championship and the Super Bowl where we have our first week without football since the Hall of Fame Game. This also means that free agency and draft season is right around the corner. That being said, let's kick off the madness of free agency by looking at every NFL team's realistic top target they need to pursue come March:
(Keeping in mind their salary cap situations based off estimates from our friends at OverTheCap)
[Editor's Note: All EDGE and ELITE subscribers have full access to our free agency database, including rankings, grades, PFF WAR, contract projections and more! Subscribe today using promo code PFF30 and save 30% on an EDGE or ELITE Annual subscription!]
The Arizona Cardinals were one of the worst teams in coverage this past season, ranking 31st in both expected points added per pass and team coverage grade. Long-time Cardinal Patrick Peterson can't do it all himself in the secondary and needs a veteran opposite of him who can play at an above-average level while young corners Byron Murphy and Chris Jones learn from the seasoned duo. Ravens ninth-year corner Jimmy Smith is a solution to this problem. After posting a career-high PFF coverage grade in 2017 that ranked 10th among corners, Smith has dipped down the past couple of years but has still produced grades above the league average in each season. Arizona's top three cornerbacks (Murphy, Peterson and Tramaine Brock Sr., who was cut in December) each allowed a passer rating over 100.0 on their targets this past year. Smith has never done that in his NFL career and is coming off a season where he allowed just a 62.8 rating.
We all know that Atlanta's defense was a big problem en route to the team's 7-9 record in 2019, particularly a coverage unit that ranked 26th in EPA per pass allowed. The Falcons are in a tough spot with the fourth lowest expected cap space this offseason and need to drastically improve their defense while keeping the cost low. Safety Tre Boston has been criminally underrated over the past few years. With three different teams in each of the past three seasons, Boston has posted coverage grades that ranked ninth, 18th and fourth. While in coverage during that stretch, he's produced 27 combined pass breakups and interceptions while allowing only 20 first downs.
Baltimore was good in every category besides one this past year: pass-rushing. The Ravens ranked 27th in PFF pass-rush grade and outside of Matthew Judon, none of their players were consistently impactful when rushing the passer. Edge defender Shaquil Barrett signed a one-year, prove-it deal prior to 2019, and he definitely proved himself as he had in each of his four seasons prior. In his five career NFL seasons, Barrett has ranked among the 25 best edge defenders in PFF overall grade in every single one. His 82 pressures on the year were the fourth most and 20 more than any other Raven. The bad news for Baltimore is that if they want Barrett, they'll likely need to pay a high price since teams will overvalue what he brought to the table from a sack total standpoint.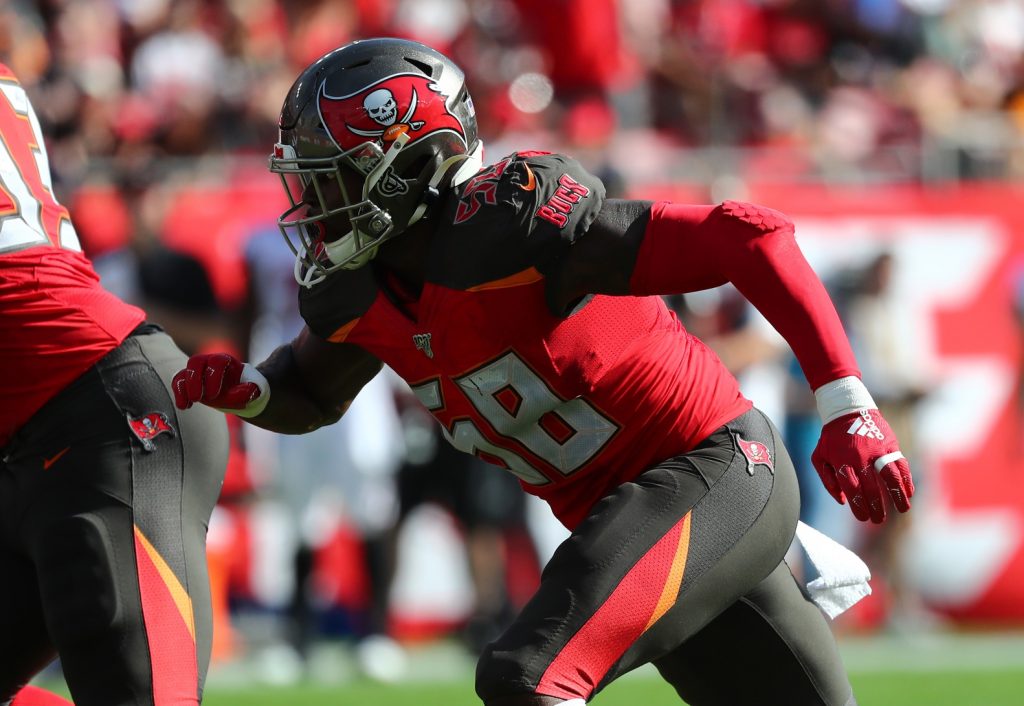 © Kim Klement-USA TODAY Sports
With Shaq Lawson set to hit free agency and Lorenzo Alexander retiring, Buffalo has nearly half of its total edge pressures to replace this offseason. Luckily, the Bills have the third most cap space to play with and can bring in marquee guys. Edge defender Yannick Ngakoue makes too much sense for Buffalo — he can slide right into Lawson's 6/7-tech role and make an immediate impact. Ngakoue has produced PFF pass-rush grades that were among the 20 best edge defenders in each of the past three seasons, and his 196 pressures in that same period are the 10th most. His tackling and run-defense have been subpar, but his pass-rushing is what matters most — and he gets pressure on the quarterback consistently.
The Kyle Allen experiment was a failure, and with Cam Newton's health in question, it's time for Carolina to look elsewhere. With Joe Burrow and Tua Tagovailoa guaranteed to be taken before they pick at No. 7, the Panthers will have to dip into the free agency pool since they will have to either develop a 2020 rookie who isn't ready for the starting job or wait for the 2021 NFL Draft. Teddy Bridgewater fits the mold perfectly for that and is a player who could end up securing the franchise quarterback job. He filled in for Drew Brees in 2019 and played like he did before his gruesome injury in 2016. When starting from Weeks 3-8, Bridgewater was the fifth highest-graded quarterback and owned one of the league's lowest negatively graded play rates.
Yes, that's right — the Chicago Bears most certainly should ride the Jameis-coaster in 2020. Mitchell Trubisky has played consistently poor in his three-year NFL career, posting PFF grades in the mid-to-low 60.0s each season.
PFF grade rank among quarterbacks (out of 32)
| | | | | | |
| --- | --- | --- | --- | --- | --- |
| | 2015 | 2016 | 2017 | 2018 | 2019 |
| Jameis Winston (TB) | 17th | 18th | 15th | 24th | 21st |
| Mitchell Trubisky (CHI) | — | — | 25th | 30th | 27th |
Jameis has been arguably the most volatile quarterback PFF has ever seen, but he has still been better than Trubisky. Winston's average WAR these past three seasons was among the 15 best quarterbacks in the NFL. Trubisky, on the other hand, was among the six worst. Since Winston came into the league in 2015, he ranks first in positively graded play rate and has posted the second worst negatively graded play rate at the same time. Trubisky has struggled to generate any positive plays and is in Winston's realm as far as negatively graded play rate. Winston's decision making absolutely needs some work, but at his best, he is "ballin.'" Chicago isn't in the position to grab a high quarterback prospect in the draft. They could get themselves Jalen Hurts in the second round, but that's the best they'll do. A one-year trial is the best option for the Bears, so buckle up and get ready for the ride Chicago — what's the worst that could happen?
The Bengals are in rebuild mode and will be getting their franchise quarterback first overall this April. Positions of need are everywhere for Cincinnati, so after quarterback, cornerback is the next one to target. Kendall Fuller hasn't been the same player for the Chiefs as he was in 2017 with Washington, but we have seen a level of play from Fuller that could make him a breakout player in 2020. In his second career season in 2017, Fuller's 91.2 coverage grade tied for the second highest in the NFL, as he rarely gave up an explosive play. His 2018 wasn't nearly as good, surrendering over 500 yards more in coverage but still ranking 38th of 120 qualifying cornerbacks in PFF coverage grade. This year, Fuller was out for a handful of weeks and has played more at safety in the latter part of the year. He'll have a low asking price, and a fresh start for Fuller in Cincinnati back in the slot could be a win for both sides.
Whether it's pass-blocking or run-blocking, Cleveland's offensive tackles have been far below average — especially right tackle Chris Hubbard. That position is of dire need, and free agent Jack Conklin can fill it. Conklin had an improbable year in 2019 with the Titans — he tore his ACL in the divisional playoff game earlier that year after already suffering a knee injury to start the 2018 season and he came back as the sixth highest-graded right tackle in the NFL. His 2019 run-blocking grade ranks top five, and his pass-blocking mark is among the top 10.
First and foremost, quarterback Dak Prescott, wide receiver Amari Cooper and cornerback Byron Jones are top priorities for Dallas in free agency. It'll be incredibly difficult for Dallas to bring back all three, but regardless, they'll have to scoop up low-cost free agents the rest of the way — and Shaq Lawson can bring value to their pass-rush unit. Lawson had his best year yet in 2019, ranking 41st among 104 qualifying edge defenders in pass-rush grade and 21st in pressure rate at 14.2%.
Outside of Courtland Sutton, there's not much for Drew Lock to throw to in the Denver offense. Randall Cobb isn't back to his 2014 Green Bay form, but outside of the nine drops, he showed he was effective in the slot this past year. His 22 plays of 15-plus yards at that alignment led all wide receivers, proving that he's still a serious weapon against zone who can find holes and create explosive plays.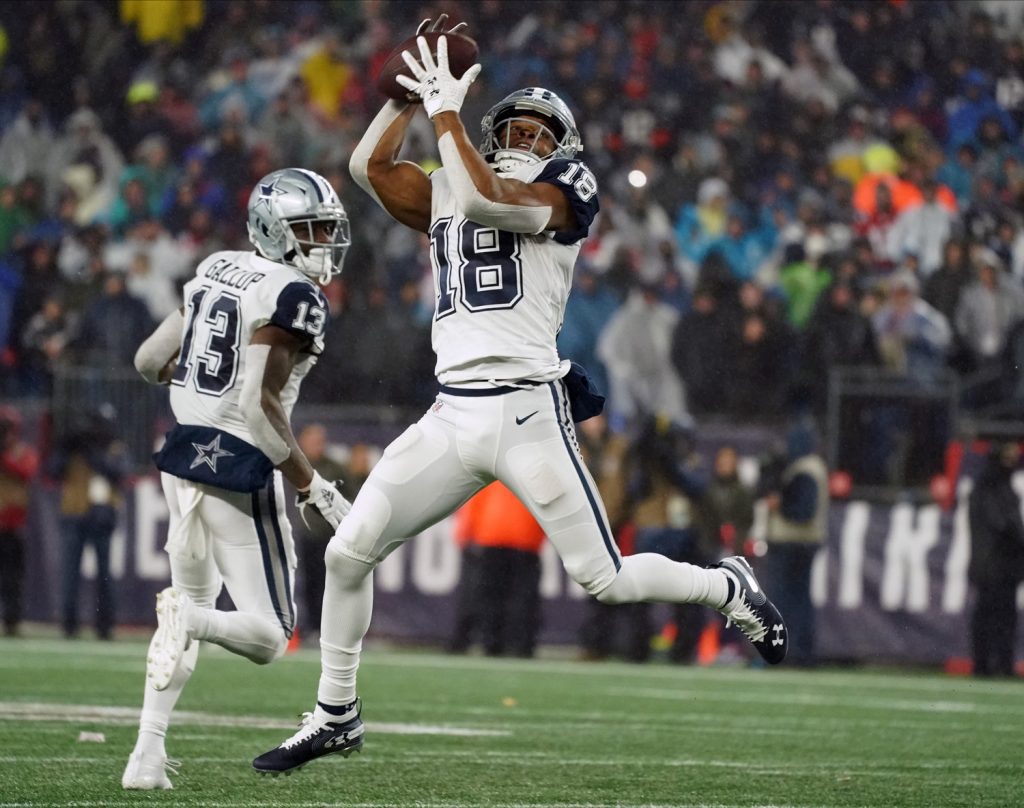 © David Butler II-USA TODAY Sports
The Detroit Patriots have been evolving over the last couple years under Matt Patricia, and bringing in Kyle Van Noy, another Patriot, to aid their pass-rush woes makes sense. Detroit tied for 29th in team pass-rush grade this past season and could use an upgrade over Devon Kennard. Van Noy was actually a Lion himself at one point before he was traded to New England midseason in 2016. After playing mostly off-ball linebacker for most of his career, Van Noy transitioned to the edge and recorded a career-high 84.2 PFF grade in 2019, ranking 16th in the NFL. New England will have to spend most its free money on offensive weapons in order to woo Tom Brady back, so a reunion for Van Noy and Detroit with Patricia shouldn't be a surprise.
It seems unlikely that A.J. Green will hit the open market considering the Bengals passed on the opportunity to trade him before the deadline in 2019 for assets, but if he doesn't get franchised and hits the open market, Green Bay should be sending the house to get him. Aaron Rodgers isn't getting younger, and he has one of the top wide receivers in the NFL in Davante Adams, but that's it. From 2012 to 2018, Green ranked among the 20 best wide receivers in the NFL in PFF receiving grade, and five of those seven seasons ranked in the top 10.
Houston's secondary has hindered the team's success. The unit ranked 28th in coverage grade and will see its top two cornerbacks, Johnathan Joseph and Bradley Roby — who were average at best — enter free agency. They'll need to bring in multiple cornerbacks, and one they need to be targeting is Troy Hill. While with the Rams these past four years, Hill has never seen a full season as a starter — but his 2019 production makes him deserving of such a role. Hill's coverage grade was among the 25 best in football, and he allowed the second lowest catch rate (45.1%). With little draft capital, Houston will have to nail free agency, and Troy Hill for a lower cost is a good start.
There's probably no state with a bigger hatred for the Patriots and Tom Brady than Indiana, but if they want to be a Super Bowl contender, they'll have to set their differences aside and let Brady lead their team. Jacoby Brissett finished 2019 as the fourth lowest-graded quarterback in the NFL and looks like he might be a backup as opposed to a starter. While this was Brady's lowest-graded season since 2006, it was still good enough to be 12th among quarterbacks. He's been one of the most valuable quarterbacks these past few years, and pairing him with T.Y. Hilton and perhaps a new talent accrued through the draft or free agency would give Indianapolis a shot at contending for the next couple of seasons.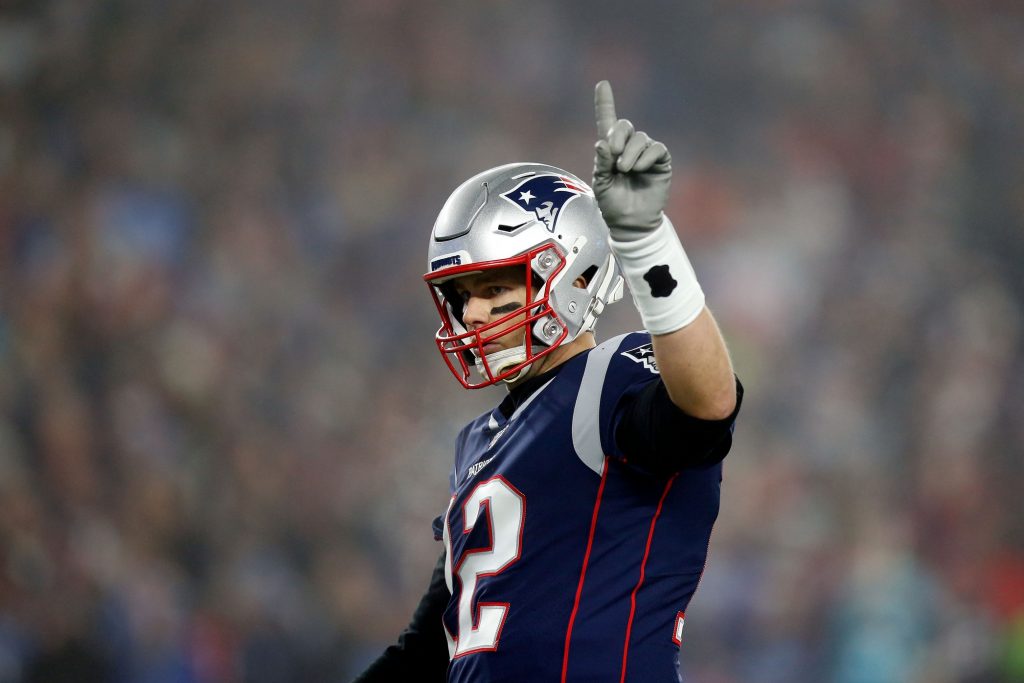 © Greg M. Cooper-USA TODAY Sports
The Jaguars have little money to spend in free agency, but with what they do have, they need to do something at right guard. A.J. Cann and Will Richardson Jr. split time there, and they both had poor performances, with PFF grades of 54.8 and 43.0, respectively. Graham Glasgow hadn't played right guard in his NFL career until this past year, and it was his best season yet. His PFF grade was eighth best among 28 qualifying guards, and he didn't allow a single sack.
Kansas City made it to the Super Bowl in 2019-20, and they'll remain in that conversation for years to come. While their secondary is vastly improved from 2018, adding Chris Harris Jr. will take the unit from good to great. Harris Jr. had the worst year of his career from a grading perspective in his move to solely outside corner in 2019, but he was still the 22nd most valuable at his position in PFF WAR. He was the third highest-graded in the slot in 2018, so Kansas City: sign Chris Harris Jr., put him in the slot and prosper.
The Chargers' offensive line was one of the worst in the NFL in pass-protection last year, ranking 31st in PFF pass-blocking grade. They need fresh veteran faces, and right tackle Bryan Bulaga is the perfect fit. Bulaga has routinely been one of the best right tackles in pass-protection in his career. In each of his full seasons since 2014, Bulaga has ranked among the 10 best right tackles in PFF pass-blocking grade, with three ranking in the top three.
Joe Thuney earned himself a massive contract as the last few seasons have evolved, and the Rams should do everything possible to bring him in. In each of the past three years, Thuney has ranked among the 10 most valuable guards in PFF WAR. He stepped it up in pass-protection, specifically, in his past two campaigns, ranking second in two-year PFF grade. Neither Austin Corbett nor Joseph Noteboom (the two to play the most at left guard for the Rams) qualify, but if they did, they would be around 28th and 35th, respectively, of 37 qualifiers.
The Raiders are moving to Vegas in 2020 with the 10th most cap space available among teams, and they need to bring with them new members for their defense that has been among the worst in the NFL for quite some time now: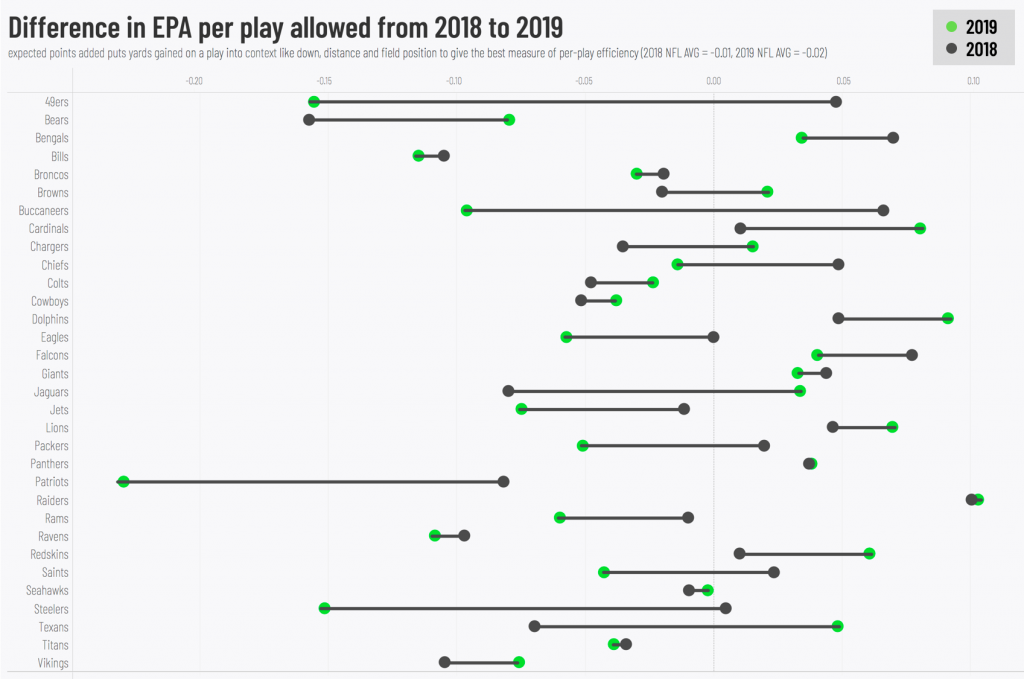 After ranking dead last in EPA allowed per play in 2018, the Raiders made minimal changes and maintained their last ranking. A lockdown corner is a must, and one of the best likely to be available is Byron Jones. He is arguably one of the best press-man corners in the NFL on the outside. Jones allowed 0.39 yards per coverage snap in press at outside corner in 2019, the second lowest figure at the position and over eight-tenths of a yard lower than average (Daryl Worley was last, for what it's worth).
The Miami Dolphins need help everywhere and will be rebuilding all over the field. Eli Apple has never quite lived up to expectations — his highest PFF coverage grade in his four-year career sits at just 64.2. He has vast experience playing press-man coverage, though, and wasn't bad in that role this past season. Apple's 0.87 yards allowed per coverage snap in press at outside corner ranked 13th in the NFL in 2019. Coach Brian Flores brought his Patriots roots to Miami, and man coverage has become the Dolphins staple.
Since Week 5 of the 2016 season, Jason Verrett has played only 67 snaps. The 'Niners gave him a shot, but he couldn't stay healthy. He'll be a free agent this offseason, and the team with the lowest cap space available — the Minnesota Vikings — needs to give him another shot, as they don't really have many better options. The Minnesota cornerbacks produced the 28th-ranked coverage grade this past year, and if Verrett can get healthy, he'd make a big impact. In Verrett's rookie campaign in 2014, he was limited to only 156 coverage snaps due to injury but managed to produce a solid 82.5 coverage grade. In his only (mostly) healthy season in 2015, Verrett was the NFL's highest-graded cornerback in PFF coverage grade at 90.9.
Don't be surprised if we see Tom Brady go unsigned the first day or two of free agency while he sees it all play out. The Patriots desperately need help at wide receiver, and bringing in one of the 15 most valuable ones may convince him to stay. Cooper has been a completely different player since he left Oakland — since his first game with Dallas, Cooper's PFF receiving grade is the 11th best, and he's generated the ninth most explosive plays.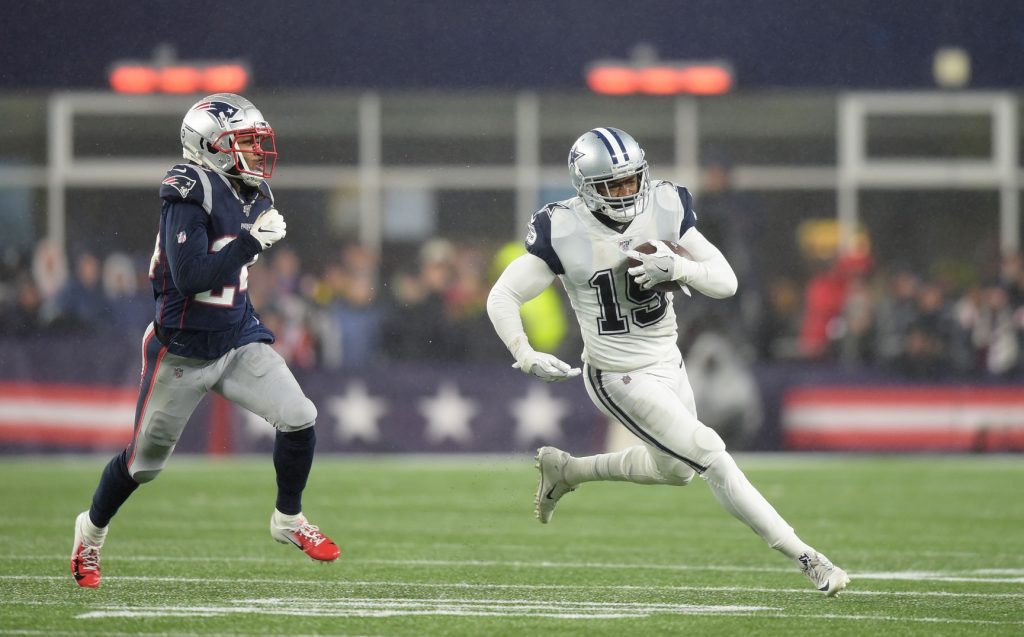 © Bob DeChiara-USA TODAY Sports
It seems like a given that Drew Brees will come back for one last hurrah, and the Saints will return the key members of the roster that ranked fourth in non-quarterback team WAR this past year. Still, Brees could use a low-cost weapon opposite of Michael Thomas. Breshad Perriman has been fairly decent since leaving Baltimore in 2017. He's dropped just one of 90 targets these past two years, which bodes well for the most accurate quarterback in the NFL. In his most recent season with Tampa Bay, Perriman ended the year red hot by producing the second highest receiving grade over the last five weeks.
Anthony Castonzo has been one of the best left tackles in the NFL for quite some time now, and if the New York Jets are going to pay any left tackle, it needs to be him. Kelvin Beachum, their 2019 starting left tackle, was the Jets' highest-graded lineman but didn't sniff the play of Castonzo, who was the third highest-graded left tackle in 2019. And since 2012, his lowest grade in a season is a solid 76.9.
The Giants' secondary was brutal across the board in 2019 — the team ranked 30th in coverage grade, and their four most-played cornerbacks each failed to crack a coverage grade above 60.0. Safeties Jabrill Peppers and Julian Love were the best coverage defenders, but head coach Joe Judge will look to add former Patriots, and safety Devin McCourty is still a good one to get. Love has experience in the slot, so moving him there exclusively while bringing in the NFL's sixth highest-graded safety from 2019 wouldn't be a bad idea. Playing deep safety in 2019, McCourty allowed just one catch and notched four interceptions.
Malcolm Jenkins helped improve the Eagles' secondary this year, playing exceptionally well in his box safety/slot role. Everywhere else wasn't terrible, but there is certainly room for improvement, and adding Anthony Harris would elevate the most important unit on the defensive side of the ball. Harris has been one of the NFL's best free safeties these past couple of years, recording the highest two-year PFF overall grade at that alignment. He also had seven interceptions as a free safety in that timespan while allowing six catches.
The cap situation is rough for the Steelers, but whoever is throwing the ball for them next year will need a new tight end. It'll definitely take some restructuring of past deals or some cuts to get him, but landing Hunter Henry would be a huge win. Henry has had some unfortunate injuries the last couple of years but overcame them and produced a solid 75.0 receiving grade in 2019. The hope with signing Henry is that he can get back to his 2016 and 2017 form, when he was behind only Rob Gronkowski and Travis Kelce in two-year PFF receiving grade.
There's really not a position of need for the 49ers, so if Jimmie Ward walks in free agency, the perfect replacement is Ha Ha Clinton-Dix, who is coming off the two best seasons of his six-year career. His two-year PFF coverage grade is tied for the 12th best among safeties, surrendering just six catches while picking off four when in coverage 10-plus yards downfield.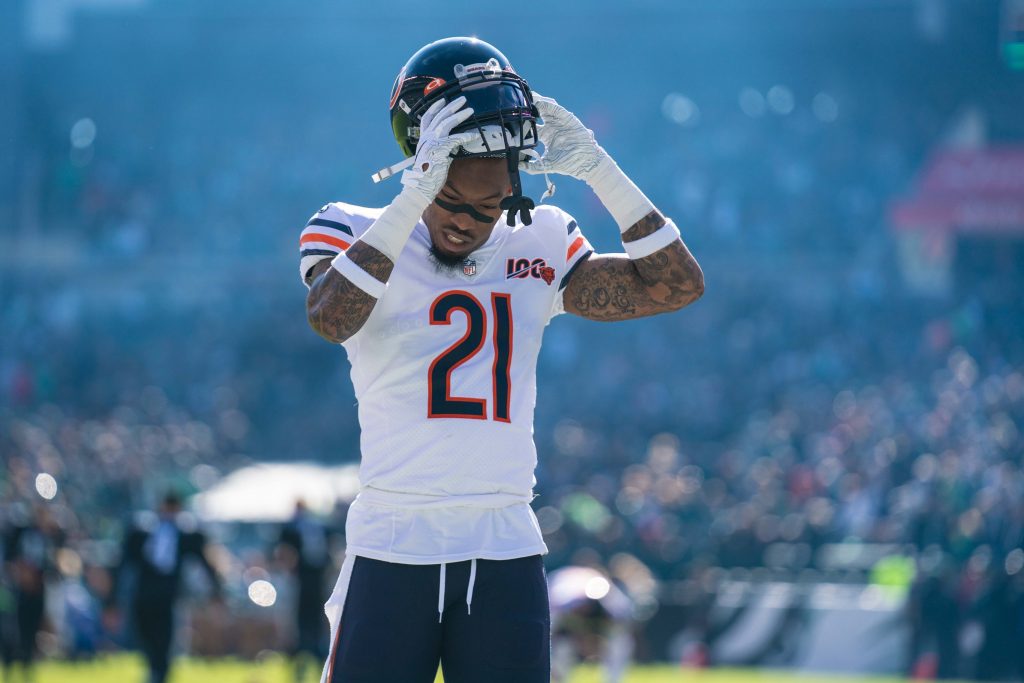 © Bill Streicher-USA TODAY Sports
Seattle is lucky it has one of the most mobile quarterbacks in the NFL who can avoid pressure like no one else in Russell Wilson because his offensive line was 30th in PFF pass-blocking grade last year. Brandon Scherff is one of the best blue-chip interior offensive linemen available in free agency and understandably so. He's produced PFF overall grades above 70.0 in each of his five seasons with Washington and was among the 11 best right guards each year.
This past season definitely wasn't Philip Rivers' best year, but it surely wasn't his worst, either. He was kind of Jameis-esque — still top 10 in big-time throws while managing to post the third most turnover-worthy plays. We must not forget though that Rivers was elite in 2018. He posted the third best passing grade during regular-season play, behind only Drew Brees and Patrick Mahomes. The Chargers' offensive line situation in 2019 was among the worst in the NFL, and their receiving unit was good, but not up to par with Mike Evans and Chris Godwin. Giving Rivers the best receiving duo in the NFL along with an offensive line that was top 10 in pass-blocking grade could get him back to the norm, despite his age. No risk it, no biscuit.
Tennessee shocked the football landscape this year and nearly made its way to the Super Bowl before blowing a 10-point lead to the Chiefs. Resigning Ryan Tannehill — as odd as that would have sounded a year ago — seems like a must. The only major hole in their roster that need to be filled after that situation is their edge unit. Jadeveon Clowney has said he wants to go to a contender, and the Titans have proved that they can be exactly that. Clowney finished 2019 as the 10th highest-graded edge defender and won on 16.6% of his pass-rushing reps, which ranked 29th. The interest has to be mutual, for the right price, of course.
Washington has a lot of holes to fill through free agency, but one has to be cornerback. Quinton Dunbar finished the year as the second highest-graded cornerback, but outside of him, there's no one. A player they need to circle and go after is Darqueze Dennard. He was limited to only 290 coverage snaps in 2019 but put up a career-high and 15th best coverage grade on those snaps. He allowed only four catches of 10-plus yards, as well (Washington ranked fourth to last in catch rate allowed on 10-plus yard throws).