Following earlier reporting that the Tennessee Titans was a longshot to land hall-of-fame wideout Julio Jones, it appears they're now close to getting a deal done. Per ESPN's Dianna Russini, barring a late snag in the deal, the Titans are expected to get a trade done with the Atlanta Falcons in the next one or two days. 
Per NFL's Ian Rapoport, the Falcons will receive a 2022 second-round pick and 2023 fourth-round pick in exchange for Jones and a 2023 sixth-round pick. It does not appear at this time that Tennessee will require Atlanta to pay some of Jones' $15.3M 2021 base salary as a bonus before executing the deal. 
This was what the Miami Dolphins did with quarterback Ryan Tannehill in 2019 before trading him to Tennessee, paying out a $5 million signing bonus as a condition of the trade. Tannehill has since signed a four-year, $118 million extension that is scheduled to pay him a $24.5 million salary for 2021.
While there has been no reporting yet on how Tennessee will clear the necessary cap room to absorb Jones' salary – Tennessee is currently 29th in 2021 cap space with $3.35 million per Over The Cap – it is likely the Titans will convert a substantial portion of Tannehill's salary into a signing bonus as a part of a restructure.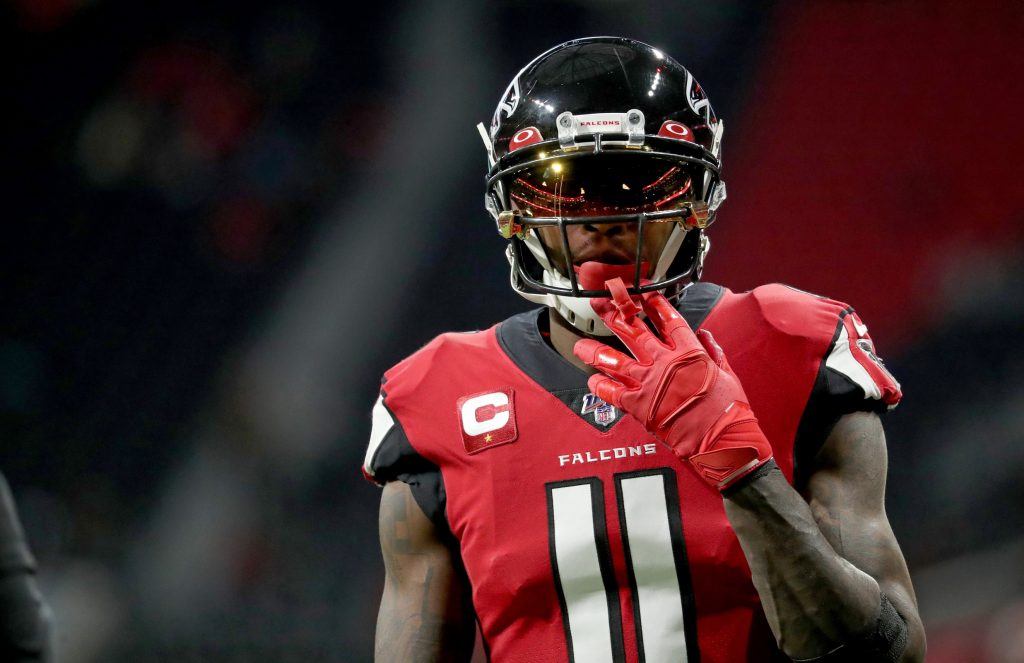 When A.J. Brown says "y'all done f–ked up," he isn't kidding,. The Titans have two of the top-10 wide receivers in the entire league entering the 2021 season. Injuries may have prevented us from getting the full Julio Jones experience in 2020, but he was still uber-productive when on the field and showed he still has plenty left in the tank. Across nine starts, Jones notched an 86.3 PFF grade and 2.6 yards per route run, both of which were top-10 marks. He also turned over 35% of his targets into 15-plus-yard gains, the highest rate by six percentage points among wideouts with at least 50 targets. 
Prior to 2020, Jones was on a streak of five straight seasons of ranking inside the top-three among all wide receivers in PFF grade. In that five-year span, Jones has produced 225 receptions that resulted in a 15-plus yard gain, which is 50 more than any other wide receiver. There isn't a more dominant stat than that in PFF's database.
Jones has undoubtedly been one of, if not the best all-around receivers in he PFF era (2006-21). He made it known when he demanded a trade that he wanted to go to a quarterback that can deliver the deep ball, and Tannehill has proved over the last couple of years that he can certainly do that. He wasn't a volume shooter downfield with how run-heavy the offense has been, but when he got the opportunity, he delivered. He has produced the eighth-best deep passing grade since joining the Titans in 2019. Overall in that span, Tannehill is the third-highest-graded passer with a two-year mark that's over 10 grading points higher than Falcons veteran Matt Ryan, who sits at No. 12. Tannehill did that while tying for the fifth-highest average depth of target in the NFL at 9.3. 
The Titans were one of the few teams with Super Bowl aspirations that desperately needed another high-impact receiving threat leading up to the 2021 season. The losses of Corey Davis (PFF's 10th-highest-graded wide receiver in 2020) and Jonnu Smith (PFF's 12th-highest-graded tight end in 2020) were not offset by the offseason additions of Josh Reynolds and fourth-round selection Dez Fitzpatrick. That depletion of the receiving corps in addition to the loss of offensive coordinator Arthur Smith was setting up Tannehill and the rest of this offense for a step back in 2021.
Brown would have had the weight of the passing offense on his back with Reynolds and Nick Westbrook-Ikhine alongside him in 11 personnel. The trade for Jones not only takes some of that pressure off of him, but it gives him an even more talented running mate than what he had last season in Davis. That should mean more single coverage targets for Brown, which has been an area he has excelled over the past two seasons. Brown's passer rating when targeted against single coverage since 2019 (131.5) is a top-five mark in the NFL among 90 wide receivers with at least 50 such targets.   
Bringing in a wide receiver of Jones' caliber, even with his age and injury concerns, for a second-round pick and change is a no-brainer for Tennessee given their current roster. Jones provides a level of protection for the offense against expected regression. The Titans now have a strong case for having the league's best trio of offensive weapons between Brown, Jones and Derrick Henry, as well. The Titans were the favorites to win their division in PFF's season simulation prior to the trade, coming out on top 45.8% of the time. This trade only strengthens the advantage they hold in a very winnable AFC South.