Before the 2021 NFL season kicks off, let's do one final review of the 2020 season at the quarterback position. We'll be giving out quarterback superlatives for each team's main starting quarterback from the 2020 season, split by conference.
Today, we will be looking at NFC starters from last season. Specifically, we'll examine quarterback play versus each type of coverage, quarterback play for different formation types and quarterback play under pressure.
Let's first look at which quarterbacks were the best versus each zone coverage. To measure this, we will use each quarterback's average expected points added (EPA) mark versus each coverage. The four coverages used in this analysis are Cover 2, Cover 3, Cover 4 and Cover 6. Cover 3 Seam was incorporated into Cover 3 for clarity and because of how similar each coverage is.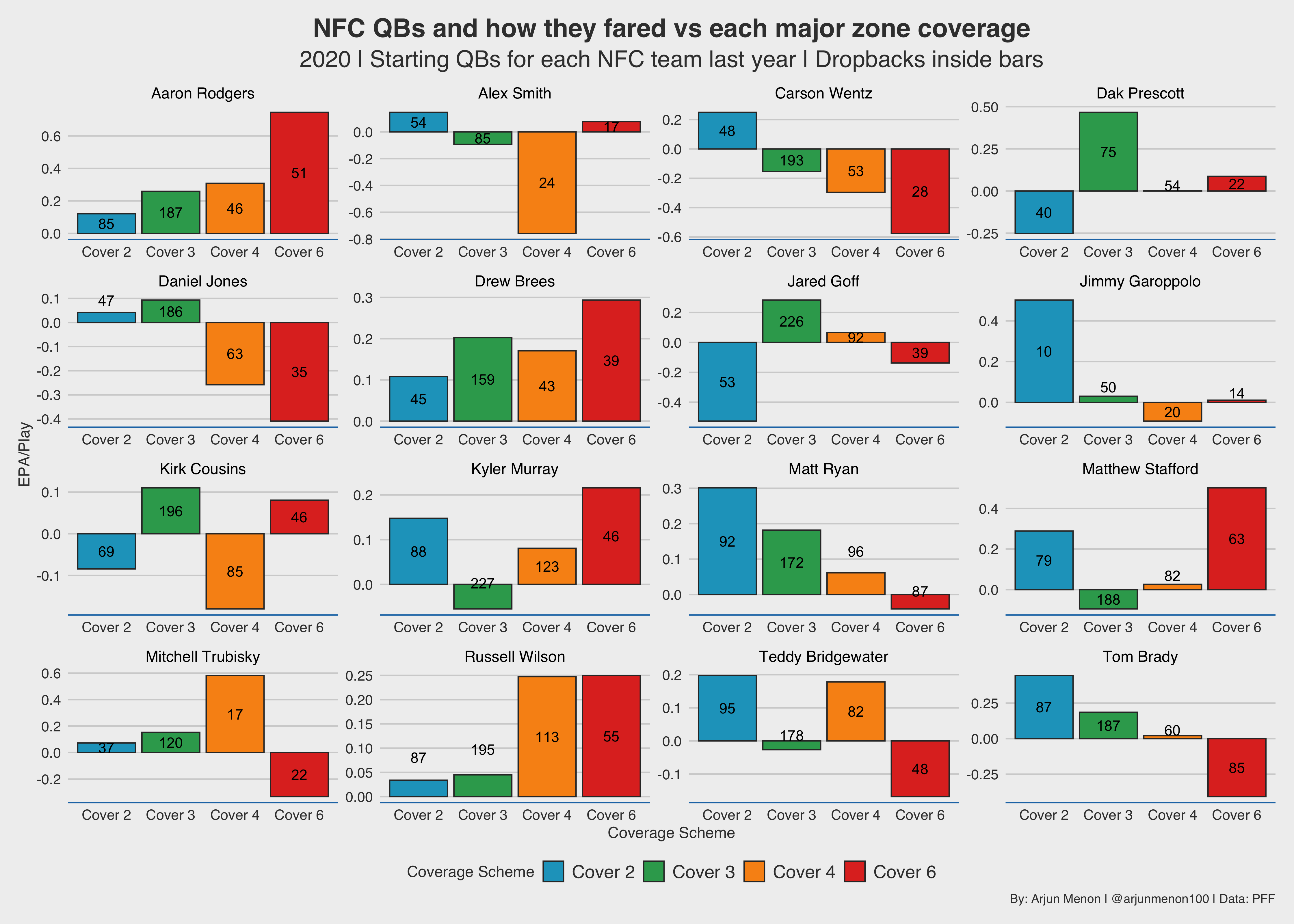 Cover 2
Top 3 Quarterbacks
Bottom 3 Quarterbacks
Garoppolo finds himself atop the Cover 2 leaderboard, but he took the fewest such dropbacks (10), which makes it hard to truly assess his play. Brady being at No. 2 does confirm the idea he had a very good year in Bruce Arians' vertical passing scheme. Because the holes in Cover 2 are behind the cornerbacks on the sideline and splitting the safeties behind the middle linebacker, Brady had to be precise with his throws and possess touch on the ball. 
On the flip side, it wasn't surprising that two quarterbacks who play in an outside zone scheme found themselves in the bottom three. Both Goff and Cousins excel at using play-action bootlegs, which work versus single-high safety coverage but not necessarily versus split safety coverages.
Subscribe to PFF Edge to continue reading
Already have a subscription? Sign In