When NFL teams load up on star power, all kinds of rationalizations come up to shield the organization from critics and skeptics. Maybe they're hiding the best plays for key situations, or on the wrong end of one-score games. New acquisitions need time to find their footing and build a rapport with teammates, or the team is playing to the level of its competition (a personal favorite).
For the Los Angeles Rams, the conversation about what this team is (and isn't) was overwrought — a hidden price of being all-in on winning the Super Bowl and doubling down at every opportunity. For a team expected to compete at the highest level, all the Rams have done is go 12-5, winning the most competitive division in the NFL. After a 34-11 wild-card win over the Arizona Cardinals, the reigning champion Tampa Bay Buccaneers stand between the Rams and an NFC Conference Championship opportunity.
---
Click here for more PFF tools:
Rankings & Projections | WR/CB Matchup Chart | NFL & NCAA Betting Dashboards | NFL Player Props Tool | NFL & NCAA Power Rankings
Best Bets Tool
---
Given the trades and acquisitions before and during the season, the Rams have positioned themselves to lean on star talent in their pursuit of football immortality — true to the city's reputation. In the biggest moments, Sean McVay will call plays that leave L.A.'s postseason fate to a cadre of game-changing talent. The Rams had been building toward Monday night's performance for more than a month, going 5-1 to close the season. 
That's the subplot that has drawn my attention all year long: When the stress is highest, will the Rams' best players push the rest of the roster to the finish line? If so, how?
Most of the conversations about the Rams wrap around perceptions of Matthew Stafford after he was swapped in for Jared Goff. The comparison between the two quarterbacks, especially those who judge Stafford's 2021 against Goff's breakout in 2018 (where the two QBs are about equal in many metrics), are flimsy at best and intellectually dishonest at worst.
In January, it's far past time to be re-litigating offseason transactions, but what was true then is true today: The Rams weren't trading away 2018 Goff, and if any QB could produce those numbers in L.A., it would bring the offense back into championship contention. Besides, no one could watch those two iterations of Sean McVay's offense and feel as though Goff and Stafford are in the same orbit, stylistically.
| | | | | | |
| --- | --- | --- | --- | --- | --- |
| Player | Dropbacks | Yards Per Attempt | Average Depth of Target | Air Yards/YAC % Splits | EPA per Dropback |
| Matthew Stafford, 2021 (Play Action) | 159 | 9.7 | 8.4 | 49/51 | .347 |
| Matthew Stafford, 2021 (Non-PA) | 481 | 7.6 | 8.9 | 61/39 | .158 |
| Jared Goff, 2018 (Play Action) | 220 | 10.0 | 11.8 | 55/45 | .312 |
| Jared Goff, 2018 (Non-PA) | 395 | 7.4 | 8.0 | 56/44 | .065 |
This year's version of Stafford has been the most valuable QB McVay has ever had under center, but that still understates the value he provides — particularly in ways that Goff could not. On third down (and comparing the two seasons for the final time), Stafford averaged 2 more yards per attempt (9.8 vs. 7.7), nearly 4 yards more in average depth of target (11.6 to 8.0) — and he was significantly more likely to do the heavy lifting with his arm (63% air yards vs. 56%). In the red zone, when windows are tightest, Stafford's EPA per dropback doubled Goff's high in 2018 (.222 against .109).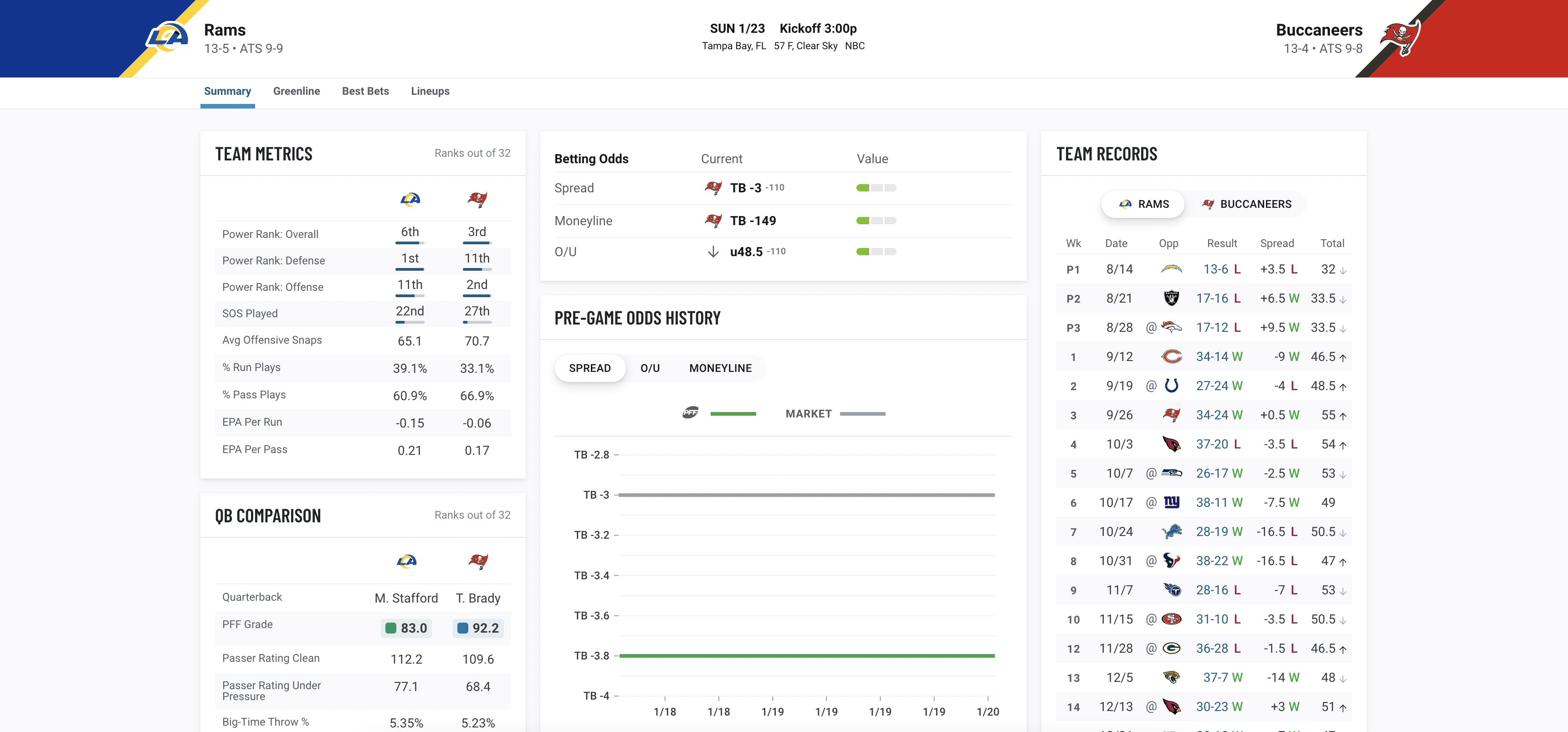 Ultimately, general manager Les Snead will be judged by the events of 2018 and 2021, and Stafford will only be compared to his present-day peers. In the same key metrics, Stafford stands as one of the most reliable quarterbacks in the NFL. His 82.6 PFF passing grade on third down ranked sixth out of 27 QBs who played 100-plus snaps and fourth among the eight QBs remaining in the postseason. Joe Burrow is the only QB remaining with a higher yards per attempt average, and Aaron Rodgers is the only one with a deeper average depth of target.