This game was not lacking in points or excitement. Just like back in Week 2, both the Cleveland Browns and the Cincinnati Bengals topped 30 points. And both Joe Burrow and Baker Mayfield led their respective offenses down the field late to take the lead, as well.
Mayfield's drive just came last, and as a result, Cleveland extends its record on the season to 5-2 while the Bengals are still searching for the answers when it comes to closing out games. 
Editor's note: All of PFF's grades and advanced stats from this game will be finalized and made available to ELITE subscribers within 24 hours of the final whistle.
STORY OF THE GAME
Things could have gone off the rails quickly for Mayfield and the Browns' offense. An interception on Mayfield's first pass attempt of the game was not the ideal bounce-back start after the kind of performance Cleveland had last week against the Pittsburgh Steelers. Mayfield's 0-for-5 start along with that interception across the Browns' first three drives on offense was even less ideal. 
Even without Odell Beckham Jr. — who was injured on the early interception — Mayfield proceeded to rattle off completions on 22 of his next 23 attempts. The only incompletion was a spike. The third-year quarterback was able to block out the outside noise and step up when it mattered. It wasn't the stiffest of defenses on the other side, but his play with the pressure on is still a good sign for Cleveland. It is worth pointing out that the pressure stemmed from the situation and not the Bengals' pass rush. Nevertheless, this should be Mayfield's highest single-game grade of the season, pending final grade review. 
For much of this year, the Browns have looked good offensively in spite of middling to poor play from Mayfield thanks to Kevin Stefanski and a smart offensive game plan. Credit where credit is due, though. Mayfield played just about a perfect game after the first few drives. Now, he needs to show he can do the same against the Ravens and the Steelers of the world that can get after him and make him uncomfortable.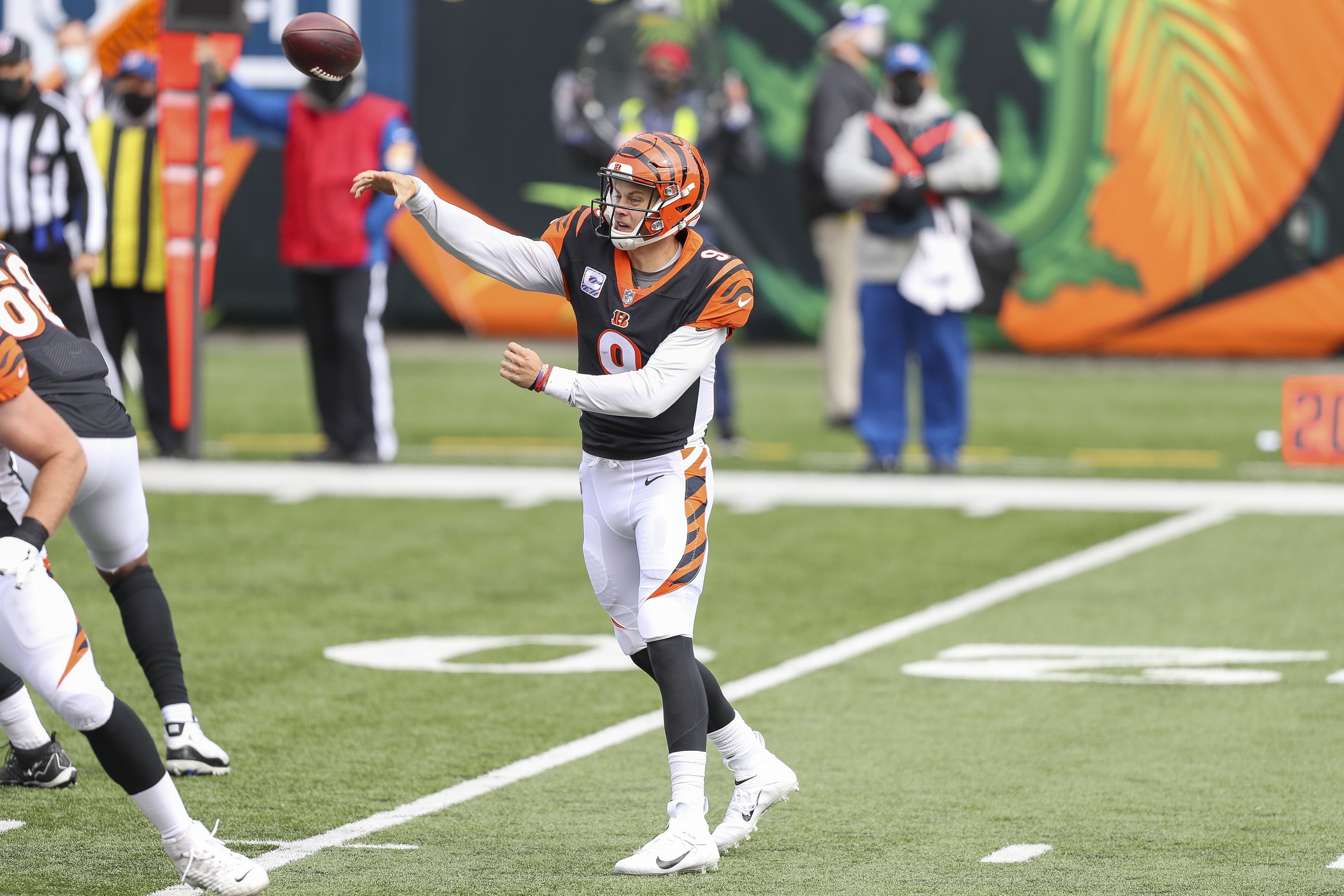 ROOKIE WATCH
As has been the case through much of his first season in the NFL, Burrow had plenty of good moments in a loss. He can only do so much, and forcing stops on defense isn't in that repertoire. One of the bigger positives to take away from this game with Burrow is the fact that he connected on multiple downfield passes. He has been one of the best in the league in the short and intermediate range this season, but Burrow had connected on just two of 28 passes 20 or more yards downfield through the first six weeks. He surpassed that completion total in this game alone, going 3-of-6 for 78 yards on such passes against Cleveland on initial count. 
Donovan Peoples-Jones came into this game without any career receptions in the NFL, but he left with the biggest reception of the game — a back-shoulder touchdown snag that put Cleveland on top in the waning seconds of the fourth quarter. He was forced into a larger role with the injury to OBJ, running a career-high 20 routes and catching three passes for 56 yards. 
Tee Higgins and Harrison Bryant both turned in strong receiving performances for their respective teams, as well. Bryant drew the start for the injured Austin Hooper and caught four of his five targets for 56 yards and two touchdowns, breaking a couple of tackles in the process. His 17 routes were five more than fellow tight end David Njoku. Higgins, meanwhile, drew seven fewer targets than A.J. Green, but that difference didn't lead to a massive gap in production. Higgins caught five of his six targets for 71 yards and a touchdown — continuing to look like the second-best wide receiver in Cincinnati, behind Tyler Boyd. 
At the left tackle position for Cleveland, Jedrick Wills turned in another strong performance in pass protection. He hasn't graded out well in the run-blocking department of late, but he has done a relatively good job of keeping pressure away from Mayfield. That's the area you'd rather see a rookie tackle excel in, and you have to imagine that the run blocking will come around given how well Wills played in that facet at Alabama and the kind of athlete that he is.
Logan Wilson (22 snaps), Khalid Kareem (18 snaps), Jordan Elliott (15 snaps) and Akeem Davis-Gaither (14 snaps) all saw time on defense, as well. A tackle for loss for Wilson and a pressure from Elliott were highlights from that group. 
ELITE subscribers can view player grades, advanced statistics, positional snap counts and more in Premium Stats 2.0.