In one of the most anticipated matchups of the 2020 regular season, the reigning Super Bowl champion Kansas City Chiefs proved to be too much for the Baltimore Ravens to handle, winning in dominant fashion, 34-20. 
Editor's note: All of PFF's grades and advanced stats from this game will be finalized and made available to ELITE subscribers within 24 hours of the final whistle.
STORY OF THE GAME
The bout between the two AFC powerhouses was not much of a bout at all, as the Ravens held a lead for just the first nine minutes before the Chiefs scored a touchdown and never looked back. At halftime, it was clear one quarterback was outdueling the other. Patrick Mahomes had 260 passing yards with three touchdowns and another score on the ground, while Lamar Jackson had just 35 yards passing and 41 yards rushing with no touchdowns. 
Mahomes was extraordinary, and while he entered the contest with just one completion on 20-plus yard throws, he was able to connect with Mecole Hardman and Tyreek Hill for two touchdowns on such passes against Baltimore's defense. The Ravens tried to draw up pressure to slow him down, blitzing on 47% of their defensive plays. Mahomes did not let it phase him, as he completed 17 of 20 passes against the blitz, racking up 240 yards and three touchdowns. 
Andy Reid and Eric Bieniemy were the masterminds, calling and drawing up a plethora of unique plays that led to the offense's success, even getting left tackle Eric Fisher and fullback Anthony Sherman into the end zone. 
While Hill and Hardman were taking the top off the defense, Travis Kelce and Sammy Watkins remained security blankets closer to the line of scrimmage. Kelce reeled in six of his eight seven targets for 46 yards and five first downs. Similarly, Watkins caught seven of eight passes thrown in his direction, procuring 62 yards and another five first downs. 
While Mahomes was dicing up the Ravens' defense on blitzes, Jackson was struggling to get anything going through the air. He completed just over 50% of his passes for a measly 3.5 yards per attempt, the lowest mark in a game this season. It did not help that his receivers dropped five passes — three from Mark Andrews and two from Marquise Brown. 
Jackson was still able to do damage on the ground, as no defense can truly contain him. He gained 83 yards on nine carries and made Chiefs defenders look both silly and slow on numerous occasions. 
However, credit Steve Spagnuolo and the Chiefs' defense — they forced five incompletions and generated pressure on 23% of Jackson's dropbacks. They also did a great job at disguising schemes to ensure he didn't get comfortable.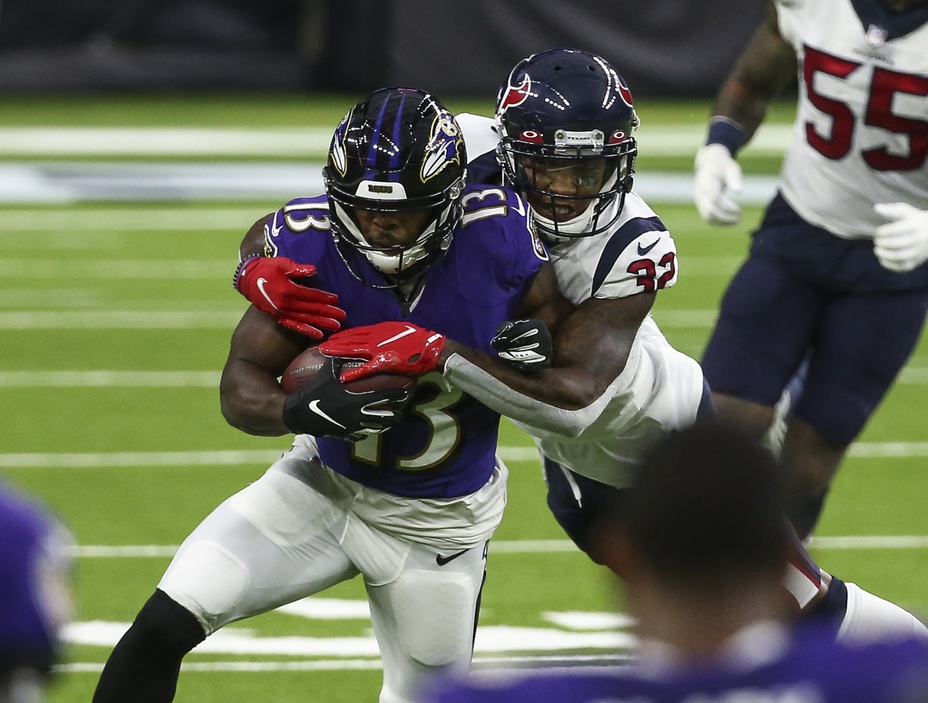 ROOKIE WATCH
Third-round rookie Tyre Phillips made his third start at right guard for the Ravens, meaning he saw a good deal of Chris Jones tonight. He was up to the task, allowing just two quarterback pressures while also playing well on rushing downs. Devin Duvernay, another third-round rookie, caught two of his three targets for 7 yards and took a kick return 93 yards for a touchdown, the first kick taken to the house on the season in the NFL. 
J.K. Dobbins had only one carry for 6 yards, but he flashed through the air, leading the Ravens in receptions (4) and receiving yards (38). First-round linebacker Patrick Queen was on the field for 47 defensive snaps, and the Chiefs made it a point to test him. He was targeted five times in coverage, allowing all five to be caught for 52 yards and touchdown.
Offensively, Clyde Edwards-Helaire was the only rookie to see playing time, carrying the rock 20 times for 64 yards and picking up another five catches for 70 more yards. He could not be brought down upon first contact, forcing multiple missed tackles and gaining over 60 total yards after contact. 
On defense, edge rusher Michael Danna (24) and cornerback L'Jarius Sneed (22) both saw over 20 snaps. Danna was able to pick up a quarterback pressure, and Sneed allowed just one reception for four yards on his 12 snaps in coverage.
ELITE subscribers can view player grades, advanced statistics, positional snap counts and more in Premium Stats 2.0.