One of the craziest games of the young 2020 NFL season appeared to come down to who wanted it less.
In the end, the Atlanta Falcons collapsed against the Chicago Bears to rival their performance a week ago against the Dallas Cowboys — or even their infamous 28-3 Super Bowl meltdown.
Editor's note: All of PFF's grades and advanced stats from this game will be finalized and made available to ELITE subscribers within 24 hours of the final whistle.
Story of the Game
The Bears' offense struggled so much early that quarterback Mitchell Trubisky was benched with his team down 16 points early in the second half.
Nick Foles ended up executing the comeback, but it said far more about Atlanta than it did about Chicago's prospects with him at quarterback. Foles was airing it out with little concern for the potential negatives, and while some of that can be explained by a "nothing to lose" mentality given the situation, he passed for just 4.8 yards per attempt from a clean pocket despite more than half of that yardage coming after the catch.
For Atlanta, Matt Ryan did his part to contribute to the collapse, throwing an ugly interception late with the Falcons having a chance to answer back. Ryan's biggest issues came under pressure. While he didn't face the heat often on the day (just 12 dropbacks), he completed only two passes under duress, gaining eight yards.
Chicago's defense had some solid individual performances, but this game was an incredible collection of wild plays and mistakes that somehow all contributed to the most recent Falcons collapse, coming hot on the heels of the last one. Given the end result, it would be a surprise if Trubisky got his job back, even if Foles didn't play dramatically better.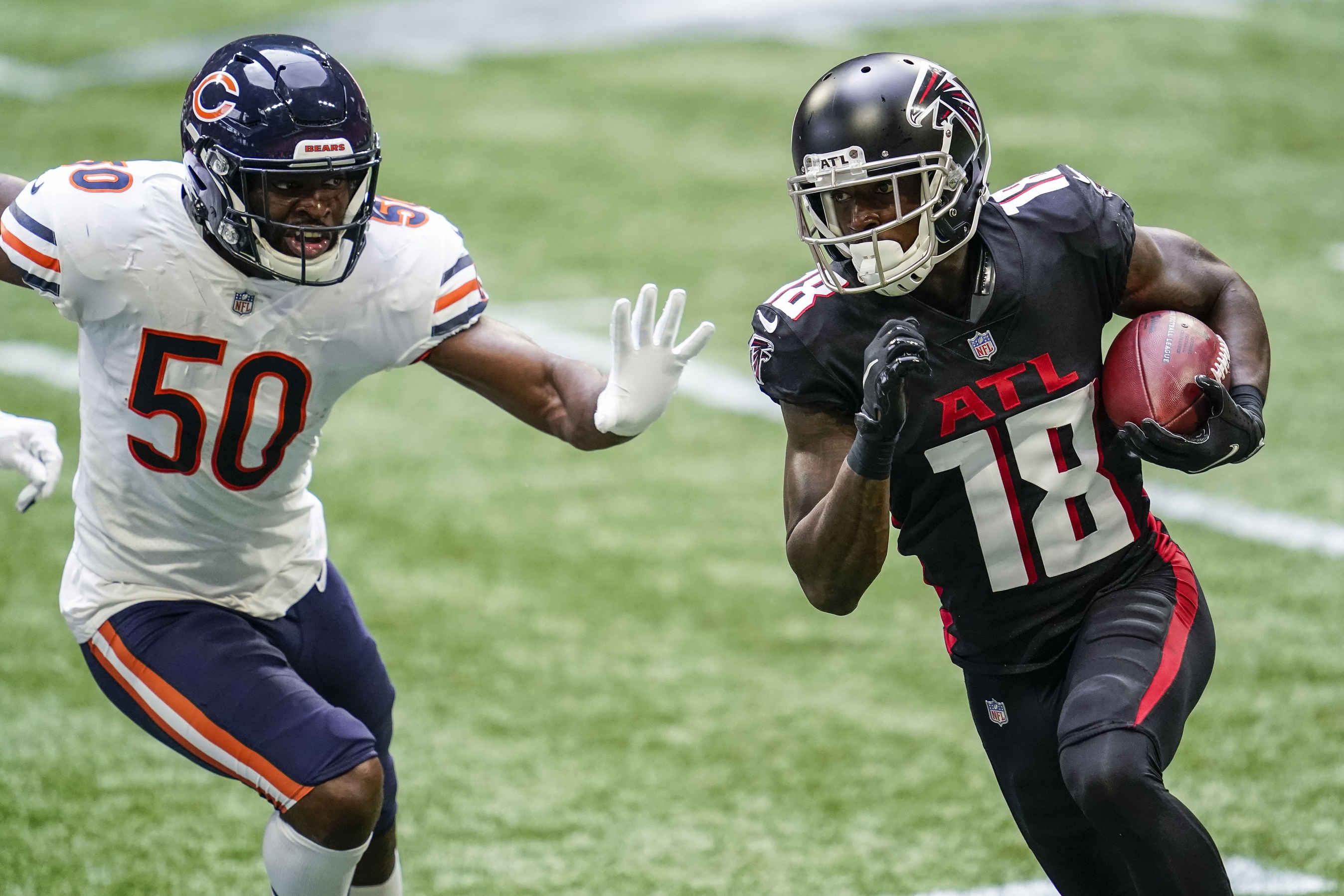 Rookie Watch
The biggest rookie contributors in this game were on defense on either side of the ball. Bears cornerback Jaylon Johnson has had an incredible start to his career in the NFL but came back down to earth in this game despite avoiding Julio Jones, who didn't play due to injury.
Johnson gave up four catches, each of them first downs, for 51 yards but was also beaten badly twice on deep routes that were both overthrown.
For the Falcons, fourth-round rookie linebacker Mykal Walker played 69 snaps, notching six tackles, an assist and three defensive stops. Walker gave up a couple of first downs in coverage on three catches and played the most snaps of any Atlanta rookie defender.
Second-round defensive lineman Marlon Davidson made his debut, playing 31 snaps — 20 of which were pass-rushing plays. While he didn't generate any pressure, he had two pass-rush wins that didn't get a chance to become pressure before the ball was thrown.
Fourth-round safety Jaylinn Hawkins also saw 23 snaps of action and notched a pass breakup. However, he was also beaten badly in coverage once, in addition to missing a tackle and being flagged for unnecessary roughness.
On offense, Chicago saw significant snaps from wide receiver Darnell Mooney (48 snaps) and Cole Kmet (25). Mooney caught two of four targets for 19 yards, while Kmet wasn't targeted in the game.
ELITE subscribers can view player grades, advanced statistics, positional snap counts and more in Premium Stats 2.0.