Despite coming into this game at 4-8 and being without their top cornerback and wide receiver thanks to suspensions, the Houston Texans were favored over the Chicago Bears — in large part because Deshaun Watson has played significantly better football than Mitchell Trubisky has this season. The deficiencies surrounding Watson that have held Houston to a record well below .500 were on full display in this game, as the Bears rolled to a 36-7 victory
Editor's note: All of PFF's grades and advanced stats from this game will be finalized and made available to ELITE subscribers within 24 hours of the final whistle.
STORY OF THE GAME
Nothing came easy for Watson in this game. The Bears were able to produce consistent pressure, and the Texans averaged just -0.1 yards per play when Chicago got to the quarterback with pressure. It was a balanced effort for the Bears with each of Khalil Mack, Brent Urban and Akiem Hicks producing five or more pressures, pending final review. 
The Bears also bottled up the run game for Houston. Texans running backs combined for just 57 rushing yards on 17 attempts in the game, with both Mack and Roquan Smith leading that charge. Whether on the ground or through the air, the Texans were able to get little going against Chicago.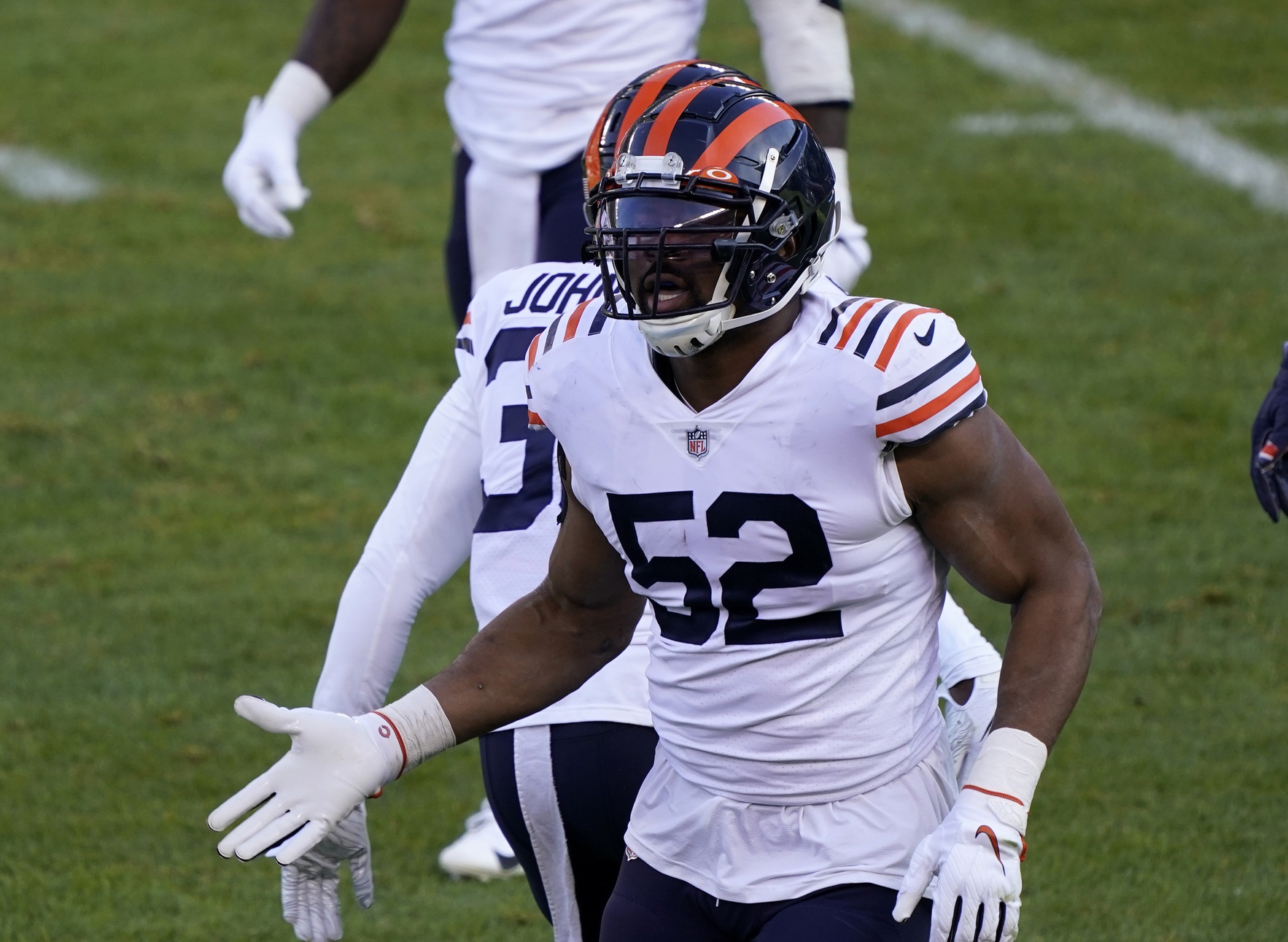 On the other end, Houston — as has been the case for nearly the entire season — offered very little resistance defensively. Trubisky produced season-high marks in passing yards per attempt (8.1), passer rating (126.8) and will produce one of his highest PFF passing grades of the season once final grades come out on Monday. Given what we've seen from these two teams, that likely has more to do with the fact that the Texans were starting Vernon Hargreaves, Keion Crossen and Eric Murray at cornerback than the possibility that Trubisky is turning a corner. 
The new members of the coaching staff and front office in Houston have one of the best quarterbacks in the NFL to work with in 2021, but there is plenty of work to be done when it comes to surrounding Watson with more talent. 
ROOKIE WATCH
Cole Kmet continues to become a bigger component in this passing offense late in the season. Kmet out-snapped Jimmy Graham 44 to 23 in this game, and his nine receptions in the past two weeks are more than he had in the first 12 weeks of the season combined (8). Darnell Mooney found the end zone on a 12-yard catch and run, as well. His 17 targets over the past three games are fewer than only Allen Robinson on the offense. 
The Texans were thin at wide receiver, but even so it was a strong showing by rookie cornerback Jaylon Johnson. Johnson was charged with allowing just one reception for five yards in the entire game, pending final review. There have been some rough patches for the rookie out of Utah at times, but it's been an encouraging rookie season overall. 
ELITE subscribers can view player grades, advanced statistics, positional snap counts and more in Premium Stats 2.0.