There were times late in this game when it seemed as if the Cincinnati Bengals were destined to make a comeback, but a pair of gut-wrenching breaks late in the game handed Tyrod Taylor his first win as the Los Angeles Chargers' starting quarterback.
Editor's note: All of PFF's grades and advanced stats from this game will be finalized and made available to ELITE subscribers within 24 hours of the final whistle.
Story of the game
This was easily the worst game we've seen Joe Burrow play in a year. To be fair, set the bar pretty high during his Heisman-winning campaign at LSU last season, but Burrow didn't come close to that bar for most of the game. From missing multiple open receivers on downfield passes into the end zone to gifting Los Angeles the ball on a poor lateral decision, Burrow wasn't providing the same "can't-miss" quarterback play that made him an easy choice to be the first player off the board in the 2020 NFL Draft. He finished the game with just 5.4 passing yards per attempt. 
Burrow nearly erased all of that with an impressive drive that took the Bengals down the field and into the end zone — only to see an offensive pass interference penalty nullify another accurate Burrow pass to A.J. Green. That disappointment was then compounded by a missed 31-yard field goal from Randy Bullock that ensured Burrow would have to wait at least another week to pick up his first career NFL win.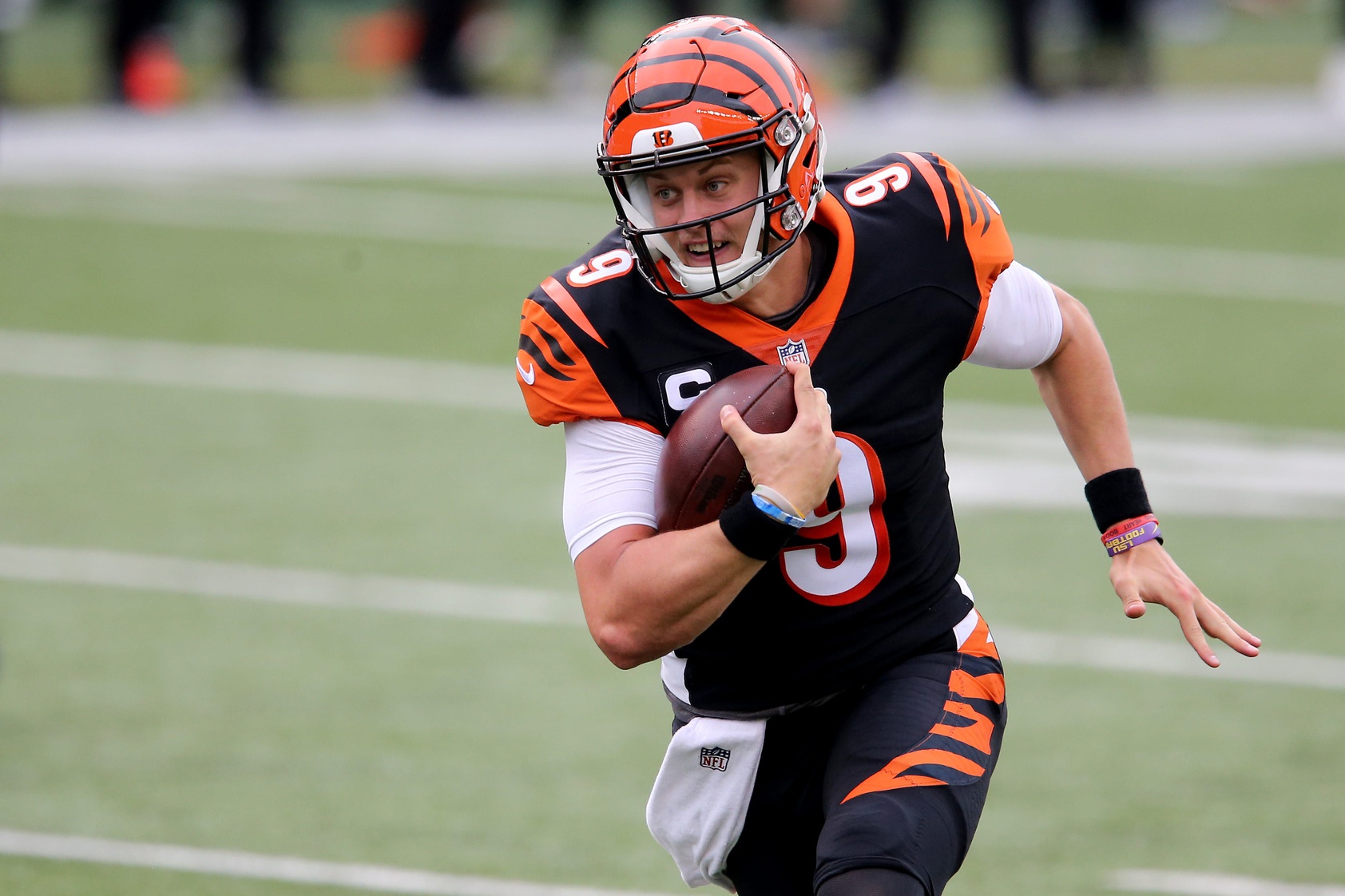 To no one's surprise, pressure was the biggest thorn in the side of this Bengals offense. This Cincinnati offensive line projects to be one of the worst in the league, and Burrow had little success when Joey Bosa, Melvin Ingram and company got home. Bosa, in particular, was excellent in this one. Pending final review, he's a safe bet to lead all defenders in this game in both total pressures and pass-rushing grade. 
Burrow will need to continue to get more comfortable going through his progressions quickly and making the right reads, because it's unlikely his protection is going to fix itself overnight. Several impressive pass rushers are on deck with upcoming games against the Cleveland Browns and Philadelphia Eagles. 
Rookie Watch
This game theoretically could have featured two top-10 quarterbacks in their NFL debuts. With Taylor winning the starting job in Los Angeles over Justin Herbert, Burrow was the only one to see action. I mentioned some of his struggles earlier, but Burrow did show poise late with no timeouts. Burrow stringed together accurate passes and had Cincinnati in position for a game-winning touchdown. That should give some reason for optimism as a Bengals fan heading into Week 2. 
Tee Higgins (15 snaps) and K.J. Hill (12 snaps) each saw time in their first career NFL games, but neither saw a target. The most impressive rookie performance came from Chargers running back Joshua Kelley who ran for 60 yards and a touchdown, seeing increased opportunity with the injury to Justin Jackson. Twelve of his 15 offensive snaps were rushing attempts. 
Kenneth Murray drew the start as the Chargers' starting linebacker and led the way in defensive snaps at the position with 61. That kind of early usage and a solid, if not flashy, play is a promising start for a player that the Chargers traded back into the first round to select in the 2020 NFL Draft. He was better in run defense than he was in coverage — not a surprising result given that he profiled more as a downhill player coming out of Oklahoma. 
There were a pair of rookie linebackers that saw time on the other side of the field, as well. Logan Wilson (21 defensive snaps) and Akeem Davis-Gaither (19 defensive snaps) saw similar playing time in the opener, and both had their fair share of early struggles. On a brighter note, Germaine Pratt and Josh Bynes were both active and had strong showings at a position that was a weakness a year ago. 
ELITE subscribers can view player grades, advanced statistics, positional snap counts and more in Premium Stats 2.0. Use promo code KICKOFF30 here to save 30% off your new PFF subscription today.