While everyone thinks the player their team just drafted is a good "fit" for the franchise, not all player fits are created equal. Some fits make too much sense, either schematically or from a personnel perspective. These are the 10 players who found perfect homes after the 2021 NFL Draft.
Do I even have to explain this one? The last time we saw Chase play football, he went for 221 yards and two scores going against a first-round cornerback, and the same man who was throwing him passes in that game will be his quarterback this fall. Chase caught 24 deep passes from Joe Burrow in 2019, a PFF College record.
Vera-Tucker is one of the best offensive linemen on the move in the class, and he goes to an outside zone-heavy run scheme in New York that will take advantage of that. The USC product has earned an 84.1 run-blocking grade on outside zone runs over the past two seasons. Oh, and he also owns the highest pass-blocking grade on true pass sets over that span. Zach Wilson's blindside is in good hands.
The Ravens' track record of developing edge talent has been second to none in the NFL over the past decade. Pernell McPhee (fifth round), Za'Darius Smith (fourth round) and Matt Judon (fifth round) have all become quality starters and have garnered considerable second contracts over that span. Oweh possesses far more physical talent than any of those guys, though he quite obviously needs further development. We've already seen him improve mightily at Penn State, going from a 74.6 overall grade in 2019 to 85.3 this past season. If that trajectory can continue, they may have gotten something special.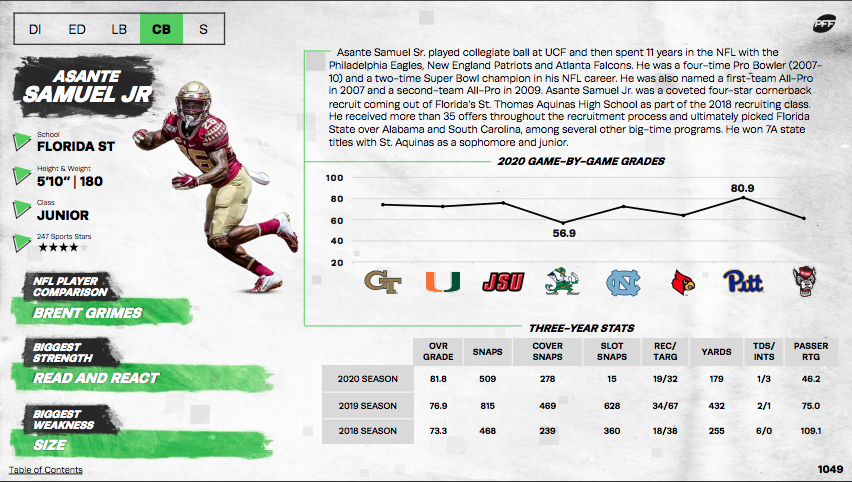 No NFL defense ran more zone coverage than Brendan Staley's did last season. And there may not be a better zone corner in the draft class than Samuel, who allowed only 24 first downs on 68 targets in zone coverage over the past two years. Samuel's playmaking ability is going to shine for the Chargers.
We haven't seen Moore fully healthy since his freshman year when he led the FBS in broken tackles after the catch with 33. He now goes to a team that threw the second-most wide receiver screens in the NFL last season yet averaged a paltry 4.1 yards per attempt on those plays. The difference between Moore catching screens and a 37-year-old Larry Fitzgerald catching screens is going to be night and day.
The Giants are among the few teams that still have a true 3-4 outside linebacker role in their defense. Last year, Kyler Fackrell dropped into coverage over eight snaps a game. Ojulari is more than athletic enough to do that at 249 pounds while also being a weapon off the edge as a rusher. His 91.5 pass-rushing grade was the best in this draft class.
Steve Spagnulo's defense asks a ton from its linebackers. They have to be able to think on their feet and understand the game at a high level. That description applies to Bolton better than any linebacker in this class. He was the highest-graded linebacker in the country over the past two seasons and can make an impact right away for a team that needs it.
Trask couldn't have asked for a better situation from not only an expectations standpoint but also a schematic one. The former Gator gets to learn how to operate from the pocket at a high level from the best ever to do it. Trask also gets to go to a Bruce Arians offense that is tailor-made for his strengths. The Florida product's ability to throw with touch and attack downfield are some of his biggest strengths, and that's what Arians' offense requires.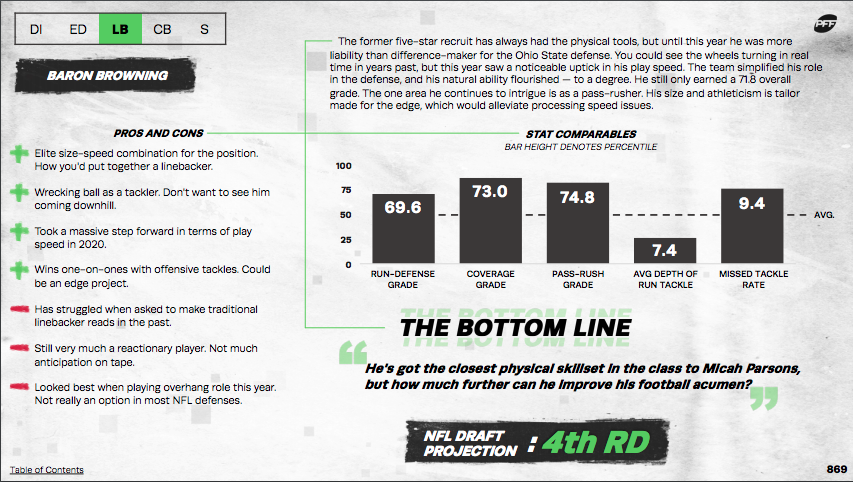 Go to Browning's MockDraftable page and you'll see that one of his top athletic comps among all linebacker prospects in history is Von Miller. There aren't too many 6-foot-2, 245-pounders who can run a 4.56 40-yard dash, vertical jump 40 inches, broad jump 10-foot-10 and run a 6.78-second three-cone. Miller timed slightly faster in both but also jumped slightly less at 6-foot-3, 246 pounds. What I'm trying to get at is this: Browning is a raw edge prospect with similar tools to Miller who now gets to learn from one of the best ever to do it. Browning couldn't have asked for a better landing spot.
Hudson only transitioned from defensive line to offensive line a few years ago and only has one year of starting experience under his belt. Even though he was fairly inconsistent with his technique, he still allowed only six pressures on 319 pass-blocking snaps last year. He now pairs with one of the best offensive line coaches in the NFL in Bill Callahan. Don't be surprised if he becomes a starting-caliber guard at some point during his rookie deal.