Wednesday's MLS All-Star Game will see Arsenal play at Audi Field with D.C United awarded the honours of hosting the 17th annual match.
Seven years on from when Arsenal crossed the pond to beat the MLS All-Stars 2-1, they return with new signings Declan Rice and Jurrien Timber having made the trip.
For the All-Stars, head coach Wayne Rooney has a roster of 28 players available to him; 14 picked by Rooney himself; 12 selected via a combined vote of fans, media and players; two other players are set for involvement as picks of MLS commissioner Don Garber.
The MLS season is on pause until Aug. 21 as the season takes a break and attention turns towards the Leagues Cup where MLS teams will compete with Liga MX clubs in a World Cup-style tournament.
But before that, there is an MLS All-Stars Game to be played with Supporters Shield leaders FC Cincinnati having the most number of players included of one club: Luciano Acosta, Matt Miazga and Álvaro Barreal.
All in, there are 18 different MLS clubs represented in the MLS All-Stars roster. Using PFF grades and metrics let's examine the roster in full and their performance so far in the 2023 season.
---
Aidan Morris, Columbus Crew, midfielder (voted in)
2023 has been the year that Aidan Morris truly established himself, earning him a spot on the MLS All-Star roster through fan voting.
The Columbus Crew academy graduate displays excellent ball control, shown by his Passing Grade of 85.0. He ranks 25th overall and 16th among central midfielders.
Impressively, Morris thrives under pressure, boasting a 90% pass completion rate when under pressure, placing him fourth among players with over 500 attempted passes. Since his USMNT debut on Jan 26, 2023, Morris has gained four caps, showcasing his rapid development.
Álvaro Barreal, FC Cincinnati, left-back (voted in)
Álvaro Barreal's versatility has earned him a spot as a wing-back on this year's roster through fan voting. Defensively, he ranks within the top 25% of all full-backs in key areas such as carry defending (77.2 grade), dribble defending (78.6), and tackling (75.7).
On the offensive front, Barreal's performance stands out with a crossing grade of 88.2 (1st), Shooting Grade of 80.4 (2nd), and Dribbling Grade of 78.5 (9th), placing him among the top ten full-backs in offense. His development from winger to wing back is remarkable and his MLS All-Star selection is just reward for his efforts in taking FC Cincinnati to the top of the Supporters Shield.
Carles Gil, New England Revolution, attacking midfielder (coach's picks)
Originally snubbed from his third straight selection, Carles Gil is a last minute addition to the MLS All-Star roster. In a roster loaded with creative midfielders, Gil stands out as one of the top creators: with an average of 3.1 chances created per 90 minutes, he trails only Luciano Acosta among players with at least 500 minutes played.
Furthermore, the Spanish maestro is one of only two players in MLS with at least three grades above 85.0: passing, 87.5; ball carrying, 86.9; and shooting, 85.1.
Christian Benteke, D.C. United, striker (coach's picks)
After 280 games in the Premier League, Christian Benteke is enjoying life in MLS since joining D.C. United in the summer of 2022. The former Belgium international is as dominant in the air as ever, winning 212 aerial duels to date, 56 more than second-ranked Sean Nealis.
His aerial duel grade of 90.1 is the highest among centre forwards, while his shooting grade of 84.1 ranks him 22nd overall. Working with Benteke everyday, Rooney knows exactly what the 32-year-old brings to the table and his experience playing against Arsenal might come in hand as well.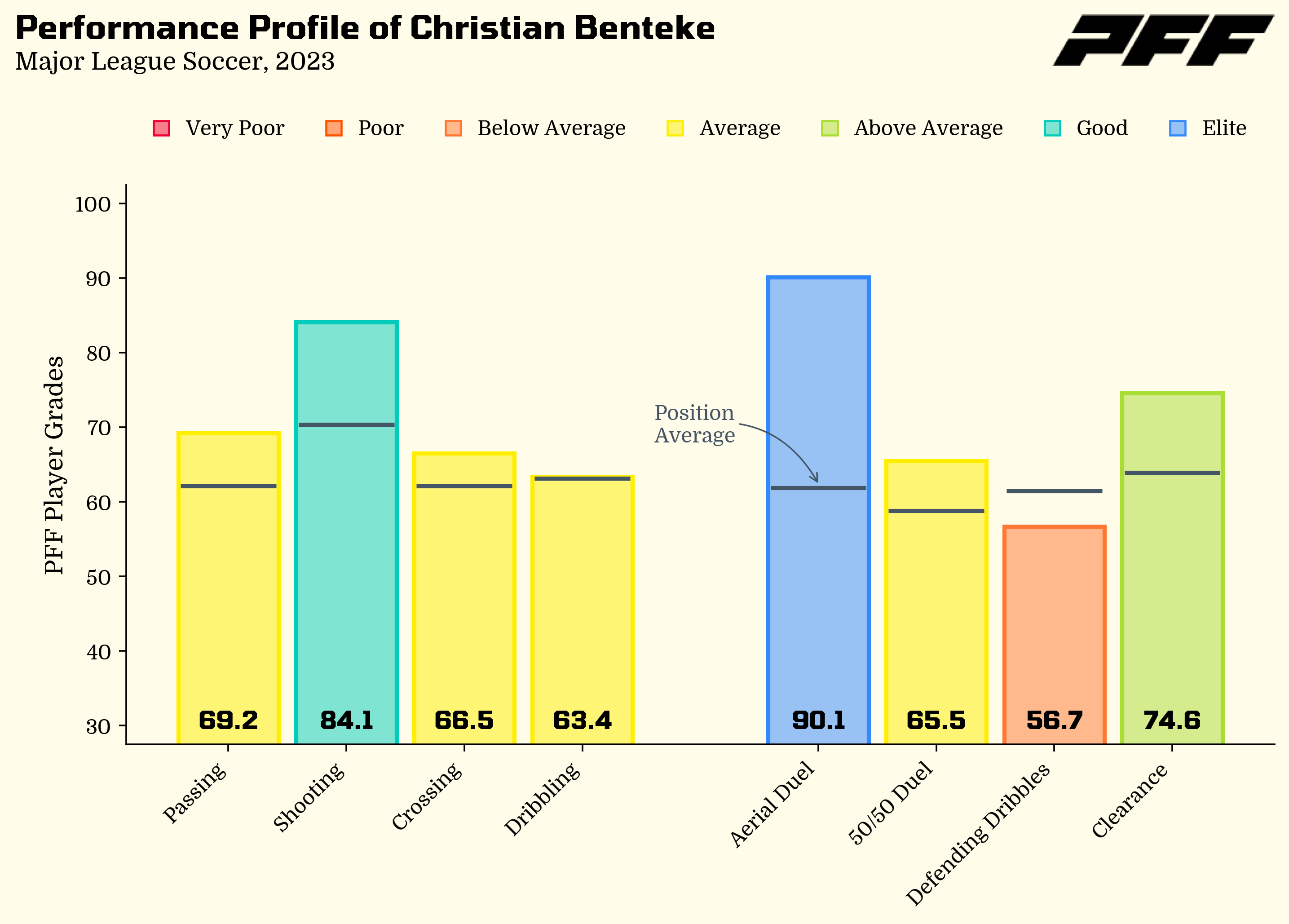 Cristian Espinoza, San Jose Earthquakes, winger (coach's picks)
Cristian Espinoza is currently enjoying his best MLS season to date, matching his previous best of 16 goal contributions (11 goals, five assists) with eleven games to go. His crossing grade of 89.1 ranks third overall and second among wingers and attacking midfielders.
With an impressive tally of 57 true completed crosses, which factor in if the cross was delivered into a dangerous position or created a half-chance or chance, he outshines his closest competitor, Mateusz Klich, by a margin of nine.
Denis Bouanga, LAFC, striker (voted in)
Denis Bouanga continues to shine brightly in yet another exceptional season for LAFC, finding the net 12 times already while also contributing two assists.
The Gabon international has taken most shots in MLS and his shooting prowess is notable in both pressured and non-pressured situations.
Bouanga boasts an impressive shooting grade of 83.7 when facing pressure, ranking him sixth among wingers and attacking midfielders, while his Shooting Grade of 79.6 when not under pressure showcases his consistency and skill in front of goal.
Dorde Petrovic, New England Revolution, goalkeeper (coach's picks)
After his transfer from Serbia to take over Matt Turner's starting goalkeeper role for New England Revolution, Dorde Petrovic has emerged as one of the most reliable goalkeepers in MLS.
Though only featuring in 21 of the Revolution's matches in 2022, he ranked second among all goalkeepers with an 89.8 shot-stopping grade. Petrovic has risen to the occasion again in 2023 with an 83.4 Shot Stopping Grade, while being the most tested goalkeeper in MLS.
Recent reports link Petrovic with a move to Manchester United, a club well known by Rooney, who reserved a spot on the MLS All-Star roster for the 23-year-old.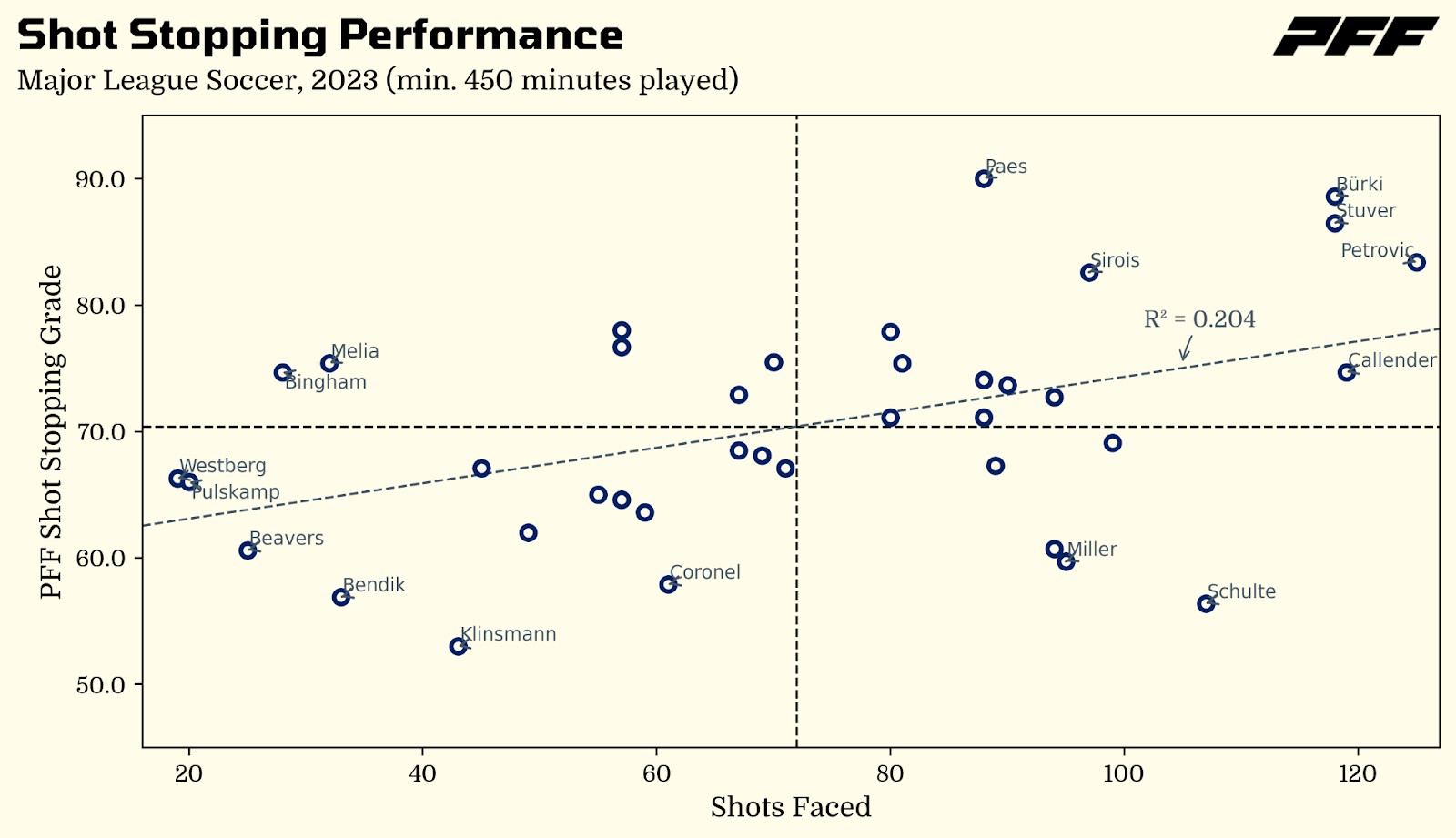 Giorgos Giakoumakis, Atlanta United, striker (coach's picks)
The Greek striker has made an immediate impact for Atlanta United since his arrival at the start of the season from Celtic, becoming the quickest player in franchise history to score ten goals, having done so in just 14 appearances. Giakoumakis, signed for a fee believed to be around $5.2million from the Scottish champions, is close to topping the elite 90.0 grade threshold as a shooter but stands at 89.5 currently. Only five other strikers possess a better grade and of those only fellow MLS All-Star teammates Hany Mukhtar and Jesús Ferreira have been graded on more shot events.
Hany Mukhtar, Nashville SC, attacking midfielder (voted in)
In a league stacked with attacking talent from Argentina, a group that has gotten noticeably stronger recently, the reigning MVP is from Germany: Hany Mukhtar.
Regardless of the metric examined, Mukhtar consistently finds himself at the top of rankings. His PFF Player Grades position him among the top 25 in categories such as Shooting, Passing, Crossing, and Carrying, highlighting his versatility on the ball.
While rumors connect him to the Qatari Stars League, Mukhtar is set to represent the MLS All-Stars before any potential move.
Héctor Herrera, Houston Dynamo, midfielder (coach's picks)
Carles Gil is not the only player in MLS to have three grades exceeding 85.0; Hector Herrera also attains this impressive feat. As part of a dynamic midfield duo alongside Artur, Herrera has excelled for Houston as a passer and ball carrier, ranking among the top ten in both categories.
Notably, Herrera stands out as an exceptional crosser with a grade of 87.1. There is a compelling argument for both players to have been included on the roster, and Herrera's selection may be attributed to his team-leading average of 2.6 chances created per 90.
Jakob Glesnes, Philadelphia Union, centre-back (coach's picks)
The reigning MLS Defender of the Year, Jakob Glesnes, received a well-deserved late inclusion to the All-Star roster by coach Wayne Rooney. Starting in all 23 games so far, Glesnes plays a pivotal role for the Union, who currently rank 3rd in the fiercely competitive Eastern Conference.
Once again, Glesnes has proven to be one of the league's standout defenders with impressive grades exceeding 70.0 in three categories. His challenge grade of 81.9 and ball carry grade of 72.4 highlight his remarkable abilities both in and out of possession.
Jesús Ferreira, FC Dallas, striker (voted in)
Jesús Ferreira has taken the captain's armband at FC Dallas since match-day 12 in the MLS and has continued to consistently score goals despite the added responsibility.
The absence of his quality as a finisher – a Shooting Grade of 91.2 – was felt by Dallas, who won one of the five games Ferreira missed while on duty with the USMNT during the Gold Cup, where he ended the tournament as the topscorer with seven goals.
Ferreira has now made the MLS All-Star roster in consecutive years after scoring 28 goals over the last two seasons.
Rumors around a potential move to Europe are getting stronger, which means this might very well be his last appearance in the MLS All-Star game for the foreseeable future.
John Tolkin, New York Red Bulls, right-back (coach's picks)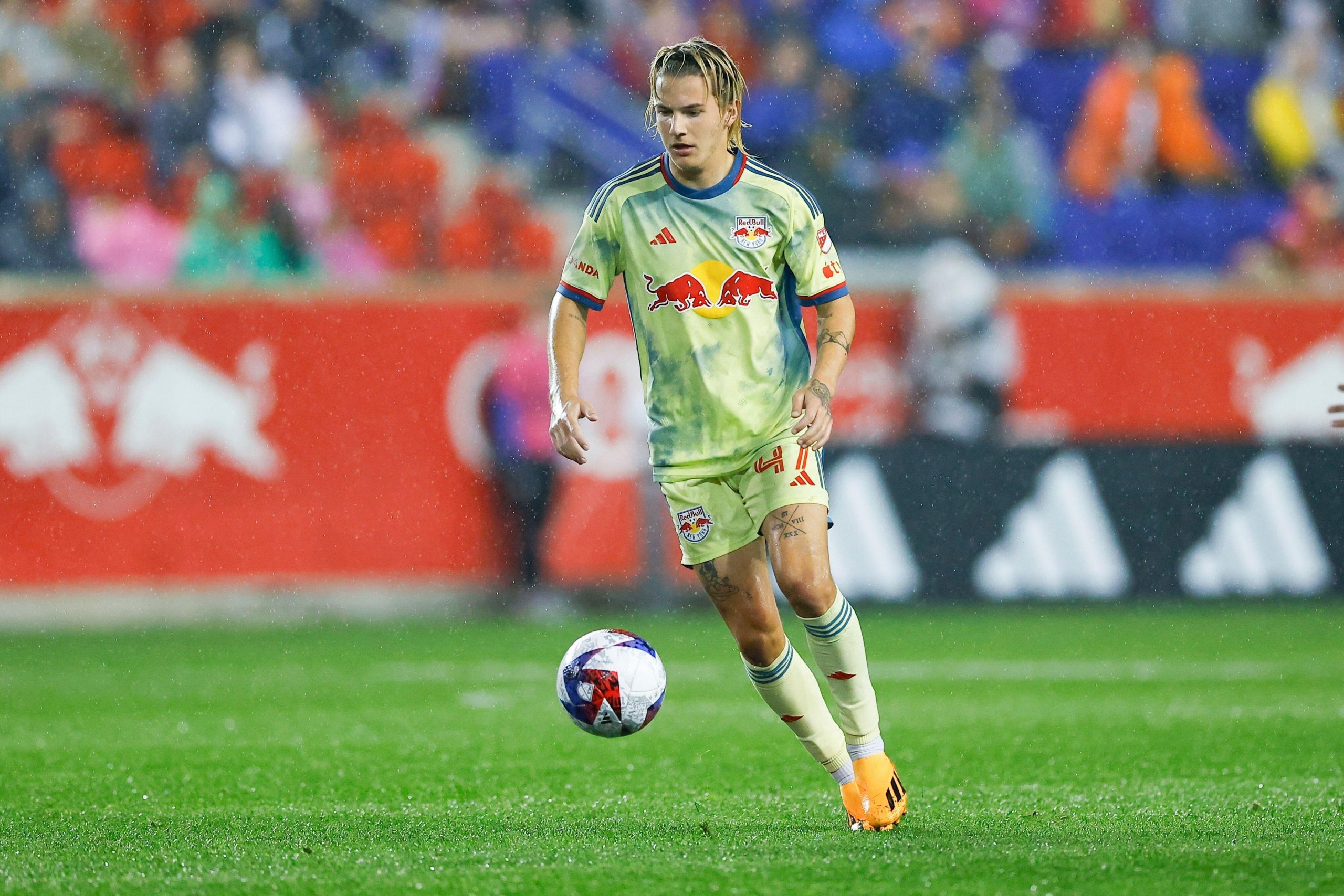 In the year he made his debut for the USMNT, John Tolkin also secured his first MLS All-Star team selection.
As a full-back for the New York Red Bulls, Tolkin has been a valuable contributor, tallying four assists to date, placing him in a tie for second in his position group. Notably, his impressive PFF crossing grade of 81.7 ranks him among the top 20 players in MLS, irrespective of position.
Additionally, Tolkin's challenge grade of 79.6 stands out, positioning him 11th among qualifying full-backs.
Jon Gallagher, Austin FC, left-back (voted in)
Jon Gallagher was voted to the MLS All-Star team thanks in large part to his goal-scoring abilities.  The Austin FC defender's five goals are most for any full-back in MLS and second on his team.
Gallagher has earned two PFF player grades greater than 80.0 which ranks him with the best full-backs in the league. Those grades lie in his quality as a shooter where he leads his position with a grade of 81.5 and his Tackling Grade of 80.8, which places him 15th..
Jordan Morris, Seattle Sounders, winger (voted in)
Seattle's homegrown winger Jordan Morris has continued to be a reliable presence on the wing for the Sounders fresh from signing an extension through to 2027 at the start of the season.
The topscorer for the Sounders with nine goals, Morris, has achieved a shooting grade of 89.4 for 25 qualifying shots, ranking him tenth overall in the MLS.
José Martínez, Philadelphia Union, midfielder (coach's picks)
In his 82nd match for the Union, José Martínez finally found the back of the net with a stunning volley, earning him a rare +2.0 grade — the second this MLS season, after Real Salt Lake's Pablo Ruiz. This achievement was complemented by his first MLS All-Star team call-up.
Widely regarded as one of the league's best defensive midfielders, Martínez continues to prove his worth this season. Notably, he has garnered four grades exceeding 70.0, including an impressive ball carry grade of 73.7 and a challenge grade of 70.1.
Kei Kamara, Chicago Fire, striker (commissioner's picks)
No current MLS player has scored more goals in the league than Chicago Fire forward Kei Kamara, selected for his second MLS All-Star appearance.
After joining Chicago following a trade with CF Montreal in February, Kamara has earned himself an impressive PFF shooting grade of 81.5, scoring five goals on the season. He sits one goal shy of Landon Donovan for second on the all-time MLS goalscorers list.
Lucas Zelarayán, Columbus Crew, attacking midfielder (coach's picks)
One of the favorites to win the Goal of the Season award for his injury-time strike from within his own half to send the Crew to victory at Chicago Fire last month, Lucas Zelarayán's season has been consistent in quality to pair with his ability to produce the spectacular.
A shooting Grade of 89.8 ranks second among all wingers and attacking midfielders, the same applies to his ball carrying grade of 85.2. As for his passing grade, Zelarayán's grade of 84.5 puts him amongst the top 10.
Luciano Acosta, FC Cincinnati, attacking midfielder (voted in)
Luciano Acosta will wear the captain's armband for the MLS All-Star team after winning the fan vote.
Acosta, a former teammate of Wayne Rooney's at D.C. United, is on an impressive run of form for FC Cincinnati and has helped the league leaders to break records as the provider of 69 goalscoring opportunities – the second-most in the MLS.
Nearing eligibility for the USMNT, Acosta has recorded a PFF shooting grade of 87.9 as FC Cincinnati's topscorer with 11 goals to go with his six assists in attack.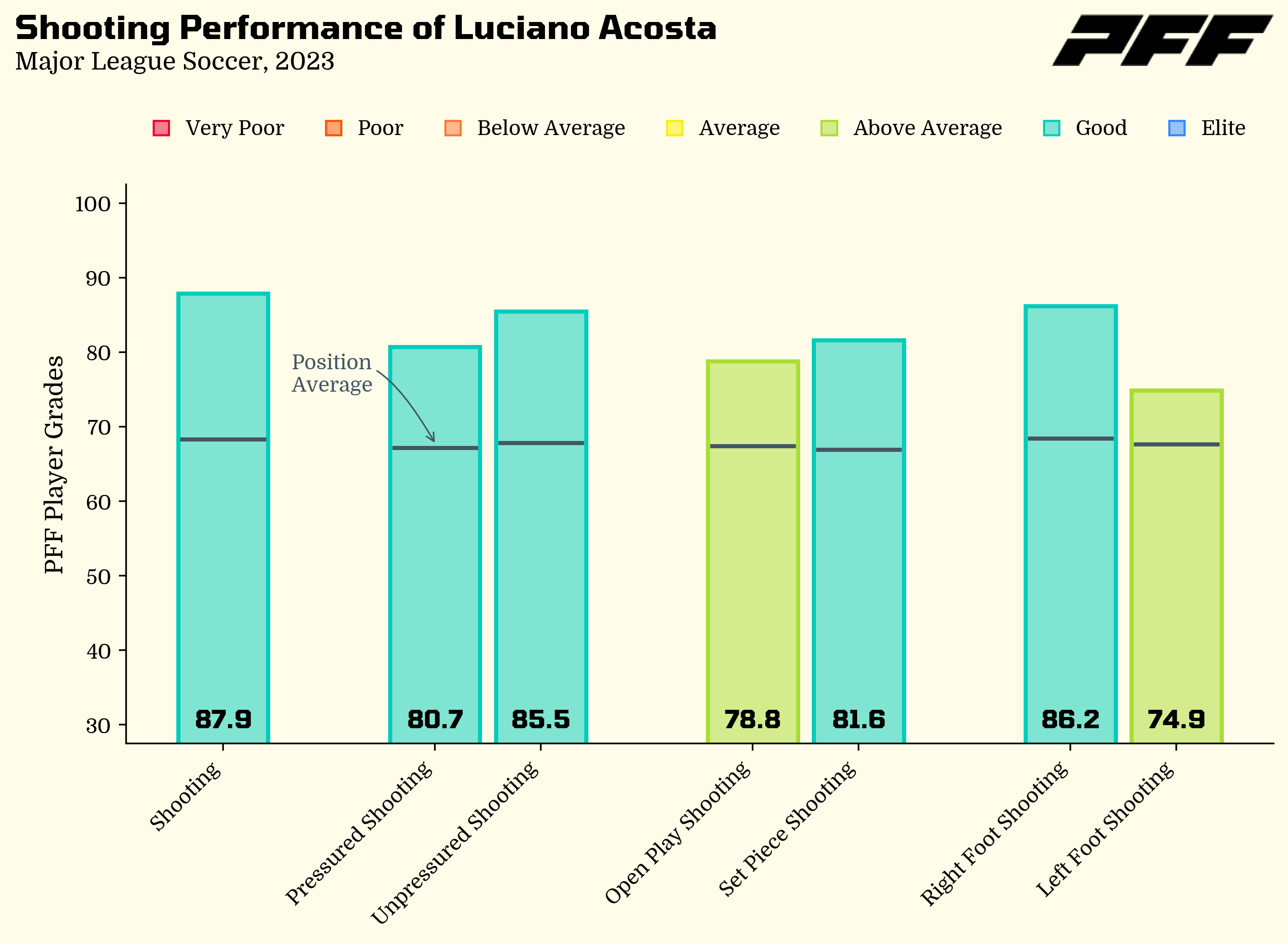 Mathieu Choinière, CF Montréal, midfielder (commissioner's picks)
The Montréal midfielder ranks amongst the top five at his position in defending against opposition carriers, generating a grade of 83.0 on 22 events. This is the third-best as a midfielder and Choinière has also been accurate with his shots at goal: from 25 shot attempts, Choinière has found the target ten times and has an accuracy-adjusted shot accuracy percentage of 72% — second only to Sporting KC's Erik Thommy (79%) among midfielders in the top 15 for shot attempts.
Matt Miazga, FC Cincinnati, centre-back (voted in)
Moving back to America has proven to be beneficial for Matt Miazga's career. After a long but unsuccessful stay at Arsenal's rivals Chelsea, Miazga's performances for FC Cincinnati have earned him a spot with the USMNT and in the MLS All-Star roster.
Miazga holds the highest challenge grade of the central defenders to make the roster at 86.6, which places him just inside the top 10 in the rankings for challenges. He also plays a vital role in keeping the ball away from the danger zone for the Orange & Blue, proven by his 86.8 clearance grade.
Riqui Puig, LA Galaxy, midfielder (coach's picks)
The catalyst behind Galaxy's resurgence into the MLS Cup play-off picture, Riqui Puig heads into camp with the MLS All-Star team off the back of his goal against Philadelphia Union being voted the Goal of the Matchday.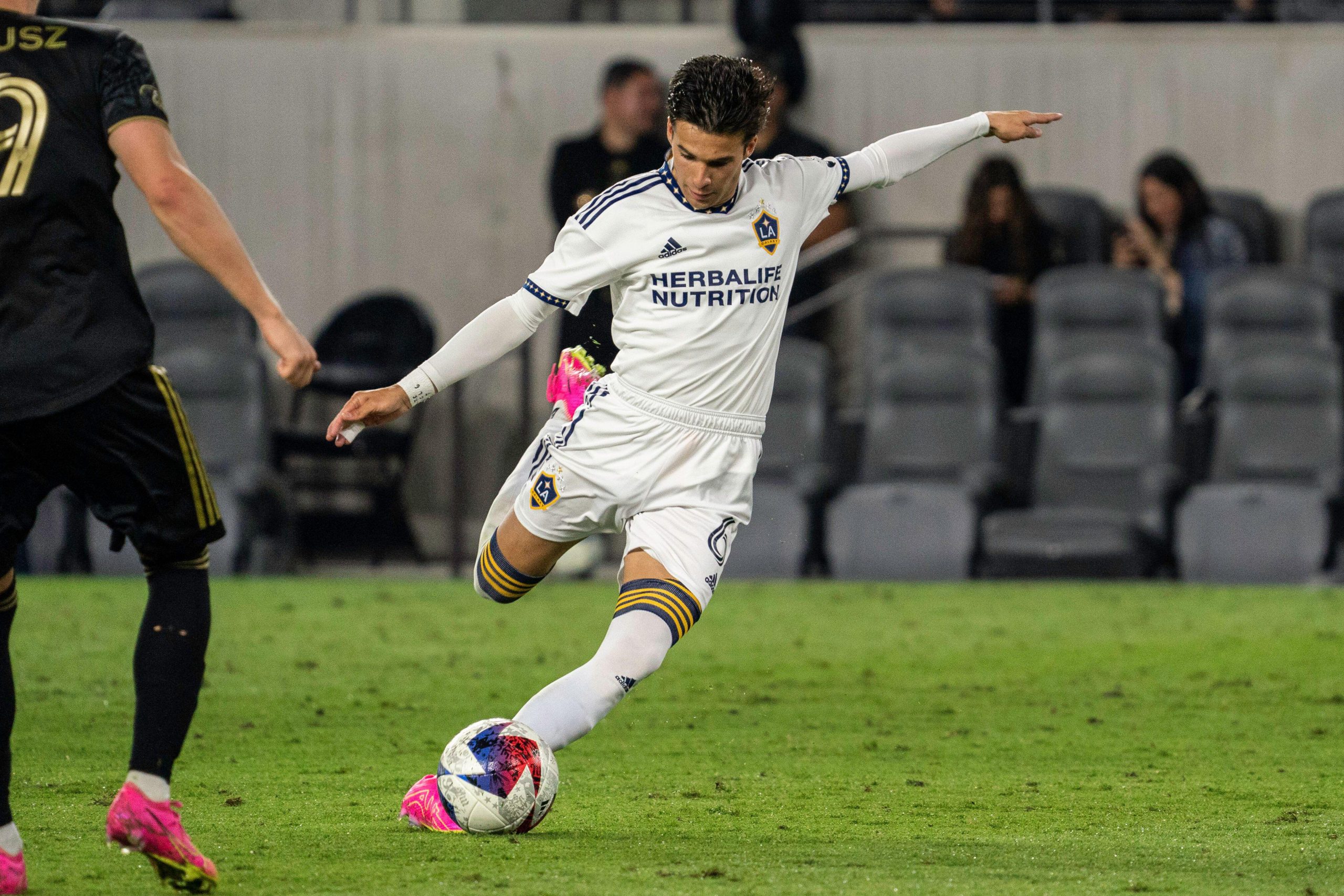 Puig has been a menace for opposition defenses all season with a total of 71 through-ball pass attempts being the most by a midfielder, completing 45% of his passes which seek to break the opposition defensive line.
This has led the FC Barcelona academy graduate to record the third-most chances created at his position (45) and a passing grade of 89.9, claiming sixth-place in the overall ranking.
Roman Bürki, St. Louis City SC, goalkeeper (voted in)
Roman Bürki has been one of the driving forces behind St. Louis City's fast start to life in the MLS as an expansion team.
Of the three goalkeepers at the disposal of MLS All-Star head coach Wayne Rooney, Bürki boasts the best Shot Stopping grade at 88.6 having made the switch to the Western Conference newcomers from Borussia Dortmund in March.
The German has saved 75% of the shots he faced that have found the target, tied for fourth among goalkeepers.
Ryan Hollingshead, LAFC, right-back (coach's picks)
At the age of 32, Hollingshead makes an MLS All-Star roster position for the first time in his career as a coach's pick.
He has been solid defensively in LAFC's bid to retain their MLS Cup title from 2022, with Hollingshead earning grades above the 80.0-mark as a challenger (82.7) and on clearance events (81.1).
Thiago Almada, Atlanta United, attacking midfielder (voted in)
Thiago Almada's performances for Atlanta United have led to him being linked with a transfer to one of Europe's top clubs that many believe would break the MLS transfer record of $26.4million set by Miguel Almiron's switch to Newcastle United.
Part of the Argentina squad that won the FIFA World Cup last winter, Almada has displayed remarkable accuracy across all distribution facets required of an attacking midfielder. As a passer, he has earned a grade of 86.2, and also produced quality as a crosser (84.2) and shooter (82.2).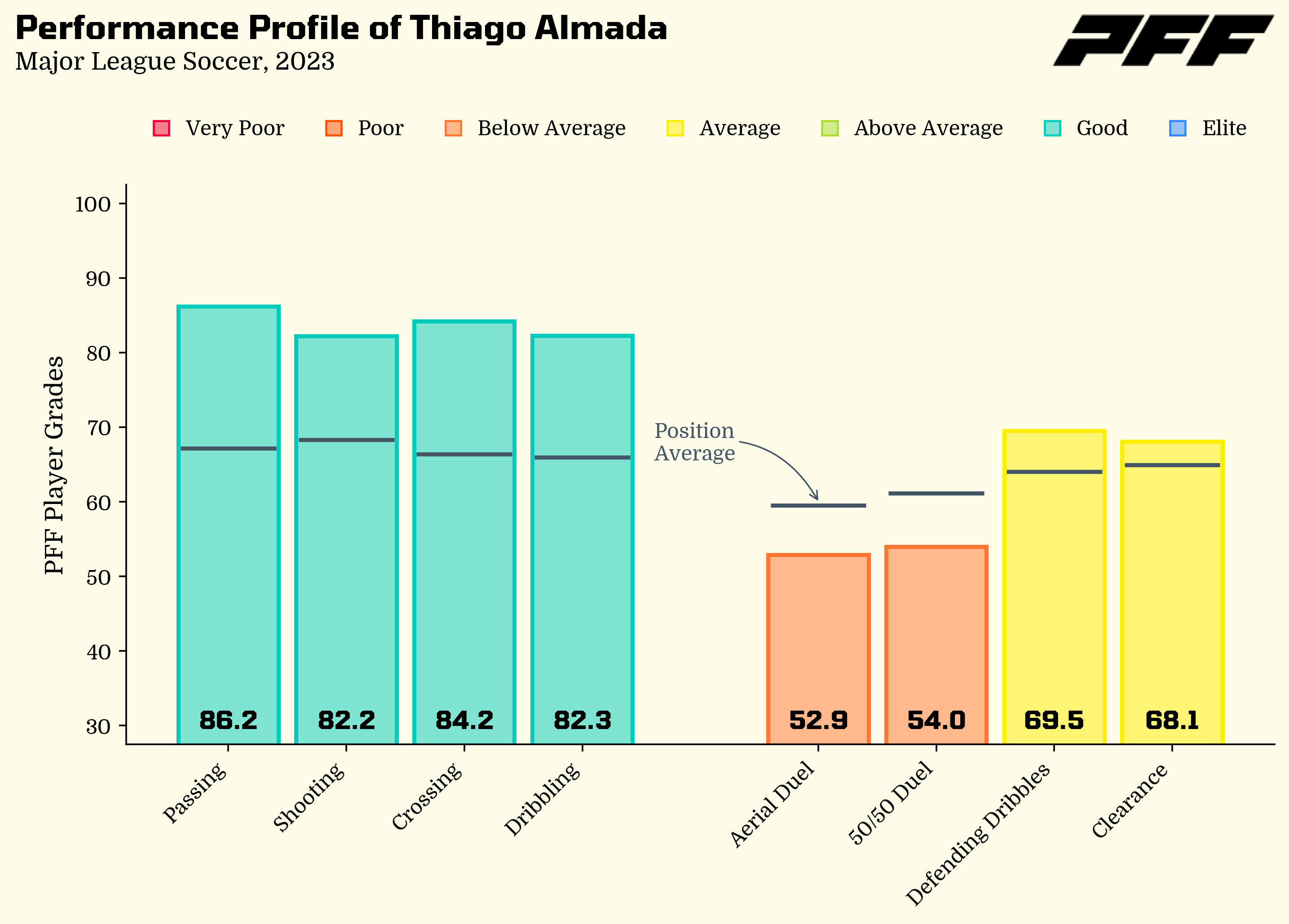 Tim Parker, St. Louis City SC, centre-back (coach's picks)
Forever engraved in the record books as the player who scored the first goal in franchise history, Tim Parker now turns his attention towards Arsenal after scoring twice in his last three MLS games while ensuring St. Louis City SC did not concede.
A challenge grade of 85.1 puts Parker just outside the top 10 ranked central defenders at 13th in the facet, while his 61% challenge win rate is tied-fifth at the position (minimum 1,000 minutes played).
Tyler Miller, D.C. United, goalkeeper (coach's picks)
Tyler Miller stands to play at his home stadium as the starting goalkeeper for D.C. United. Although his shot-stopping grade of 59.7 suggests he has struggled at times this season, Rooney has more information about his form seeing him in training every day.
Miller was signed as a free agent after the departure of Bill Hamid and Rafael Romo, and has faced a high quality of shots to deal with as only ten of the 30 goals he has conceded were deemed to be saveable. His 33% goals conceded saveable rate is tied-third among the ten goalkeepers to have allowed in 27 or more goals, with Houston Dynamo's Steve Clark being the lowest at 26%.
Walker Zimmerman, Nashville SC, centre-back (voted in)
USMNT international Walker Zimmerman makes the MLS All-Star team for the fourth time in his career as a key figure in Nashville's defense, which has conceded a league-low 22 goals so far this season.
A two-time MLS Defender of the Year, Zimmerman's challenge grade of 85.1 ranks 14th among central defenders, a marginal drop from his 2022 grade of 86.9.
In his fourth season with Nashville, Zimmerman is on track to record a career-high passing grade since PFF began recording data on the MLS in 2021.