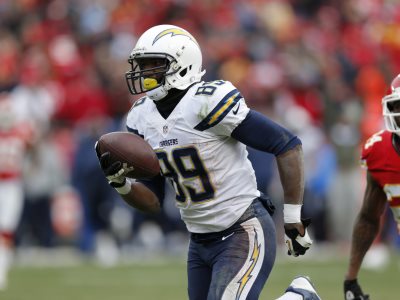 The Steelers have reportedly signed TE Ladarius Green to a four-year, $20 million contract.
After Heath Miller's retirement the Steelers wasted no time in addressing the void at tight end by signing one of the more promising tight end prospects in the league. Green, who has spent his entire career stuck behind Antonio Gates, will finally get the chance to show us what he can do with a full-time role.
We saw a glimpse of that last year as Gates sat out the first four games of the season. In that time frame Green graded out as our seventh-best tight end in regards to pass catching while putting up 14 receptions, 174 yards, and two touchdowns. However, once Gates returned, Green was relegated back to a part-time role again
Overall, Green wasn't the efficient tight end we'd grown accustomed to in his prior two seasons — his 1.06 yards per route run last year paled in comparison to his 2013 and 2014 marks of 2.67 and 1.85 yards. In fact, his 2015 mark ranked 35th out of 39 tight ends. Still, at 6-foot-6, 240 pounds, Green possesses intriguing size combined with 4.53 40-yard dash speed that definitely is exciting on paper.
It will be interesting to see how the Steelers choose to deploy Green as he lined up in the slot for 66.1 percent of his routes. The only tight end with a higher rate was his teammate Gates at 68.4 percent. However, Miller lined up as a slot tight end on just 20 percent of his routes, which was the lowest rate in the league. Of course, some of this had to do with the players' talents and style of play, but some is also the team's philosophy.
Green has definite TE1 upside in fantasy for the 2016 season as the top tight end for a prolific passing offense and fantasy owners shouldn't be worried at all about backups Matt Spaeth and Jesse James taking significant snaps away. There are plenty of mouths to feed in Pittsburgh between Antonio Brown, Martavis Bryant, Markus Wheaton, and Le'Veon Bell, but this offense looks poised for a special run in 2016.
The scoring opportunities will be plentiful for this offense so I don't expect anyone to go home hungry and Green getting away from one of the league's top red zone threats (and hogs) can only be a positive thing for his future fantasy production.