Of all the matchups to analyze and evaluate for Super Bowl LIII, none may be more familiar with each other than New England Patriots quarterback Tom Brady and Los Angeles Rams cornerback Aqib Talib. Not only are they former teammates from 2012-2013 in New England, but Sunday will mark the seventh time the two have squared off as opponents and the second time ever in the postseason. So why is this a matchup to watch? Brady has struggled over his career when targeting Talib in coverage, mustering a passer rating of only 61.9. In fact, of all cornerbacks that Brady has targeted 25 times or more in his career, Talib has allowed the third-lowest passer rating allowed. Given their extensive matchup history, let's take a closer look at Brady's game results when targeting Talib from over the years: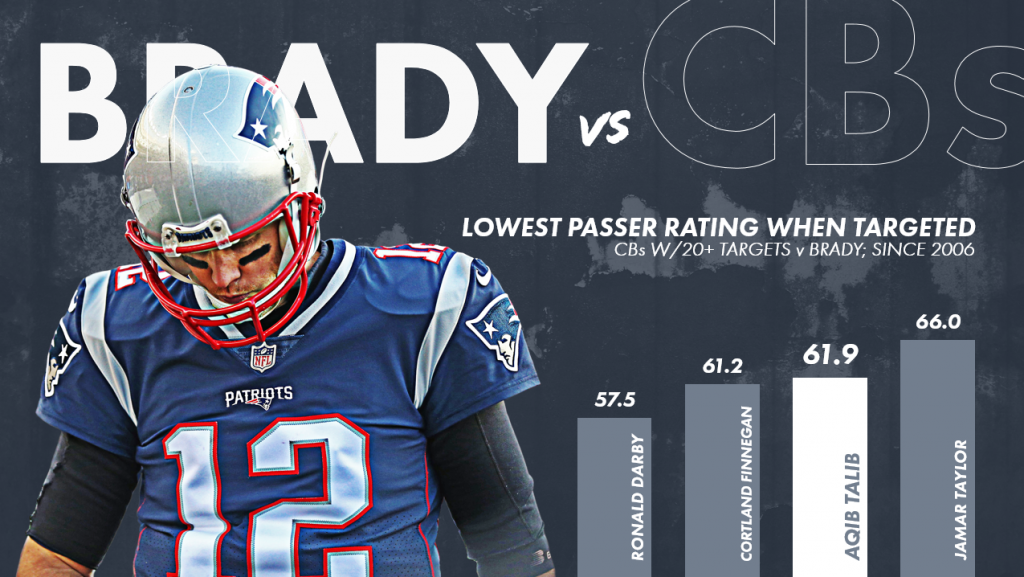 In their first-ever matchup, Talib, who was then a member of the Tampa Bay Buccaneers, saw a lot of former Patriot and NFL great Randy Moss in coverage. In total, Talib allowed 60 receiving yards (his most ever to Brady), but tallied one interception on seven targets.
After a short stint of being teammates, Talib joined the Denver Broncos where he'd have most of his career success. However, Talib struggled during their second matchup, registering a lowly coverage grade of 29.0 while seeing Brady throw for 58 yards on eight targets into his coverage.
By this time, the Broncos fearsome No Fly Zone secondary was in full swing. In route to a 30-24 Broncos victory, Talib played 50 coverage snaps and only saw Brady throw his way three times resulting in one catch for five yards. 
In their second matchup of the 2015 season and first ever in the playoffs, Brady and Talib squared off for a trip to Super Bowl 50. With the Broncos prevailing, Talib was dominant, tallying his best coverage grade (78.8) ever versus Brady, giving up only 14 yards on four targets.
There were little fireworks to be seen in this defensive battle resulting in a Patriots 16-3 win. Talib again yielded little to Brady, giving up three receptions for 31 yards on five targets.
In their most recent matchup, Brady had an excellent game throwing for 266 yards and three touchdowns finishing with a passer rating of 125.4. However, Brady avoided Talib all game long targeting him only twice in 34 coverage snaps resulting in one catch for 25 yards.
Rounding out his career success against TB12, Talib ranks ninth in yards allowed per coverage snap 0.91, fifth in coverage snaps played per reception allowed (14.0) and fifth in coverage snaps per target (7.8) among corners facing Brady in coverage. The Rams probably weren't looking to acquire Talib just for his success against the Patriots signal-caller, but it comes as a bonus now as they prepare for the biggest game of the year.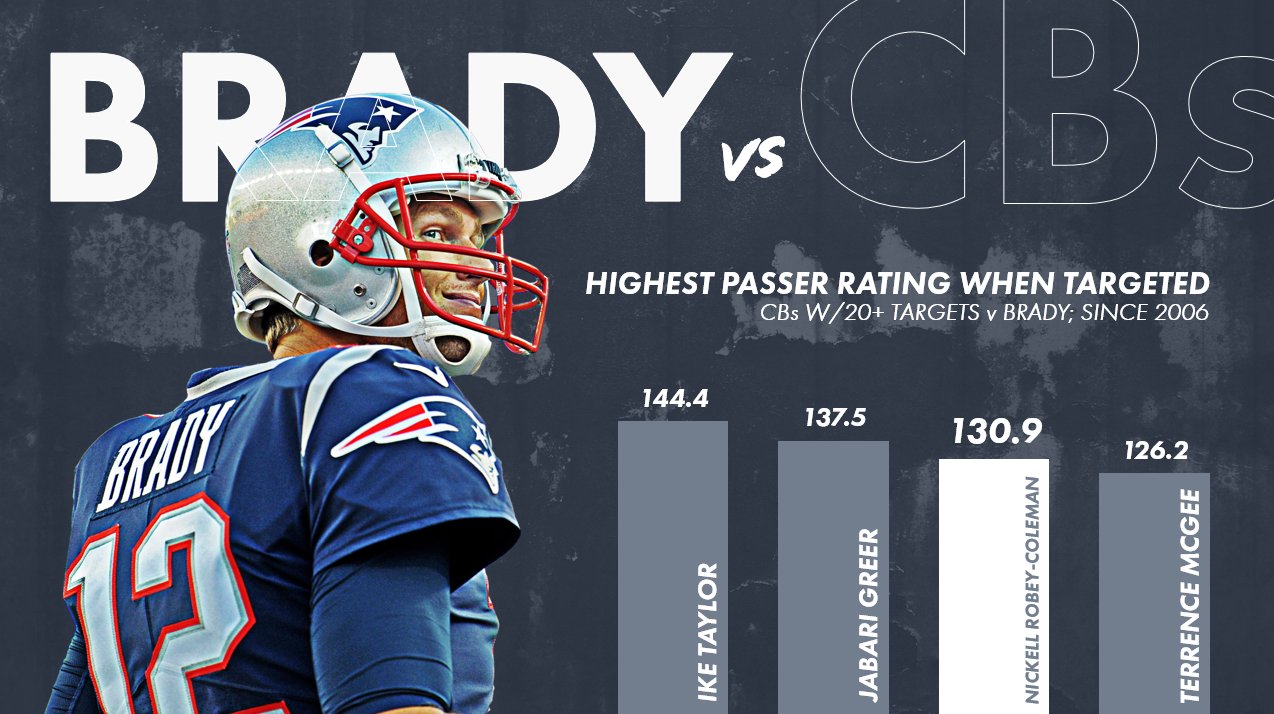 While this certainly seems to be a matchup advantage for the Rams, one interesting tidbit is that slot corner Nickell Robey-Coleman has had quite the opposite experience when facing Brady. Over 22 career targets, Brady has shredded Robey-Coleman for 200 yards and two touchdowns resulting in a passer rating of 130.9. Granted previous performance doesn't guarantee anything, but there sure is past volatility in the Rams secondary when facing Brady, making it key matchup to watch on Sunday.