Traditional measures of running back value like yards per carry are popular, but they can be wildly misleading when evaluating an individual player. PFF's elusive rating, on the other hand, provides a much clearer picture of a running back's specific abilities and contributions.
Elusive rating helps "distill the impact of a runner independently of the blocking in front of him by looking at how hard he was to tackle." Elusive rating's formula uses yards after contact per attempt and missed tackles forced per touch, rather than raw yardage totals, as its main variables.
You can access these metrics yourself if you're a PFF Elite subscriber.
Today, I wanted to highlight the running backs who stood out most by this metric in 2019, and what that might mean for their fantasy potential in 2020.
Among all 42 running backs to see at least 135 touches in 2019, here's who ranked highest by elusive rating: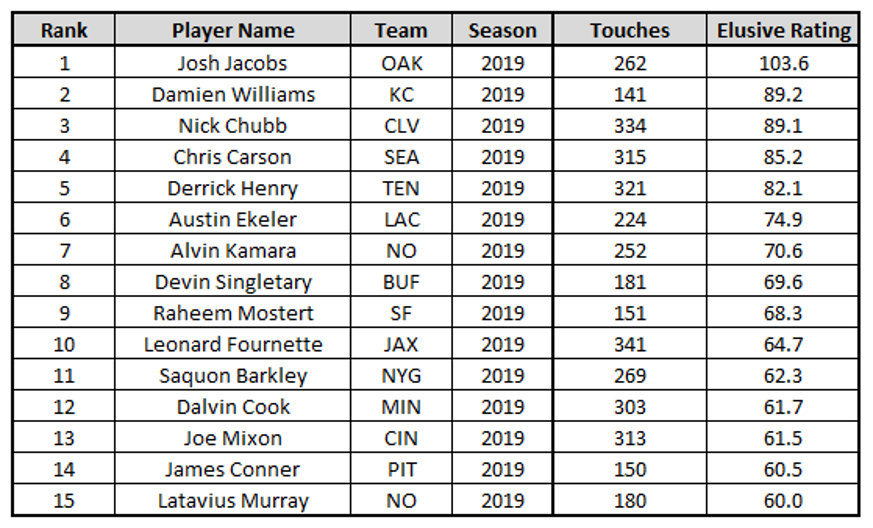 Before we dive into the analysis, it should be noted that some of these numbers are among the best we've ever recorded at PFF. Among all 372 instances of a running back recording at least 150 touches in a single season this past decade, here are the top 16 seasons by elusive rating:
(You'll note, five of these seasons came in 2019.)
Subscribe to PFF Edge to continue reading
Already have a subscription? Sign In