In its most boiled-down form, DFS involves the process of identifying the highest-scoring players at each position in a given week. With close to 20 playable options at the quarterback and tight end positions, along with even more at the running back and wide receiver positions, it is a feat in itself to identify one position correctly.
To finish at the top of a DFS contest, you must hit on basically all skill positions and circumvent the randomness associated with selecting defenses. Doing all of this while also fitting under the confines of a salary cap makes DFS one of the most difficult setups to beat consistently, especially in large-field tournaments.
Being first and foremost a data company, PFF has the ability to build and train models not only on public data but also PFF specific data, such as receiving grades and pass routes run, among a litany of other variables. Utilizing specific variables, we can build a model tuned to predict performances where a pass-catcher goes over a certain site-specific scoring threshold. This threshold is defined at 25 DraftKings, 20 FanDuel or 20 Yahoo receiving fantasy points.
This model provides the percentage chance that each receiver will meet or exceed our fantasy-point threshold for the site given their historical opportunity. The model won't be right on every player, but it is useful in identifying the performances that we want to unearth in our DFS lineups.
Davante Adams and Tyreek Hill were the two high-priced wide receivers who carried the position in Week 9, but our model gravitated toward Julio Jones and Adam Thielen, who each didn't pay off their salary expectations. Keenan Allen was a hit in the top 10 of wide receiver scoring, along with Jerry Jeudy. Preston Williams was on his way to a quality fantasy performance before an injury derailed his day. Danny Amendola, Marvin Jones Jr., Mike Williams and Tim Patrick were viable plays compared to their salary expectation but didn't hit the blowup performance we are looking for with this model.
Travis Kelce once again carried the tight end position, with our model identifying him as a preferred option on FanDuel. The position was thin outside of Kelce, as Jimmy Graham was the only tight end within ten fantasy points of the Kansas City star. Tight end was randomly spread out among lineups in the top 10, as no real ceiling performance occurred with Kelce having quality, but not slate-breaking, production when compared to his salary.
Week 10 has a wide range of DFS options since two main-slate matchups have totals above 51, with six games sitting between 48 and 51. Ownership should be spread out again, especially at wide receiver, so play the best options based on your research. Let's dive into my favorite pass-catching options based on our blowup model.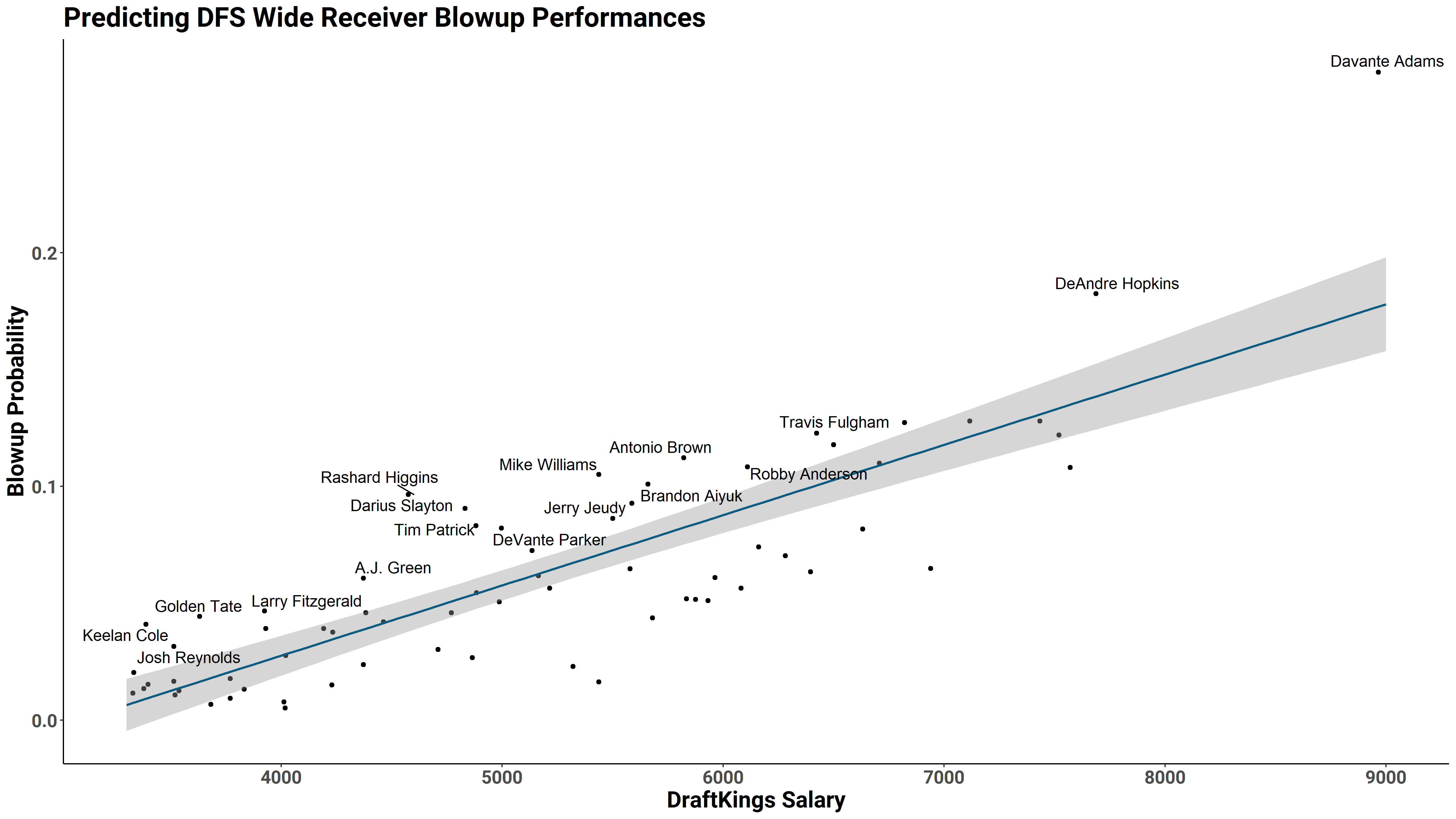 Adams has reached exorbitant usage and salary. He is the only receiver still over a 30% target per route ratio, yet 82.1% of his targets have been deemed catchable. His ownership projection of over 25% is working against him, along with game script in a matchup expected to have a margin close to two touchdowns.
There are also weather concerns, with wind reaching 25-plus mph in Green Bay on Sunday. I am here to help guide thought processes, but in truth, I won't be having much exposure to Adams this week. His usage in the last weather game at Lambeau was aided by three touchdowns in goal-to-go scenarios, which may not be the preferred path for the Packers this time around.