James Cook takes the lead in the Buffalo Bills backfield:

Cook led the team in rushing yards while putting up the best receiving performance by a Bills running back in months.

Rhamondre Stevenson leads the New England Patriots:

He finished with 54 rushing yards while the rest of the team totaled one. He also had twice as many receptions as any other Patriot.

Marcus Jones scores on his first snap:

The Patriots' third-round rookie cornerback hasn't seen much playing time on defense recently, so New England gave him a chance on offense and he immediately scored a 48 yards touchdown.
Estimated reading time: 5 minutes
---
PFF's fantasy football recap focuses on player usage and stats, breaking down all the vital information you need to achieve fantasy success in 2022.

Stefon Diggs

: 7 receptions, 92 yards, 1 touchdown

James Cook

: 14 carries, 64 yards, 6 receptions, 41 receiving yards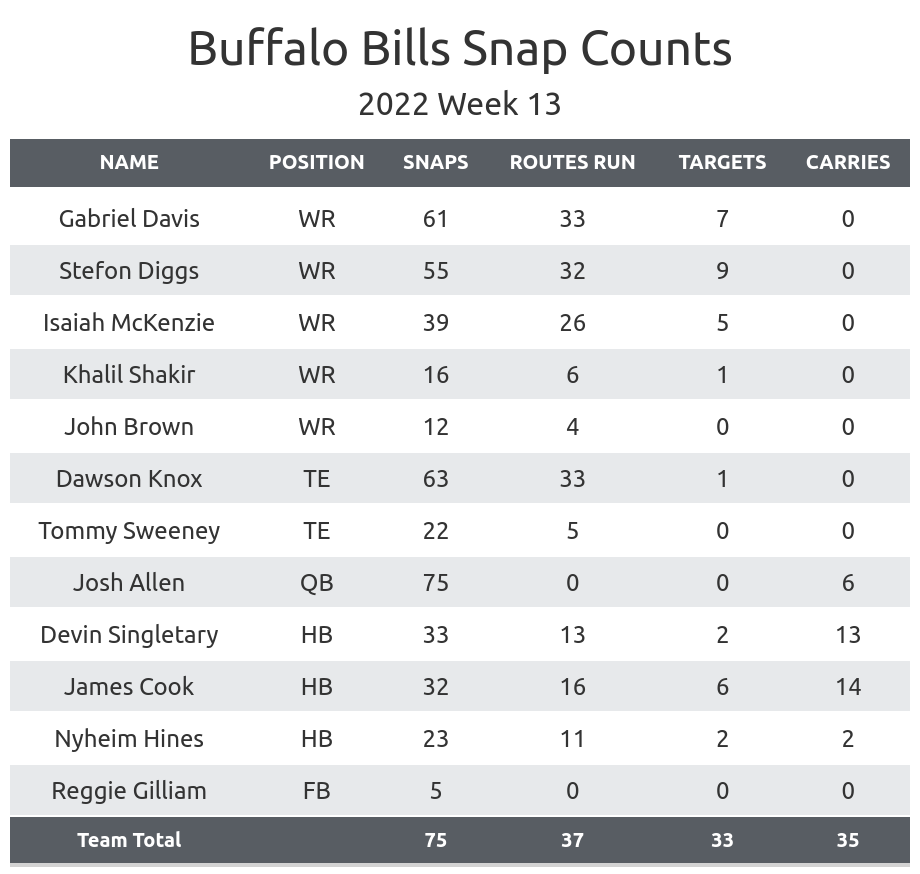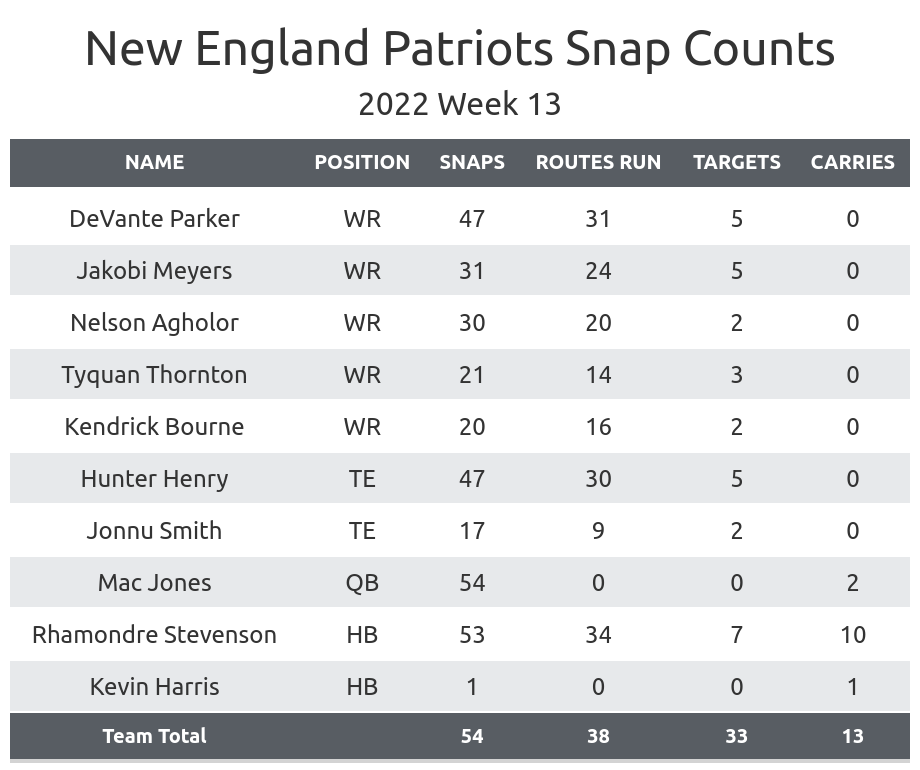 Add James Cook and don't start Devin Singletary: The Bills used much more of a running back rotation this week compared to weeks past. 
Singletary started the game, but Cook finished with more carries, rushing yards, receptions and receiving yards.

Cook has a higher PFF rushing, receiving and pass-blocking grade this season, so it isn't surprising that Cook is getting more opportunities.

Nyheim Hines

was on the field more often than usual. He typically played in the slot on early downs while Cook was in the backfield, He also played significant third-down snaps.

Singletary was RB22 on the season heading into Week 13, so he was already a borderline fantasy starter as a full-time starter.

Three of the Bills' next four opponents are in the league's top half at preventing fantasy points to running backs.

Cook should be a waiver wire target. It might not be safe to trust him next week in case this game plan was a one-time thing, but if he keeps this role, he could be safe to start in the fantasy playoffs.

Singletary is an unrestricted free agent after the season. There is a chance this game was his last start in Buffalo if it makes Cook the starter going forward.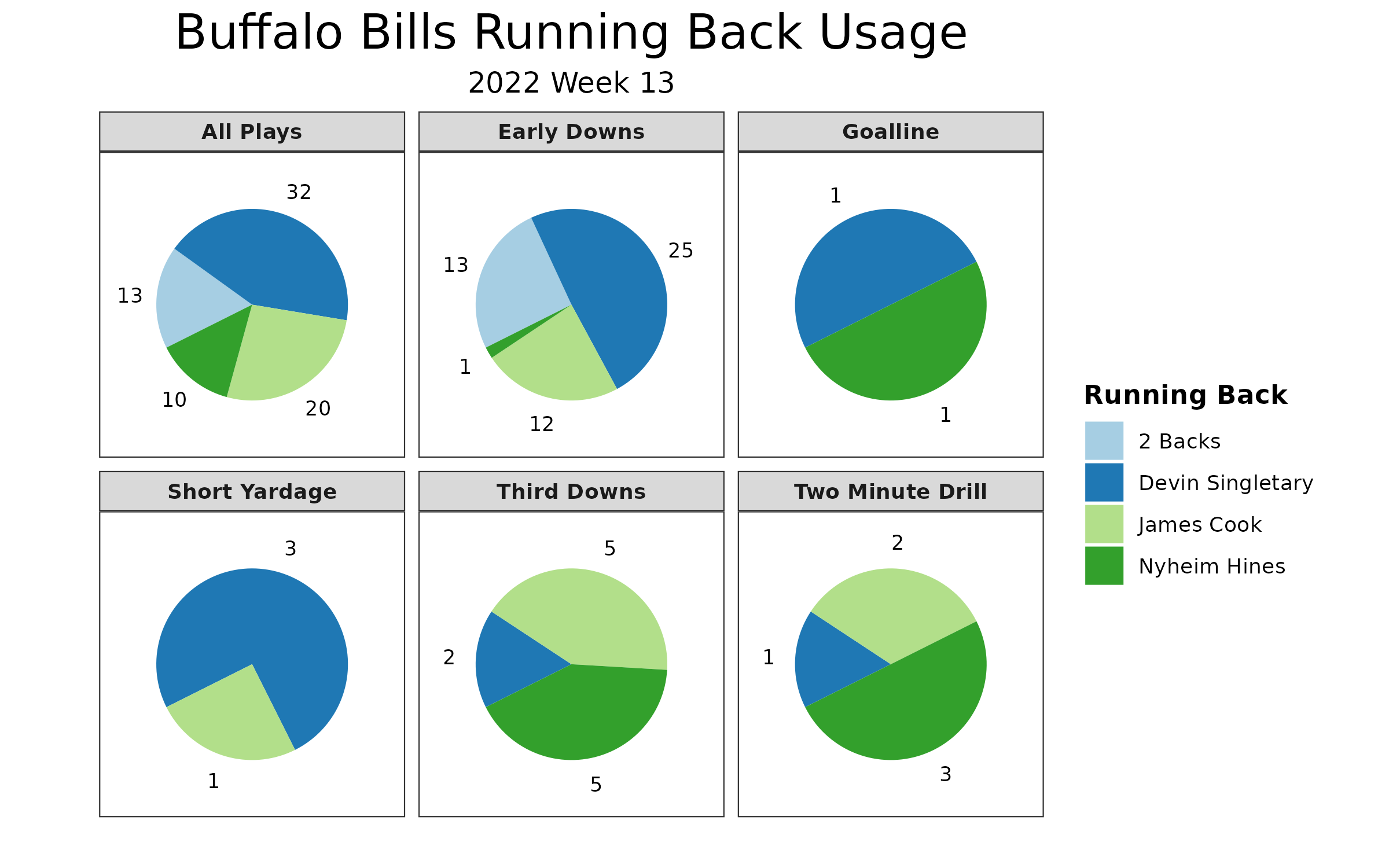 Monitor the health of the Bills receivers: Both Dawson Knox and Isaiah McKenzie had trips to the medical tent in the second half.
The Patriots without Damien Harris: He missed the game with a thigh injury. It was Harris' third game missed of the season.
Rhamondre Stevenson

played in over 70% of New England's offensive snaps in previous games Harris missed as well as the last two weeks.

He played in over 90% of offensive snaps for the first time in his career Thursday night.

He averaged over five yards per carry and was a constant target late in the game. He led the team in targets and receptions.

Stevenson is a must-start for the rest of the season regardless of Harris' injury status due to his usage mixed with his talent and the Patriots' offensive line.

New England has two very favorable matchups against the Arizona Cardinals and Las Vegas Raiders in Weeks 14 and 15.

Harris is a free agent this offseason, so Stevenson could have a similar role to Thursday night in 2023.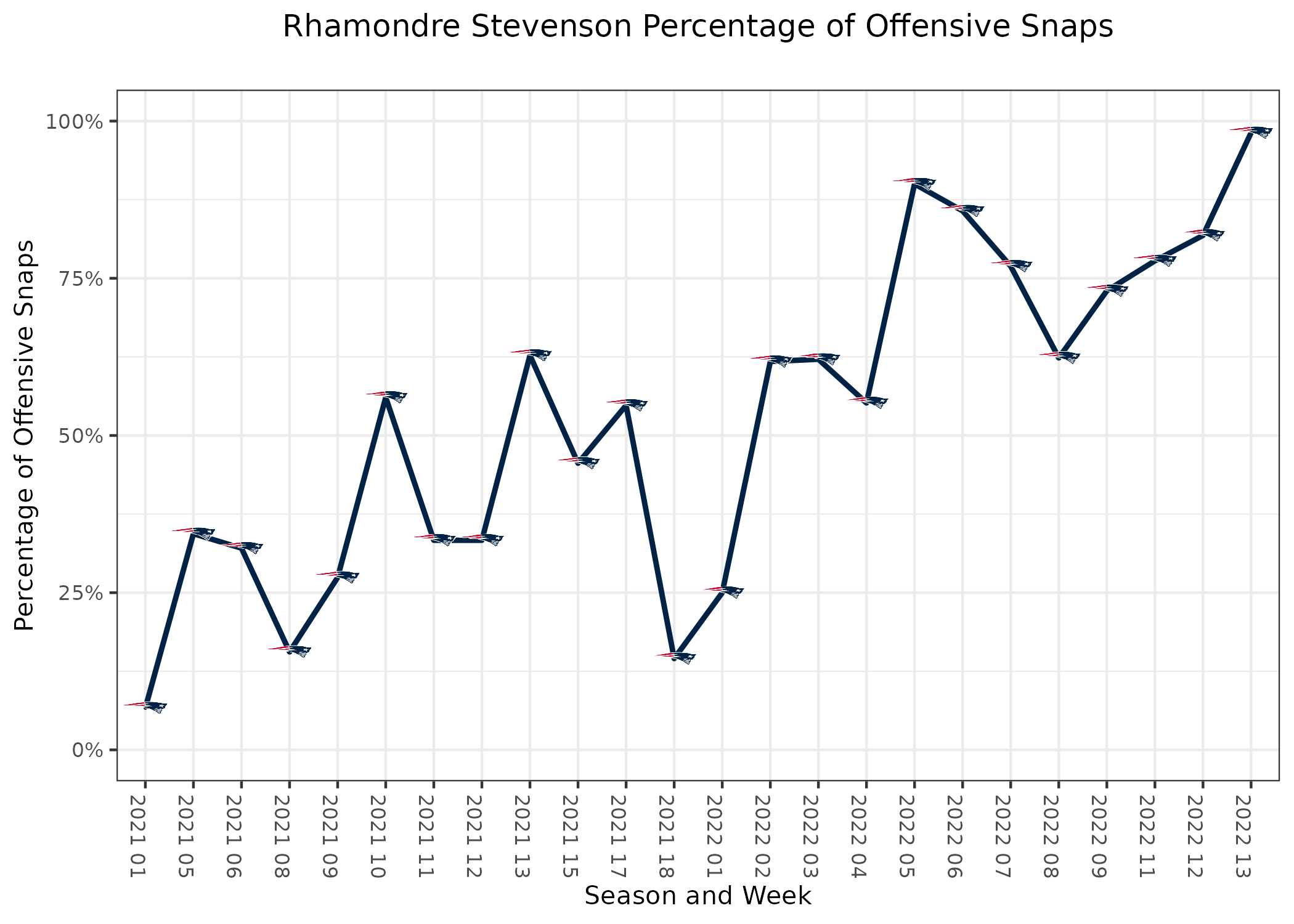 Monitor Jakobi Meyers' health: Meyers was limited all week with a questionable injury. He played but not as much as usual.
He started the game and played in each of the Patriots' first four snaps. He then left the game and wasn't seen again until the last five minutes of the second quarter.

The Patriots only had one drive in the third quarter, but Meyers only played one snap on that drive.

He was consistently on the field in the fourth quarter even though the game was mostly out of reach at that point.

He took a hit late in the fourth quarter, went to the medical tent and didn't return.

Nelson Agholor

took all of Meyers' snaps when he was off the field, which has been similar to other times Meyers has been out this season.

DeVante Parker

missed some time in early November, but he was all the way back to being a full-time starter. He played 100% of New England's offensive snaps over the first three quarters.

Tyquan Thornton

and

Kendrick Bourne

continued to rotate in three-receiver sets.

Ideally, the extended time off will be enough for Meyers to get back to 100%. It might be difficult starting him next week if he's still limited in practice.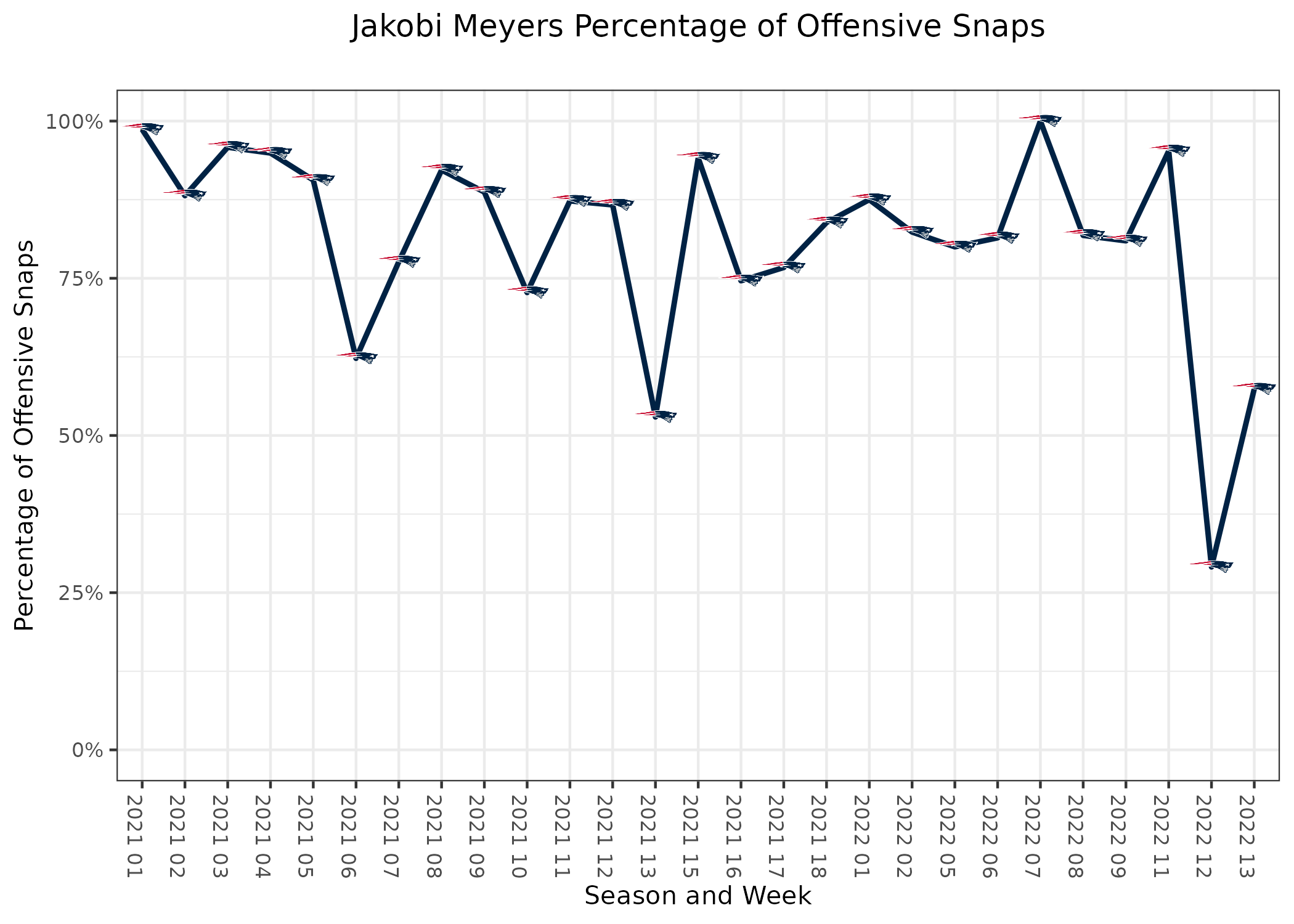 ---
Table Notes
• Snaps include plays called back due to penalties, including offensive holding or defensive pass interference. The other three stats have these plays removed.
• Targets may differ from official NFL sources. The most likely discrepancy would be from a clear thrown-away pass, where the NFL may give the target to the nearest receiver, while this data will not.
• Carries are only on designed plays. Quarterback scrambles won't count for the total number of carries in the game.