With the NFL Draft just a few days away, we have one last chance to take a look at our pre-draft dynasty fantasy football rookie rankings. While everything is going to get reshuffled after the draft, it's important to know how these players stack up against each other on a level playing field. That knowledge will help us produce better rankings after the draft.
Remember, you can always check out our fully updated 2020 fantasy football rankings and our 2020 fantasy football projections, both of which we'll be updating as the players come off the board during the draft. We also have the brand new Rookie Fantasy Scouting Report and our NFL Draft Guide to get you up to speed on all of this year's prospects. And if you're really into the draft, it's worth checking out our NFL Mock Draft Simulator where you can run your own NFL mock drafts and see how the results compare to our 2020 NFL Draft Big Board.
1. Jonathan Taylor, RB Wisconsin
2. Jerry Jeudy, WR Alabama
3. Ceedee Lamb, WR Oklahoma
4. D'Andre Swift, RB Georgia
5. J.K. Dobbins, RB Ohio State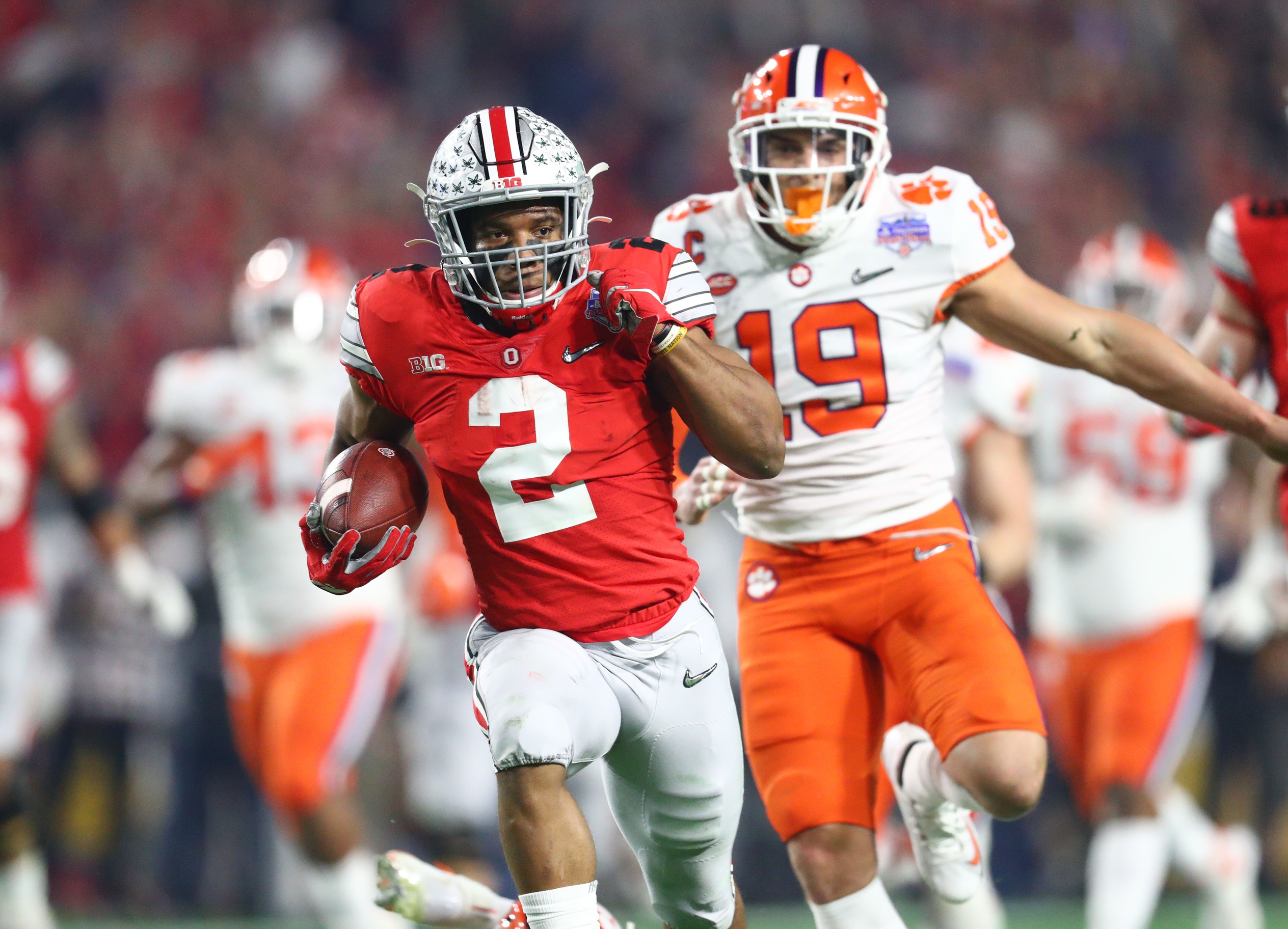 This year's top tier is fairly deep, with three running backs and two wideouts. Even though he doesn't figure to be the first running back selected in the draft, Taylor is the cream of the fantasy crop following a prolific college career. Jeudy and Lamb are neck-and-neck, though we could see some separation following their landing spots. Likewise, Swift and Dobbins will need to step into good situations to maintain top-tier status.
6. Tee Higgins, WR Clemson
7. Cam Akers, RB Florida State
8. Henry Ruggs III, WR Alabama
9. Clyde Edwards-Helaire, RB LSU
10. Justin Jefferson, WR LSU
11. Zack Moss, RB Utah
12. Laviska Shenault Jr., WR Colorado
13. Jalen Reagor, WR TCU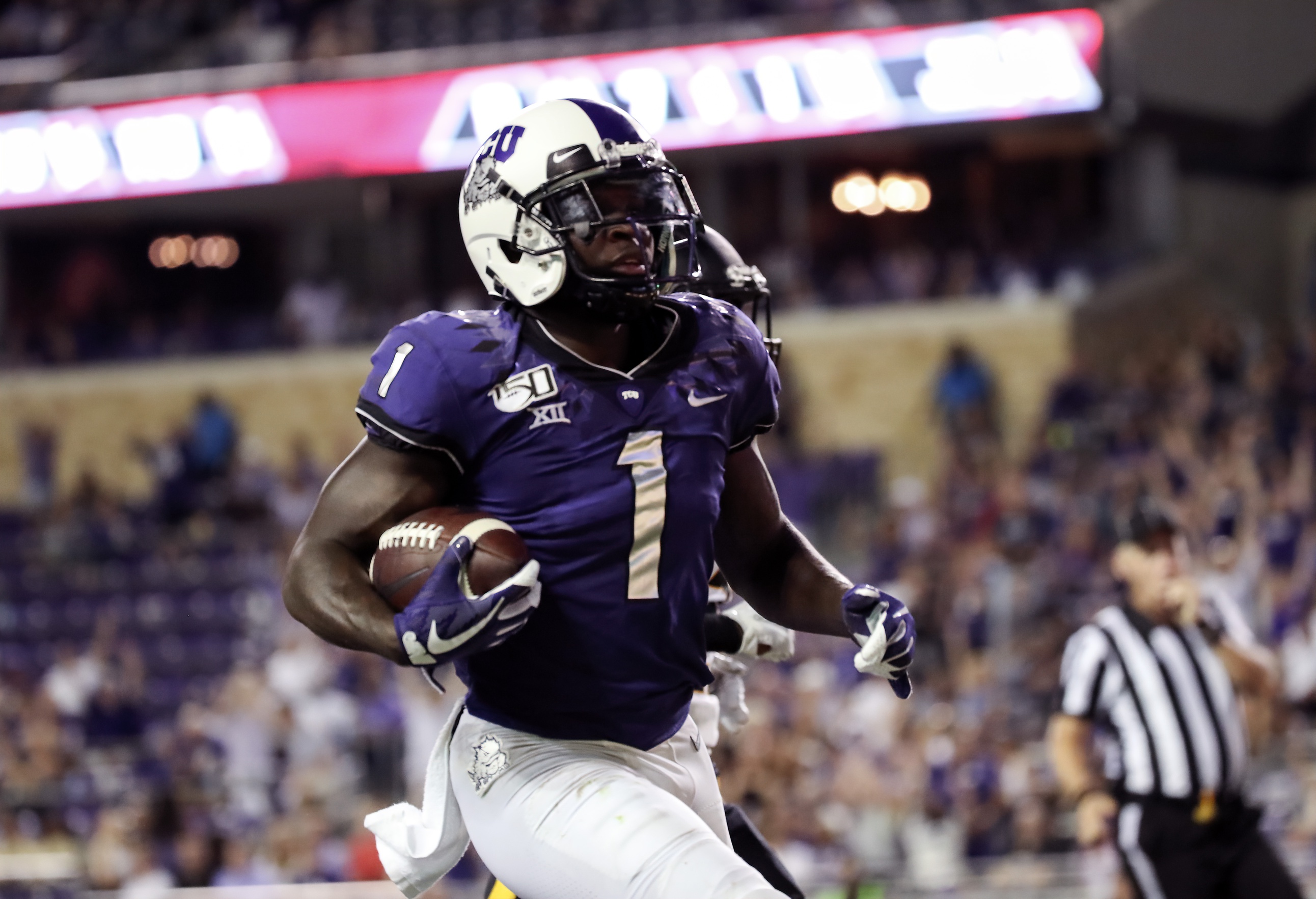 This is a fascinating group with five potential first-round wideouts. We also have some appealing running backs. Of these players, Akers is the most likely to jump tiers based on landing spot. The Florida State product is currently being slightly undervalued in some fantasy circles. We could say the opposite for Edwards-Helaire. There's no denying his production for LSU last season, but the big concern is whether or not he has the size to be an NFL feature-back at just 5-foot-7 and 207 pounds.
14. Joe Burrow, QB LSU
15. Denzel Mims, WR Baylor
16. Bryan Edwards, WR South Carolina
17. Tua Tagovailoa, QB Alabama
18. Michael Pittman Jr., WR USC
19. K.J. Hamler, WR Penn State
20. AJ Dillon, RB Boston College
21. Ke'Shawn Vaughn, RB Vanderbilt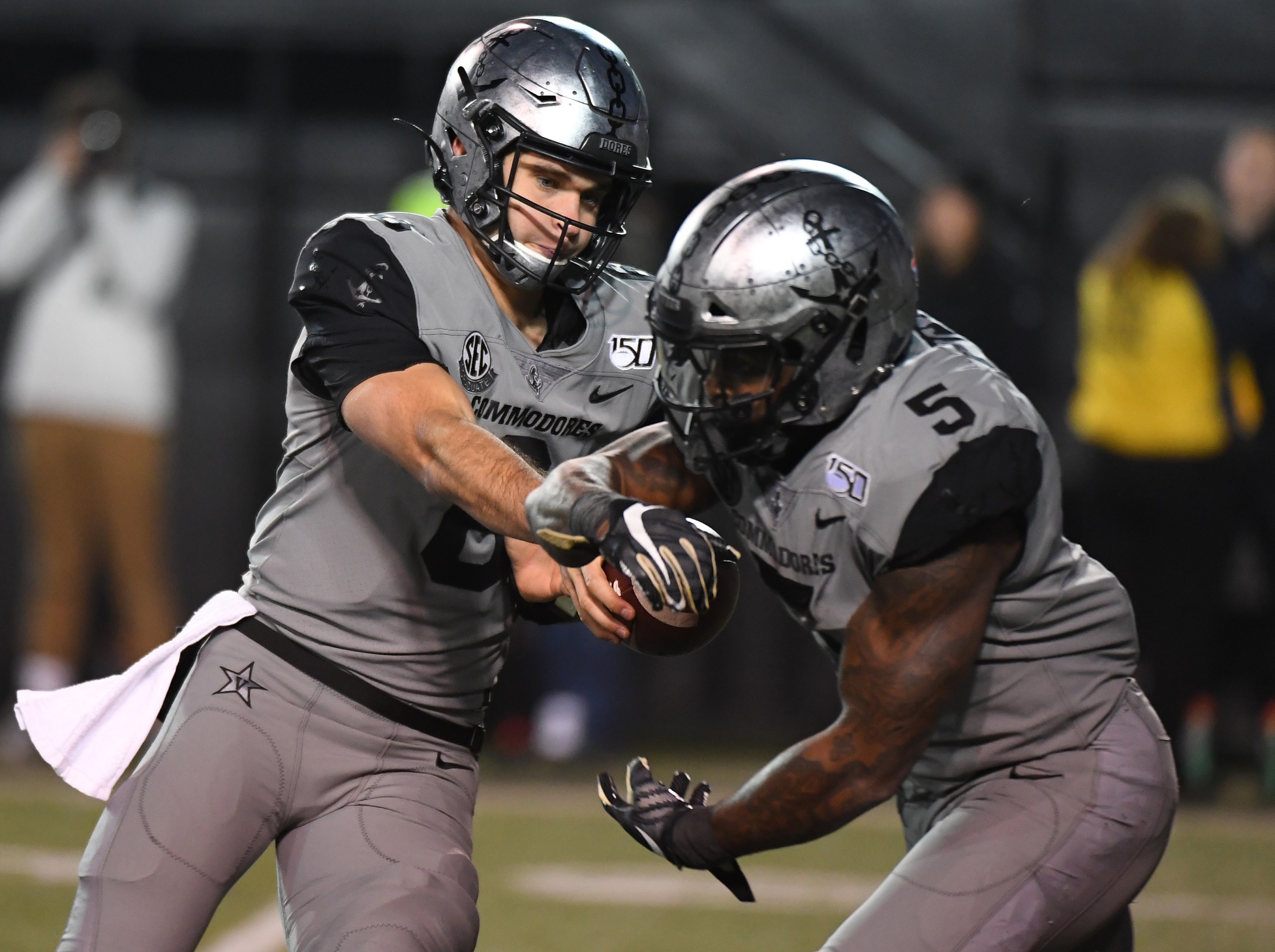 Fantasy is often different from reality. Running backs certainly matter in fantasy, and quarterbacks really don't as much in 1QB formats. So while Burrow and Tagovailoa will be among the first handful of players selected on Thursday night, neither figure to be first-round rookie picks. It's also worth noting the sheer depth of wide receiver in this year's class. There's a good chance that you'll still be picking from extremely solid options well into the second round of your rookie drafts.
22. Adam Trautman, TE Dayton
23. Hunter Bryant, TE Washington
24. Justin Herbert, QB Oregon
25. Brandon Aiyuk, WR Arizona State
26. Tyler Johnson, WR Minnesota
27. Cole Kmet, TE Notre Dame
28. Harrison Bryant, TE FAU
29. Anthony McFarland Jr., RB Maryland
30. Brycen Hopkins, TE Purdue
31. Jordan Love, QB Utah State
32. Eno Benjamin, RB Arizona State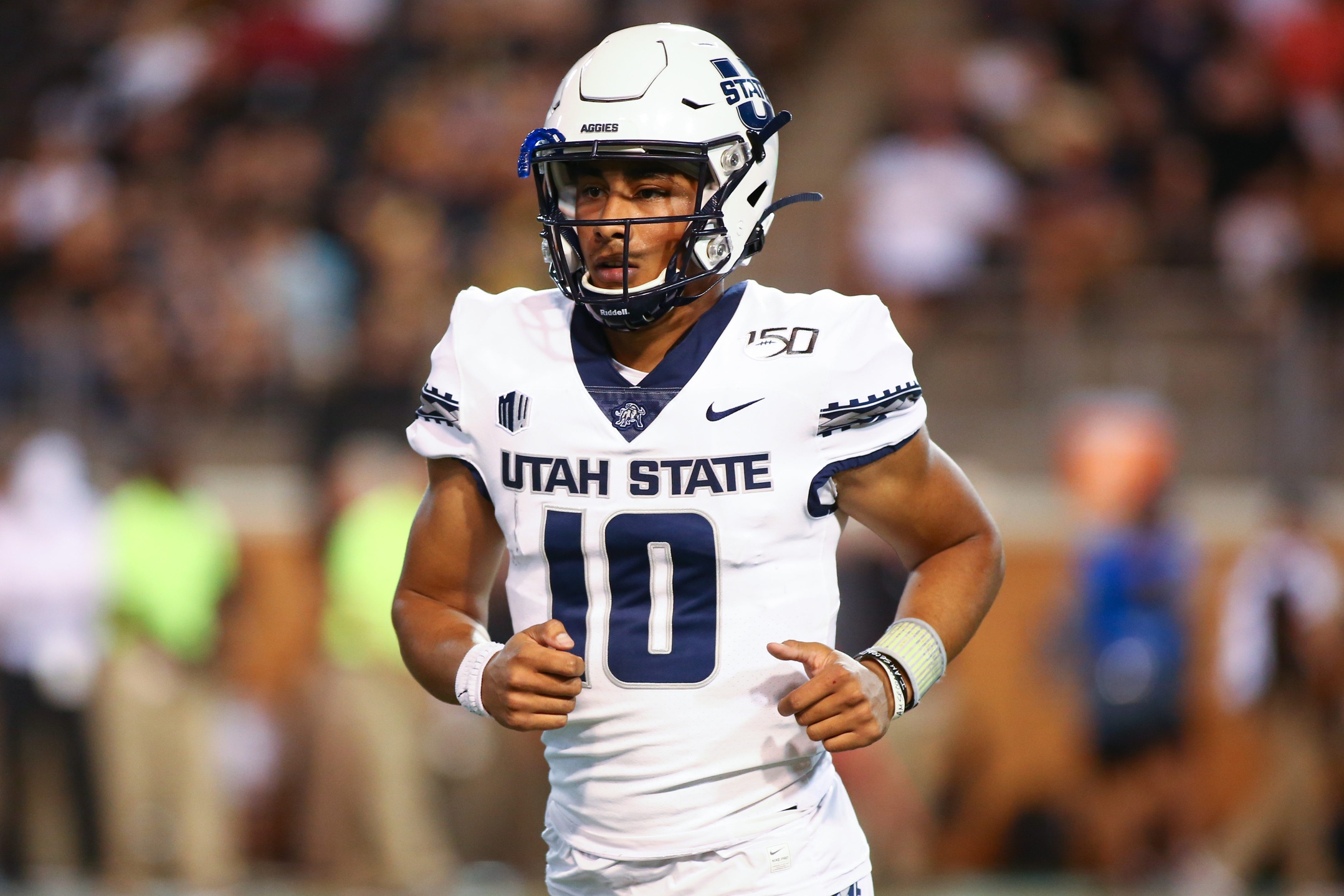 Does this year's class have any standout premium tight ends? No. But there is a lot of depth to this class with players like Trautman, both Bryants, Kmet and Hopkins. The important thing to note is that it often takes several seasons for tight ends to start producing consistent fantasy numbers. Tight ends rarely step into the NFL and put up viable fantasy numbers. Keep that in mind with this class. It's extremely unlikely that any of these guys are more than fantasy streamers in 2020, but I'm willing to wager that at least two of them emerge by 2023. I know, that's a while, but good tight ends are worth the wait in dynasty leagues.
33. Chase Claypool, WR Notre Dame
34. Antonio Gandy-Golden, WR Liberty
35. Michael Warren II, RB Cincinnati
36. Lamical Perine, RB Florida
37. Jalen Hurts, QB Oklahoma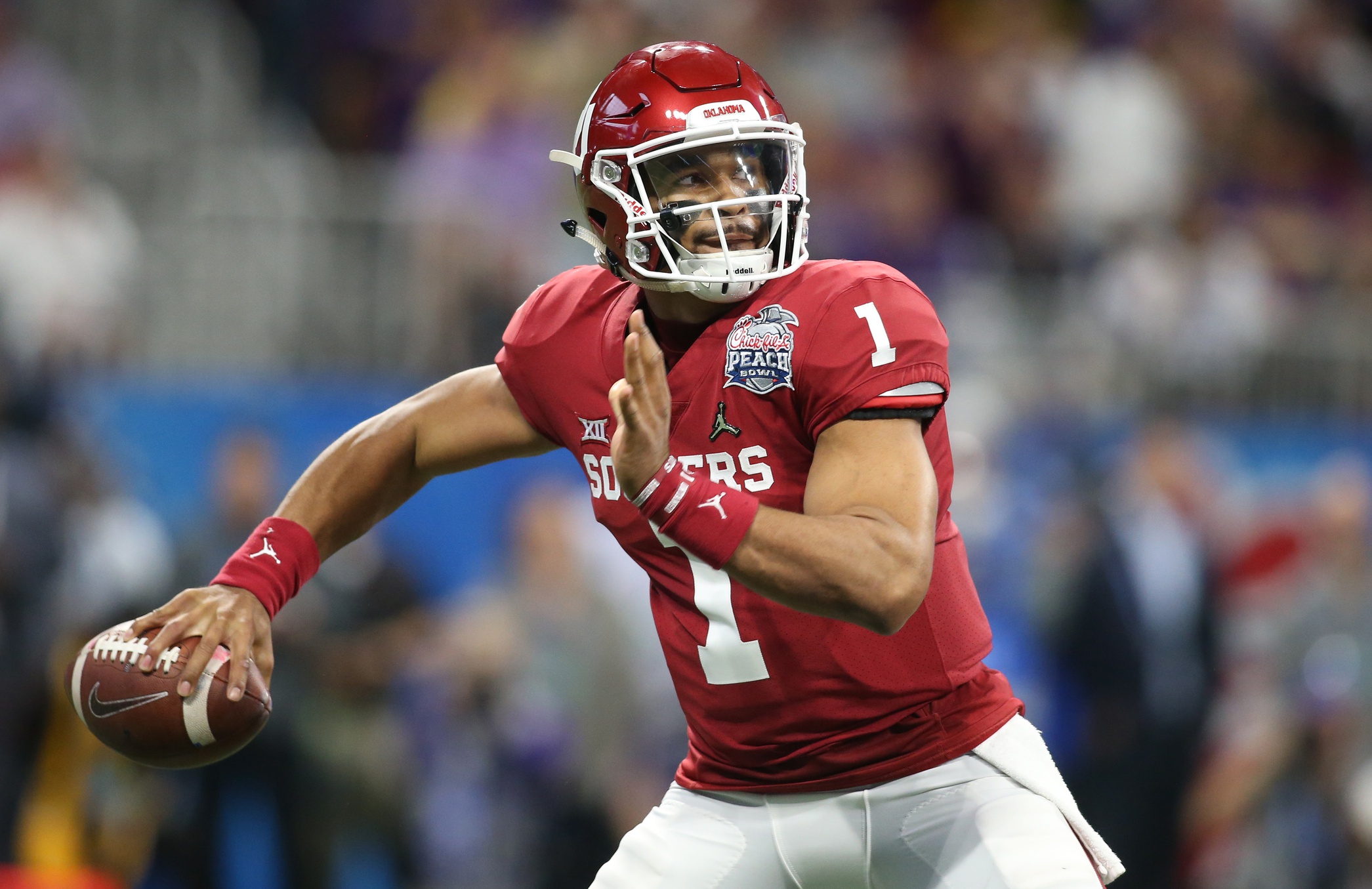 38. Jacob Eason, QB Washington
39. Albert Okwuegbunam, TE Missouri
40. Jake Fromm, QB Georgia
41. C.J. O'Grady, TE Arkansas
42. Salvon Ahmed, RB Washington
43. DeeJay Dallas, RB Miami
44. Darrynton Evans, RB Appalachian State
45. Donovan Peoples-Jones, WR Michigan
46. Devin Duvernay, WR Texas
47. LeVante Bellamy, RB Western Michigan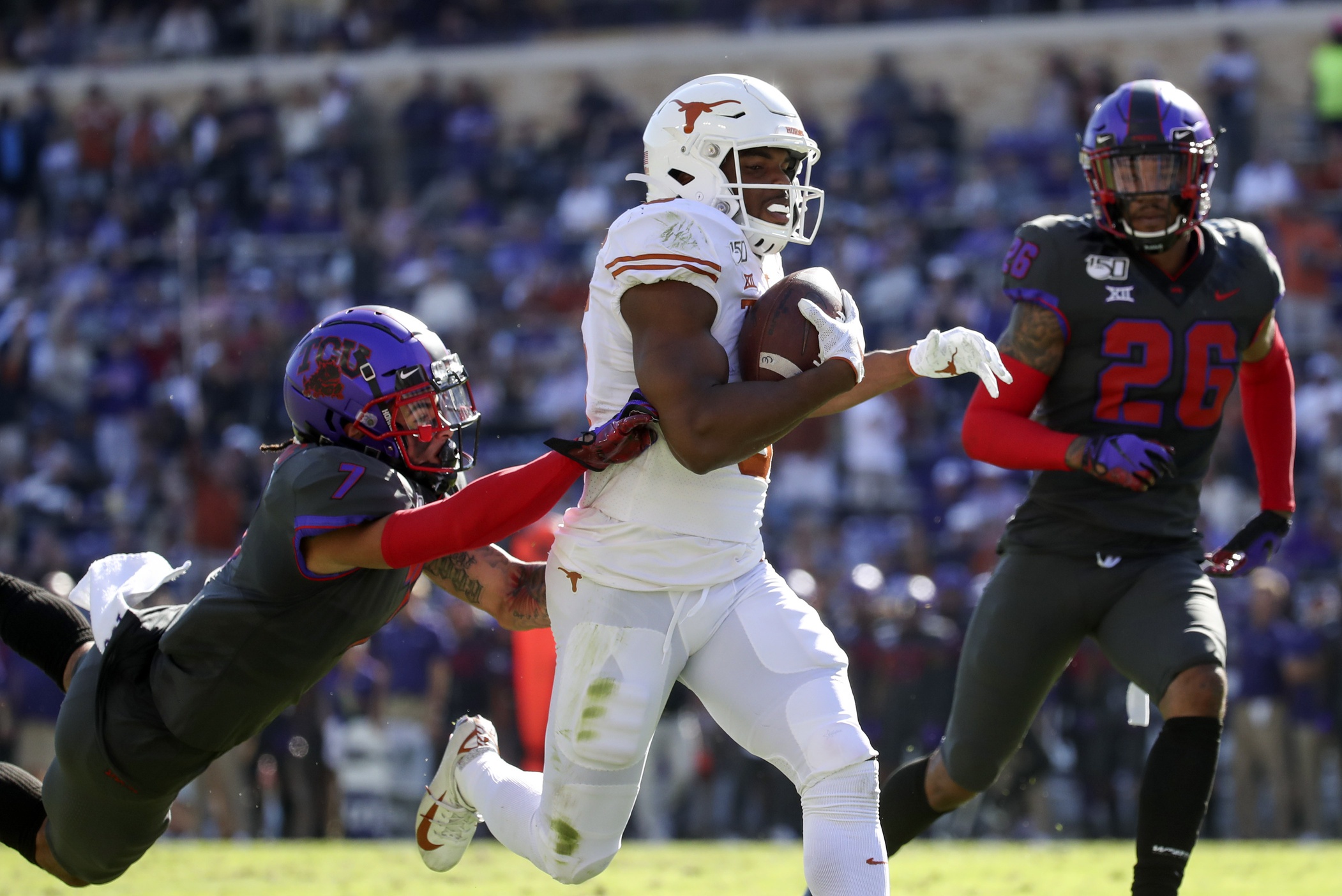 The middle rounds of dynasty rookie drafts pose some challenges but can also yield fantasy gold if you target the right guys. There are a number of running backs in this tier who will be worth a look. It's unlikely any of them will be in the "potential starter" conversation out of the gate, but players like Warren, Ahmed, Dallas, Evans and Bellamy could all potentially surface at some point during their rookie seasons as backups who step in due to injury.
48. Jared Pinkney, TE Vanderbilt
49. Anthony Gordon, QB Washington State
50. Cole McDonald, QB Hawai'i
51. Thaddeus Moss, TE LSU
52. Joshua Kelley, RB UCLA
53. Patrick Taylor Jr., RB Memphis
54. Lynn Bowden Jr., WR Kentucky
55. Steven Montez, QB Colorado
56. K.J. Hill, WR Ohio State
57. Omar Bayless, WR Arkansas State
58. Antonio Gibson, WR Memphis
59. Darius Anderson, RB TCU
60. Colby Parkinson, TE Stanford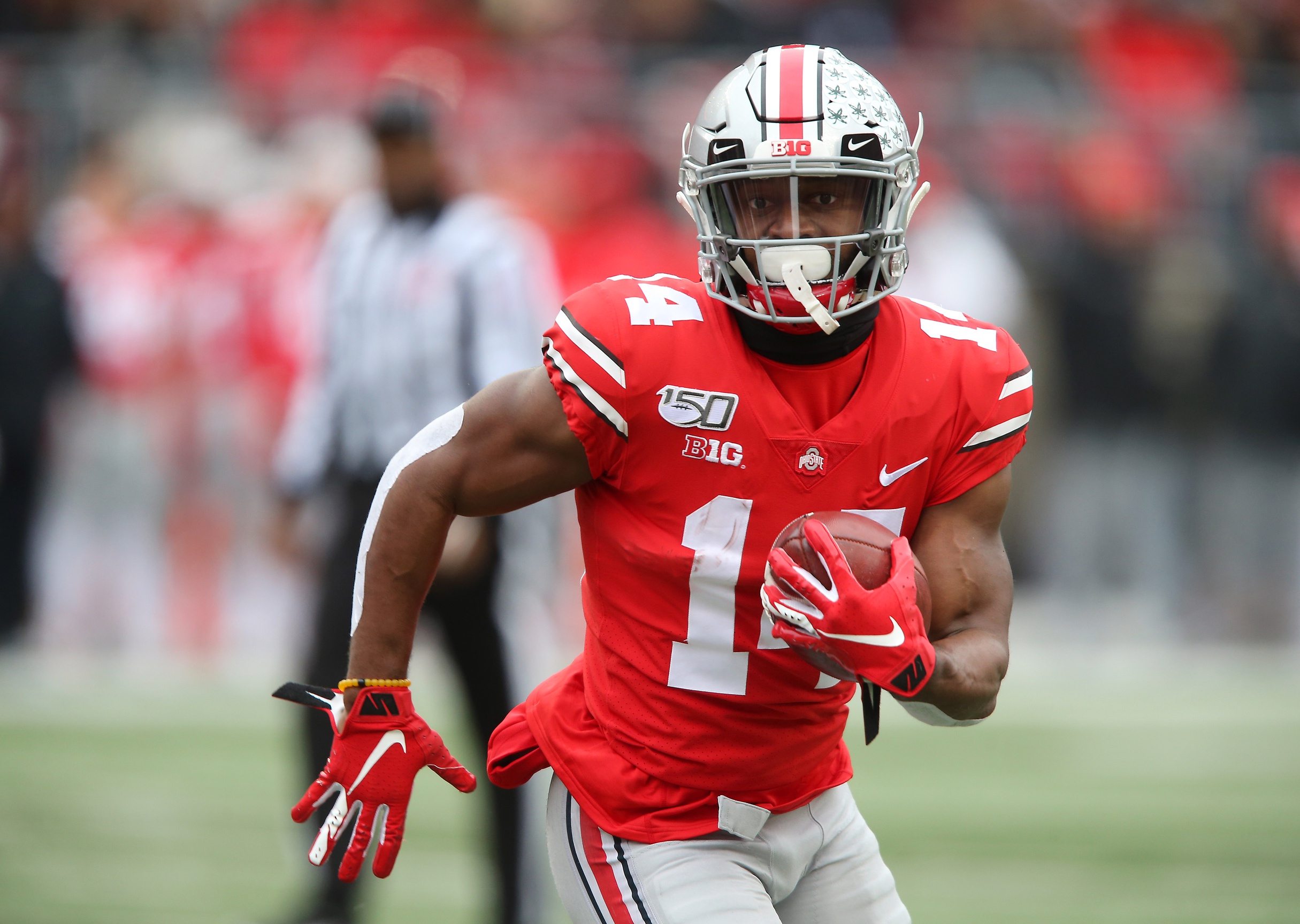 We're in flier territory at this point in the rankings, but there are still intriguing prospects. The two who stick out the most are Bowden and Gibson. Both players offer an "offensive weapon" skill set, so position classification is going to be key. But they're both extremely athletic and could be fantasy diamonds in the rough.
61. Isaiah Hodgins, WR Oregon State
62. Javon Leake, RB Maryland
63. James Robinson, RB Illinois State
64. Raymond Calais, RB Louisiana-Lafayette
65. Gabriel Davis, WR UCF
66. Devin Asiasi, TE UCLA
67. Charlie Taumoepeau, TE Portland State
68. J.J. Taylor, RB Arizona
69. Quintez Cephus, WR Wisconsin
70. James Proche, WR SMU
71. Quartney Davis, WR Texas A&M
72. JaMycal Hasty, RB Baylor
73. Shea Patterson, QB Michigan
74. John Hightower, WR Boise State
75. Van Jefferson, WR Florida
76. Collin Johnson, WR Texas
77. Jauan Jennings, WR Tennessee
78. Josiah Deguara, TE Cincinnati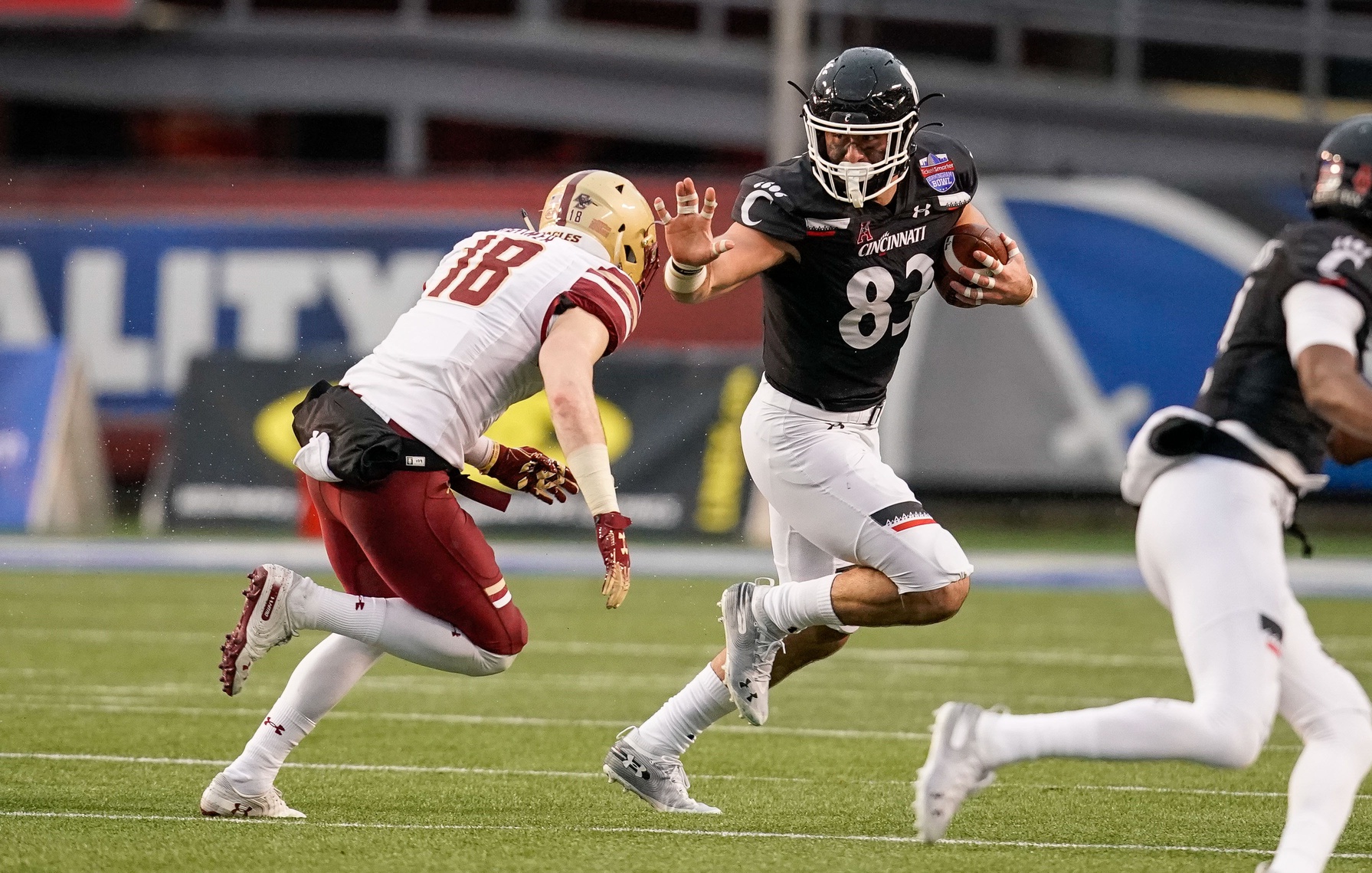 79. Tony Jones Jr., RB Notre Dame
80. Kalija Lipscomb, WR Vanderbilt
81. Cody White, WR Michigan State
82. Aaron Fuller, WR Washington
83. Nate Stanley, QB Iowa
84. Benny LeMay, RB UNC-Charlotte
85. Marquez Callaway, WR Tennessee
86. Jacob Breeland, TE Oregon
87. Stephen Sullivan, TE LSU
88. Darrell Stewart Jr., WR Michigan State
89. Binjimen Victor, WR Ohio State
90. Aaron Parker, WR Rhode Island
91. Joe Reed, WR Virginia
92. Scottie Phillips, RB Ole Miss
93. Stephen Guidry, WR Mississippi State
94. Isaiah Coulter, WR Rhode Island
95. Austin Mack, WR Ohio State
96. Mitchell Wilcox, TE South Florida
97. Sewo Olonilua, RB TCU
98. Quez Watkins, WR Mississippi State
99. Darnell Mooney, WR Tulane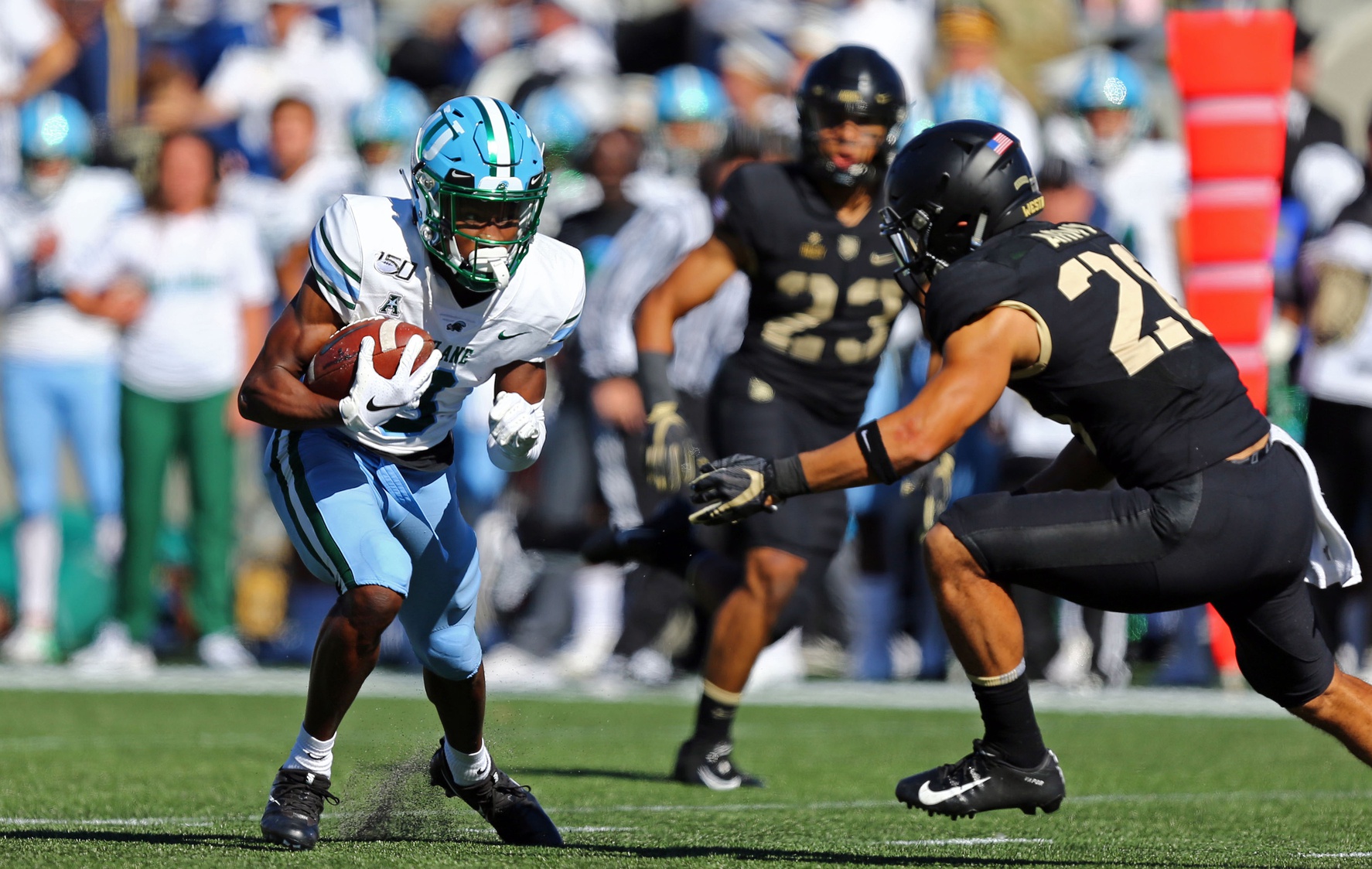 100. Sean McKeon, TE Michigan
101. Rico Dowdle, RB South Carolina
102. Malcolm Perry, WR Navy
103. Kendrick Rogers, WR Texas A&M
104. Juwan Johnson, WR Oregon
105. K.J. Osborn, WR Miami
106. Lawrence Cager, WR Georgia
107. Tyrie Cleveland, WR Florida
108. Brian Herrien, RB Georgia
109. Dalton Keene, TE Virginia Tech
110. Dominick Wood-Anderson, TE Tennessee
111. Brian Lewerke, QB Michigan State
112. Kelly Bryant, QB Missouri
113. Reggie Corbin, RB Illinois
114. Trishton Jackson, WR Syracuse
115. Jeff Thomas, WR Miami
116. Chris Finke, WR Notre Dame
117. Joey Magnifico, TE Memphis
118. Tyler Huntley, QB Utah
119. Josh Love, QB San Jose State
120. Kevin Davidson, QB Princeton
121. Dezmon Patmon, WR Washington State
122. Charlie Woerner, TE Georgia
123. Jake Luton, QB Oregon State
124. James Morgan, QB Florida International
125. Kyle Markway, TE South Carolina
126. Freddie Swain, WR Florida
127. Mason Fine, QB North Texas
128. Tony Brown, WR Colorado
129. Ty'Son Williams, RB BYU
130. Nathan Rourke, QB Ohio
131. Jason Huntley, RB New Mexico State
132. Nick Westbrook, WR Indiana
133. Isaiah Wright, WR Temple
134. Tra Barnett, RB Georgia State
135. Adrian Killins Jr., RB UCF
136. Gerold Bright, RB Utah State
137. Luke Farrell, TE Ohio State
138. Diondre Overton, WR Clemson
139. Ja'Marcus Bradley, WR Louisiana-Lafayette
140. Kirk Merritt, WR Arkansas State
141. Ben Ellefson, TE North Dakota State
142. Khalil Tate, QB Arizona
143. Blake Barnett, QB South Florida
144. Tavien Feaster, RB South Carolina
145. Xavier Jones, RB SMU
146. Jared Rice, TE Fresno State
147. Noah Togiai, TE Oregon State
148. DeShawn McClease, RB Virginia Tech
149. Tra Minter, RB South Alabama
150. Pete Guerriero, RB Monmouth
151. Moe Neal, RB Syracuse
152. Bryce Perkins, QB Virginia
153. Riley Neal, QB Vanderbilt
154. Juwan Washington, RB San Diego State
155. James Gilbert, RB Kansas State
156. Corey Dauphine, RB Tulane
157. Mason Kinsey, WR Berry College
158. Rodney Smith, RB Minnesota
159. Darius Bradwell, RB Tulane
160. Cade Carney, RB Wake Forest
161. Tyler Mabry, TE Maryland
162. Jack Freudenthal, TE Wake Forest
163. Easop Winston Jr., WR Washington State
164. Johnathon Johnson, WR Missouri
165. Kennedy McKoy, RB West Virginia
166. Jonathan Ward, RB Central Michigan
167. Marvin Kinsey Jr., RB Colorado State
168. Tommy Stevens, QB Mississippi State
169. Case Cookus, QB Northern Arizona
170. Patrick Carr, RB Houston
171. Devin Cates, TE Drake
172. Kyle Penniston, TE Rutgers
173. Cedric Byrd II, WR Hawai'i
174. Christian Gibson, RB New Mexico State
175. Antonio Williams, RB North Carolina State
176. Nick Tiano, QB Chattanooga
177. Jacob Knipp, QB Northern Colorado
178. Nick Eubanks, TE Michigan
179. Matt Seybert, TE Michigan State
180. Nick Bowers, TE Penn State
181. Derrick Dillon, WR LSU
182. Isaiah Zuber, WR Mississippi State
183. Jo-El Shaw, RB Kent State
184. Cameron Scarlett, RB Stanford
185. Kurt Rawlings, QB Yale
186. Chase Allen, TE Iowa State