(Editor's note: As we lead up to the season, Director of PFF Fantasy Jeff Ratcliffe is breaking down each team's depth chart from a fantasy perspective. Catch up on the work so far here.)
The Chiefs are coming off an 11-win season where Andy Reid's squad ranked ninth in points per game (25.3), but finished 27th in total yards per game (331.2). While the offense is certainly on the conservative side of things, there's still plenty of fantasy value to be had on this depth chart.
Former No. 1 overall selection Alex Smith is back for his fourth season as the Chiefs' starting quarterback. Despite being one of the better running quarterbacks in the league, Smith's dual-threat ability hasn't translated to strong fantasy value. He's finished as a QB2 in each of the last three seasons. Part of the problem is Kansas City's offense. Last season, just five teams passed less frequently than the Chiefs, and in terms of pace, only the Rams ran fewer snaps per game.
When he does pass, Smith rarely pushes the ball downfield. He finished at the bottom of the league in percentage of passing yards through the air (43.5), and along with Matthew Stafford, Smith was the only full-time starter to average a depth of target of less than 7.0 yards. At this point in his career, we know exactly what Smith is: A low-ceiling fantasy option who will consistently get you safe QB2 production.
Kansas City Chiefs projected 2016 offense with 2015 grades: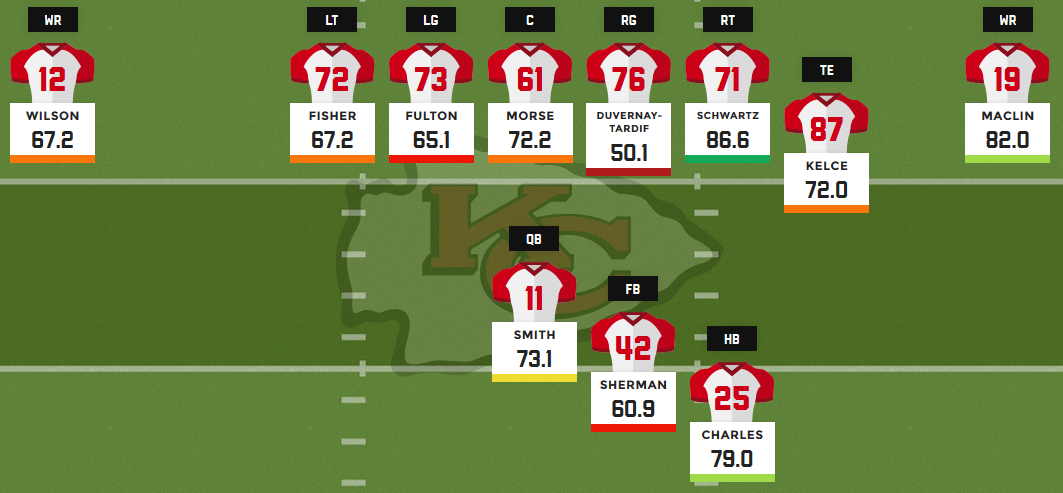 At receiver, the Chiefs will deploy a trio of Jeremy Maclin, Albert Wilson and Chris Conley in 3-wide sets. Maclin teamed back up with his former head coach, Andy Reid, and got off to a fantastic start last season with two 100-plus-yard performances in his first four games. However, over the first 10 weeks of the season, he sat a disappointing 33rd in fantasy scoring among wide receivers. Maclin exploded down the stretch with six scores over his final seven games, ranking ninth in fantasy scoring over that span. While he didn't see the target volume of some of his peers, Maclin was extremely efficient. He dropped just one pass and finished 16th in fantasy points per opportunity in PPR formats. Unfortunately, his big-play upside is somewhat capped in the conservative Chiefs offense, as he was targeted on deep balls just 15.0 percent of the time. Maclin offers a high-floor, low-ceiling WR2 profile again this season.
The fantasy pickings are slim beyond Maclin. Wilson is a "just a guy" type who figures to man the slot in 3-wide sets with Conley on the outside. Of the two, Conley has more appeal. He entered the league with the top SPARQ score among wide receivers in last year's class and texted extremely well at the 2015 combine with a 4.35 40-yard dash and a massive 45-inch vertical jump. While Conley only had 17 catches in the regular season last year, his speed and explosive ability are very intriguing. He's isn't quite draftable, but fantasy players should keep an eye on Conley.
Travis Kelce has finished as fantasy's No. 8 tight end in each of the last two seasons, but like Maclin, he's been limited by the Chiefs' offense. With the team rarely pushing the ball downfield, Kelce had one of the lowest average depths of targets among tight ends at 5.8 yards. However, he was very effective after the catch, posting an average of 7.5 yards. Kelce also tied for the position lead with 16 forced missed tackles. Not much will change for Kelce this season. He has a high weekly ceiling, but his season-long potential is slightly lower than the top-tier tight ends.
It used to be that you could just set and forget Jamaal Charles as one of the top running backs on draft day, but there are some concerns about the veteran player this year. He enters 2016 coming off a torn ACL. While that injury isn't the death knell it once was, Charles is now 29 years old and will turn 30 in December. Injuries tend to mount up for older running backs (see: Foster, Arian). Charles opened camp on the active/PUP list, but reports have suggested that his workload won't be limited if he's healthy and is the same player as before. Charles is an all-time great at the position, but it's tough to simply lock him in as a top-end RB1 given the situation.
He also faces competition from both Charcandrick West and Spencer Ware. Neither player is going to beat out Charles, but there's certainly the chance they both eat into his touches. West was thrust into a prominent role following Charles' injury early last season. He got off to a rough start in the feature role with just 16 carries for 64 yards in Weeks 5 and 6. However, West exploded for 110 yards in Week 7 and scored rushing touchdowns in three consecutive weeks. Between Weeks 7 and 11 only Todd Gurley, Lamar Miller and Adrian Peterson outscored West.
[Is Kelce worth it where he's going in drafts, or would it be safer to wait for a lower tight end and use that pick on a different position? Check out our PFF Draft Master tool and try a mock draft, complete with offensive line grades, full projections and all the PFF data.]
However, Ware actually proved to be the better option down the stretch. Over the last six weeks of the season, Ware outscored West in both standard and PPR formats despite seeing eight fewer touches. Extremely efficient on a per-touch basis, Ware led all qualifying running backs in standard scoring PPO (0.65). It appears that Ware has the early edge on the No. 2 job, but both players will get touches if Charles gets hurt.
On the defensive side of the ball, the Chiefs are loaded up with talent. DE Jaye Howard stepped into a larger role last season and responded with 57 total tackles and 5.5 sacks. Not massive numbers by any stretch, but Howard still offers high-floor DL2 potential for those in tackle-heavy leagues. Justin Houston is one of the league's best edge-rushers, but there's a chance he misses some of the regular season, as he's still recovering from an ACL injury. Houston is a rare rush outside linebacker who can return LB3-plus value in all formats. At off-ball linebacker, Derrick Johnson has been an IDP mainstay who has topped triple-digit tackles in five of the last six season. He's a fringe LB1. Fantasy drafters should be careful with Eric Berry. While the veteran is a very good player, his IDP production did not match last season. It's wise to seek other defensive back options with higher fantasy ceilings.