For a good part of the last decade, the Green Bay Packers were one of the best offensive units for fantasy football production. But a thinned-out wide receiver corps has taken some of the wind out of those sails for Aaron Rodgers and company. Let's take a look at what our initial 2020 fantasy football projections have to say about the fantasy outlook in Green Bay for the upcoming season.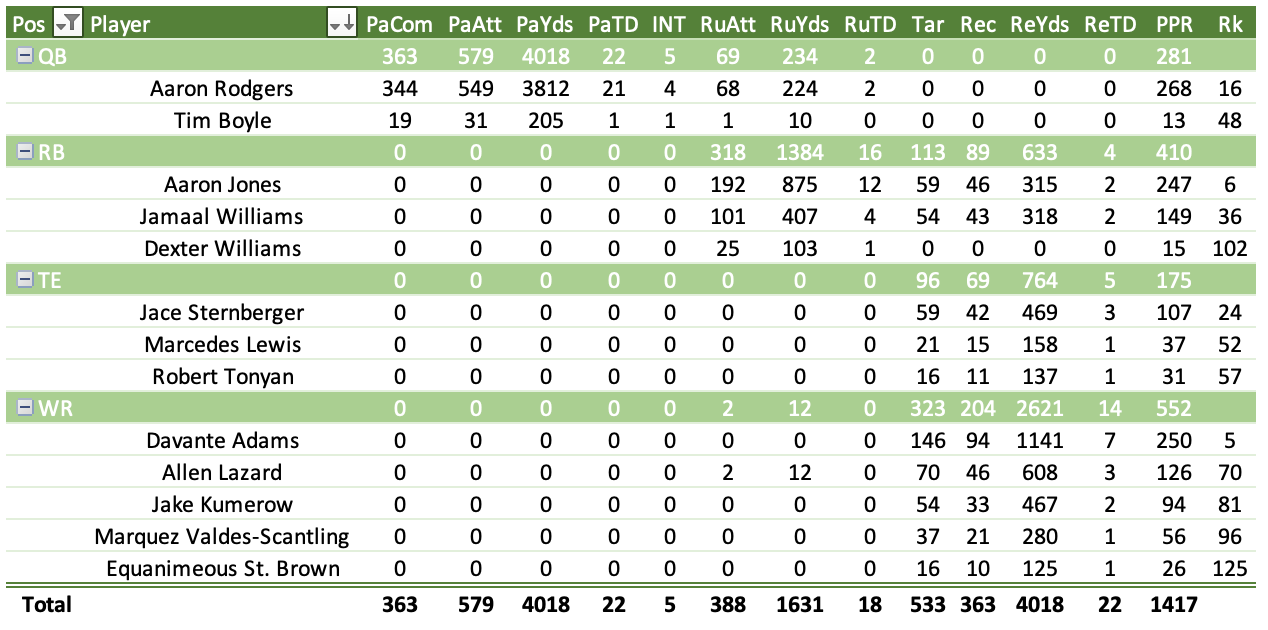 Perception and reality often aren't the same thing when it comes to fantasy football. For an example of this phenomenon, we need to look no further than Davante Adams. Sure, he finished as the No. 23 fantasy wideout on the season, but those numbers hide the real story. An untimely toe injury cost Adams four games in the middle of the season, but he was fantastic when he returned to the field in Week 9. Over the final nine weeks of the season, only Michael Thomas averaged more fantasy points per game.
The good news here is there's an outside chance the perception that Adams had a down year causes him to slip in fantasy drafts. However, given current ADP trends, that outcome isn't likely. Adams is being selected as the No. 4 wideout in current best ball drafts. While we may not get him at a value, our numbers support the idea that Adams picks up right where he left off last season. Outside of Adams, there isn't any appeal in the Packers wide receiver corps, though that could change if the team addresses the position in the draft.
While the numbers paint a very favorable picture for Adams, the same cannot be said for Rodgers. Once an elite fantasy option, Rodgers has seen his stock backslide in recent seasons. Last year, he eked out an 11th-place fantasy finish among quarterbacks. Our projections have Rodgers very conservatively positioned. While Packers fans may take offense here, that really isn't the point of these numbers. The key is that Rodgers' current outlook just doesn't have as much upside as it once did. As such, it's going to be tough to get behind him at his current ADP of QB9.
Aaron Jones tied for the league lead in rushing scores (16) last season and is projected to repeat with a massive 12 scores. While on the surface that is a reduction of four scores from last year's tally, keep in mind that projections are a midpoint of expected outcomes. So, in reality, this is an enormous number when it comes to projections. But it makes a lot of sense. Jones was sixth in the league in goal line carries with 17 last year. All of that work in the red zone translates to fantasy gold. 
Of course, the key with Jones is whether or not Matt LaFleur decides to continue feed him. Jamaal Williams was a consistent thorn in Jones' fantasy owners' sides earlier in his career, but the Packers gave Jones 235 carries last year to just 107 for Williams. We're projecting a similar distribution this season, which would position Jones as a top-10 fantasy option with Williams as a priority handcuff on the fringe of RB3 territory.
[Find the full collection of analysis and insights on PFF's 2020 fantasy football projections for all 32 NFL teams. Check back as more articles will be added each day.]