• Indianapolis Colts' safety Nick Cross' path could take him to the moon, as a box role would enable him to accumulate a ton of tackles.
• The Pittsburgh Steelers' Minkah Fitzpatrick is shaping up to be an IDP trap in 2022.
• Never reach for the cornerback position because there are a ton of usable IDP assets at the position.
• Click here to view PFF's full IDP rankings for the 2022 season and tiers for the linebackers and defensive linemen.
---
For IDP fantasy football leagues, there is a ton of variance in preseason player rankings, but utilizing tiers can help us properly value each group of players in 2023 fantasy football drafts. 
The defensive back positions are the deepest groups in IDP leagues. Figuring out which players will emerge as top scorers among such a large player pool mostly comes down to health and availability, but with all things being equal, IDP managers can narrow that down using other key deciding factors.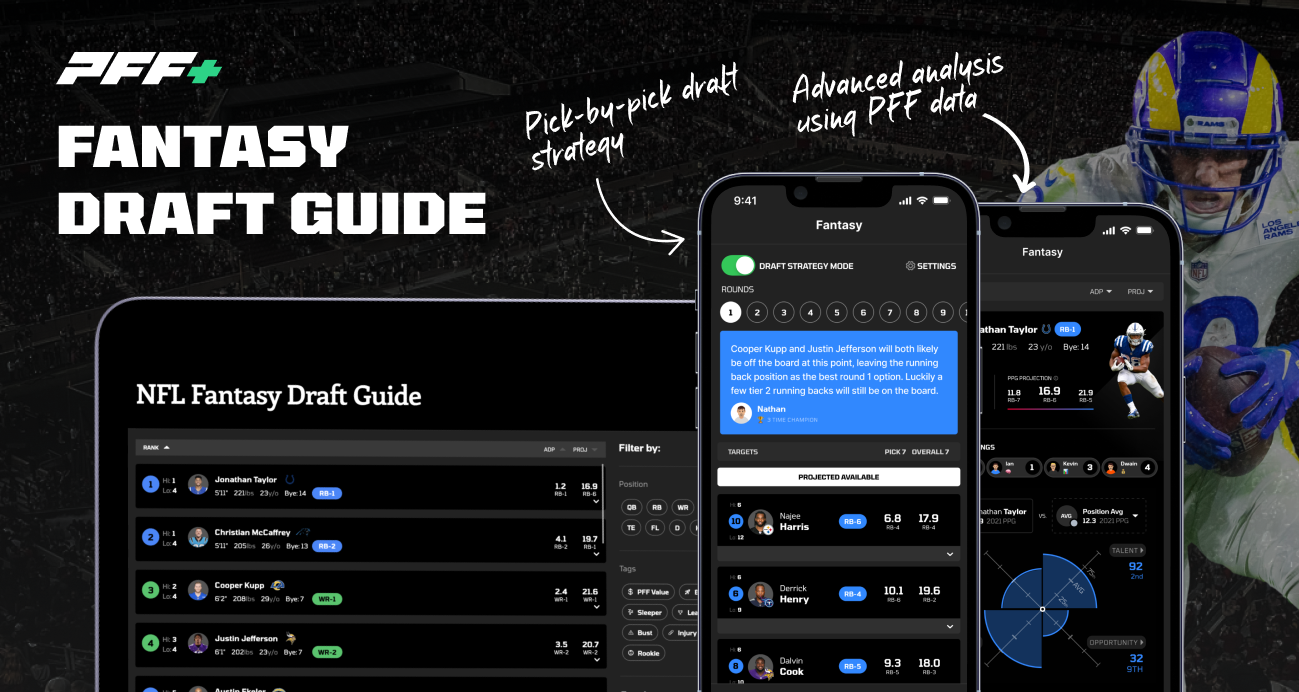 Updated: August 11, 2022
TIER 1: ROLE + ALIGNMENT + SKILL = TOP-TIER PRODUCTION
| | | | |
| --- | --- | --- | --- |
| TIER 1 | RANK | PLAYER | TEAM |
| 1A | 1 | Derwin James | Chargers |
| 1A | 2 | Jeremy Chinn | Panthers |
| 1A | 3 | Kamren Curl | Commanders |
| 1A | 4 | Jamal Adams | Seahawks |
| 1B | 5 | Jayron Kearse | Cowboys |
| 1B | 6 | Vonn Bell | Bengals |
| 1B | 7 | Harrison Smith | Vikings |
| 1B | 8 | Kyle Hamilton | Ravens |
| 1C | 9 | Budda Baker | Cardinals |
| 1C | 10 | Jordan Poyer | Bills |
| 1C | 11 | Brandon Jones | Dolphins |
| 1C | 12 | Kyle Dugger | Patriots |
One of the first things IDP managers should know about safety production is that box snaps (strong safety/linebacker) matter when it comes to producing strong tackle numbers. Typically, the closer a player lines up to the ball before the snap, the more likely he is to make a tackle on that play.
In 2021, the most efficient alignments for safety were in the box by a decent margin. The exception last season was when safeties lined up directly on the line of scrimmage, which speaks to their role on that play — likely as pass rushers or facing a block from offensive linemen. These roles significantly sapped their chances of making a tackle, as shown in the chart below.
Outside corner also performed well for safeties, but since the sample size is much lower it only takes a couple of over-performers from that alignment to shift the data each season. The much more reliable alignments to focus on are the ones that we see safeties in more often, which are deep safety, strong safety, in the slot and off-ball linebacker. 
For these tiers, each safety's expected role and alignment for 2022 will be taken into account.
2021 safety tackle efficiency by pre-snap alignment
| | |
| --- | --- |
| Pre-snap alignment | Tackle efficiency |
| Defensive line | 7.0% |
| Deep safety | 8.8% |
| Slot corner | 8.9% |
| Average safety tackle efficiency | 9.09% |
| Outside corner | 9.3% |
| Strong safety | 9.8% |
| Off-ball linebacker | 10.6% |
Starting at the top, there isn't a safety more versatile and more efficient from any alignment on the football field than Derwin James. James split his time pretty evenly across the three primary safety alignments (deep, box, slot) in 2021 and managed a tackle efficiency of 12.38%, which was a top-five mark among safeties that played at least 20% of snaps last season. With Brandon Staley's Chargers relying less on quintessential linebackers to play in the box, while adding another potential starting safety (JT Woods) in the draft this season, expect James to play that linebacker role more often in 2022, increasing his chances to continue making a big impact in the box score.
Outside of James, Jeremy Chinn, Jamal Adams and Kamren Curl should all be called upon to play that box role often this coming season, and all three have proven to be strong IDP producers as a result. Chinn is the only one in the 1A tier who has delivered back-to-back seasons of over 100 total tackles, earning a tackle efficiency of 11.62% over the past two seasons, which is well above average for his position. He also spent exactly 50% of his snaps in the box last year, which is incredibly rare for a safety in today's NFL. This puts him in a much more predictable position to produce and is why he deserves to be considered among the best IDP safety options heading into 2022.
With Landon Collins released by the Commanders this offseason, Curl figures to have zero barriers to playing time in 2022, barring injury. A big part of his role will be those box snaps that Collins dominated in the past. Curl, like James, is likely to play all over the field, and he'll benefit from the uncertainty around whether Jamin Davis is a full-time player. He's also been among the most efficient players at his position since entering the league, so trusting him to make the most of his opportunities shouldn't be a difficult ask.
Adams may be coming off a down year in terms of sacks — managing none after hitting 9.5 the season prior — but his role of playing up near the line of scrimmage for the majority of his snaps is still solidified in Seattle's defense. Even despite a high number of snaps as a blitzer, Adams has been an above-average tackler the past two seasons, which speaks to his box-heavy role. As long as he's healthy, he will be in consideration for great box score production every week. Expect his sack numbers to come up as well, as long as he's still getting those blitz opportunities, creating a higher weekly ceiling.
The 1B group is represented by safeties that have as good an opportunity in 2022 to hit triple-digit tackles as anyone else in this top tier. Each of these safeties, including rookie Kyle Hamilton — who projects to see a Derwin James-like deployment in the NFL — should all see a healthy workload up near the line of scrimmage. These players are all capable tacklers, giving them strong production floors, which makes their positional draft spots worth the earlier picks. 
1C is a slight mix of high-volume box players like Kyle Dugger and Brandon Jones and consistently efficient tacklers like Jordan Poyer and Budda Baker. Poyer and Baker both saw a dip in their tackle efficiency in 2021, but both still rank among the most consistent safeties near the top of that category over the past few seasons. Dugger and Jones may not have every-down roles, but the high majority of their snaps come from a premium alignment for IDP purposes that allows them to make up for it with strong production every week. 
TIER 2: EXPECTED ALIGNMENT STRENGTH & PRODUCTION 
| | | | |
| --- | --- | --- | --- |
| TIER 2 | RANK | PLAYER | TEAM |
| 2A | 13 | Jordan Whitehead | Jets |
| 2A | 14 | Jaquan Brisker | Bears |
| 2A | 15 | Nick Cross | Colts |
| 2A | 16 | Johnathan Abram | Raiders |
| 2B | 17 | Kevin Byard | Titans |
| 2B | 18 | Logan Ryan | Buccaneers |
| 2B | 19 | Jalen Thompson | Cardinals |
| 2C | 20 | Antoine Winfield Jr. | Buccaneers |
| 2C | 21 | Tracy Walker | Lions |
| 2C | 22 | Minkah Fitzpatrick | Steelers |
| 2C | 23 | Marcus Maye | Saints |
| 2C | 24 | Nasir Adderley | Chargers |
| 2C | 25 | Justin Reid | Chiefs |
| 2C | 26 | Jessie Bates | Bengals |
| 2D | 27 | Camryn Bynum | Vikings |
| 2D | 28 | Eric Murray | Texans |
| 2D | 29 | Talanoa Hufanga | 49ers |
| 2D | 30 | Jordan Fuller | Rams |
| 2D | 31 | Ronnie Harrison | Browns |
The 2A safeties are expected to align in the box more but with slightly more question marks about their ability to produce. Nick Cross, who the Colts traded up to draft in the third round, should be the favorite to step in for a recently retired Khari Willis. Locking in a third-round rookie for a starting role is perhaps the biggest question mark, but being right about that call could pay dividends for IDP in Gus Bradley's IDP-friendly scheme. No defensive coordinator deployed a higher rate of single-high coverages (80.09%) in 2021 than Bradley, which will give Cross a ton of tackle opportunities with Julian Blackmon playing deep, assuming Cross takes advantage and wins that role.
That box-heavy role worked out great for Johnathan Abram fantasy managers in 2021, but when defensive coordinator Patrick Graham took over for Gus Bradley there was less reliance on that single-high scheme. Abram should still be the safety to rotate down toward the line of scrimmage but not nearly as much as in 2021, which puts him slightly behind Jordan Whitehead and Jaquan Brisker's expected roles.