Auction drafts aren't as common as their snake draft counterparts in fantasy football, but it's an exciting format that every fantasy football player should try. Where snake drafts are checkers, auction drafts are chess. Auctions have a much more nuanced strategy and give you the possibility for a wider set of outcomes for your rosters.
Whether you're new to auctions or a seasoned veteran, it helps to have a few key things in mind as you prep for your auction drafts. Over my many years of doing auction drafts, I've found that these are the top 10 tips for fantasy football auction drafts.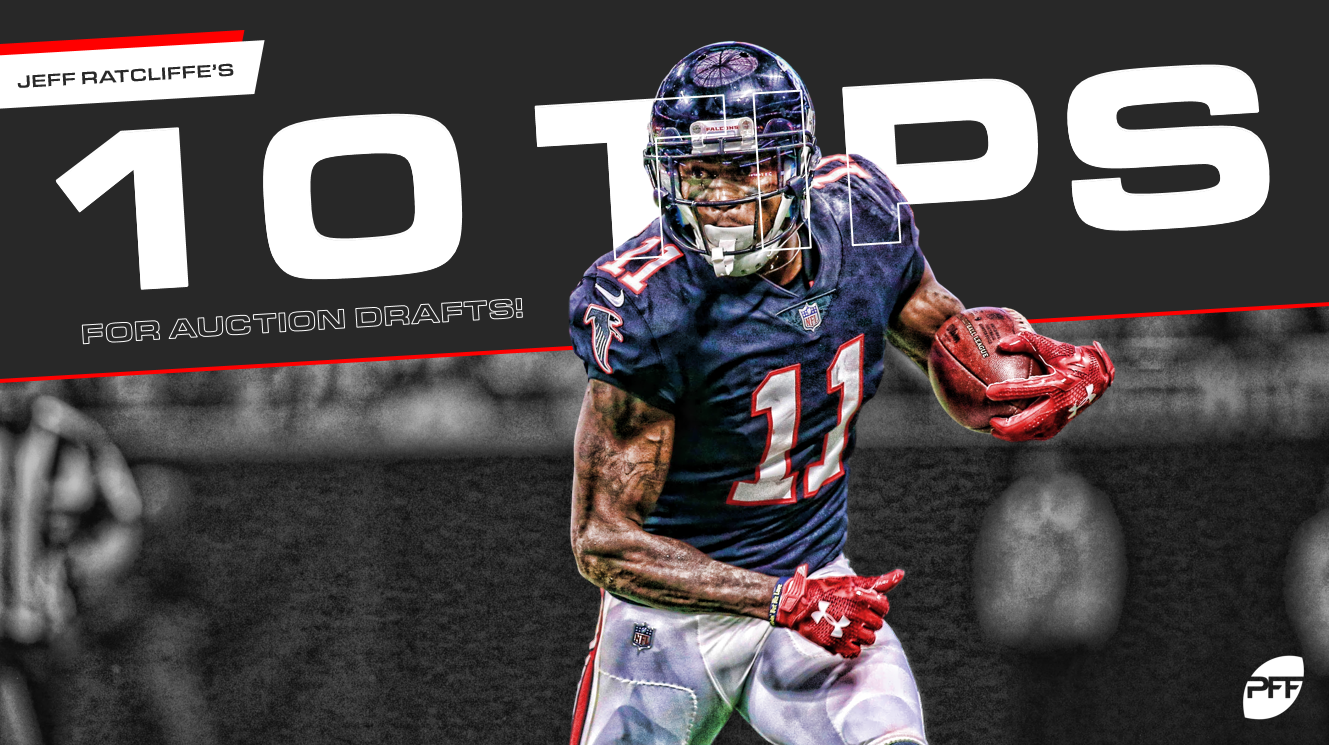 [PFF subscribers can check out Jeff Ratcliffe's full breakdown of auction values.]
1. Budget allocation is key
It's crucial to enter an auction with a general idea of how you plan to spend your money. Every auction is different, so you shouldn't have a rigid play. But a general set of guidelines for allocation is a good idea. It's wise to think about things in terms of percentages instead of raw dollars. Here's my typical budget allocation for the standard league format of 1QB, 2RB, 3WR, 1TE, and 1FLEX:
| | |
| --- | --- |
| Quarterback | 7.5% |
| Running Back | 40.0% |
| Wide Receiver | 40.0% |
| Tight End | 12.5% |
You'll also need to save the minimum bid for kicker and team defense if your league has those position. Of course, this budget allocation will change with different roster requirements, but it's a good starting spot.
You'll notice that a big portion of our budget is allocated to wide receiver and running back. In this format, we're likely starting a combined six players from those two positions, whereas we're only using one quarterback and one tight end. It's for this reason that we really want to prioritize our spending at those two positions.
While it may seem like we're extremely light on our quarterback allocation, we're actually using the massive depth at the position to our advantage. Since there are upward of 20 signal-callers we could start in any given week, it doesn't make sense for us to spend much at the position. Grabbing two cheap options for a committee approach will allow us to hammer running back and wideout throughout the auction.
2. Calculate auction values
Coming to your draft armed with auction values for your format is incredibly important. These values won't be the precise price that each player will go for on draft day, but they will give you a complete picture of each player's market value compared to every other player. These values are a great guideline for what you should expect to spend on each player.
The easiest way to calculate auction values is to use the PFF DraftMaster cheat sheet generator. However, if you're the DIY type, you can calculate auction values on your own fairly easily with only some beginner-level Excel skills. If that sort of thing isn't your bag, then you can move right along to Tip 3.
To calculate your own auction values, the first thing you need is a set of fantasy football projections. From here, you'll need to figure out the replacement-level players at each position. This is another way of saying the value of a player at each position who you're likely to find on waivers. Once you establish replacement levels, you can calculate a value score by taking the projected fantasy points total of the replacement-level player and subtracting that from each player's projected fantasy points total.
With your value score for each player in place, you then need to figure out your total budget multiplied by the number of teams in the league. So in a 12-team league with a $200 budget, the total amount of money in play is $2,400. Next, scrub out the dollar minimums for each roster spot. If you league has 16 roster spots with a $1 minimum, that's $16 per team, or $192 dollars. You now have a remainder of $2,208. Take this number and divide it by your total number of positive value-based scores. In my most-recent projections, the positive VDB total is 8,805, which when divided into $2,208 results in a value factor of $0.25. Now multiply the players value score by the value factor and you have his auction value.
3. Know your league's tendencies
Every league is different when it comes to spending habits. I'm in one league where people spend money like it's burning a hole in their pocket. There's another league I'm in where you'd think everyone was trying to set up a savings account to earn interest on any money they have left over at the end of the draft.
These are two polar opposites, but knowing how your league is going to spend their money is extremely important. If you think the Big 3 running backs are going to go for much more than your calculated values, then you also know that those teams will have less money to spend on other picks. Likewise, if your league is cheap, you know you can likely get a bunch of good deals on draft day without breaking the bank.
[Editor's note: PFF's Preseason 2020 NFL Draft Guide is LIVE and features 150 Two-Page Player Profiles, giving you advanced stats, game grades and much, much more. All existing EDGE and ELITE subscribers have access to the guide and can download it here.]
4. Tiers are your friend
In snake drafts, people commonly use rankings on draft day. While rankings do give you a general sense of where players stack up against each other, they also hide the gap between players. The difference between the player ranked No. 1 and No. 2 may not be as significant as the players at No. 2 and No. 3. This is where tiers come into play. Players in the same tier are generally close to each other in terms of their range of fantasy outcomes for the season.
In your auction drafts, have a good set of tiers handy and keep an eye on each position. The optimal strategy is to target players at the top of the tier instead of those at the bottom. Unlike in snake drafts where fantasy drafters often overpay for players at the top of a tier, the reverse often plays out in auction drafts. Since the tier is still full, you can often get a better deal at the top of the tier than you can on players at the bottom of the tier.
5. Nominations are important
The standard advice in this area of auction strategy is to nominate players you don't want. While there's certainly plenty of merit to this approach, it isn't necessarily what you want to do 100% of the time. Each time you're up to nominate, you have to view it as either a) an opportunity to get your opponents to overspend, or b) an opportunity to get a player you like on the cheap.
More often than not, you're going to be looking at the first scenario. In these instances, you'll typically be nominating a hyped-up player who you don't want or a player at the bottom of a tier. However, you may find that there's chance to strike if there's a player you like at the top of a tier. In this instance, you have the opportunity to start a run in that tier. Just like in snake drafts, you want to be the one starting a run, and not finishing it.
Typically, these sorts of situations arise more often in the early parts of the auction. As you get into the middle part of your auction, you can shift gears into "full-fledged nominate players you don't want" mode. It's also a good idea to start nominating players at positions you're loaded up on. This will get your opponents spending their budget in an area you don't need.
6. Spend, but don't overspend
Just like any transaction, you don't want to overpay in auction drafts. When you spend too much money on a player, you have less money to spend on other players. That means you gave your opponents an advantage, and they likely will have the opportunity to get players at cheaper prices than market value.
That said, you also can't be overly cautious and save your money. While there's sometimes a perception that it's a good thing to have a lot of cash save up for the middle and late portions of the draft, you'll often find that the players being nominated aren't the most desirable in these phases.
A good rule is to feel comfortable bidding up to about 75% of your calculated market values for players early on. In these instances, you aren't necessarily trying to get these players, but you are helping enforce a price. Sometimes, you end up getting a player on the cheap, which is never a bad thing. Of course, that isn't likely to happen for the top players, so with these guys it's a good idea to bid right up to your market values, especially if those players are at the top of your tiers.
7. Pay attention to what everyone else is doing
It's often surprising how many people just pay attention to their own rosters in fantasy drafts. Whether it's an auction or snake draft, you need to keep a close eye on your opponents. In auctions, that means keeping track not only of positional needs, but also their budget usage.
Knowledge is power in fantasy football drafts and knowing how much everyone has left to spend is an extremely formidable weapon, especially late in auctions. To do so, all you need is this formula:
1+ budget remaining – roster spots left to fill
So if one of your opponents has $35 left and has eight rosters spots to fill, the maximum amount he or she can bid is $28 in leagues with a $1 minimum. The lower their bankroll gets and the more rosters spots they have to fill, the less they can bid. This means you can potentially use their max bid against them later in drafts.
[Editor's Note: All of PFF's ELITE subscribers have access to advanced stats and grades for every player that takes a snap in the preseason. Don't rely on the box score to find out if your favorite team's backups are performing above expectation. Subscribe to ELITE today!]
8. Getting outbid is part of the process
This is going to happen, especially early on in drafts. And you know what? It isn't a bad thing to be outbid. If anything, it's a good thing. When you're outbid, you likely have an opponent overspending for a player. While we don't want to be the ones overspending, we absolutely want our opponents to be wasteful with their bankroll.
There's a very real psychological component to fantasy drafts. It's easy to go on tilt if you get outbid on a player you wanted, but there will be plenty of opportunities for you to get your guys. Let the draft come to you. Otherwise, you could end up making a mistake that will likely result in you overspending for a player shortly after you got outbid.
9. Monitor the emotion in the room
We're going to keep our cool even when we're outbid, but I can guarantee that not everyone in the room will react the same way. If you see one of your league mates who just got outbid on player look like he or she is starting to tilt, then throw some gasoline on the fire. The best way to do so is to nominate another player at the same position. The goal here is pretty simple: you want to take advantage of the situation and ideally get this opponent to overspend.
It's fairly easy to pay attention early in your draft, but auctions take some time. That means you're more likely to miss things later in the draft. Do your best to keep your focus through the whole draft because you never know when you'll have the opportunity to take advantage of your opponents' mistakes.
10. Min bid or don't draft kickers and defenses
Every league is different, but some might allow you to not draft a kicker and defense. If that's the case, opt for that route. This move will allow you to spend min bids on two more darts at wide receiver and/or running back. Sure, you'll eventually have to cut two players to make room for your defense and kicker, but this move sets you up well to stream the positions.
If you have to fill those spots on draft day, avoid the temptation to spend anything more than the minimum bid. Sure, the Bears were awesome last season, but do you know how much they cost anyone who bid on them in auction drafts? It was $1. Meanwhile, the Jaguars went for at least double that, and perhaps even more. Sure, it's tough to predict the next big defense or kicker, but because of that fact, you just don't want to spend at either position.