Last week, we highlighted five key matchups with NFL Draft implications heading into Week 1 of the college football season. With all of the games now in the books, let's see how they played out:
1. Alabama OLB Tim Williams vs USC RT Zach Banner
The entire Alabama defensive front took it to the USC offensive line and Williams had his way with Banner. It's all about perspective when evaluating the one-on-one matchups between pass rusher and offensive lineman as surrendering two to three pressures in a game is generally a good outing for the offense. In this matchup, Williams and Banner went head-to-head 10 times with Williams definitively winning three of those along with a fourth that looked promising until Williams got tripped up by the right guard as he got inside Banner.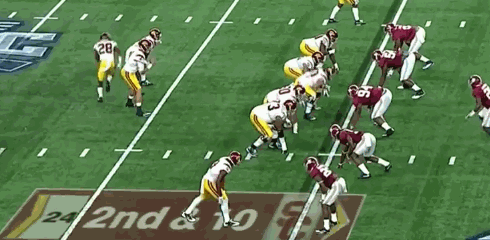 Williams used a variety of moves to beat Banner, starting with a bullrush that knocked Banner off balance and allowed Williams to get inside to create pressure in their first matchup. The cleanest win was Williams's quick move to get inside Banner and force the running back to make the block, while the final pressure saw Williams use his speed to get around Banner's block to the outside to get a hit on the quarterback.
Verdict: Tim Williams
2. USC WR JuJu Smith-Schuster vs Alabama CB Marlon Humphrey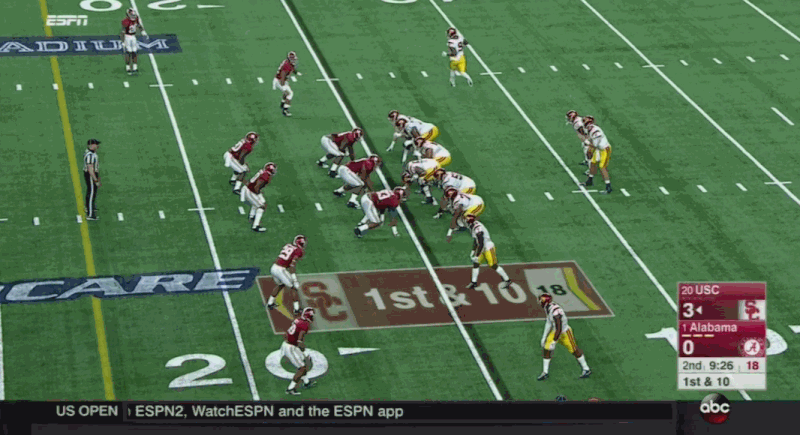 Alabama rarely moves their cornerbacks around, so this wasn't a situation where Humphrey was going to be tracking Smith-Schuster. We didn't see much of the matchup as Smith-Schuster was only targeted once and it was Humphrey who won the battle as he forced Smith-Schuster out of bounds at the top of the route as quarterback Max Browne overthrew him out of bounds. Beyond that, there were a couple of plays in with Humphrey played tight man coverage on passes that didn't go Smith-Schuster's way. For the night, Smith-Schuster caught only one pass for nine yards on his five targets, as it was a rough evening for the entire USC team.
Verdict: Humphrey
3. Ole Miss DE Marquis Haynes vs Florida State LT Roderick Johnson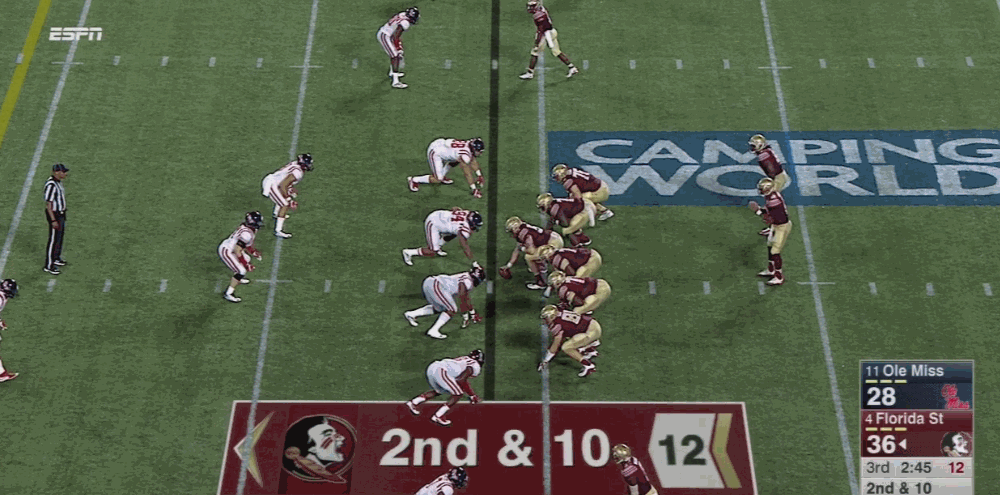 With Haynes flipping sides in Ole Miss' defense, we didn't get to see many head-to-head battles with him and Johnson. This one was controlled by Johnson for the most part as he won seven of the nine battles, often locking on early and showing full control of Haynes' rush. However, both of Haynes' wins were dramatic. The first one is a toss-up as to whether or not you call it a push as Haynes got the bullrush on Johnson, knocked him to the ground, and got the hit on the quarterback. However, Johnson got stepped on by the left guard, making it look much worse. We can still give credit to Haynes for getting into Johnson's pads and showing good power. The final one was clear as day, however, as Haynes had a great get-off at the snap, and Johnson had no chance to slow him down for a sack and declined holding penalty. When it comes to impact, perhaps the sack outweighs the rest of the night, but Johnson held his own for the most part, so we'll call this one a push.
Verdict: Push
4. Florida State RB Dalvin Cook vs Ole Miss S Tony Conner
This one didn't play out as planned as it wasn't the finest night for either player. In the run game, we anticipated a few instances in which Conner would have to tackle Cook in the hole, but that didn't materialize as the Ole Miss defensive front did a nice job containing Cook and holding him to 4.0 yards per carry and a long of only 18 yards. Most notable for Cook was his random fumble while getting ready to walk into the end zone, but other than that mishap, he had a strong game as a receiver. Conner had his struggles in coverage, while his only tackle in the run game came during garbage time in the fourth quarter, though it was a nice play to take down RB Jacques Patrick for the one-yard gain. As for the head-to-head battle, this one was a push.
Verdict: Push
5. Texas A&M DE Myles Garrett vs UCLA LT Conor McDermott
This one really wasn't close. Garrett and McDermott matched up head-to-head on 24 total snaps with Garrett definitely winning 12 of them, including one sack, three QB hits, and six hurries. The other two wins were quick ones that didn't get charged as a pressure, but still goes down in the win column for Garrett.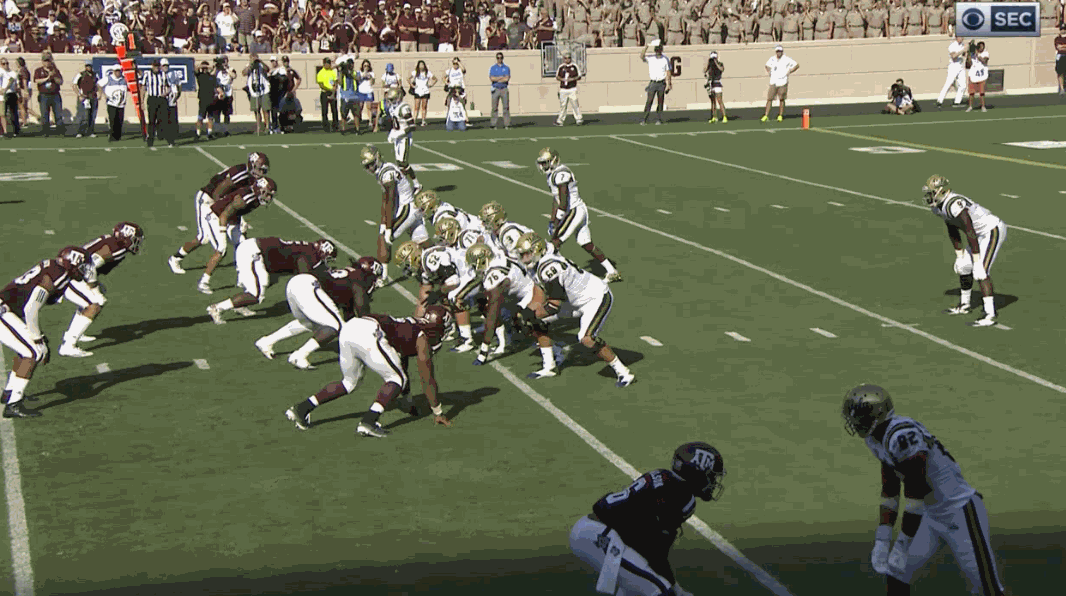 Of the wins, Garett got to McDermott's outside shoulder on four occasions, he won inside five times including two with spin moves, and Garett beat McDermott with a bullrush three times. It was a definitive head-to-head win for Garrett who once again proved why he's a potential top-five pick in the NFL draft.
Verdict: Garrett