Last week, I ran an analysis on the mock draft database at Grinding the Mocks showing that prospects who saw their draft stock rise during the Combine — at least according to mock drafts — typically continued to rise. These same Combine risers also outperformed fallers in their rookie seasons, in terms of usage (snaps played) and value (PFF WAR).
[Editor's Note: PFF's Wins Above Replacement (WAR) metric is powered by AWS machine learning capabilities.]
This article will dig into the same dataset of mocks from two weeks before and after the Combine in 2018 and 2019. Here I'm going to dig into how well the three categories of mock drafts in the dataset (Experts, Media, Fans) predicted the total draft value spent on different positions in the first round of the mock drafts versus the actual picks come April.
What we find is that mock drafts, for the most part, accurately reflect the total valuation spends by positions, even this early in the process. The exact names at the top of the board aren't necessarily correct, but the positions often are. The mock drafters had decent overall accuracy but were far too high or low on certain positions, hinting at potential biases still lingering in the ranks of media outside the NFL that have shifted within the league.
Draft valuation
PFF's Timo Riske recently revisited the seminal Loser's Curse study from Cade Massey and Richard Thaler, substituting PFF WAR for traditional value metrics like the Jimmy Johnson trade value chart (JJ) and another developed by Chase Stuart at Football Perspective using approximate value (AV).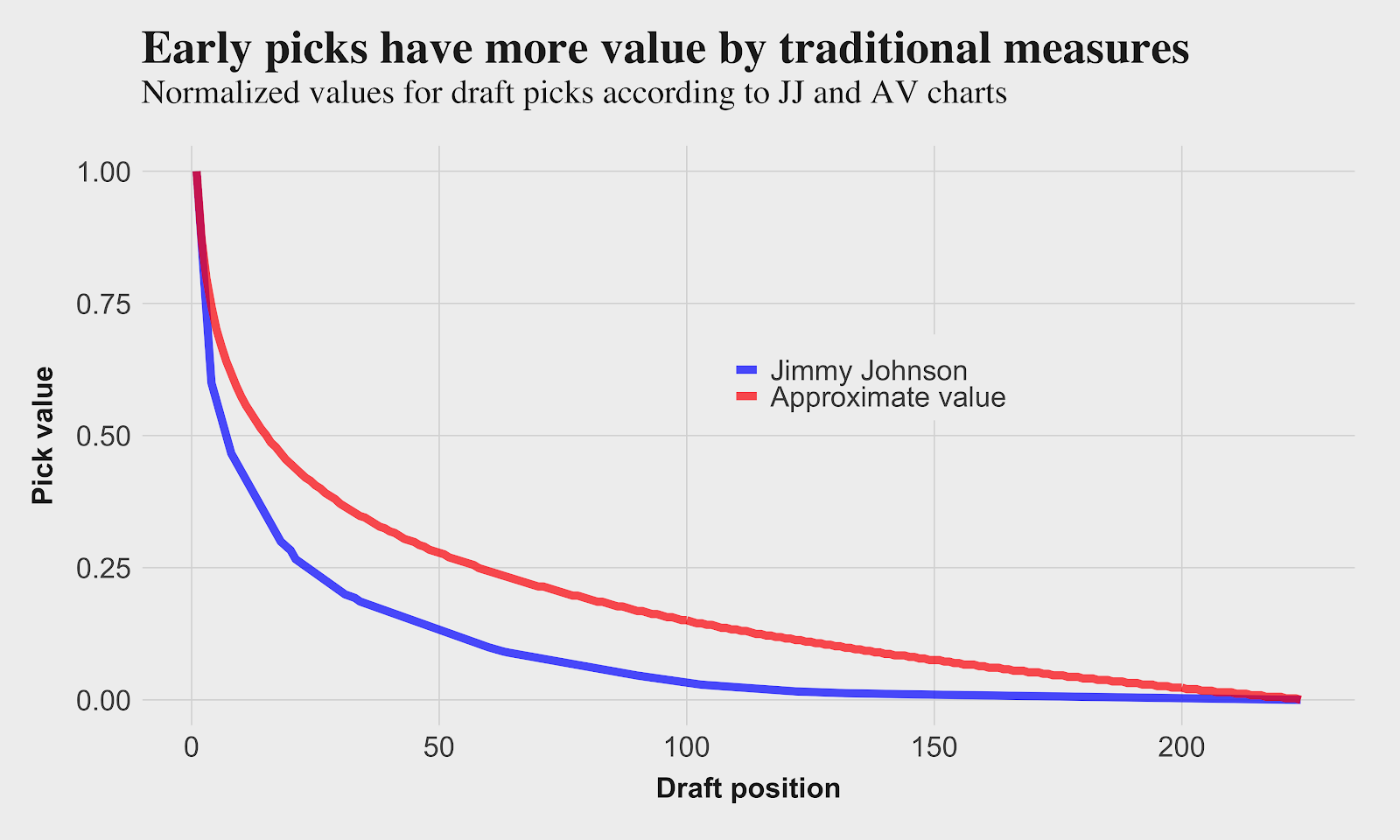 For this analysis, I'm going to look at those two value measurements (JJ) and AV), the former based on market values from decades ago and the latter a player valuation metric. The prices of pick trades in recent years have generally fallen between the two. It may be slightly counterintuitive, but the fact that the pick value is higher for later picks with AV means that its early picks have less relative value in comparison to JJ.
How mocks have faired
The mocks in this analysis are divided into three categories: expert, media and fan. Examples of expert mocks are those conducted by former players and some media who are primarily focused on draft coverage. The mock classified as media are those publishing mocks but not known specifically for draft coverage. Fan mocks are produced on sites like Bleacher Report, Fansided and Walter Football.
The numbers below are divided by position and type of mock, then in separate plots for offensive and defensive positions. These visualizations help quantify not only how mock drafters have over/undervalued certain positions, but also how much draft capital has been spent on different positions in comparison to each other the past two seasons.
Subscribe to PFF Edge to continue reading
Already have a subscription? Sign In