With the College Football Playoff just days away, we here at Pro Football Focus rank the top 50 prospects for the 2019 NFL Draft among the four teams participating: Alabama, Clemson, Notre Dame and Oklahoma.
Seven of the top 10 prospects fall on the defensive side of the ball, and the Crimson Tide and the Tigers combine for seven of the top 10 players on the list.
[Editor's Note: This article was first published as part of Pro Football Focus' partnership with ESPN+.]
1. Quinnen Williams, Alabama – DI
The biggest breakout player of the season, Williams went from productive backup to the most dominant player on the defensive side of the ball and a potential top-five pick. He has the No. 1 overall grade in the nation, at 96.1, including the No. 1 pass-rush and run-defense grades among interior defensive linemen.
2. Jonah Williams, Alabama – OT
The best offensive tackle in the nation, Williams has earned an 89.9 overall grade this season, allowing just 10 pressures on 410 attempts. He's technically sound in the run game as well (84.5 grade ranks third), and he will likely be a top-10 pick in April.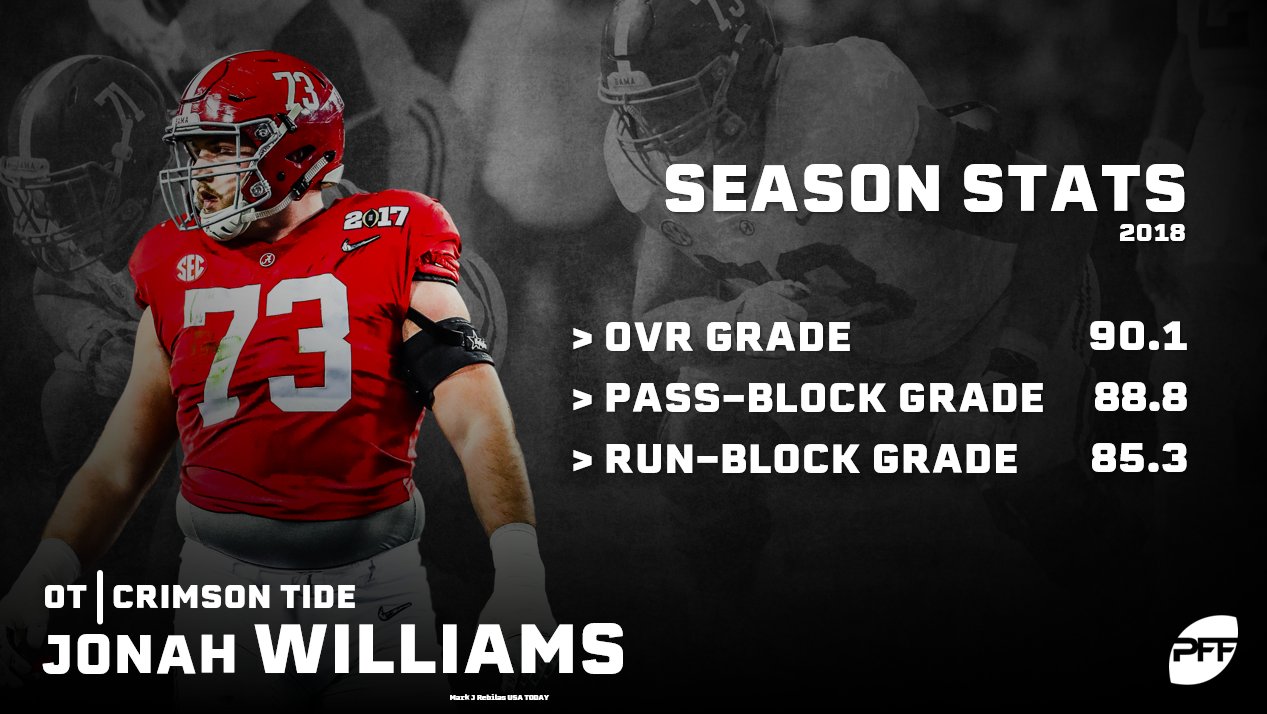 3. Dexter Lawrence, Clemson – DI
Lawrence has incredible power, and at 340 pounds, he has been one of the best run-stopping defensive linemen in the nation in his three seasons at Clemson. His ability to push the pocket and get after the quarterback is what makes him a top prospect, as he has averaged 33 pressures per season, more than his more-heralded teammate Christian Wilkins.
4. Deionte Thompson, Alabama – S
Another breakout star for the Crimson Tide, Thompson has the skills to make throwing against the Alabama secondary a tough task for any offense.
5. Christian Wilkins, Clemson – DI
Finishing with the nation's second-highest grade among interior defensive linemen is no small feat behind the aforementioned Williams, as Wilkins was dominant in his own right. A force against both the pass and the run, Wilkins brought down 40 total QB pressures this season on just 286 pass-rushes.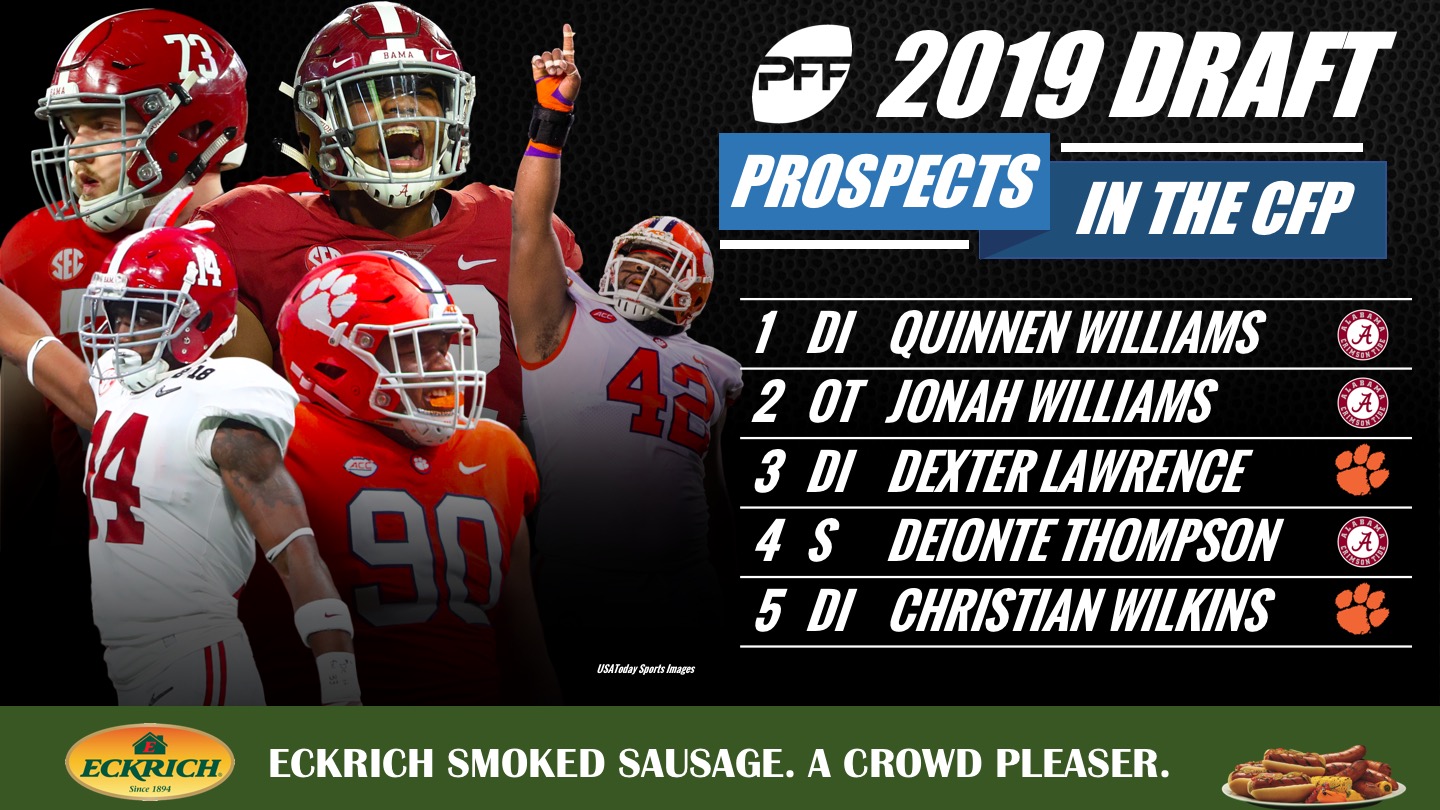 6. Jerry Tillery, Notre Dame – DI
Trailing only two players at the position, Tillery was a dominant force against the pass from the interior of the Notre Dame defensive line, consistently disrupting opposing offenses with an array of pass-rushing moves. In total, his 44 QB pressures rank third at the position nationally.
7. Kyler Murray, Oklahoma – QB
The nation's highest-graded player on offense, Murray had one of the better seasons we've seen in terms of PFF grading. He became the third player since 2014, joining Marcus Mariota (2014) and Baker Mayfield (2017), to be the highest-graded quarterback in a given season and bring home the Heisman Trophy.
8. Marquise Brown, Oklahoma – WR
With speed to burn, Brown has lived up to his moniker and more this season. "Hollywood" finished as the nation's fifth-highest-graded receiver, at 88.3, while averaging 17.6 yards per reception and a whopping 8.5 yards after the catch per reception.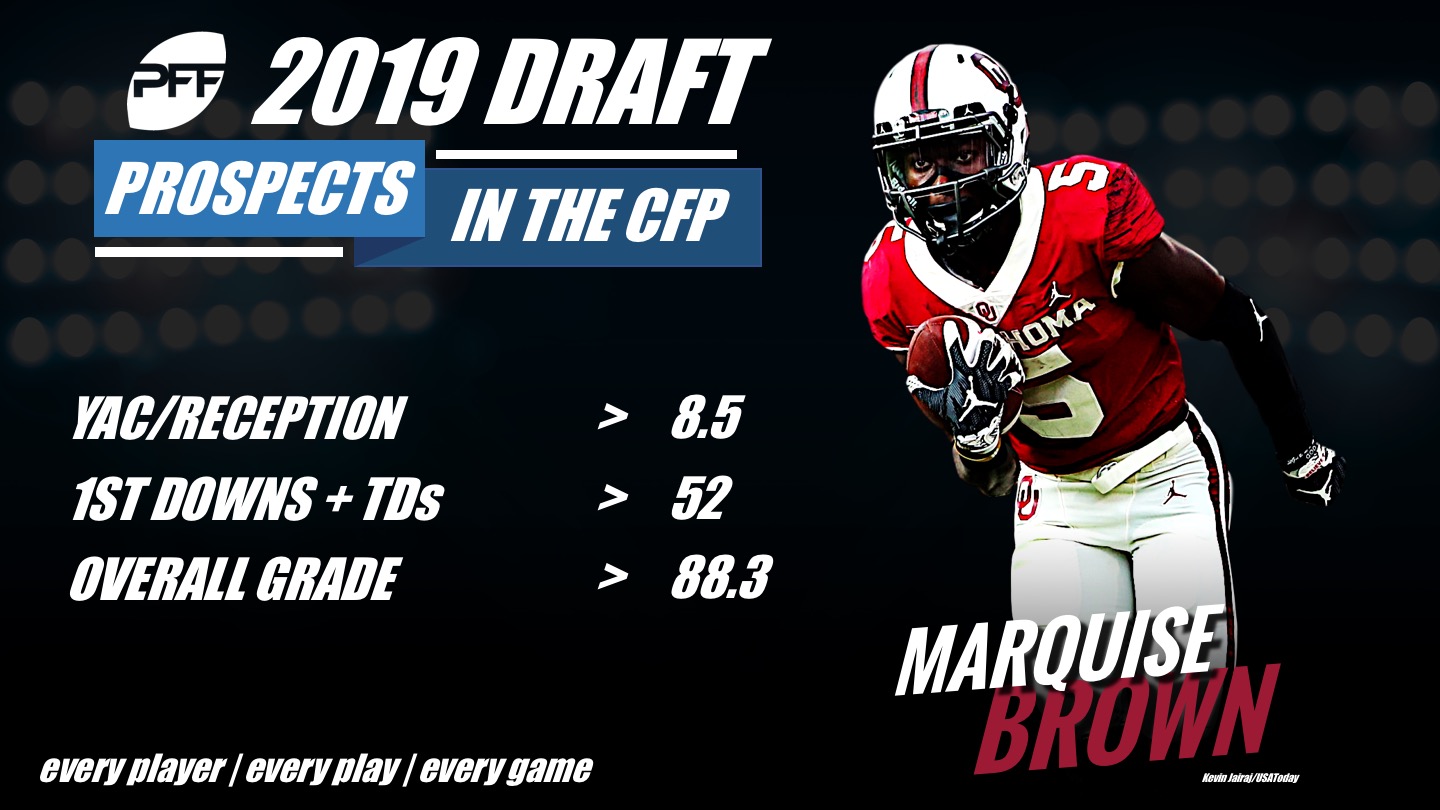 9. Julian Love, Notre Dame – CB
Impressive in coverage, Love allowed just 53. % of passes thrown his way to be caught and broke up 12 of 72 targets this season. He wasn't afraid to step up in run defense, either, showing an uncanny ability to read and diagnose plays quickly.
10. Clelin Ferrell, Clemson – Edge
While we've proven here at PFF that sack totals don't predict future sack totals, Ferrell's career season brought with it a career-high 11 sacks, as he consistently disrupted the offense. He brought down 49 total QB pressures on just 280 pass-rushes this season, and to compare, he compiled 46 pressures on 357 pass-rushes in 2017.
11. Te'von Coney, Notre Dame – LB
A monster in run defense, Coney was also one of the nation's surest tacklers, missing only six of his 117 attempts this season. In coverage, he allowed just 10 receptions and brought in an interception and two pass breakups while keeping his receivers out of the end zone on his 420 coverage snaps.
12. Mitch Hyatt, Clemson – OT
Long since an impressive blocker in pass protection, Hyatt allowed only 11 QB pressures on his 398 pass-blocking snaps at left tackle. He has no glaring issues with his run blocking, though he did finish with a career-low 68.8 grade in that facet.
13. Shyheim Carter, Alabama – CB
The nation's highest run-defense grade belongs to Carter, as he dominated against the run, recording 19 total defensive stops along the way. He was no slouch in coverage, either, breaking up nine passes and limiting opposing quarterbacks to a 49.2 passer rating on throws into his coverage.
14. Irv Smith Jr., Alabama – TE
Smith's connection with Tua Tagovailoa was evident in 2018, as he hauled in 76.0% of his targeted passes and led the SEC by averaging 8.7 yards after the catch per reception.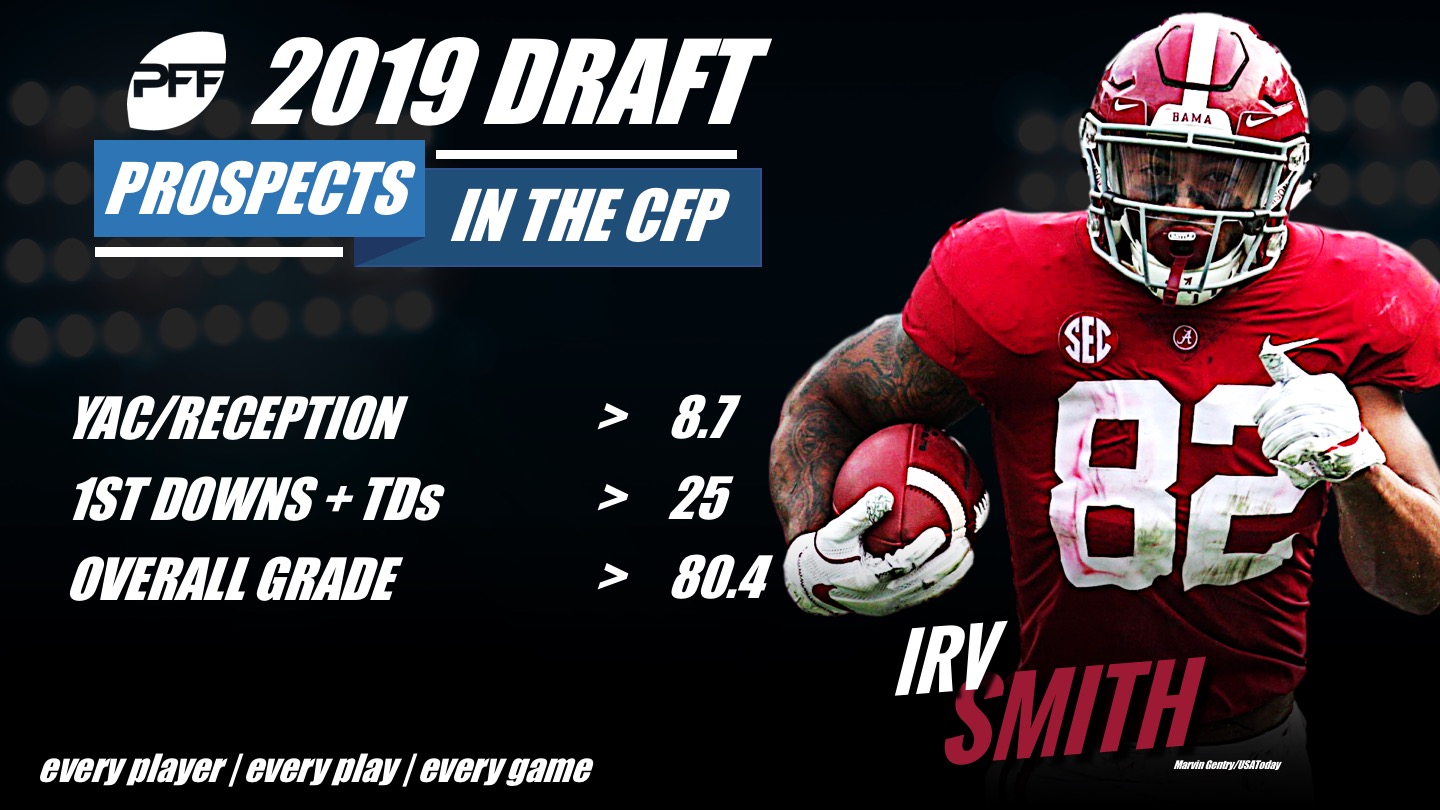 15. Bobby Evans, Oklahoma – OT
Finishing the season with 14 pressures allowed, Evans saw a slight drop-off in his pass-blocking grade from 2017 but still has all the tools in his arsenal to be sound in pass protection at the next level.
16. Raekwon Davis, Alabama – DI
A household name before the season began, Davis' "quiet" season is nothing of his doing, as Quinnen Williams stole the show from everyone on the Alabama defense this season. Still, Davis racked up 31 QB pressures and impressed with a 90.5 run-defense grade that ranked 15th at the position.
17. Damien Harris, Alabama – RB
Seemingly built for the Alabama backfield, Harris averaged 6.1 yards per carry, which included 3.19 yards after contact per attempt. Of his 125 carries, 38 went for a first down or a touchdown, as he could continuously be counted on to pick up crucial yardage.
18. Christian Miller, Alabama – Edge
Miller was able to bounce around the Crimson Tide defense, recording 204 pass-rushing snaps while dropping in coverage on 58 occasions. He brought in an impressive 19 combined QB hits and sacks while he limited receivers to 41 yards on six targeted passes.
19. Josh Jacobs, Alabama – RB
Jacobs was the bruiser out of the Crimson Tide backfield, forcing 28 missed tackles on just 95 attempts and gaining 388 of his 500 yards after contact.
20. Alohi Gilman, Notre Dame – S
Gilman was quietly one of the top safeties in the country, recording very few of the "splash plays" that viewers are accustomed to seeing from top safeties. However, he allowed just 8.9 yards per reception and limited receivers to 47 yards after the catch on 26 targeted passes while making 76 total tackles compared to just three misses.
21. Miles Boykin, Notre Dame – WR
Boykin used his big frame to consistently move the chains for the Fighting Irish this season, as 41 of his 54 total receptions went for a first down (33) or touchdown (eight).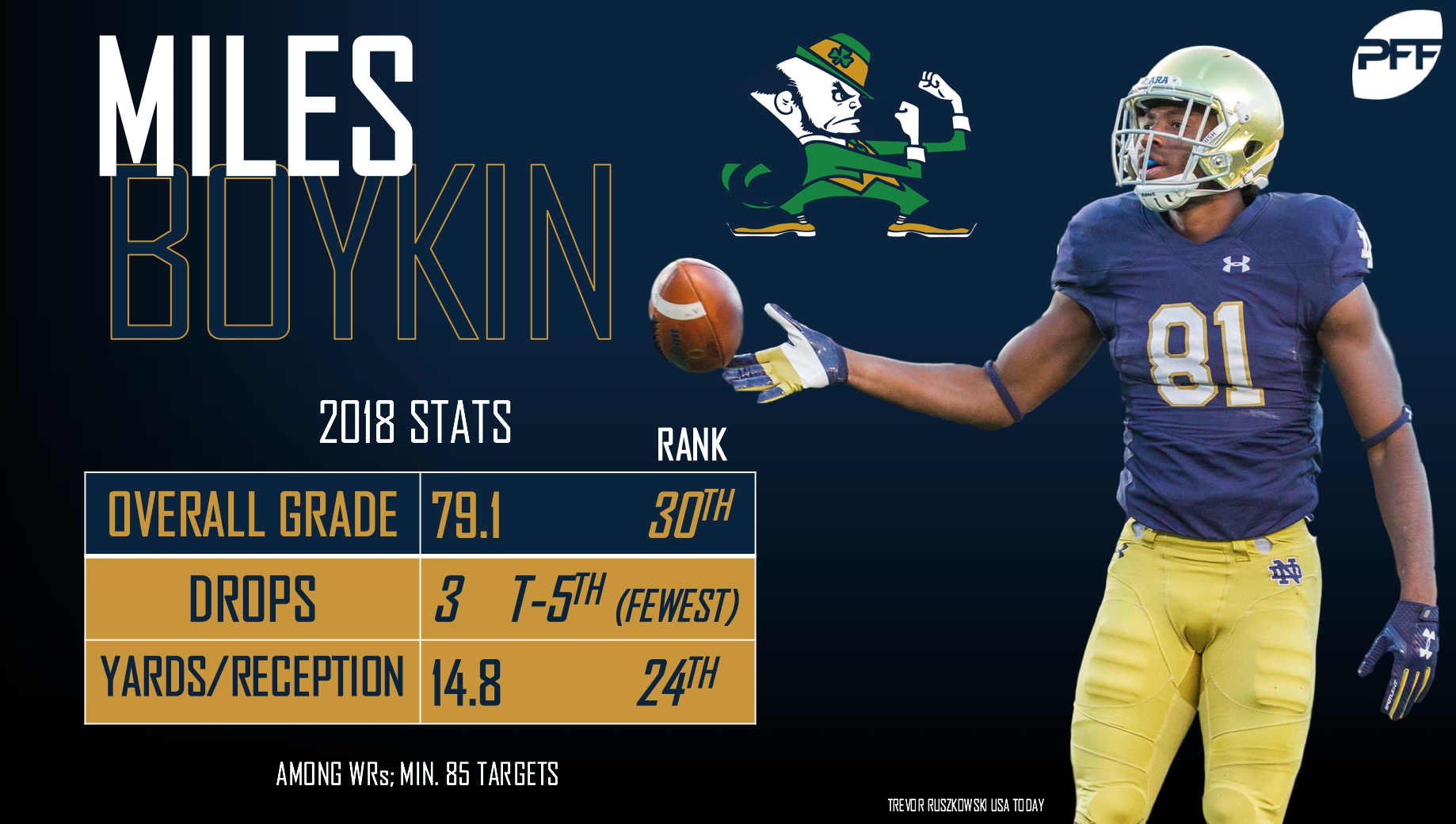 22. Mack Wilson, Alabama – LB
Wilson is likely returning for another year at Alabama, but he was dominant in his first full season entrenched at linebacker for the Crimson Tide. A multifaceted linebacker, Wilson brought in 18 pressures on 60 pass-rushes, recorded 21 defensive stops and hauled in two interceptions in coverage.
23. Isaiah Buggs, Alabama – Edge
While Buggs' 12 sacks rank him fifth among edge defenders, his 33 total pressures found him outside the top 50 within the same group. The boom-or-bust within his pass-rushing, rather unstainable at best, will have to be sorted out at the next level, but he has shown enough to display an impressive array of moves.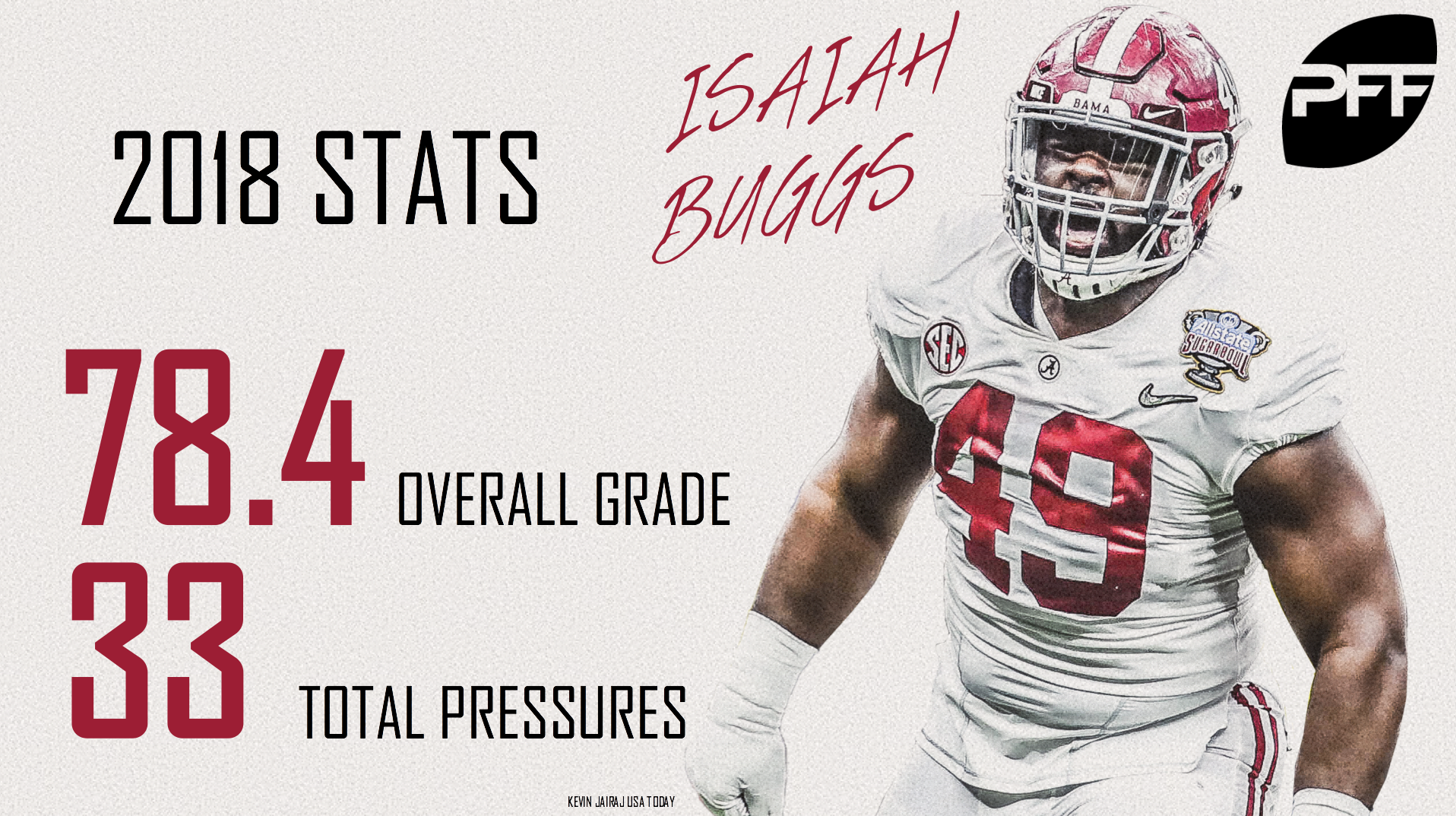 24. Cody Ford, Oklahoma – OT
Ford moves well in pass protection, finishing 2018 with his second consecutive season with a pass-blocking grade above 85.0 after he surrendered just six QB pressures on 414 snaps. Impressively enough, he kept Sooners quarterbacks upright, as all six pressures allowed went down as hurries.
25. Alizé Mack, Notre Dame – TE
Mack struggled with drops this season but proved to be tough to bring down once he hauled in the ball, gaining 161 yards after the catch and forcing two missed tackles.
26. Julian Okwara, Notre Dame – Edge
Consistently in the backfield, Okwara's 58 total QB pressures were the seventh-most among edge defenders. He also won an even more impressive 23.6% of his total pass-rushing snaps, ranking fifth in the nation and led the nation in total pressures on 3rd and 4th down.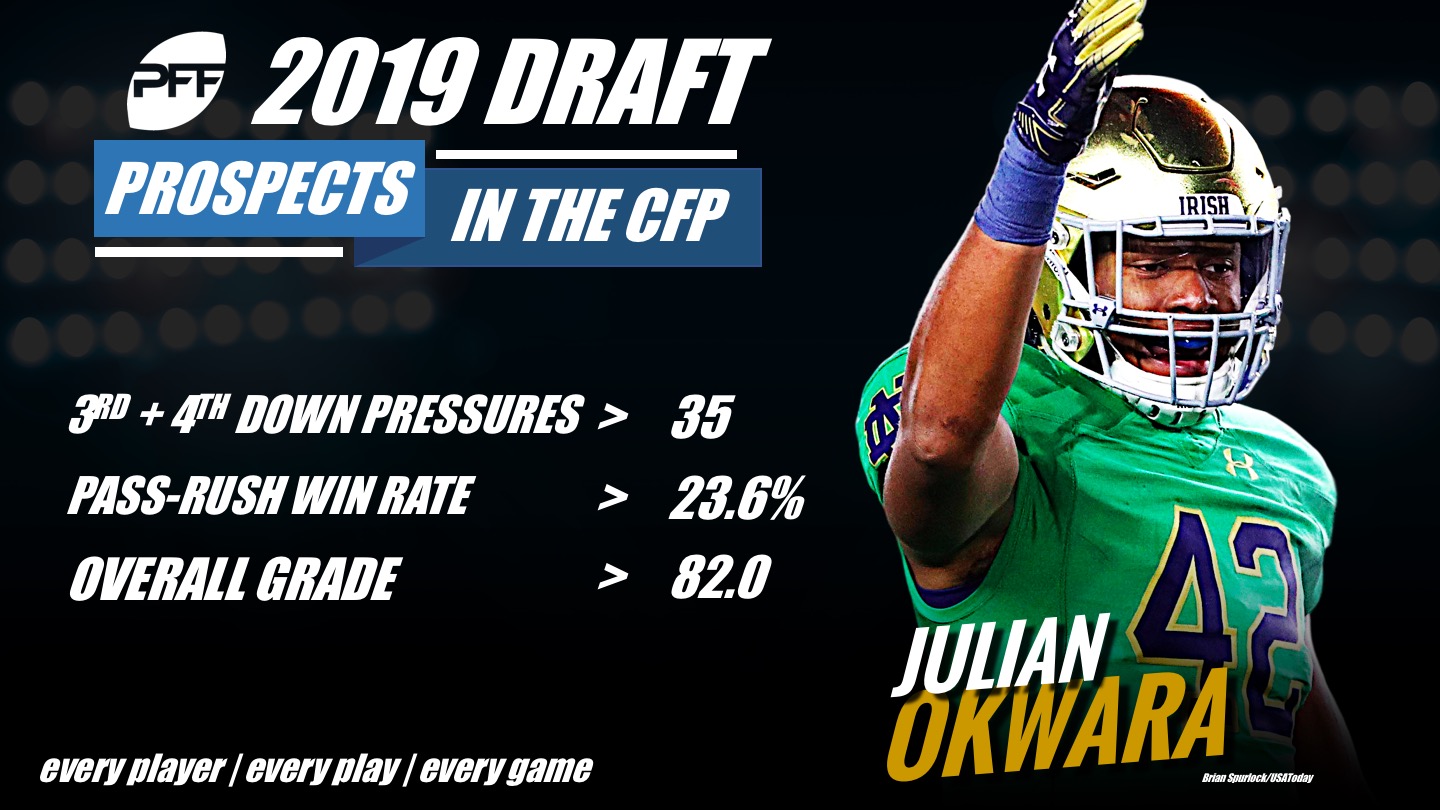 27. Tre Lamar, Clemson – LB
Lamar's best football came against the run, where he recorded a 91.6 run-defense grade and brought down a run stop on 12.6% of his snaps to rank 23rd of 449 qualified linebackers.
28. Curtis Bolton, Oklahoma – LB
Bolton's ability to rush the passer was evident during nearly every game this season, increasing his pass-rushing snaps in each of his last five games. In total, he brought down five sacks, eight QB hits and an additional 11 hurries, and he was no slouch when he dropped back in coverage.
29. Saivion Smith, Alabama – CB
Smith recorded three interceptions and five additional pass breakups, being targeted on 52 occasions in his 355 snaps in coverage. He showed impressive tackling ability as well, racking up 55 total tackles despite just three misses.
30. Jalen Elliott, Notre Dame – S
Elliott made those aforementioned splash plays that Gilman might not have, as he recorded four interceptions and four additional pass breakups all together, adding up to a 47.6 passer rating when targeted.
31. Lester Cotton Sr., Alabama – OG
Struggling some in pass protection, Cotton allowed 12 QB pressures up the middle of the Crimson Tide offensive line. He also failed to move defenders for the run as he has in previous seasons.
32. Neville Gallimore, Oklahoma – DI
Gallimore was a sure tackler (missing just three of 41 total attempts this season), as 16 of his 24 solo tackles went down as a defensive stop for an "offensive failure" for the Sooners in 2018.
33. Drue Tranquill, Notre Dame – LB
Tranquill's prowess in coverage was evident, as he consistently limited speedy slot receivers and running backs to minimal gains in his coverage, but he still missed 10 tackles this season, showing the need to improve in that regard.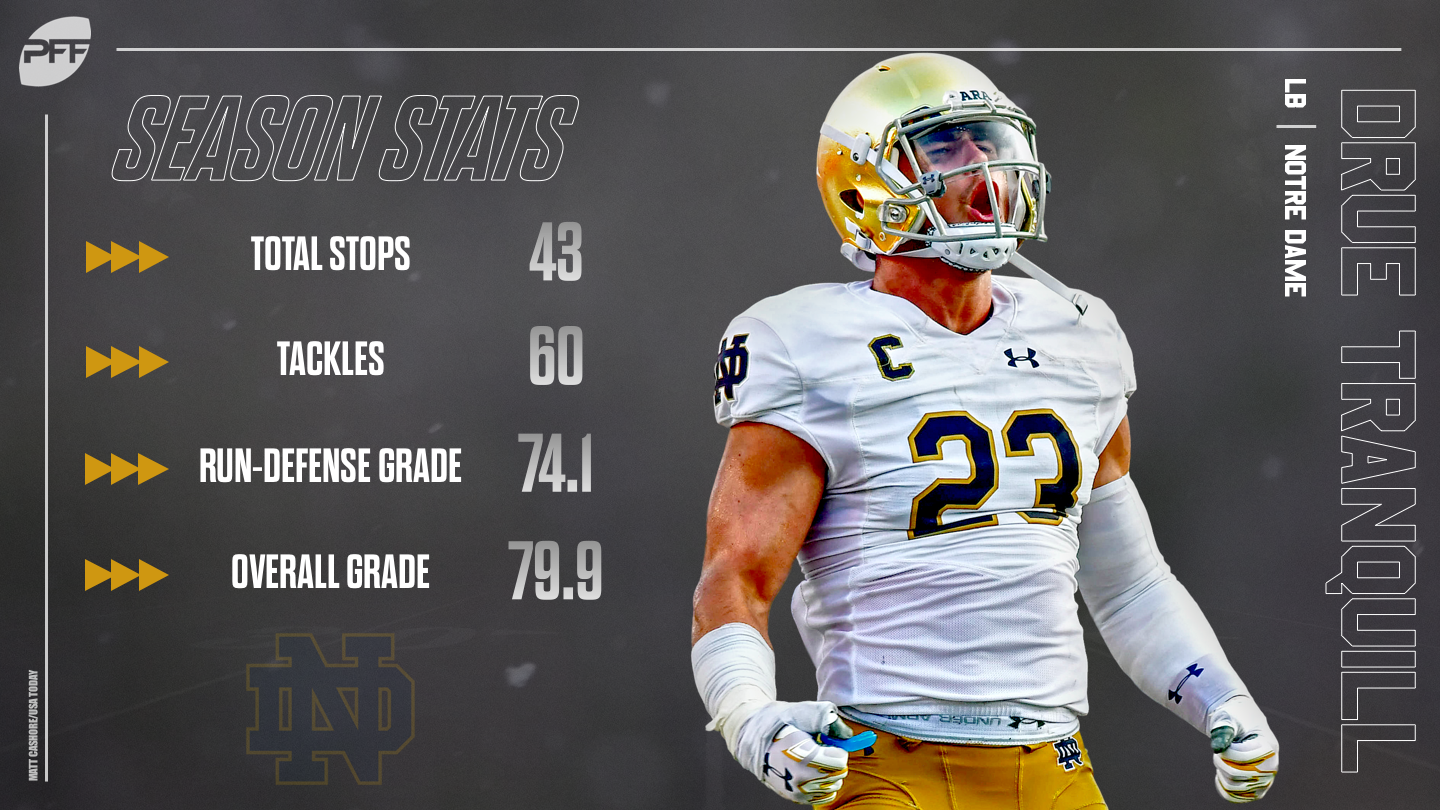 34. Ian Book, Notre Dame – QB
Book took over as the starting quarterback and hasn't looked back. He showed great poise and accuracy, finishing with the 13th-highest adjusted completion percentage in the country.
35. Austin Bryant, Clemson – Edge
A much better run defender than pass-rusher, Bryant won only 11.8% of his pass-rushes this season but was able to bring in 10 run stops. However, all of his 2018 production pales in comparison to his 2017 season, as he regressed at the wrong time for his pro prospects.
36. Anfernee Jennings, Alabama – Edge
While Jennings recorded 29 QB pressures on his 263 pass-rushing snaps, seven of those came when he was unblocked, as he won only 13.3% of his pass-rushing snaps. His slow start this season has diminished in importance, as he has turned it on as of late, compiling 14 of his pressures in his past five games.
37. Kendall Joseph, Clemson – LB
A rangy linebacker, Joseph missed 11 tackles this season but impressed as a pass-rusher, recording 23 pressures on just 86 blitzes.
38. Denzel Johnson, Clemson – S
Although coverage isn't always the best "looking glass" to evaluate a safety, Johnson was stingy on the back end for the Tigers in 2018. On 14 targets as the primary coverage defender, he allowed just seven receptions for 57 yards and recorded three pass breakups.
39. Dexter Williams, Notre Dame – RB
With a little boom-or-bust in his game, Williams recorded 26 runs of 10-plus yards en route to averaging 6.6 yards per carry but recorded only 14 first-down carries in addition to his 12 touchdowns.
40. Hunter Renfrow, Clemson – WR
A magician from the slot, Clemson's national championship hero has continually dominated from the inside. He has hauled in 43 receptions and an impressive 76.8% catch rate on targets from the slot, a number that ranks in the top 20 nationally.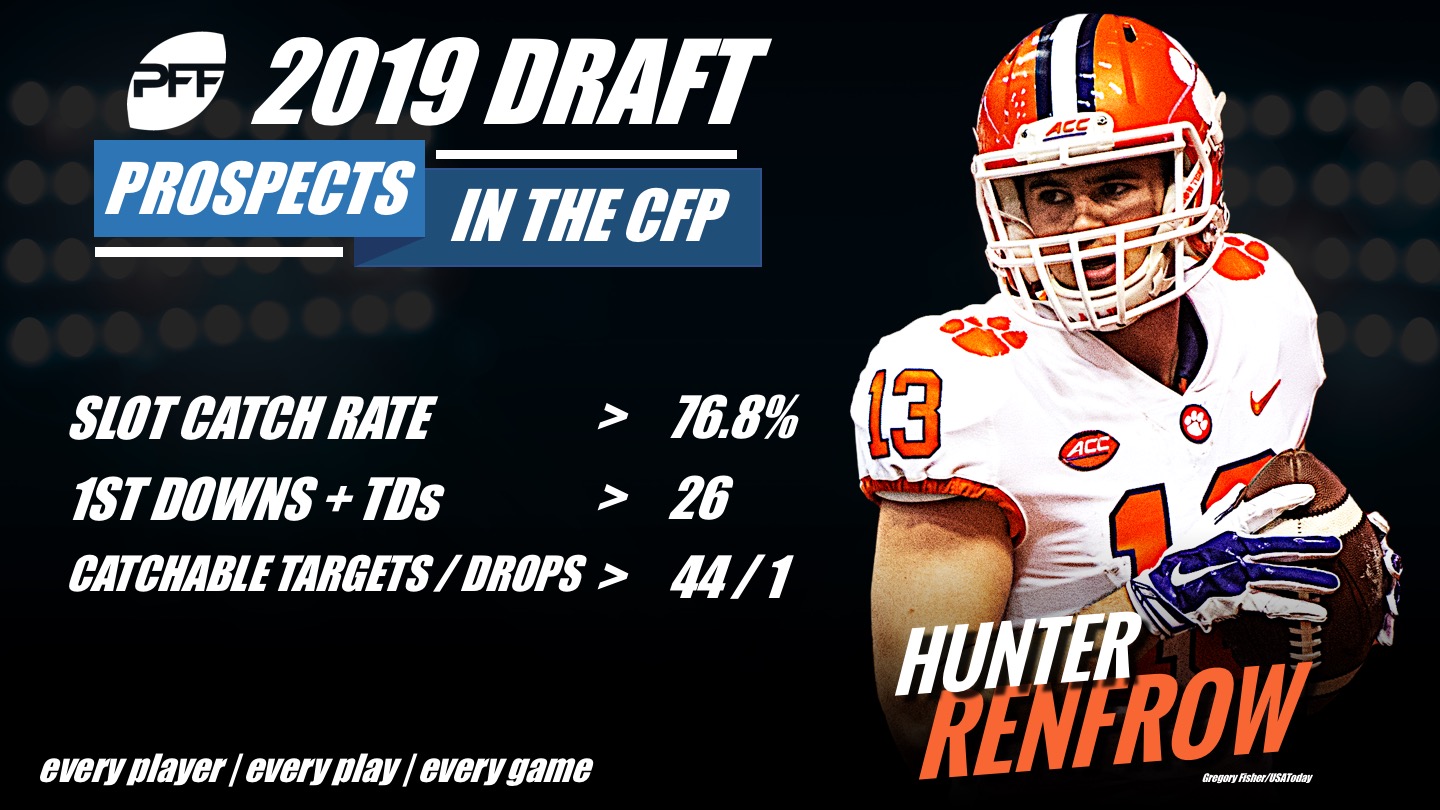 41. Khalid Kareem, Notre Dame – Edge
Kareem brought down 34 total QB pressures on 348 pass-rushes, and 16 of his defensive stops came in run defense, proving his value against both the run and the pass in 2018.
42. Ben Powers, Oklahoma – OG
If Powers was dominant in pass protection, he was equally as disappointing when blocking for the run this season. He allowed just six pressures on 385 pass-blocking snaps, but his 56.9 run-blocking grade was outside the top 200 of guards.
43. Ross Pierschbacher, Alabama – C
Pierschbacher stumbled in run blocking this season but still impressed with his pass blocking, allowing just four pressures on 422 snaps.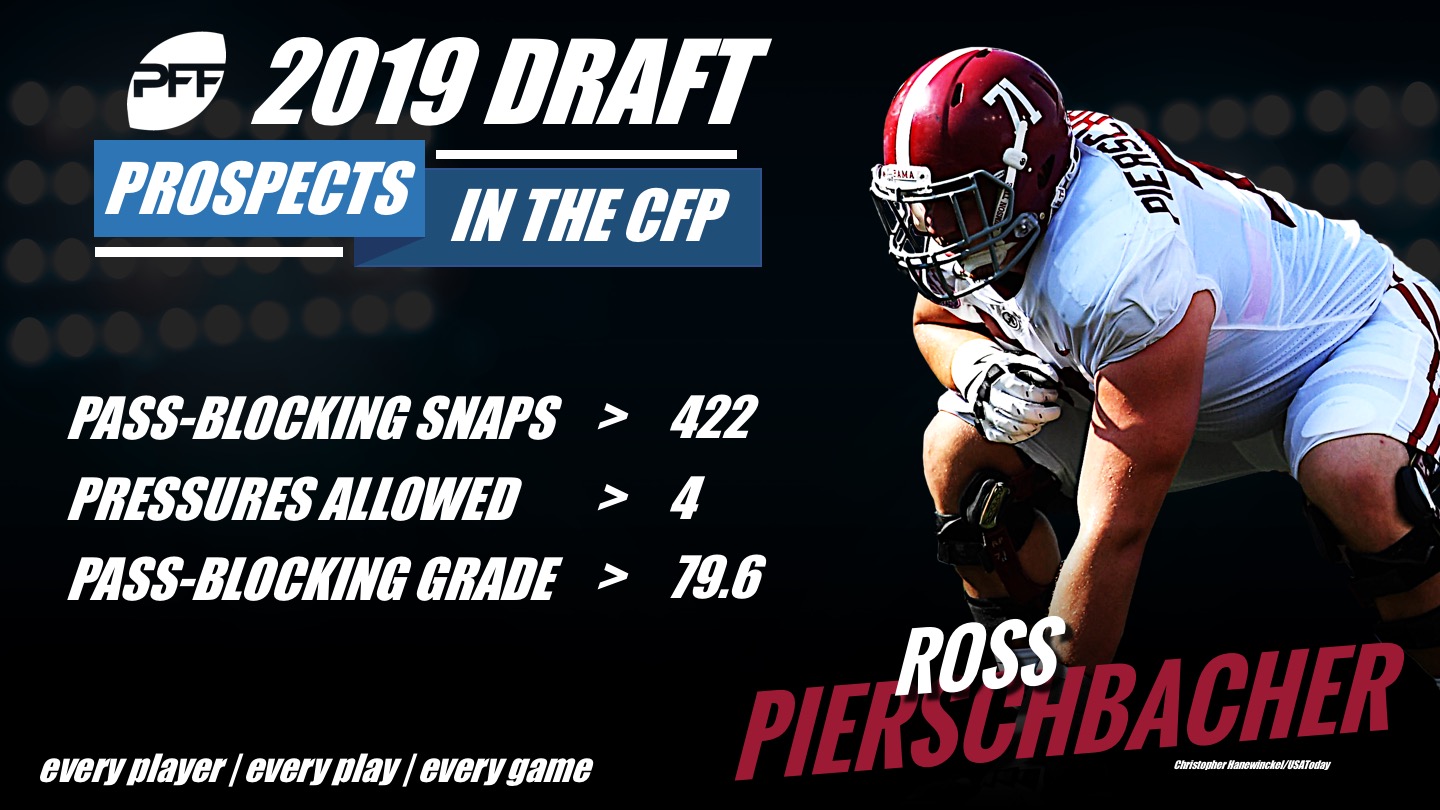 44. Sam Mustipher, Notre Dame – C
Logging 470 snaps in pass protection, Mustipher allowed 11 pressures from the interior of the Fighting Irish's offensive line, good enough for an impressive 76.3 pass-blocking grade.
45. Alex Bars, Notre Dame – OG
Bars played only five games this season but did so in impressive fashion both for the run and in pass protection. He allowed just two pressures on 174 pass-blocking snaps, and if he had finished with enough snaps to qualify, he would've ranked 21st with a 74.1 run-blocking grade.
46. Dru Samia, Oklahoma – OG
Similar to other guards on this list, Samia was strong in pass protection (just six pressures on 414 pass-blocking snaps), but he finds himself near the bottom with his run blocking (170th).
47. Albert Huggins, Clemson – DI
It isn't very often that a 315-pound run-stopping force is overshadowed, but that's basically what has happened with Clemson employing the talent it does on the defensive interior. Still, while splitting time with Lawrence and Wilkins on the inside, Huggins recorded 15 total QB pressures on 143 pass-rushes and an additional 15 defensive stops.
48. Tanner Muse, Clemson – S
Muse was a threat to thwart the run at any moment for the Tigers in 2018, recording a run stop on 12 occasions from his safety position, proving his ability to diagnose run plays quickly.
49. Tommy Kraemer, Notre Dame – OG
Kraemer was at fault for 14 total QB pressures this season, allowing five QB hits and being suspect in run blocking. Still, his overall grade ranked him in the top half of all FBS guards in 2018.
50. Jalen Hurts, Alabama – QB
The SEC Championship Game savior, Hurts' ability with his legs can buy time in any pocket, as he has recorded 1,313 yards on designed carries in his career at Alabama. He has forced 76 missed tackles as a runner while being more than competent as a passer.