With seven weeks under our belts, the potential NFL draft class has had some movement due to impressive early performances.
Coming into the year, we expected a strong year for both pass-rushers and running backs, but the cornerback class is shaping up to be one of the best in years. There are a number of corners with the size and speed the NFL covets, but also the on-field production to back it up.
As for the quarterbacks, a slow start by Clemson QB Deshaun Watson has brought many question marks to the top of the draft board. While most scouts love Notre Dame QB DeShone Kizer and he's impressed in spurts, there are still far too many questions to put him atop the board as he still has to improve his decision-making and pocket presence. The quarterback class still has a lot of moving parts, but keep a close eye on North Carolina's Mitch Trubisky, who didn't make the cut this time around  but he's opened a lot of eyes this season.
Without further ado, here's our mid-season draft board update:
Myles Garrett, Edge, Edge, Texas A&M
Garrett has not slowed down this season after two exceptional years to start his career. His explosiveness gives him the "wow" factor but it also shows up in his production where his 89.9 overall grade is the highest of any pass-rusher in the nation. We wanted to see better work against the run this season and he's come through to this point. Garrett now has 26 sacks, 31 QB hits and 88 hurries in his career at Texas A&M.
Jonathan Allen, DT, Alabama
Allen has been the most dominant defensive lineman over the last two years as he's played 732 snaps and registered 20 sacks, 12 QB hits, and 38 hurries on 467 rushes. He can beat guards on the interior and he's shown well when rushing off the edge this season, all while playing a lot more snaps against the run where he's held up nicely at 84.5 on the year. Allen brings versatility and production to the defensive line.
Derek Barnett, Edge, Tennessee
While Barnett may not have the classic edge rusher look that Garrett possesses, he's been just as productive during their paralleled careers. Barnett brings power in the running game and he simply knows how to get to the quarterback as his pass-rush grade has improved every season. His three-year totals now sit at 27 sacks, 28 QB hits and 89 hurries, rivaling Garrett step for step.
Desmond King, CB, Iowa
King can play a variety of coverages and he excels in zone where he can diagnose the play and make plays on the ball. He's off to a terrific start with six passes defensed and an interception on 32 targets, this after getting his hands on 20 passes (eight interceptions, 12 passes defensed) last season. King has graded out as one of the best run-stopping cornerbacks in the nation each of the last three years and he's a sure tackler with only six misses on 167 attempts the last three years.
Cordrea Tankersley, CB, Clemson
Tankersley's 6-foot-1 frame will immediately catch the eye of a number of teams but his on-field play is what is moving him up the list. He uses that length well in press coverage and he can move better than most long corners, though smaller, shiftier receivers will always be a challenge.
Corey Davis, WR, Western Michigan
While the volume hasn't been there for Davis this season (61 targets through seven games), Davis remains perhaps the best wide receiver in the class due to his excellent route-running, body control and after-the-catch ability. He projects as a short and intermediate threat at the next level with just enough downfield ability to complete the package.
Jalen Tabor, CB, Florida
Here's what we said about Tabor from our August draft board update:
"A lot of Tabor's big plays come from his educated guesses, which isn't the worst thing in the world, but there's a double move to be had on him every now and then."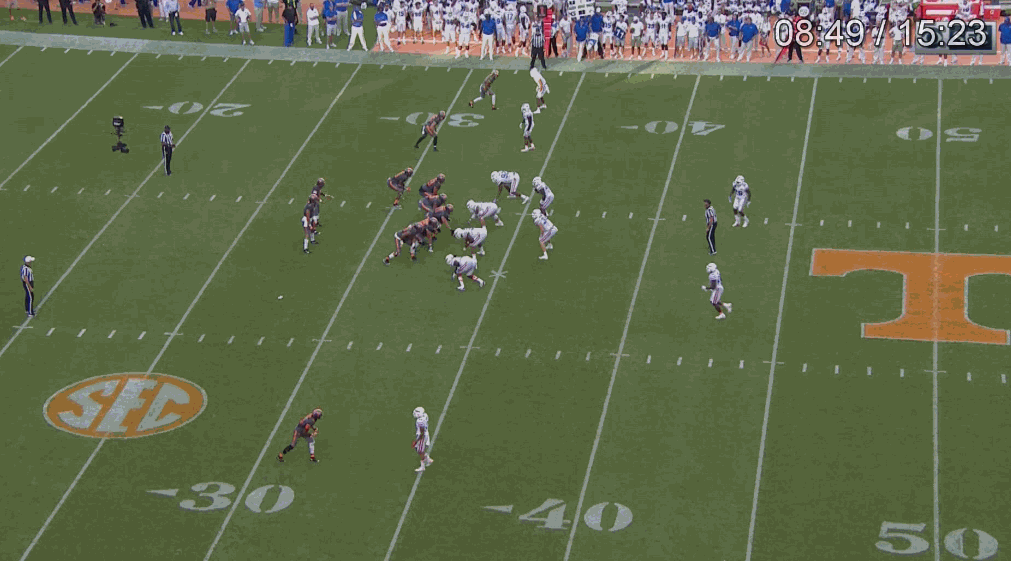 Tabor has some boom-or-bust to his game, but his playmaking ability is as good as it gets in the class. His ability to break on the ball reminds of Denver Broncos cornerback Aqib Talib and he has all the tools to be a top corner at the next level.
Malik McDowell, DT, Michigan State
We were expecting a dominant season from McDowell who certainly hasn't disappointed to this point though he hasn't been quite as unblockable as his most common comparison, DeForest Buckner, was last year. He has excellent movement skills for 6-foot-6 and he's played a variety of roles from playing nose tackle to edge rusher while showing well against the run and getting after the quarterback often. Pad level will always be a concern for McDowell given his frame, and it's something he needs to continue to work on heading into the draft process.
Leonard Fournette, RB, LSU
It's been a disappointing season for Fournette who has battled injury as LSU underachieved in the early going. The debate is now focused on whether he should even come back to play another college game. In 2015, Fournette added some wiggle to his straight-line speed and power, making him an even more dangerous runner. The question is just how much he can contribute in the passing game compared to other running backs in the class, and inevitably, the debate about the value of a running back in today's NFL will also determine where he lands in the draft.
Dalvin Cook, RB, Florida State
It was a slow start to the season for Cook, and while he hasn't shown the same breakaways ability that he's had in year's past, he's accepting a high-volume role and he leads the nation with 46 missed tackles forced. He's also been proficient in the passing game where he's averaging 16.5 yards per reception. While his big-play ability has been stifled some this season, Cook has shown that he can carry the ball efficiently in more of a workhorse manner, and he is right up there with Fournette at the top of the class.
Charles Harris, Edge, Missouri
Armed with a killer spin move and strong, quick hands, Harris can get after the quarterback while showing the block-shedding ability to play the run. His 85.6 pass rush grade ranks 10th among edge rushers and he needs a strong second half in order to separate himself in a loaded class of pass-rushers.
Mike Williams, WR, Clemson
Williams has rebounded nicely after missing all but 12 snaps a year ago, stepping right back in as the go-to guy for QB Deshaun Watson. He and Watson has a good feel for the vertical route tree, working go route and back-shoulder throws off of it and it's Williams' downfield body control that makes it work. He has all of the skills to be the top receiver in the class.
JuJu Smith-Schuster, WR, USC
Smitch-Schuster got off to a slow start with Max Browne at quarterback but he'd had a resurgence since Sam Darnold took over. He has the speed to get behind the defense or turn a short gain into a long one, and while we had questions about his ability to win contested catches down the field, plays like his long touchdown against Arizona in Week 7 are a good step in the right direction.
Deshaun Watson, QB, Clemson
While we had Watson at the top of the board to start the season, it's been a disappointing start from an evaluation standpoint. Watson's accuracy has declined this year, as evidenced by an adjusted completion percentage drop from 77.1 percent in 2015 to 71.3 percent this season. Beyond that, he's made more poor decisions with the ball, either forcing passes into coverage or misreading the play entirely. There's still a lot to like about Watson, and if last year is any indication, he's about ready to right the ship and go off in the second half of the season, but we'd like to see improvement in a few key areas.
Jourdan Lewis, CB, Michigan
After missing the first three games of the season, Lewis has returned to his dominant form as he's only surrendered three catches on 10 targets for seven yards. He lacks the height of other top cornerbacks in the class, but his aggressiveness and ability to mirror in man coverage should not be overlooked. Lewis is also a sound tackler and good run defender.
Jabrill Peppers, S/LB, Michigan
Forget the position debate, Peppers brings versatility to the defense with his ability to play the run, cover, and rush the passer. He's not a great fit for covering slot receivers, but he can hold his own against tight ends, so he at least fits the mold of nickel linebacker at the next level. He's flashed his impressive athleticism on offense and special teams and his true value will be a hot topic come draft season.
Tim Williams, Edge, Alabama
Williams hasn't slowed down as a pass rusher as he now has four sacks, six QB hits, and 19 hurries on 127 rushes after picking up 11/8/33 on 147 rushes last season. His burst and power off the edge make him one of the best pass-rushers in the class, but he's played only 45 snaps against the run this year and 92 over the last three seasons so his three-down value remains a question mark. 
Eddie Vanderdoes, UCLA
We were hoping to see more from Vanderdoes as a pass rusher and he's come through this season. His quick hands allow him to win at the point of attack and he also shows the power to shed blocks in the running game. He's slowed down in recent weeks, but Vanderdoes still ranks seventh overall among interior defensive linemen at 86.4.
Carl Lawson, Edge, Auburn
We had seen plenty of flashes from Lawson throughout his career but he's finally healthy and producing on a weekly basis. At his best, his strong hands allow him to shed blocks and get to the quarterback, but we'd like to see improvement against the run where he's stagnated this season.
Christian McCaffrey, RB, Stanford
It's been a disappointing season for McCaffrey who hasn't had the same room to run that he had a year ago and he's been battling injuries the last few weeks. He still possesses the versatility to project as a movable chess piece at the next level as he brings patience and change-of-direction skills as a runner and slot receiver skills as a receiver. The question will become what the sum of these parts will be worth come draft day.
Reuben Foster, LB, Alabama
The top-graded linebacker in the nation this season at 90.8, Foster has been excellent in all phases. He can shed blocks with both agility and power while showing well in coverage in his two years as a starter. Foster has missed only two of his 44 tackle attempts this season as he continues to improve.
Mike McGlinchey, Notre Dame
Outside of a handful of plays, McGlinchey has made a smooth transition to left tackle where he remains one of the nation's top run blockers while showing well in pass protection. He's a late-bloomer with great size and he's been as productive as any Power-5 offensive tackle the last two seasons.
Sidney Jones, CB, Washington
Opposing teams have avoided Jones all season as he's been targeted only nine times, surrendering four catches for 20 yards. He can stay with receivers down the field and his six-foot frame ticks an important box for a lot of teams. It'd be nice to see Jones get challenged more often in the second half of the season but even without the targets, he's off to a great start.
Nick Chubb, Georgia
Chubb has bounced back from last year's season-ending knee injury. When at full strength, he's a load to tackle, but he also has the speed to make defenses pay. He's quietly efficient at maximizing the work of his offensive line and his ability to move forward on contact keeps the offense on schedule.
Pat Elflein, G/C, Ohio State
It was a slow transition to center from guard but Elflein has come on strong in recent weeks. He's graded well in the run game at both positions, capable of playing with power at the point of attack or making blocks on the move. His continued progression is going to be monitored closely in the second half of the season.
Zach Cunningham, LB, Vanderbilt
Perhaps the best linebacker in the class at attacking and shedding blocks, Cunningham has used that ability to lead the nation with 48 stops. He has the athleticism to make plays in coverage as well, he just needs to cut down on the missed tackles which have been a big problem the last three years.
Marlon Humphrey, CB, Alabama
Another long corner for the class, Humphrey can close quickly in zone coverage and he has the length to play press man coverage. He's susceptible to the big play where he can lose track of the ball down the field, but that's the only thing keep him from being higher on the list at this point.
Royce Freeman, RB, Oregon
A disappointing year for Oregon hasn't slowed Freeman down as his impressive size/speed combination have him averaging 7.7 yards per carry. Few 230-pounders move as well as Freeman and he may get lost in a deep class at times, but he's an efficient downhill runner who is also solid in the pass game.
Ryan Ramczyk, OT, Wisconsin
One of the biggest rises of the season, Ramczyk has stepped in as the starter at left tackle for Wisconsin and he's been outstanding in pass protection while showing power in the run game. By all accounts, he'll test well when the time comes, and those movement skills show up on the field. The sample size is small, but it's been a great start for Ramczyk.
Tre'Davious White, CB, LSU
White looked like a future first-rounder back in 2014, and after taking a step back last season, he's been back to form this year. He's allowed only 100 yards on 30 targets, intercepting two passes and knocking away two more. White's development adds even more depth to this cornerback class.
Jarrad Davis, LB, Florida
Davis can pack a punch in the run game, attacking blockers with aggression to blow up running plays and he brings a similar style when playing coverage in the short passing game. He'll leave some plays on the table as he misses more tackles than we'd like to see, but he's a disruptor in all three phases: against the run, in coverage, as a pass-rusher.
Quenton Nelson, G, Notre Dame
Nelson has impressed since stepping in as a starter last season. He's a powerful run blocker, and he's shown capable of making blocks on the move in the run game. He's continues to improve in pass protection and he brings one of the nation's best all-around packages to the guard position. 
Dropping out:
Dawaune Smoot, Edge, Illinois
Devonte Fields, Edge, Louisville
Mason Rudolph, QB, Oklahoma State
Jake Butt, TE, Michigan
Deatrich Wise, Edge, Arkansas
Watch list:
Solomon Thomas, DI, Stanford
Malik Hooker, S, Ohio State
Mitch Trubisky, QB, North Carolina
DeShone Kizer, QB, Notre Dame
Ryan Anderson, Edge, Alabama
Quincy Wilson, CB, Florida
Marcus Williams, S, Utah
Nate Gerry, S, Nebraska
Jamal Adams, S, LSU