Welcome to the Ohio State show. The Buckeyes' reign atop the Big Ten was toppled a season ago by their arch-rival, but that run may be short-lived. Ohio State returns an insane amount of NFL talent, including four of the top five players on this list and over one-fourth of the top 25. With no other school touting more than three representatives, the Buckeyes are in a clear tier of their own.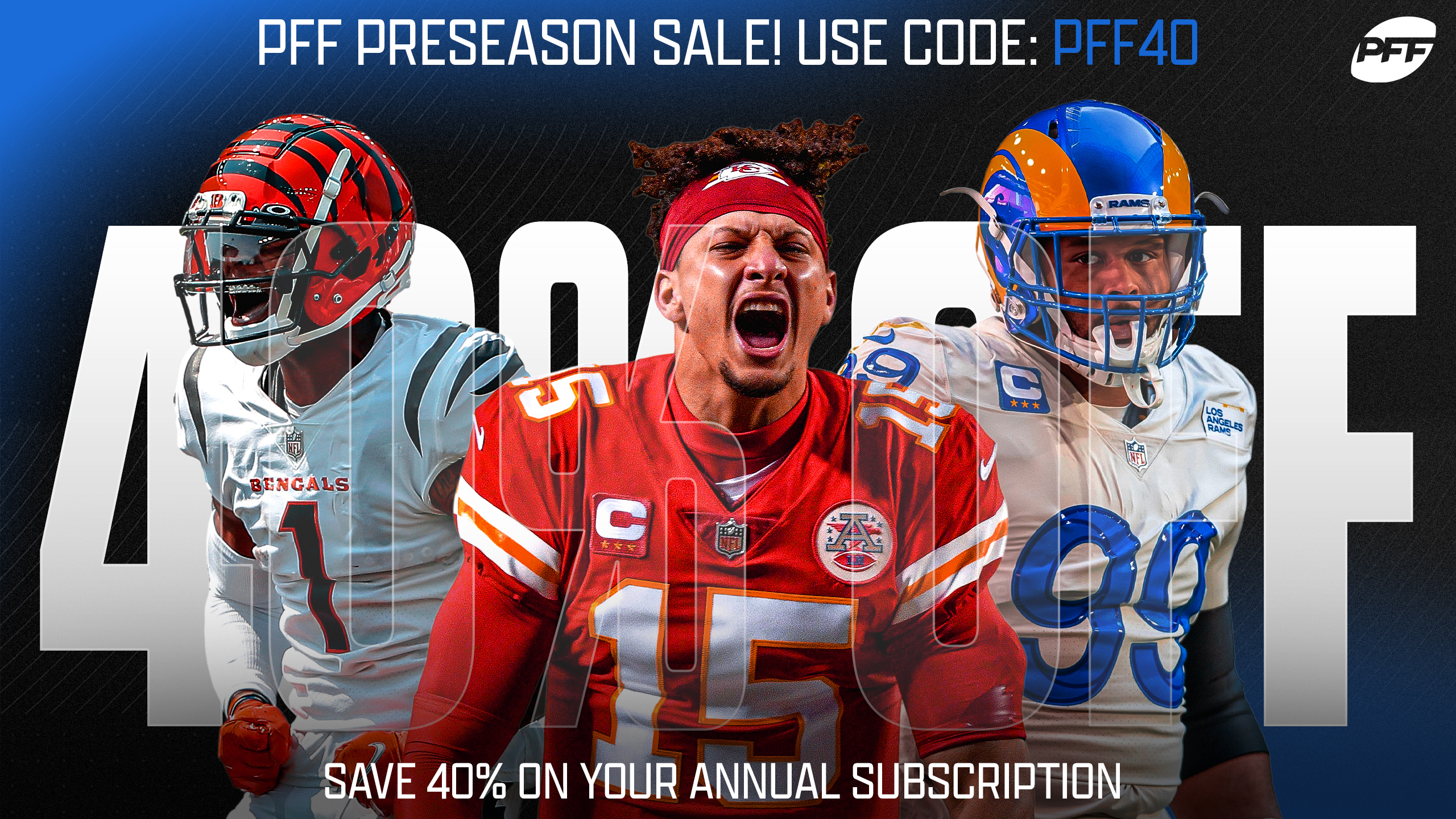 Stroud checks in as QB2 and at No. 3 overall on PFF's first 2023 draft board. In the debate between him and Alabama's Bryce Young, Stroud will be far more attractive to NFL evaluators in the measurables department. At 6-foot-3 and 215 pounds, Stroud ticks all the physical boxes you could want at the position.
He'll get compared to his predecessor, Justin Fields, a good deal, as well. And while Fields may be more physically gifted, Stroud operated the Ohio State offense in a way that's far more projectable to the NFL. That's because Stroud wins from the pocket far more than Fields ever did. Stroud's 2.68-second average time to throw last season was nearly a half second faster than Fields' career average.
@CJ7STROUD is about to show everyone why he deserves the heisman. Going to be one of tOSU greats when it's all said and done…
pic.twitter.com/Lg9PQTYKOo

— CJ STROUD ???? SZN (0-0) (@BUCKEY3BURNER) July 16, 2022
While Smith-Njigba outproduced the 10th and 11th overall picks in this past year's draft, that doesn't necessarily make him a shoo-in to be a top-10 pick. He won't be running in the 4.3s anytime soon like both Chris Olave and Garrett Wilson did at the combine. Operating primarily from the slot, JSN showed some of the best route-running savvy, ball skills and after-the-catch ability of any receiver in the country last season. He also could get chased down by linebackers in the open field. The worry is that, without that deep speed element to his game, he'll be pigeonholed to the slot where he spent all his time last season.
I don't know about y'all, but this was the moment I knew JSN was that dude. pic.twitter.com/agMYyUIYw5

— ChicagoBuckeye (@osubuckeyes0) July 22, 2022
There's no measurable or highlight reel that can capture why Skoronski is OT1 on the PFF draft board. No, one has to watch his down-to-down consistency over the course of a few games to realize this man is advanced well beyond his years from a skill perspective. He's been starting at left tackle ever since he stepped on campus for the Wildcats in 2020 and earned overall grades of 81.4 and 83.8 in his first two seasons. He'll need to continue to pack on muscle to his sub-300 pound frame, however, to maintain his OT1 status come draft time.
Impressive pass set from PETER SKORONSKI ????

I think he's been watching @joethomas73 pic.twitter.com/TI00mcYkOr

— Duke Manyweather (@BigDuke50) June 22, 2019
Johnson is far more of a project at tackle, but that's to be expected for a player who's yet to take a snap there. Johnson started at right guard last season for the Buckeyes and showed off high-end athletic traits for a 6-foot-6, 315-pound human being. It showed in his 83.5 run-blocking grade. This season, he'll take over for Nicholas Petit-Frere at left tackle and have every opportunity to skyrocket up draft boards with a big year.
I see you Paris Johnson (Ohio State RG 77) ???? pic.twitter.com/N8u0rYGoTW

— Russell Brown (@RussNFLDraft) September 7, 2021
Harrison has always left evaluators wanting a little more from his tape. At 6-foot-6 and 272 pounds with egregiously long arms and an explosive first step, Harrison oozes potential from a physical standpoint. Unfortunately, he struggles mightily bending his edge as a pass rusher and playing off the side of blocks. He managed only 28 pressures on 299 pass-rushing snaps last season before returning for his senior year.
Zach Harrison with that double TFL. pic.twitter.com/tESIgkRifr

— Eleven Warriors (@11W) November 1, 2020
Campbell is a 6-foot-5, 243-pound tackling machine in the middle of the Hawkeyes' defense. He's got the prototypical three-down middle linebacker physical skill set that the NFL is looking for. Last season, he racked up 139 total tackles, including 56 stops, while grading out equally well versus the run and pass.
.@HawkeyeFootball LB Jack Campbell (#31) jumped off the film last year as we were watching Iowa.

While he's a complete linebacker, it's was the confidence in coverage and finishing ability in space that showed Campbell can really be a high-end NFL linebacker. #ShrineBowl1000 https://t.co/KMQRkb3kHk pic.twitter.com/hBKO3IVpWX

— Eric Galko (@EricGalko) July 21, 2022
Washington should be the favorite to see the bulk of targets left by Jahan Dotson in the Penn State offense. As a sophomore last season, Washington racked up 820 yards on 64 catches with four scores and 16 broken tackles. He's built like a running back at 5-foot-10 and 207 pounds, and that shows after the catch. His role could expand in 2022 after he primarily played slot receiver last season.
THIS ONE-HANDED CATCH BY PARKER WASHINGTON ???? pic.twitter.com/7qPlwwyDcX

— ESPN (@espn) January 1, 2022
A string of bad injury luck led to Nchami playing only 188 snaps over the past two seasons. Yet, he has still been one of the most productive edge rushers in the country, posting a 92.8 pass-rushing grade. At 6-foot-4 and 260 pounds, he has ideal size for a versatile role off the edge. Now we just have to see that translate to a football field for more than a handful of games.
End of the first half: Maryland 3, Illinois 3

A much slower offensive performance for the Terps than they've had over the last two games.

Maryland's defense has continued to produce for the Terps as Durell Nchami closes out the half with Maryland's third sack of the game. pic.twitter.com/NiyBj7LzGI

— Testudo Times (@testudotimes) September 18, 2021
Schmitz was one of the more surprising returners in college football this season. That's because his draft stock is near set in stone after five years at Minnesota and three years as a starter. Schmitz finished 2021 with a career-high 88.5 overall grade — good enough for third-best in the FBS. He'll likely be right on the borderline of Day 2 when he does declare for the draft, and it's hard to see that changing too much in Year 6. 
Minnesota center John Michael Schmitz (6'4" 320) wasn't on my radar entering this film (was studying RT Faalele) but he kept flashing so I went back through to study him. He's officially on my watch list for the season after a VERY impressive performance ???? pic.twitter.com/a1bfLsemuE

— Brandon Thorn (@BrandonThornNFL) September 7, 2021
Corum was a spark for the Wolverines every time he touched the football last season. That happened only 168 times, however, as he took a backseat to Hassan Haskins while dealing with an ankle injury down the stretch in 2021. Now, there's little reason not to see him stockpile carries in the Wolverines' offense. On 144 carries last season, he broke 49 tackles and averaged 3.8 yards after contact per attempt.
Blake Corum casually running for sixtyish yards on a bum ankle against OSU pic.twitter.com/pwOcjDpx2u

— LG (@LGhail) July 19, 2022
Porter plays the cornerback position the way you'd expect the son of Joey Porter to play the cornerback position. He's a bully at the line of scrimmage at 6-foot-2 and 192 pounds. His tape against Ohio State last season, during which he allowed only 25 yards all game, showed how he can win at the line of scrimmage consistently. That's a good starting point when projecting to the NFL, but he will need to cut down on his 10 penalties from 2021.
Big time play by Joey Porter Jr. #Steelers pic.twitter.com/QkKPLZOaAb

— That Blitz Guy (@ThatBlitzGuy) September 4, 2021
Moten split times as a rotational safety in his first season of playing as a redshirt freshman in 2021. He showed an all-around physical skill set at 6-foot, 221 pounds that makes you think he can be a versatile piece to an NFL defense. But after only 499 career snaps, he's still a significant projection. He should be one of Michigan's defensive leaders this upcoming season and get more looks in a more prominent role.
✅ Alignment
✅ Assignment
✅ Attack

HUGE 3rd Down stop by @rjmoten_ ????#BearDown pic.twitter.com/7sikXyJmZh

— Coach Garrett Lucas (@CoachLucas74) December 1, 2021
Herbig is yet another undersized outside linebacker to come out of Jim Leonhard's defense, following in the footsteps of players such as Joe Schobert and Zack Baun. At 6-foot-2 and 227 pounds, Herbig is even smaller than both those guys coming out and will have to move to off-ball unless he transforms his body in the coming years. Still, you see the innate ability to get off blocks and close to ball carriers in space on Herbig's tape. He earned a 91.4 pass-rushing grade on 208 pass-rushing snaps in 2021.
Speed to power by Nick Herbig (@nickherbig_) as he walks his blocker back to QB depth, sheds & gets the sack! #passrush #speedtopower #onwisconsin pic.twitter.com/CvXRiXdYHB

— DLineVids (@dlinevids1) December 31, 2021
You won't find too many motors that run hotter at the defensive tackle position in college football than Slade's. He played 651 snaps a season ago — 23rd-most among defensive tackles in the country — and still earned an 86.1 overall grade. It was a breakout year for the then-redshirt junior, as he racked up 40 pressures and 30 defensive tackles to blow away his previous career highs. 
Jacob Slade is a PROBLEM
Keep an eye on #64, man was wrecking backfields all season pic.twitter.com/CaBv44pHRL

— StandingRoomSpartans (@StandingRoomMSU) January 7, 2022
LaPorta is one smooth mover for a 6-foot-4, 249-pound tight end. He does his best work with the ball in his hands and broke 10 tackles on 53 receptions for 670 yards a season ago. He could still stand to get a little stronger and isn't yet the run blocker that the reputation of Iowa tight ends suggests at the moment. There's still a ton of raw talent to work with here that NFL evaluators will love. 
Sam LaPorta led Big 10 TEs last season in…

???? Catches (53)
???? Yards (670)
???? Yards after catch (299)
???? Yards after contact (206)
???? Catches of 15+ yards (18)pic.twitter.com/wanw3qzxBE

— PFF College (@PFF_College) May 12, 2022
Speaking of raw talent, Benton is an athletic marvel for a 6-foot-4, 317-pounder. It shows in his ability to get after the quarterback, as he earned a 74.9 pass-rushing grade a season ago. He can struggle with consistently playing low at his size, but it's clear that his best football is still in front of him. 
Keeanu Benton with the snatch/arm over. Watch how he strikes, grabs & extends before reducing his hitting surface & executing the move. @keeanu_benton throws a club/arm over on top of that to clear the OL & get the sack!

S/O @UWcoachnokes & @Coach_Fifita94 #PassRush #OnWisconsin pic.twitter.com/Xoc8sD07iV

— DLineVids (@dlinevids1) March 15, 2020
Jarrett is an explosive 6-foot, 190-pounder who came on strong down the stretch for the Terps as a sophomore last season. He was Maryland's first five-star receiver recruit since Stefon Diggs, and he checks in with eerily similar measurables. While he has a ways to go to match Diggs from a route-running perspective, he's got the physical ability to push his stock into the Round 1 conversation with a big year. 
Someone who I'm excited to watch over the next couple of seasons is #Maryland WR Rakim Jarrett. Explosive athlete that showcases serious YAC ability.

Former five star recruit. We'll be talking about him as a prospect in two years. pic.twitter.com/KPQbDO0nG7

— Devin Jackson (@RealD_Jackson) February 2, 2021
While Ohio State's top cornerback, Denzel Burke, isn't draft eligible, Brown was the best of the rest in the team's cornerback rotation from last season. Brown came to Ohio State as a receiver before switching to cornerback, and he's been injury-plagued over the course of his career, with his 2018 and 2020 seasons being cut short due to injury. He was finally healthy in 2021 and allowed only 13 catches on 34 targets for 189 yards all year. 
Jacobs is more projection than polished product at this point, with only 589 career snaps under his belt. He played the overhang role in Iowa's defense, playing nearly half of his snaps outside the box. You don't often see that from 6-foot-4, 236-pounders. That was the case because of how smoothly he operates in space at that size. He still needs to take on blocks better and play more physically overall, but you can't coach someone to his levels of athleticism.
Dat demon @jestinjacobs__ @HawkeyeFootball pic.twitter.com/AWBXIN1EoX

— D????TK????M (@NastyBoyJayyy) November 7, 2020
Williams would be a bell cow type of back at 95% of the schools in the country, but he just so happens to share the backfield with one of the best running backs in the country in sophomore TreVeyon Henderson. Williams is built like a tank at 5-foot-8 and 225 pounds and is about as easy to tackle as one. He averaged 4.7 yards after contact per attempt and broke 31 tackles on 71 carries last season. 
Can we discuss Miyan Williams pic.twitter.com/r6Si6Hs6zq

— Colton Denning (@Dubsco) January 2, 2021
Oluwatimi spent five years at Virginia before making his way to Michigan this offseason. He started the past three seasons for the Cavaliers, peaking with an 80.0 overall grade in 2021. The only thing keeping him back from a higher grade was nine penalties, as he was one of the best road graders at the position in the country en route to a 90.2 run-blocking grade.
This UVA center Olusegun Oluwatimi is a damn good player! Air Force transfer from DeMatha Catholic

2022 Class looking like deep center group with Linderbaum, Lindstrom, Deaton, Kramer, Empey, Godlevske, Neilon, Saffell, etc pic.twitter.com/Y1SBFiGtpM

— Ben Fennell (@BenFennell_NFL) April 16, 2021
Haggard is a long and lean left tackle who has vastly improved in his two years with the Hoosiers after transferring from junior college. He went from a 55.3 overall grade in his first season in 2020 all the way to a 74.5 overall grade in 2021. While he still could add some strength to his 6-foot-7, 303-pound frame, Haggard has the kind of feet that NFL evaluators covet at tackle. 
This clip comes from Mike Penix Jr.'s second INT, but it was interesting to watch Luke Haggard here. You may worry about a new offensive tackle busting an assignment, but he recognizes the DB blitz here and makes an athletic play to get a block on him. #iufb pic.twitter.com/AcnODbmFuM

— Jon Blau (@Jon_Blau) November 15, 2020
Wypler got lost a bit on a loaded Buckeyes offensive line last season, but he showed out in his own right with a 79.6 overall grade in his first season as a starter. He's only a redshirt sophomore, so his odds of declaring after this season are low, but he's already one of the more refined centers in the country.
O'Connell has been head coach Jeff Brohm's shining apprentice in the five years both have been in West Lafayette. We've gotten to see him develop considerably since he first saw action back in 2019. He's improved from a 77.3 overall grade that season all the way to a 90.6 overall grade in 2021.
While not surrounded by NFL talent, O'Connell consistently makes impressive throws down the football field. He finished with 36 big-time throws a seasons ago. If you can get over his slightly funky release, O'Connell is a real-deal NFL prospect.
Did someone ask for Aidan O'Connell propaganda? pic.twitter.com/JjOIsbKY43

— ????????????????????❄️ (@Boilermakers4er) July 4, 2022
Demus would be quite a few spots higher on this list were it not for a gruesome knee injury he suffered against Iowa last season — one that puts his future in question. He's got impressive deep speed for a bigger receiver (6-foot-4, 215 pounds) and has averaged 16.6 yards per reception for his career. He had 507 yards in only five games last season and was seemingly playing his way into the Day 2 conversation before the injury. 
Maryland's Dontay Demus is a DUDE — great year to want a big WR.

Dontay Demus (6'3", 215)
Treylon Burks (6'3", 225)
Drake London (6'5", 210)
Justyn Ross (6'4", 210)
George Pickens (6'3", 200)pic.twitter.com/KYpKhtAaEB

— Austin Gayle (@austingayle_) September 5, 2021