Luke Musgrave wins "best vertical threat": The Oregon State TE ran a 4.61-second 40-yard dash and made a habit of beating defenses down the field.
Michael Mayer earns "best inline blocker": The Notre Dame TE's 82.1 run-blocking grade was the highest among the tight ends in this year's draft class.
Dalton Kincaid takes home "best route runner": The Utah TE runs routes well above his year, which enables him to create separation against opposing defenses.
Estimated reading time: 4 minutes
---
In case you haven't heard, this tight end class is a special group, as there are currently seven top-100 tight ends on the PFF draft board — the same total as the past three classes combined! Sorting out which prospects have the goods in each aspect of the position becomes all the more important in a deep class.
---
Click here for more PFF draft tools:
Mock Draft Simulator | 2023 NFL Draft Big Board | 2023 NFL Draft Guide

---
This one could have easily gone to Dalton Kincaid as well, but don't worry, the Utah tight end is not leaving this superlatives list empty-handed. Vertical receiving ability is pretty much Musgrave's entire selling point. He's big, and oh boy is he fast. The 4.61 40 he ran at the combine doesn't really do him justice. Musgrave his 20.05 MPH on the GPS at the Senior Bowl — a full 1.13 MPH faster than Will Mallory, who paced the tight end group in Indy with a 4.54-second 40-yard dash. He's one of the few tight ends in the class capable of actually stacking defensive backs on the vertical tree — a unique skill for a tight end. 
Luke Musgrave @BeaverFootball swipes the DBs arms and then uses his excellent speed to stack and come down with the pass. pic.twitter.com/E26tlNBgiV

— Billy M (@BillyM_91) February 2, 2023
---
While the behemoth that is Georgia's Darnell Washington could very well be the best in time, Mayer is the best as it stands now. His 82.1 run-blocking grade in 2022 was the highest of any tight end in the draft class. He can match strength inline with defensive ends and demolish defensive backs on the move. Any team looking for a value-add in the run game will have Mayer as TE1. 
I made a 2 Minute cutup of Michael Mayer (TE, 87, Notre Dame) blocking vs Clemson.

He'd immediately be the best blocking TE on the Bengals roster. pic.twitter.com/rPra4gj4u8

— Goodberry (@JoeGoodberry) February 19, 2023
---
Kincaid could be considered a wide receiver in the upcoming class, and I'm not sure it would impact his draft stock too much. He's crafty and sudden to separate at any level of the football field, which is why he was targeted on a ridiculous 27.1% of his routes against man coverage this season. Kincaid can get open on his own. 
Baby Kelce. pic.twitter.com/vR0jTR73Kz

— Brett Kollmann (@BrettKollmann) March 11, 2023
---
There were so many good YAC options to choose from here. Obviously, Kincaid and Mayer do great work with the ball in their hands. Washington has Gronk-like power in his frame post-catch, and Tucker Kraft almost always needed two defenders to bring him down at the FCS level. 
Ultimately, it's difficult to watch LaPorta's tape, though, and go anywhere else with this superlative. LaPorta is nothing short of special in this regard. You won't find many tight ends as fluid with the ball in their hands in the league right now. Over the past two seasons, he's broken 30 tackles on 111 receptions. He's the kind of tight end who can legitimately be a threat on screens at the next level.
#Iowa TE Sam LaPorta

6-foot-3, 245.

4.59 40
35 vertical
6.91 3-Cone

Seam stretching ability. Get open at the second-level. Move the chains. Block in the zone run game. Rugged after the catch. pic.twitter.com/88cgDpjFxG

— Matt Bowen (@MattBowen41) March 5, 2023
---
While Mayer and Kincaid could have easily won this as well, I wanted to give some love to one of the more unheralded tight ends in the class. Allen's ball skills are outstanding. He's immediately going to be one of the better red zone threats at the position in the NFL due to his ability to play above the rim at 6-foot-6. His 38.5-inch vertical and 10-foot-5 broad jump at the combine were both elite numbers for the position. That showed on film, where he went 17-for-20 in contested situations the past two seasons.
Clemson pulls off a fake punt with a dime from punter Will Spiers and a great catch by Davis Allen.#CLEMvsSYR pic.twitter.com/IJ3UMmoCmQ

— CFB Kings (@CFBKings) October 16, 2021
---
Kincaid has some of the best hands you'll ever see in a college prospect, period. In his three seasons at Utah, he dropped only two of his 128 catchable targets. The sheer amount of grabs he made that truly wouldn't have even gone down as drops if he didn't haul them in is absurd. Just take a look for yourself:
Not hyperbole to say Dalton Kincaid has some of the best ball skills I've ever seen from a TE prospect

– 2 drops on 108 catchable last two seasons
– 16/27 in contested situations

Legit 1st Round talent at a position I don't often advocate for that early pic.twitter.com/Ju1RPtJJpO

— Mike Renner (@PFF_Mike) February 26, 2023
---
Kuntz had himself an all-time combine performance earlier this month. The percentile of his measurables against historical tight end prospects in the PFF database can be seen below: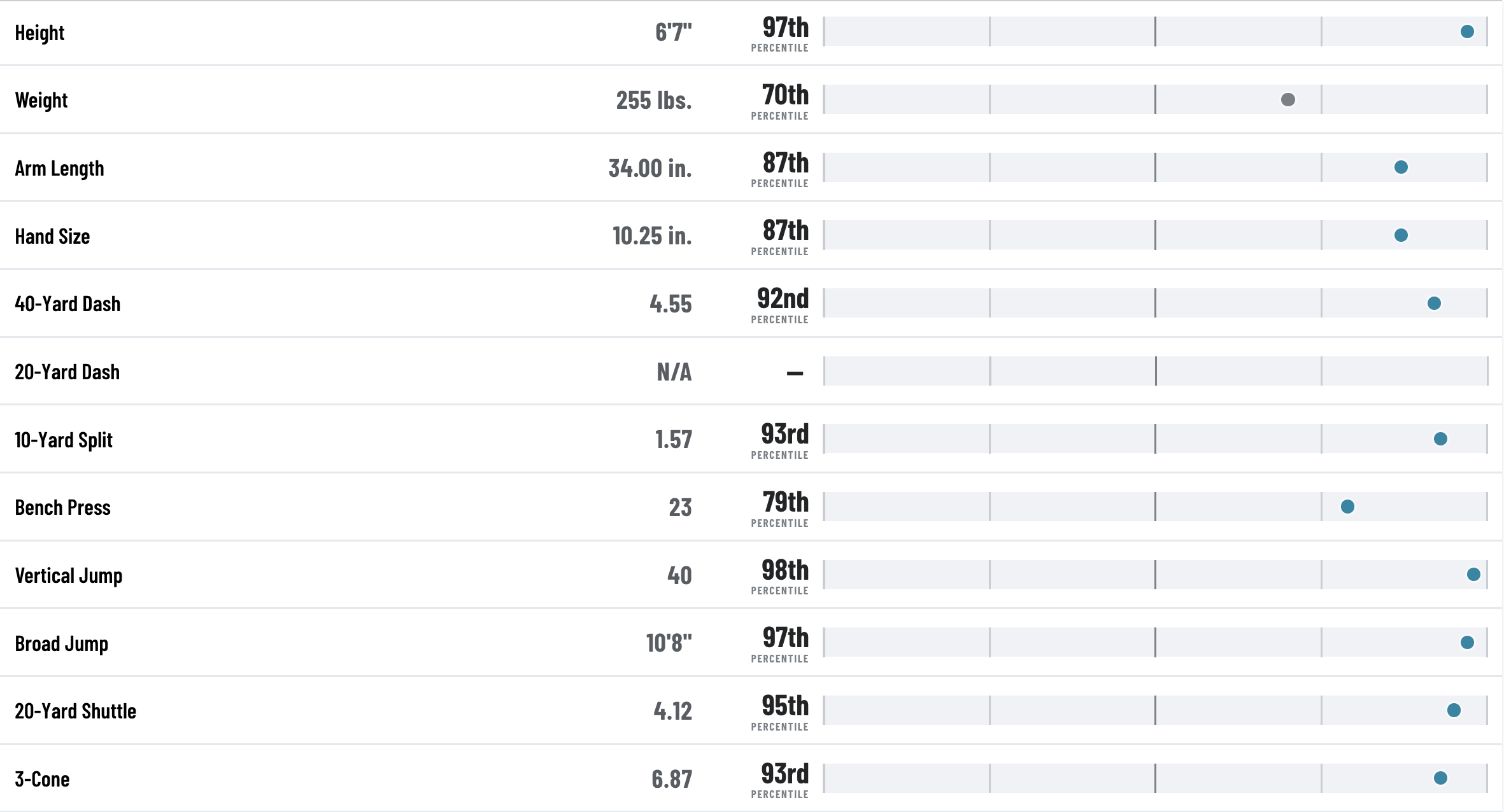 Finishing over the 90th percentile in every single athletic measurable is the definition of freaky. He's more athlete than actual receiver at this point, but those are the tools you want to work with if you're developing a mid-to-late rounder.
Zack Kuntz ???? pic.twitter.com/889p8s3yVi

— James Foster (@NoFlagsFilm) February 26, 2023