• Eagles make a big move in the top 10: Here, they send picks No. 10, No. 62 and No. 94 for the Seahawks' No. 5 and No. 198 selections to draft Jalen Carter in the top five.
• With a history of trading up, Saints could do so once again: In this hypothetical, New Orleans trades up with the Ravens for Clemson interior defender Bryan Bresee.
Estimated Reading Time: 4 mins
---
We've already had two 2023 NFL Draft trades inside the top 15, first with the Chicago Bears moving down from No. 1 overall to No. 9 with the Carolina Panthers and now the Green Bay Packers moving up to No. 13 from No. 15 in a pick swap with the New York Jets folded into the Aaron Rodgers trade.
With two big moves already accounted for, and a relatively underwhelming class according to many general managers during media availability, we identify three more trades that would make a lot of sense.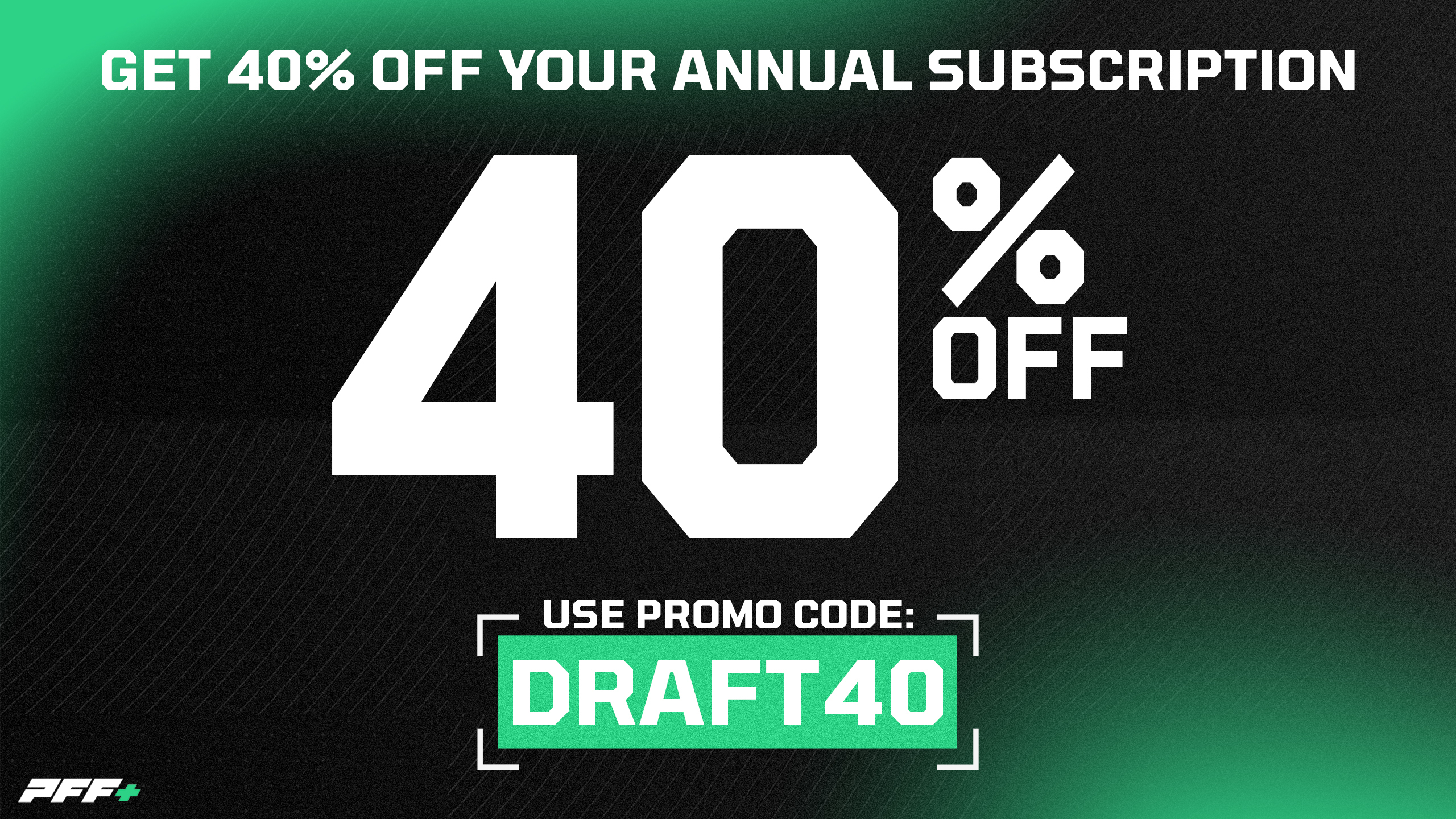 ---
Trade terms: Nos. 10, 62, 94 for Nos. 5, 198
If it turns out to be true that the Seattle Seahawks are wary of Carter's off-field concerns, they could look to move down in the draft, depending on how the board falls through Pick Nos. 1-4. Philadelphia reunites 2022 first-round selection Jordan Davis with his Georgia teammate and takes a big swing with the pick they acquired from the New Orleans Saints.
Carter's 89.1 pass-rush grade in 2022 ranked seventh among FBS interior defenders, and his 91.2 run-defense grade ranked fifth. He's as good a prospect on the field as we've seen since PFF started grading college football in 2014. This would be an expensive move, as illustrated above, and odds are Philadelphia would then try to trade down from No. 30 overall, if possible, to recoup some of their lost ammo.
Seattle could probably still take a quarterback at No. 10 overall if they desired, with one of C.J. Stroud, Will Levis or Anthony Richardson likely available. If not a quarterback, Seattle would likely be in range for the second tier of edge rushers, which should include Georgia's Nolan Smith, Iowa's Lukas Van Ness, and Clemson's Myles Murphy. 
---
Trade terms: Nos. 29, 71, 115  for Nos. 22, 86
The last thing we expect the New Orleans Saints to do is sit back at No. 29 overall and make their selection, having made 16 trade-ups and zero trade-downs since 2011. Here, they land an interior defensive line prospect who falls due to medicals but was the top recruit in the 2020 recruiting class and earned a career-best 82.0 pass-rush grade coming off a torn ACL in 2022.
Bresee needs to be coached up in terms of pass-rush moves, but his athletic toolbox is special, as evidenced by his 4.38-second short shuttle that ranked in the 92nd percentile in PFF's database.
Baltimore has only five picks entering the draft and could stand to add at various positions, most notably cornerback and wide receiver. Here, they collect an extra pick in the top 115 and move up 15 spots in the second round for the price of moving down seven spots in the first round. 
---
Trade terms: Nos. 31, 95, 134 for No. 23
Kansas City released veteran Frank Clark this offseason with a $20 million 2023 salary that was never going to be paid and is now looking at 2022 first-round pick George Karlaftis as its top edge defender alongside free-agent addition Charles Omenihu, who figures to play on the edge and inside. McDonald has a different build than both of them, weighing far less.
The Iowa State product has serious bounce to his game. He is a springy athlete who can get upfield in a hurry and possesses a lightning-quick spin move. Defensive coordinator Steve Spagnuolo likes to use exotic looks and bring rushers from various alignments, and McDonald lined up everywhere in college: as a 4i, as a wide-nine and often as a standup off-ball linebacker mugging the A-gap.
He never gives up in pursuit and should have plenty of tackles where he chases down scrambling quarterbacks or running backs and wide receivers on screens. This Chiefs' defense needs more juice in its pass rush, and McDonald could be the answer.