Versatility is always a key component to draft evaluations, especially as the NFL starts to use movable chess pieces more and more every season. This can come in all shapes in sizes, from tight ends capable of moving around the formation to shifty slot receiver/running back hybrids to even offensive linemen capable of handling multiple roles along the line. Here's a look at a few of the most versatile offensive weapons in the NFL draft.
TE/WR/RB Jaylen Samuels, NC State
It was difficult to even give Samuels an official position in college with the way NC State used him on offense, and he'll be even more difficult to slot at the next level. He was a part tight end, part running back, part slot receiver for the Wolfpack, finishing his college career with 1,865 receiving yards and 1,095 rushing yards to go with 47 total touchdowns (19 receiving, 28 rushing). Samuels has the quickness to be handed the ball in a traditional run game or on jet sweeps while lining up all over the field to create mismatches in the passing game. Other than a difference in size, he is reminiscent of Eagles TE Trey Burton, who came out of college as a jack of all trades and has tapped into some of that ability at the next level.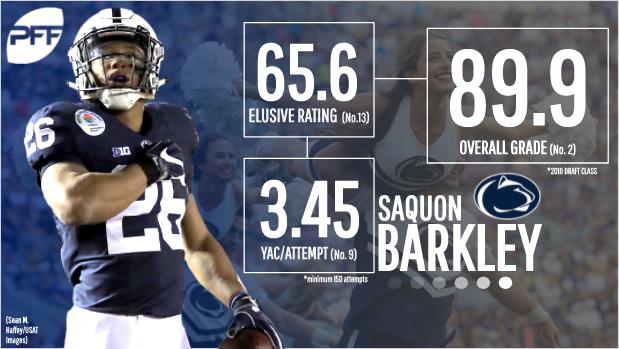 RB Saquon Barkley, Penn State
Barkley is one of the blue-chip prospects in the draft class and his very existence is causing debates all around the country as people discuss how high should a team draft a running back in the first round. As a runner Barkley forced 38 missed tackles and provided 3.54 yards after contact per attempt. Barkley's 19 runs of 15 or more yards ranked No. 12 among draft-eligible running backs. In addition to Barkley's prowess as a running back he can also be a factor in the pass game due to his elusiveness and open-field running ability. Barkley did line up for 20 snaps in the slot in 2017 showing his versatility. Barkley's 1.90 yards per route run ranks No. 6 among all FBS draft-eligible running backs. Barkley also forced 14 missed tackles as a receiver and averaged an impressive 11.9 yards after the catch. Barkley also had two kick-return touchdowns in 2017 showing he can be an instant impact on special teams as well.
C Frank Ragnow, Arkansas
Ragnow is nearly 6-foot-5 and weighs 307 pounds and he has 33 2/8-inch arms so he doesn't have any physical limitations that would force him into just one offensive line position. Ragnow mostly played center the last two seasons but has played 15 career games at right guard as well and performed admirably. He has consistently been one of the better pass protecting offensive linemen over the past two seasons. In 2017, Ragnow didn't allow a sack or QB hit and only one single hurry on his 190 pass-block snaps. In fact, he has never allowed a sack in his four-year career. Ragnow was even more effective as a run-blocker — his 93.4 run-block grade ranks No. 2 among all FBS interior offensive lineman behind only Notre Dame guard Quenton Nelson. Ragnow's ability to play multiple positions on the offensive line at a high level in addition to his solid all-around game merits his inclusion on this list.
TE Dallas Goedert, South Dakota State
Goedert is a tremendous mismatch player in the pass game. Goedert is 6-foot-4 1/2 and a very lean 260 pounds — which makes him much bigger than safeties or cornerbacks who try to cover him — and he is too fast for linebackers to stay with him downfield. South Dakota State used his unique combination of size, strength, and athleticism in multiple ways as he played 454 snaps lined up at tight end, 190 snaps in the slot, 45 snaps out at wide receiver, 11 at fullback and three at halfback. Goedert can be used in the screen game or even be used on jet sweeps. As a receiver Goedert forced 12 missed tackles, generated 573 yards after the catch and his yards-per-route-run average of 2.94 ranks No. 1 among all draft-eligible tight ends. Goedert is a very effective run-blocker who can move people at the point of attack, but he can also be split out wide to be a deadly red-zone weapon.
[Editor's Note: The 2018 NFL Draft Guide is coming. For PFF Edge & Elite subscribers, a comprehensive guide featuring player profiles of signature stats, grades and exclusive PFF content will be released on February 26.]
WR D.J. Chark, Louisiana State
Chark can affect an offense in a number of ways. As a wide receiver, Chark has shown an ability to line up at multiple spots and produce. In 2017, Chark played 174 snaps at left wide receiver, 202 snaps at right wide receiver, and 143 snaps in the slot. Chark's 2.92 yards per route run ranks No. 18 among all FBS draft-eligible wide receivers. Chark showed he is one of the premier deep threats in the draft class as he had 14 deep catches — targeted 20 or more yards downfield — which tied him at No. 8 among all FBS draft-eligible wide receivers and his 572 yards by way of deep passes ranks No. 6 among FBS draft-eligible wide receivers. Chark also boasts four career rushing touchdowns and he can be used effectively on end-arounds. Chark also returned two punts for touchdowns in 2017. Chark showcased his versatility against the top draft-eligible talent at the Senior Bowl as he caught five of seven targets for 160 yards and one touchdown, including 65 yards after the catch. Chark also forced two missed tackles as a runner and made a special-teams tackle. Chark finished the game with an 85.6 overall grade.
RB Dalyn Dawkins, Colorado State
A productive workhorse for Colorado State, Dawkins may find himself moving positions at the next level to the slot. He's shown though that he can be a value-added slot player who can still take carries from the backfield in the same way Green Bay's Randall Cobb has or Percy Harvin did in the past. In his college career he has caught 71 of 95 passes thrown his way, breaking 16 tackles after the catch. He showed good hands and skills in space but has more than enough talent to handle carries as well and provide more value as a matchup weapon than he could as a pure receiver or running back only.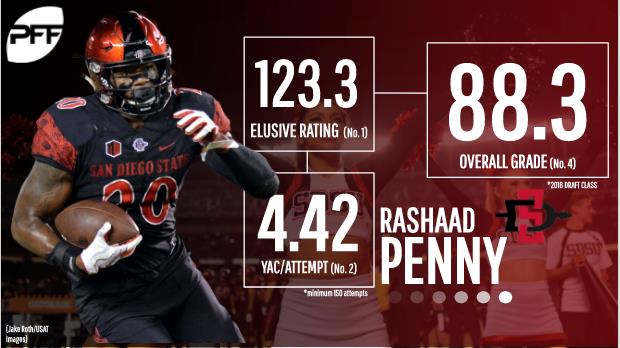 RB Rashaad Penny, San Diego State
Penny was one of the most explosive running backs in the nation in 2017 and few players were able to generate as much production on their own. Penny forced 86 missed tackles as a runner, which ranked No. 1 among all FBS draft-eligible running backs. Penny also generated a disgustingly high 4.46 yards after contact per attempt. Penny is a breakaway threat who had 35 runs of 15 or more yards, No. 1 among all FBS draft-eligible running backs. Penny played 32 snaps in the slot and nine snaps out at wide receiver, and showed during Senior Bowl week that he can be a factor in the pass game. Penny won 67 percent of his pass route one-on-ones during the Senior Bowl practices and during the game he had a 73-yard touchdown including 57 yards coming with his speed and ability after the catch. Penny can make an impact as a ball carrier, receiver, and returner. Penny is a deadly kick returner with seven career touchdown returns and a 29.7-yard average per return. Penny also had one punt return touchdown in 2017.
WR Keke Coutee, Texas Tech
Coutee is blessed with an excellent combination of speed and athleticism that shows up on the field on a weekly basis. He ranked eighth in the nation with 542 yards on deep passes last season despite tying for only 114th in deep targets. He was a dominant slot receiver for Texas Tech, ranking second in the nation with 1,088 yards from the slot and he has plenty of slot value at the next level. Unlike many slots, Coutee's speed allows him to be a vertical threat, yet he still has the quickness to win in the short game. That same athleticism should allow him to be a weapon in the jet sweep game or perhaps even on a handful of snaps out of the backfield. Throw in his ability as a potentially explosive kick returner, and Coutee has plenty of ways to make an impact at the next level.