Every year the crop of college players leaving for the NFL is more talented at one position than another, as last year's class was loaded across the secondary. This year it just so happens that the draft class is not only filled with talented linebackers, but some of the best overall defensive prospects in the class are these linebackers.
However, the importance of the linebacker position has diminished in recent years as NFL defenses have continued to play more and more with five or six defensive backs on the field. While the position is facing a reduced role overall, and that might shape how many linebackers get drafted, there will still be quite an evident youth-movement at the position in NFL training camps this summer.
Three-down linebackers
Roquan Smith, Georgia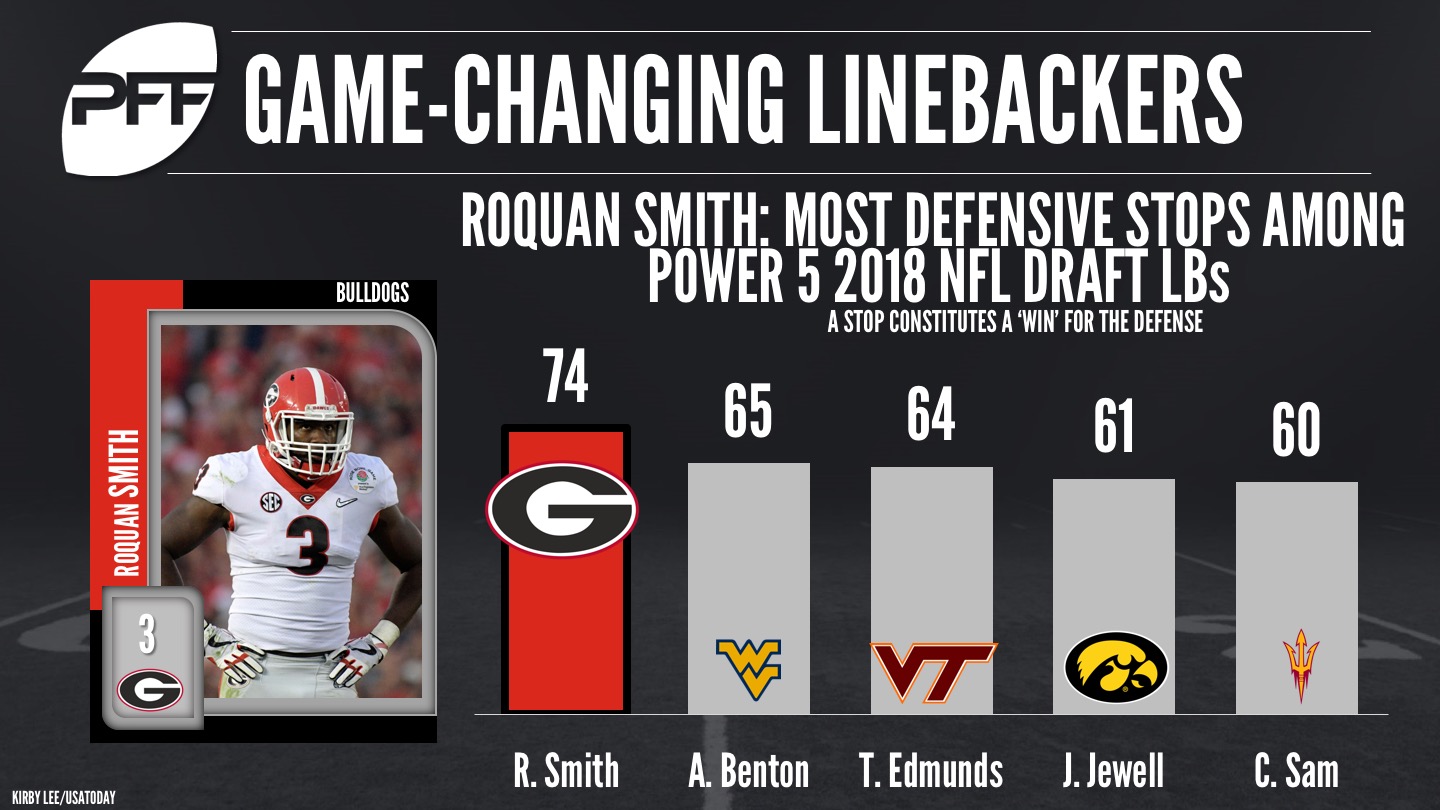 Smith is built in the traditional mold of a WILL linebacker at 6-foot, 225-pounds and is athletic enough to cover players in space and to chase run plays down like a weak-side linebacker. Smith also plays with tremendous stopping power to bring ball carriers to a complete stop while he has a keen ability to come up with key short-yardage run stops much like a middle linebacker. His 45 run stops tied him at No. 17 among all FBS draft-eligible inside linebackers, and Smith can also use his speed and athleticism to rush the passer, registering eight sacks, two QB hits and 12 hurries on just 54 pass-rushing snaps. His pass-rushing productivity rating of 28.4 ranked No. 2 among all FBS draft-eligible inside linebackers.
Smith was so consistently productive in 2017 that he graded positively in all 15 games he played. He is quick to diagnose the play and even quicker to the ball once he finds it, and this combination of recognition and athleticism will allow Smith to impact the game in a number of ways for his new NFL defense.
Tremaine Edmunds, Virginia Tech
Edmunds is a very unique linebacker prospect due to his age and sheer size. Edmunds won't turn 20 years old until May, which means he will only be 19-years-old when he is drafted and will play as a 20-year-old rookie. Edmunds also boasts throwback size for the linebacker position, as he is 6-foot-4, 250-pounds in an era where linebackers are playing in the 220-230 pound range. Edmunds has shown he can line up inside or outside and still produce at a high level. He uses his athleticism to cover ground quickly and can use his large frame to keep blockers at a distance as evidenced by his 46 run-stops which tied him at No. 9 among FBS draft-eligible inside linebackers.
Edmunds can also use his size and athleticism to rush the passer and had six sacks, four QB hits and 13 hurries on his 85 pass-rushing snaps in 2017. NFL front offices and defensive coaches are going to highly covet a player with the size, athleticism and youth of Edmunds as they will see a dynamic playmaker for years to come.
Leighton Vander Esch, Boise State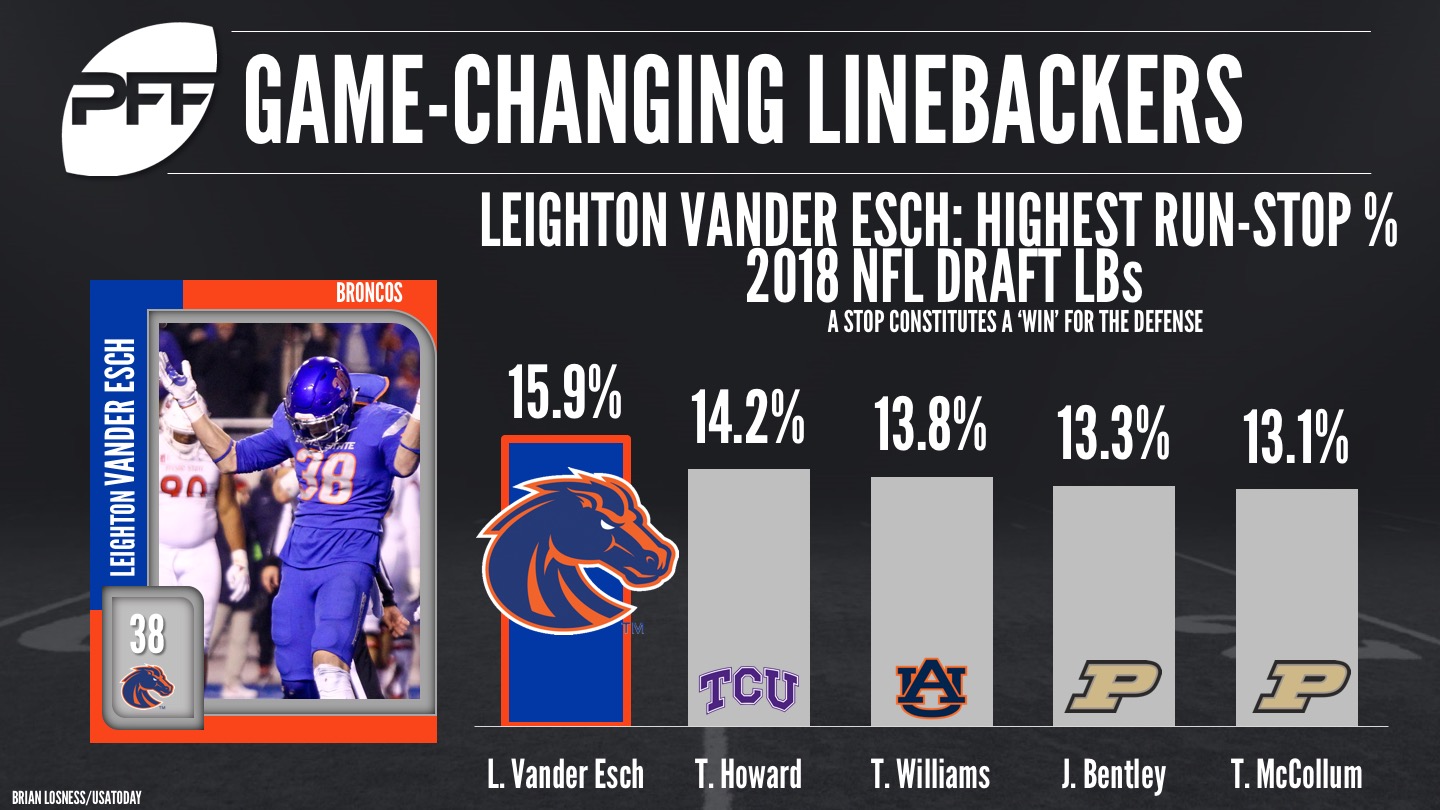 The first thing one notices about Vander Esch is his size — 6-foot-3, 240-pounds — and more specifically, his height combined with long arms gives him outstanding length for the position. Vander Esch can shrink second-level passing windows with his length and bat down passes to wide receivers he's not even covering. He also uses his long arms to defeat blockers and make difficult tackles in space. Against the run, Vander Esch has the eyes to find the ball and has a knack for sliding past blockers to make a run stop. Vander Esch had 57 run stops and a run-stop percentage of 15.9, both marks ranked No. 1 among all FBS inside linebackers. He uses his long stride to quickly cover ground on outside runs and is also a productive pass-rusher when asked, generating four sacks, two QB hits, 12 hurries and one batted pass on his 98 pass-rushing snaps.
Vander Esch can use his athleticism to make a quick lateral move around a blocker or he can use his strength to bull-rush a blocker and he's also very difficult for RBs to handle in pass protection.
[Editor's Note: The 2018 NFL Draft Guide is coming. For PFF Edge & Elite subscribers, a comprehensive guide featuring player profiles of signature stats, grades and exclusive PFF content will be released on February 26.]
Hybrids who can play off the ball, and rush from the edge
Shaquem Griffin, UCF
Griffin is only 6-foot, 223-pounds and will miss his share of tackles due to his lack of size and well-documented story of playing with only one hand, but he did reduce his number of missed tackles from 14 in 2016 to 10 in 2017. Griffin's athleticism gives him an edge against blockers, and his ability to be productive in a number of ways makes him a valuable player as he can play off-the-ball linebacker, rush the passer effectively and contribute immediately on special teams units. Griffin had seven sacks, eight QB hits and 38 hurries on his 237 pass-rushing snaps and his pass-rushing productivity of 16.9 ranked No. 3 among all FBS draft-eligible 3-4 outside linebackers.
Rashaan Evans, Alabama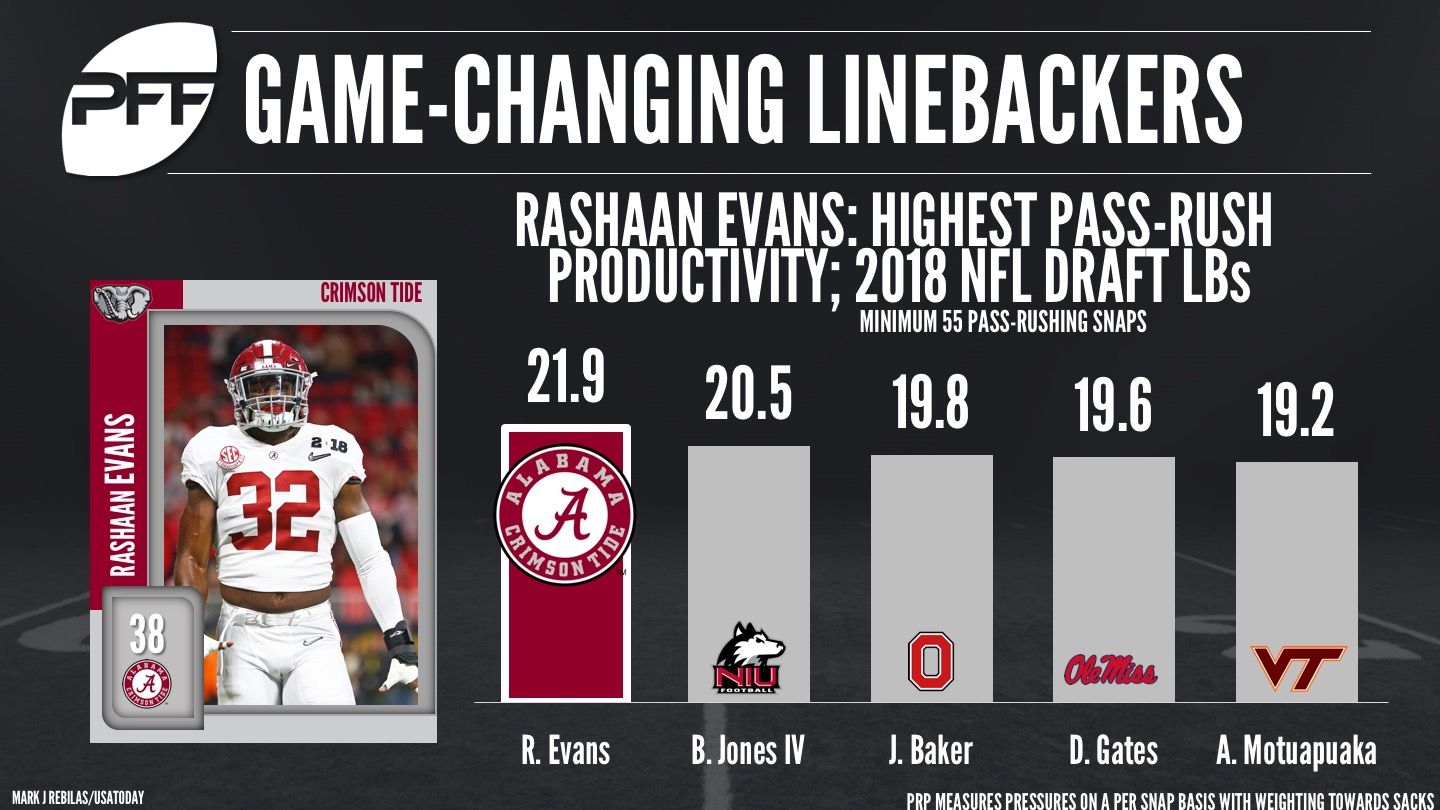 Evans is a relentless, physical presence on the second level who explodes into people on contact. While Evans is built more in the model of a traditional weak-side linebacker, he has shown the ability to also get after the passer both as a blitzer and rushing off the edge. Evans had six sacks, 10 QB hits and 13 hurries on his 106 pass-rushing snaps and his 21.9 pass-rushing productivity rating ranked No. 16 among all FBS draft-eligible inside linebackers.
Ogbonnia Okoronkwo, Oklahoma
At 6-foot-1, 243-pounds Okoronkwo is built more like an off-the-ball linebacker than an edge-rusher and NFL teams might choose to use him in that capacity to some extent. However, Okoronkwo is blessed with very long 34 1/2″ arms,which when combined with his low pad level allows him to get lower than his opponent and control him with one of his long arms while limiting the area for his opponent to strike him. Okoronkwo's athleticism and spin move also help him be a deadly pass-rusher. Okoronkwo had 10 sacks, six QB hits and 30 hurries on 355 pass-rushing snaps and backed that up with a two-sack and five-hurry performance in the Senior Bowl.
Uchenna Nwosu, USC
Nwosu looked like an athlete playing football a bit in 2016 as the 6-foot-2, 245-pound defender would win with athleticism in his pass-rush even if he lost the initial hand battle with the offensive linemen. However, Nwosu worked on his craft and turned a strong spring into a dominant 2017 season. Nwosu generated 10 sacks, 21 QB hits and 30 pressures on his 417 pass-rushing snaps. While NFL teams might want to move Nwosu off-the-ball, his long 33 1/2″ arms and pass-rushing production indicate that he can survive on the edge in the NFL.