Two unlikely sources assisted Tariq Woolen as he begrudgingly switched from wide receiver to cornerback midway through his college career at UTSA — a FedEx delivery driver he met on Instagram and a copy of the "Madden NFL" video game.
---
Click here for more PFF tools:
Rankings & Projections | WR/CB Matchup Chart | NFL & NCAA Betting Dashboards | NFL Player Props Tool | NFL & NCAA Power Rankings
Best Bets Tool
---
Woolen has a chance to become the talk of the NFL scouting combine in Indianapolis, but his journey to this point has been circuitous, to say the least. With a rare combination of size and speed for a cornerback at 6-foot-4 and 205 pounds, Woolen can fly up draft boards if he's actually timed in the 4.2s or 4.3s – as has been speculated – when he runs the 40-yard dash in Indianapolis.
Woolen was not happy with the conversation that would eventually change his life for the better. UTSA head coach Frank Wilson approached Woolen in a meeting near the end of the 2019 season and asked him to consider switching from wide receiver to cornerback.
Woolen, a three-star recruit who was also pursued by current Carolina Panthers head coach Matt Rhule at Temple and Baylor, was built to play wide receiver. He played the position for the majority of his life, going back to PeeWee football when he fell in love with the offensive side of the ball because he ran fast, made plays and hated getting tackled. Woolen was a redshirt sophomore with track speed and zero history on defense when Wilson broached the subject of a position change, but he was also floundering in a below-average passing offense. Woolen had compiled just 24 catches for 263 yards and one touchdown in three seasons.
Still, Woolen fought the position switch to a comical extent.
"I was like, 'nah, nah, nah, nah.' I was denying it, denying it. You should've seen me," Woolen told PFF last week.
He considered transferring from UTSA, but eventually, he acquiesced — kind of.
"Basically he was like, 'How about this? If it helps the team, why wouldn't you try?'" Woolen recalled. "So I was like, 'I'll try it.'"
There were three weeks left in the season, and in the two weeks he spent learning an entire side of the ball he'd never played before, Woolen would try to sneak away from his fellow cornerbacks to try to run wide receiver drills. Coaches would pull him back over to the cornerback group, and he played 20 snaps in the final game of UTSA's 2019 season at his new position.
"I feel like I held my own a little bit," Woolen said. "They said Cover 1: follow the guy wherever he goes. Cover 3: just bail."
OUTSIDE THE BOX APPROACH TO TRAINING
Wilson was fired, and new head coach Jeff Traylor brought a new staff to UTSA. Woolen was given the option to play wide receiver or cornerback, and he surprisingly chose to stick with cornerback. However, the world was hit by a pandemic, schools closed and Woolen had to figure out how to continue learning to play it mostly on his own.
Thailand Pierce, an indoor football player who moved to San Antonio and was delivering packages for FedEx, saw a clip Woolen posted on Instagram and, on a whim, messaged him to ask if he wanted help training.
"Shoot, I never had a trainer in my life, so I was like, 'OK,'" Woolen said. "I'll try it since I just moved to cornerback."
They couldn't get on the UTSA football field, so they practiced defensive back drills in the outfield of the Roadrunners' baseball field. Pierce had Woolen working on off-man coverage and getting into his backpedal. And they ran — a lot.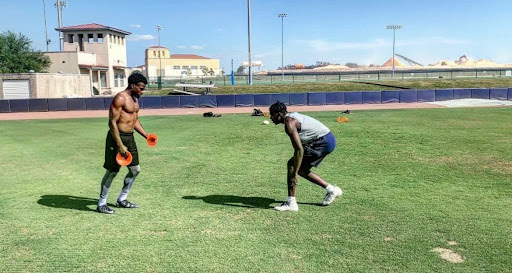 "He was one of the main guys who stuck around because a lot of people who train with me, they don't come back," Pierce, who currently lives in Montana, where he plays on the Champions Indoor Football league's Billings Outlaws, told PFF. "They complain, 'oh, you go too hard.' Tariq, he puts the work in."
In his spare time, Woolen learned coverages by playing "Madden NFL" on player lock. He created a cornerback who was 6-foot-4 and 205 pounds and controlled him on every snap, running the same plays as UTSA.
"So I'd get in Cover 4 on Madden, run some man, Cover 3, Cover 2, learning all the stuff," Woolen said.
When Woolen was able to get back around the team, his new cornerbacks coach Nick Graham, who spent three years in the NFL with the Philadelphia Eagles and Indianapolis Colts, continued the lessons beyond the console and UTSA baseball field.
"He understood that I was new to the position, and there were different ways to teach me and keep me understanding the defense," Woolen said. "He used to try his best to get me right so the game could be faster to me. Whenever we had meetings together he'd go on the board, show it on film and then he'd walk me through it when we got to the field and stuff like that. It helped a lot."
Woolen went on to start 16 games and appear in four more over the final two years of his college career while manning the new position. He allowed 25 catches from 42 targets for just 349 yards, three touchdowns, one interception and five pass breakups as a senior in 2021 while dealing with an arm injury. He allowed just 16 catches on 30 targets for 246 yards with three touchdowns, one interception and five pass breakups as a junior in 2020.
Subscribe to PFF Edge to continue reading
Already have a subscription? Sign In