This mock draft is another that focuses on playing general manager for all 32 teams rather than predicting what will happen on draft night. It's a great way to explore the draft from a different angle while considering the team-building strategy for each team. The goal is to create the best opportunity to win games for both the short and long term, so each pick is made through that lens, taking positional value and current roster construction into consideration. Here's a look at how I would draft as GM of every team in Round 1 of the 2020 NFL Draft.
*There's one trade included: the Dolphins move up to No. 2 while the Redskins add extra picks to move down in the first round. This is a move I would make as GM of both teams — it's a win-win proposition.
[Editor's note: Check out PFF's 2020 Mock Draft Hub, NFL Draft Big Board and NFL Mock Draft Simulator. PFF Elite subscribers can also download the 1,100-page 2020 NFL Draft Guide.]
The obvious pick for the Bengals, Burrow is the complete package of pocket presence and accuracy to all levels of the field. His 2019 season earned the highest grade we've given since 2014, and he has the best, most valuable, projection to the NFL of any player in the draft. Cincinnati takes its quarterback of the future.
Redskins receive: 5, 18, 39
Dolphins receive: 2
This is the only trade I'll allow because it's the only trade worth making as GM of both teams. The Redskins will maximize the value of their No. 2 overall pick by bringing in three extra potential starters, while the Dolphins properly use their extra draft capital to pick their quarterback. 
Tagovailoa comes with plenty of injury risk, but he has posted 90.0-plus passing grades in each of the past two seasons and has the downfield accuracy to efficiently move the chains at the next level. The injury concerns go beyond just the hip that ended Tagovailoa's season, but without having official medical records, we can only go on what we know. Tagovailoa looks like the second-best quarterback in this class and a tier above the rest of the remaining signal-callers. 
3.
Detroit Lions
—
CB JEFFREY OKUDAH, OHIO STATE
If the first two picks play out in real life, many will expect the Lions to rush to the podium to take Chase Young, and that may very well happen. However, our debate centers on our research that a good coverage player is more valuable than a great pass-rusher, even though it's easier to predict pass-rush success at the next level. In others words, it's easier to predict what Young will become, and he looks like he'll be great. But even if Okudah isn't as good of a player, he'll add more to the Lions' defense. Considering that the Lions play as much man coverage as any team in the league and Okudah would pair with Desmond Trufant and Justin Coleman, this is the right move. Okudah has the size, movement skills and ball skills to be a top-tier corner in the NFL.
4.
New York Giants
—
EDGE CHASE YOUNG, OHIO STATE
The Giants need playmakers all over the defensive side of the ball, so they're happy to take Young, whose 96.1 overall grade last season is the highest we've seen since college grading started in 2014. Young wins with athleticism and technique, a combination that translates well to the next level. He had a ridiculous 56 pressures (18 sacks, seven quarterback hits, 31 hurries) on just 320 rushes last season.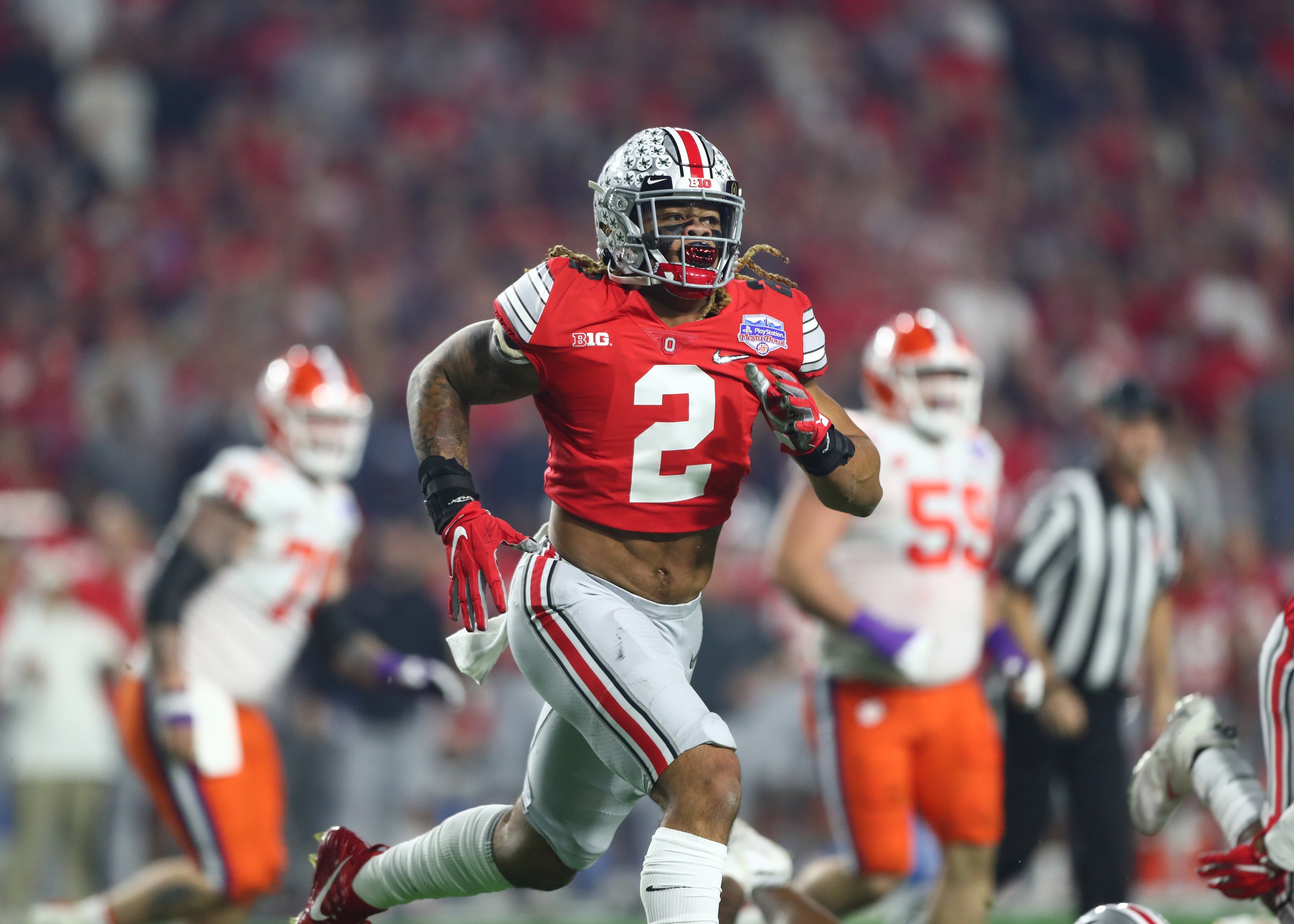 While Washington traded down and passed up on Young, they may come out of the draft with three or more starters — and that's a win from a team-building standpoint. Thomas is the top offensive tackle on our board, and he can step in at left tackle after a presumed trade of Trent Williams. Thomas is the best combination of pass- and run-blocker in the draft, as he is the only tackle in the class to rank in the top three in both departments last season (89.0 pass-blocking grade, 91.4 run-blocking grade).
This is one of the pivot points in this particular draft, as the Chargers have an obvious need at quarterback, but No. 6 overall may be too rich for any of the remaining options. In this iteration, we'll take the best remaining tackle on the board in Wirfs, who played both left and right tackle at a high level at Iowa and finished with the No. 4 overall grade in the nation last season (91.4).
One of my favorite pairings in the draft, Simmons adds a much-needed playmaker to Carolina's back-seven, especially with the retirement of future Hall of Famer Luke Kuechly. Simmons was active all over the field for Clemson, grading well in the slot, in the box and even at free safety when asked to play deep. His best role may be early-down strong safety and nickel/dime linebacker who can fill a game-plan specific role every week. 
While the receiving options are intriguing for the pass-happy Cardinals, adding DeAndre Hopkins this offseason makes it much easier to focus on getting the offensive line back to an average unit. Wills is an outstanding run blocker and is explosive in everything he does. He played right tackle at Alabama, and he'll do the same for the Cardinals with D.J. Humphries on the other side. 
The pass game should be the focus on both sides of the ball for the Jaguars, and Jeudy provides a strong route-running complement to D.J. Chark on the other side. Jeudy can dominate in the short and intermediate game from the slot while possessing enough speed to stretch the field and put defenses in a bind. 
While offensive tackle is the obvious need, we're playing the board in this particular draft. Our top three tackles are off the board, and there should be a reasonable option available early in the second round. Lamb is too good to pass up, as he's the most complete receiver in the draft, capable of winning on the outside in the vertical game while also showing excellent after-the-catch acumen. I firmly believe in teams trying to get to at least four deep at receiver, and Lamb combines with Odell Beckham Jr. and Jarvis Landry to form one of the league's best trios.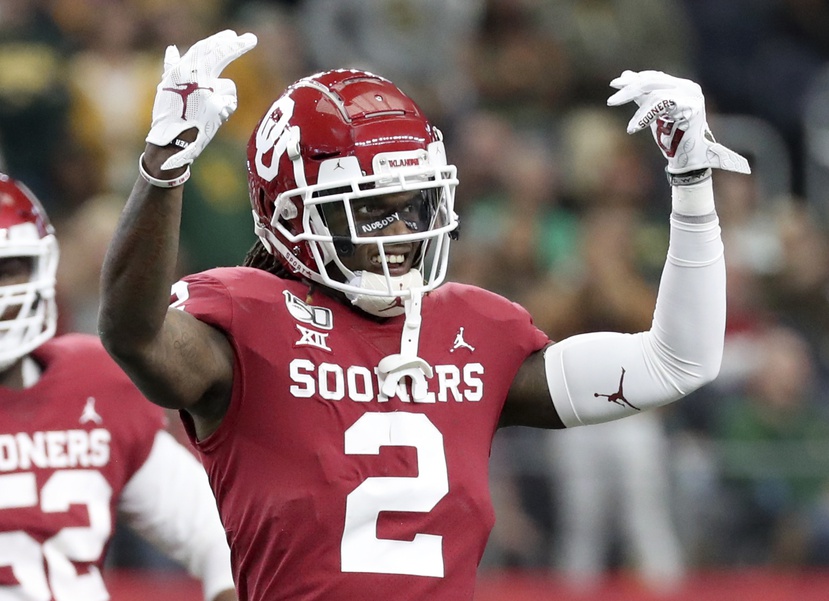 11.
New York Jets
—
OT JOSH JONES, HOUSTON
The Jets are in a very similar situation to the Browns, as they would love a tackle but could also use playmakers. This is another situation where we're playing the board — the top two receivers are gone, but Jones is a capable pass blocker and the lone tackle in the class to finish in the top three in the run game on both gap and zone runs. New York should have viable receiving options to look at early in the second round.
This is another situation where the best cornerback or wide receiver makes the most sense. I love Lamb for the Raiders, but he's off the board. Meanwhile, Fulton is the No. 2 corner on the PFF draft board. He has exceptional zone skills to go with sticky man coverage ability, all leading to him forcing an incompletion on 27.4% of targets over the past two years, best in the draft class. Fulton can step right in as a starter opposite Trayvon Mullen.
This is a difficult debate between Henderson and Henry Ruggs III, especially given Ruggs' speed in Kyle Shanahan's offense. However, Henderson could be a dominant player in San Francisco's scheme. He has good eyes in off coverage and the size and movement skills to stick with receivers in man coverage. Henderson is one of the most athletic corners in the draft, and it shows up at the catch point where he's broken up 21.8% of his targets over the past two years — 11th-best in the class. He provides starting competition at right corner and an eventual successor to Richard Sherman on the other side.
The Buccaneers would love to grab one of the top tackles, but Ruggs' field-stretching ability is too difficult to pass up. Tampa Bay is another team that is strong at receiver but should be looking to add even more playmakers to help new quarterback Tom Brady. Ruggs has DeSean Jackson-like potential, and his legit 4.2 speed complements big-bodied Mike Evans and Chris Godwin to form an outstanding top three. 
15.
Denver Broncos
—
DI JAVON KINLAW, SOUTH CAROLINA
Receiver or cornerback would have been great here, but the Broncos go with the top interior pass-rusher on the board in Kinlaw. He brings length and explosiveness to the defensive front to go with an excellent tackle radius in the run game. Last season, Kinlaw had the No. 2 pass-rushing grade (90.7) and the No. 1 pass-rushing win percentage (18.1%) in the draft class. 
We're going a little bit down the PFF draft board, but Johnson fits Atlanta's scheme while filling a dire need to upgrade at cornerback. Johnson has good size and catch-point awareness as he plays through the receiver's hands to break up passes. He allowed just four catches on 10-plus yard throws last season.
This is an example of not drafting for just this season, as the Cowboys have four-fifths of their projecting starting secondary in the last year of their respective contracts. Delpit is rangy when lined up as a deep safety, and he can cover tight ends in man — something that is extremely useful when going up against the Eagles and Giants in the NFC East. His 36 missed tackles over the past two years are an obvious concern, but few safeties in the draft can make an impact on the back end like Delpit.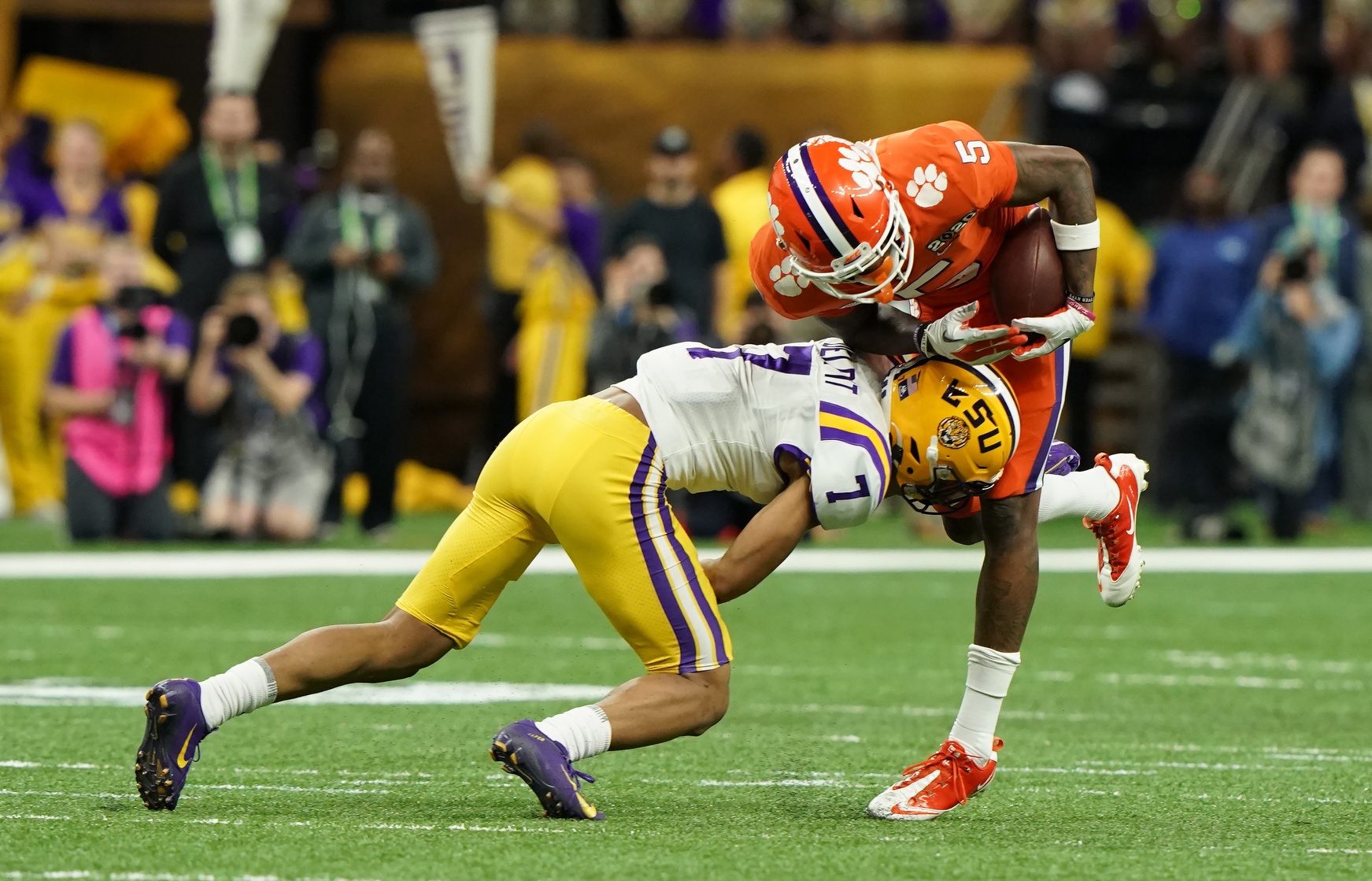 The Redskins walk away with another excellent offensive player in the first round. This time, it's Reagor, who brings an explosive vertical threat to complement Terry McLaurin on the other side. Reagor accelerates as well as any receiver in the class, helping him get on top of cornerbacks and into the secondary in a hurry. He also plays big at the catch point, hauling in an impressive 46.0% of his contested targets over the past two years. Washington passed up on Chase Young but added two valuable pieces with one more extra pick to go in the second round
The Raiders need any kind of offensive weapon, and Shenault brings size and running back-like after-the-catch ability. His short-area quicks and acceleration make him a threat on designed touches. He can also contribute in the slot and on the outside with his sure hands and good ball skills. Shenault does come with injury concerns, but when healthy, he's a potential steal in the first round. The Raiders should be happy with him and Fulton as their Round 1 haul.
OK, I passed on Herbert quite a bit, but this strategy centers around taking shots at the quarterback position — especially when playing with extra draft capital. Gardner Minshew exceeded all expectations as a sixth-round rookie, but he's not locked in as the long-term starter. Herbert is worth a look, as his velocity can flip the field in a hurry, but he's slow to process and his short-area accuracy needs work. However, there's always uncertainty when it comes to quarterback evaluation, and the Jaguars taking one with their second first-round pick is a worthwhile gamble.
Even with J.J. Arcega-Whiteside in the mix, Higgins adds value as an outside threat with the best catch radius in the draft. Higgins runs the vertical route tree well, and his game meshes well with Carson Wentz's intermediate and downfield aggressiveness. While Higgins doesn't separate as well as other receivers in the class, he's more than just a contested-catch phenom. He had the seventh-best receiving grade in the class when targeted in single coverage in 2019.
Minnesota's cornerback corps is depleted, but it adds Gladney — a battle-tested Big 12 corner with size, speed and man/zone ability. He can press and run with the speediest of receivers and allowed just a 47% completion rate in the pass-heavy Big 12. The Vikings would love to restock at cornerback and receiver in this draft, and this is a great start.
Brown may be off the board much earlier in the real draft, but with so many pass-game playmakers, he's tough to justify at the top of the draft. That said, Brown is a powerful interior run defender with push-the-pocket ability, just not at the level you'd like to see from an interior player. New England is obviously in the quarterback market, but in this trade-free iteration, they play the board and take a player who they'll make the most of along the defensive front. 
Even with Emmanuel Sanders added to the mix this offseason, the Saints can still use a vertical threat to complete their pass game. Mims ran a 4.38-second 40-yard dash at the Combine at 6-foot-3, 207 pounds — part of his offseason domination that included one of the best Senior Bowls of any prospect. If the Saints are going to maximize Drew Brees' last Super Bowl opportunities, it's going to come through the ability to win through the air at all levels of the field. Mims helps accomplish that, adding the size/speed combination to keep defenses on their heels.
While the Vikings would love to add a receiver here, there's been a big run in this particular mock draft. They fill another need with one of the draft's best interior pass-rushers in Elliott. He flies off the ball and plays with good pad level and hand usage, all adding up to the best pass-rushing grade (91.1) in the class of interior defensive linemen last season. Put Elliott at 3-technique lined up over the guard and let him penetrate into opposing backfields.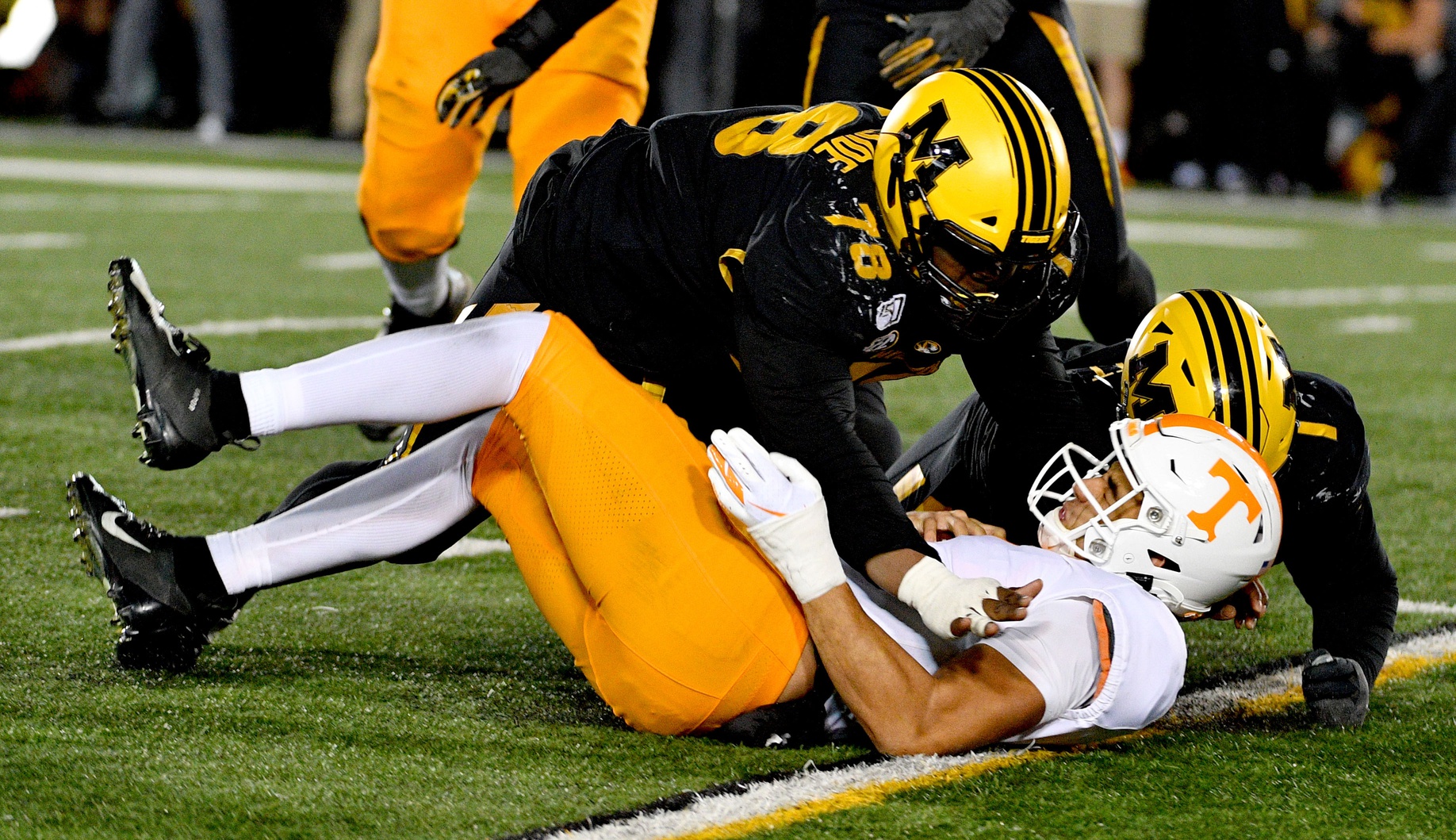 The Dolphins go back to Alabama, this time adding McKinney, who is a versatile defensive weapon. He has the footwork to cover the slot and is also adept at covering tight ends or playing in a more traditional free safety role. McKinney had an excellent 89.2 coverage grade last season. Brian Flores can use him in a Patrick Chung-like role as a game-plan driven chess piece. 
27.
Seattle Seahawks
— EDGE JULIAN OKWARA, NOTRE DAME
Okwara has a fantastic combination of burst, length and power, and the Seahawks might like Mike Renner's Chris Clemons comp from the PFF draft guide. Okwara has the movement skills to dabble at linebacker in the right scheme, but he's likely a pure edge rusher for Seattle. He finished with an outstanding 90.4 pass-rush grade last season, though he's got work to do against the run where he graded at just 64.0. 
Okwara would have been a great fit for Baltimore's defense, but Queen also fits the mold as a playmaking linebacker with safety-like movement skills. He has played just 1,035 snaps in his college career, but he broke out with an 82.0 coverage grade as he showed off his range in both the pass and run game. The Ravens will make the most of Queen's skillset. 
I strongly believe that teams should be accumulating as many playmakers as possible, and that is the best way for the Titans to maximize their investment in Ryan Tannehill. There's a forward-thinking approach to this pick as well: Corey Davis may not be around in a year, and Jefferson steps into his role as a high-volume possession receiver to complement the explosive A.J. Brown on the other side. Jefferson is an outstanding slot receiver with outside potential and is a short and long-term win for the Titans, who must surround Tannehill with receivers who can get open at every level of the field.
While Epenesa doesn't have the bend and explosiveness of elite edge rushers, he's similar to the Detroit Lions' Trey Flowers in that he wins with power, length and excellent hand usage. He can handle duties on the inside as well, bringing a versatile piece to Green Bay's defensive front. Epenesa finished with a strong 87.8 pass-rush grade last season after a 90.4 mark in 2018.
Head coach Kyle Shanahan knows how to put playmakers in space and will have a great plan for Aiyuk, who is explosive and averaged a ridiculous 9.9 YAC/reception in his college career. Aiyuk is not a fit for every team in the first round, but his route-running and after-the-catch ability complement the already-fast 49ers playmakers and Deebo Samuel's versatility on the other side. 
32.
Kansas City Chiefs
— EDGE CURTIS WEAVER, BOISE STATE
Weaver may not be for everyone, but it's tough to argue with his production in college. He wins with technique over explosiveness and has the ability to win from the interior, if necessary. Weaver posted impressive pass-rush grades of 92.8 in 2018 and 92.4 last season, and while he's not the flashiest pick for the Chiefs, he should add a steady pass-rush presence in the coming years.