"One of the best pure hitters" entering the 2019 NFL Draft, per PFF's Steve Palazzolo, Mississippi State safety John Abram plays the game with mean intentions. While he stands at just 5-foot-11, 205 pounds, Abram is a head hunter who's always looking to put guys down with force.
And NFL teams are in love.
"My intensity and how I play," Abram said in a March interview with Pro Football Focus when asked what teams like about his game, "setting the pace for the other guys. And everybody loves that I don't turn away from contact.
"A lot of guys don't want to be hit, so I just try to give guys what they don't want. I try to play the game that way more than anything."
Abram's best play comes when he's lined up in the box, where his physicality and explosiveness can be put on full display in coverage, rushing the passer, and against the run. He earned impressive 81.4 and 83.1 pass-rush and run-defense grades, respectively, across his 550 defensive snaps in the box a year ago. His box-pass-rush grade leads all safeties in the class, and he also led the group in pass-rush win percentage (21.6%), ranked second in pressure percentage (33.3%) and tied for first in total pressures (17).
Teams have told Abram that slot cornerback and strong safety are among the positions they'd like to play him at in the NFL.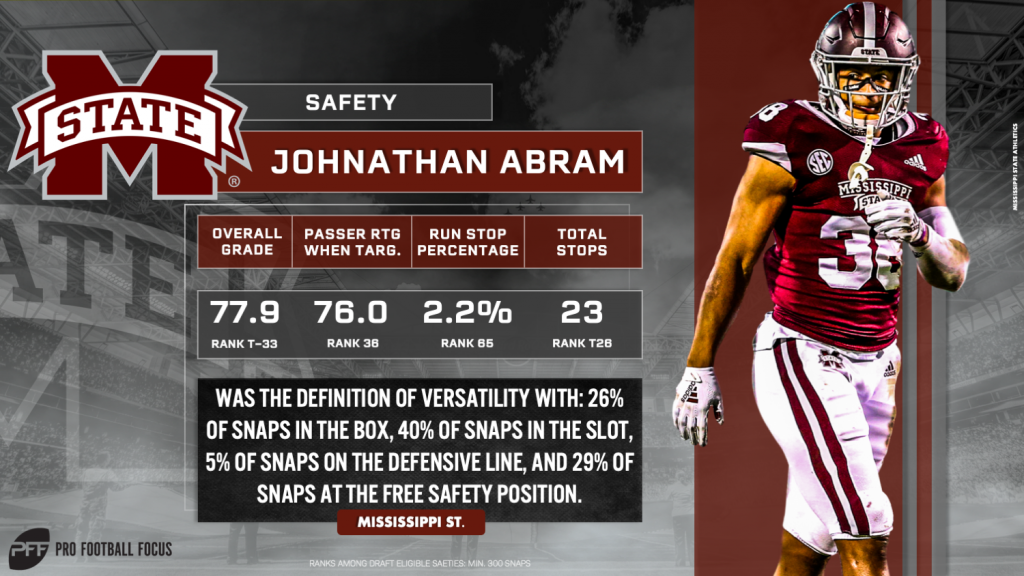 His closing speed and physicality come up a lot in his tape, and Abram put an exclamation point on his absurd range and burst with his performance at the 2019 NFL Scouting Combine. His 1.48s 10-yard split tied for fourth among all participating safeties of 205 pounds or more since 2003, and his 4.45s 40-yard dash ranks inside the top 30 among the same group of safeties.
With the Combine now in the rearview mirror, Abram has moved away from combine prep and onto more applicable drills to improve his play on the field. He's working with Clay Mack, a skill and technique instructor that specializes in defensive backs and linebackers, to clean up his footwork and be more efficient with his movement. 
"I need to clean up a lot of footwork, angles to the ball, securing my tackles a little bit more, getting my head across, keeping my head up, things like that," Abram said.
Abram already has the edge over other defensive backs with his natural athleticism and speed, but refining his movement skills and footwork should take his game to the next level and add to his hit list in the NFL.