With seven weeks in the books of the college football season, and a bevy of talk of draft-eligible quarterbacks on a week-to-week basis, we at PFF shift the focus those players who's job it is to defend against quarterbacks. Cornerbacks are measured often times on the amount of interceptions they obtain over the course of a season, however with the advanced PFF coverage statistics at our hands, we take it a bit further than just interceptions. These 2018 draft-eligible cornerbacks have defended against the pass the best, in terms of passer rating when targeted through seven weeks of the NCAA season:
1. Levi Wallace, Alabama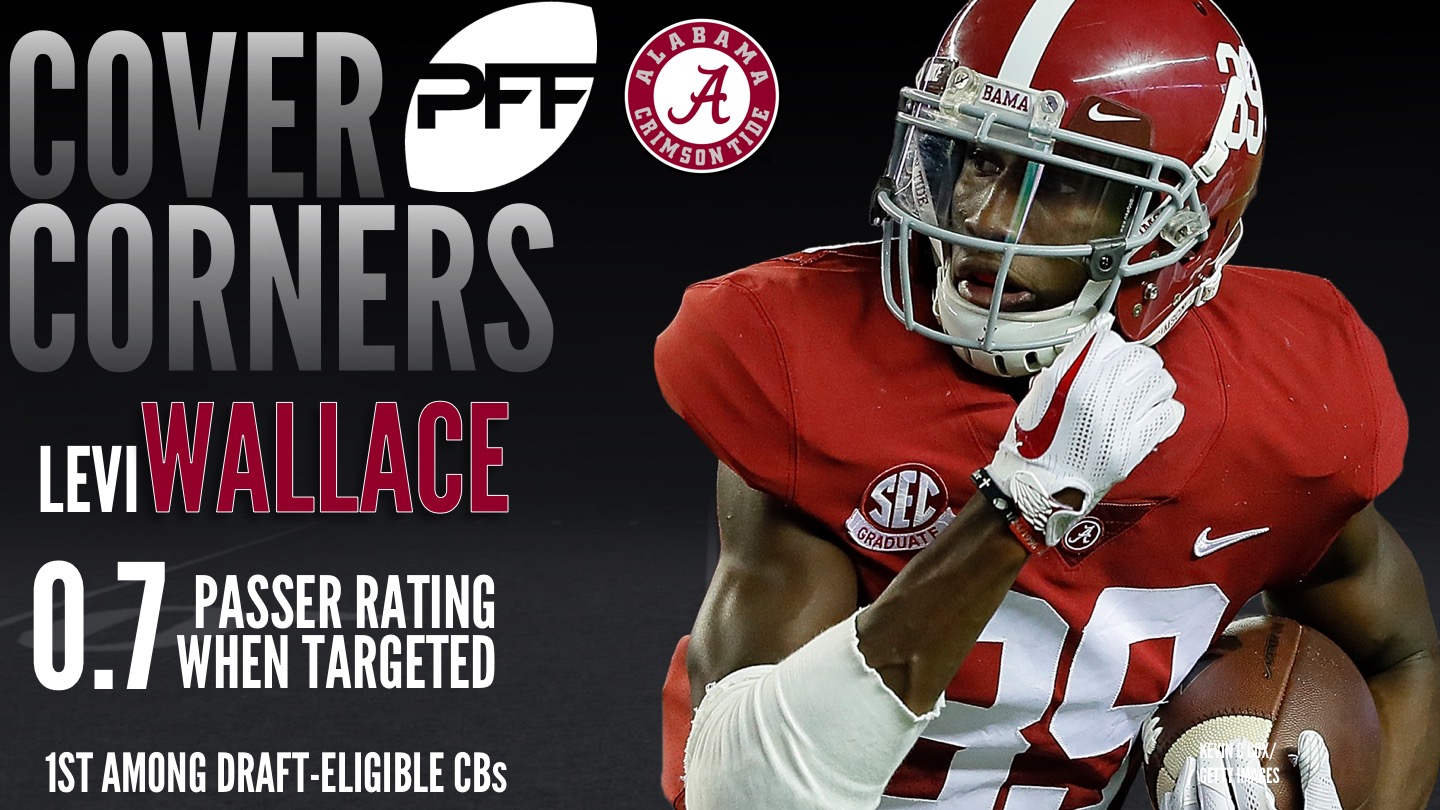 Coverage snaps/completion %/passer rating: 206/29.0%/0.7
Alabama always has physically-gifted and technically sound cornerbacks and this year is no different. Wallace predominantly lines-up on the left side of the Alabama defense and has an impressive coverage stat line of only nine catches on 30 targets for 95 yards with three interceptions. Most impressively however, is Wallace's impact on a quarterback's performance as the passer rating when throwing into Wallace's coverage is what appears to be a typo at only 0.7, a mark which ranks him No. 1 among all FBS draft-eligible cornerbacks and a firm hold at the top of this list.
2. Grant Haley, Penn State
Coverage snaps/completion %/passer rating: 164/38.1/6.7
Haley plays both outside and in the slot for the Nittany Lions and has produced in both areas. Haley has only allowed eight catches on 21 targets for 58 yards and two interceptions. Haley has been one of the premier slot cornerbacks in FBS in 2017 when he is inside. Haley has been lined up in the slot on 57 of his 164 coverage snaps this season and has only given up two catches on eight targets. Haley's best games of the year came against Pitt where he only allowed one catch but snagged an interception as well.
3. Mazzi Wilkins, South Florida
Coverage snaps/completion %/passer rating: 228/30.0/18.4
Wilkins stood out to us immediately Week 1 against San Jose State when he gave up no receptions on seven throws into his coverage while picking one pass off and breaking up two others. His dominance has continued throughout the season, as he has given up just 12 receptions on 40 throws into his coverage with three picks and nine break-ups. While he needs to add weight to his frame, he uses his length well and has the explosive instincts to continue his play-making ways at the next level.
4. Nate Meadors, UCLA
Coverage snaps/completion %/passer rating 175/33.0/25.0
Meadors has played in seven games for the Bruins this year and in three of those games he didn't even allow a single catch. For the year, Meadors has only surrendered seven receptions on 21 targets for 65 yards and hasn't allowed a touchdown. He hasn't collected his first interception on the season yet but has managed to break up four passes. Only twice this season have opposing quarterbacks had higher than the baseline 39.6 passer rating when throwing into Meadors' coverage area. Meadors has improved his coverage ability and stat line every year at UCLA, he is trending in the right direction at the right time.
5. Kyzir White, West Virginia
Coverage snaps/completion %/passer rating: 137/57.9/27.0
White's spot so high on this list is impressive because he is listed as a safety by West Virginia, but plays most of his snaps in slot coverage. White has played 101 of his 137 coverage snaps lined up in the slot covering a wide receiver with plenty of room to operate. On the season, White has only allowed 11 catches on 19 targets for 74 yards and three interceptions. The passer rating when throwing into White's coverage on the year is 27.0 but when he is in the slot it is still only 34.6.

Subscribe to PFF Edge to continue reading
Already have a subscription? Sign In