The 2019 NFL Draft class is full of playmakers at the various skill positions and in the defensive secondary while also having two marquee players (Ed Oliver, Dexter Lawrence) along the defensive interior. We've taken quick looks at those running backs, wide receivers, cornerbacks and even offensive linemen this offseason – but what about those linebackers tasked with some of the harder assignments in college football?
Off-ball linebackers at the college level are often tasked with such arduous tasks as covering big-framed tight ends, stuffing the run against big-bodied running backs, rushing the passer or closing in on shifty slot receivers all while manning the second-level of the defensive front. Oftentimes, these linebackers also make the play calls on defense while already being tasked to do so much as is.
Our signature stats for linebackers are numerous as we essentially break down all the aforementioned tasks that are asked of linebackers. For sake of this quick look, we'll take a look at run-stop percentage, pass-rushing productivity, tackling efficiency and a linebacker's passer rating when targeted.
Run-Stop Percentage
A stop is classified as a 'win' for the defense, essentially any tackle that limits the offense to half the yards to gain on first down, over half the yards on second down and then either no first down or touchdown on third and fourth down. Kansas' Joe Dineen Jr. led all linebackers a season ago with his ridiculous 53 stops in run defense alone while he finds himself ranked 11th in run-stop percentage among returning draft-class LBs.
Northwestern youngster Paddy Fisher finds himself atop the list of run-stop percentage after his remarkable first season of play time for the Wildcats. After a redshirt year in 2016, Fisher burst onto the scene for Northwestern by racking up 46 stops in run defense on just 292 snaps – good enough for a 15.8 percent run-stop percentage. Notre Dame LB Te'von Coney hauled in 45 run stops on 293 snaps while Troy LB Tron Folsom missed just two tackles in run defense a season ago while he brought in 34 stops.
Other notables: Tuf Borland, Ohio State (12.7% – 13th), Joe Giles-Harris, Duke (12.3% – T-17th), Ryan Connelly, Wisconsin (12.2% – T-19th), Cameron Smith, USC (11.8% – 27th), Ben Burr-Kirven, Washington (11.2% – 31st)
Pass-Rush Productivity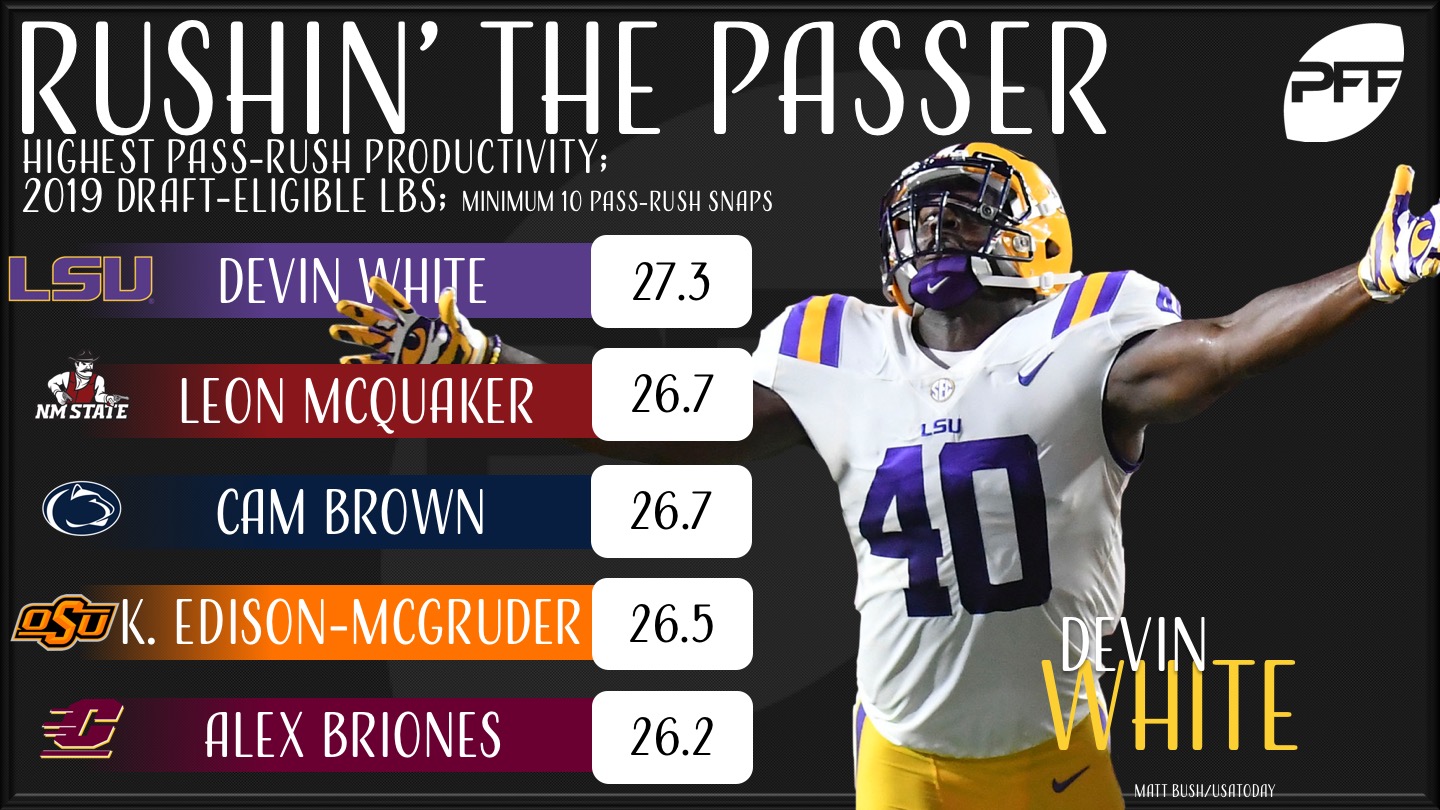 While pass-rushing is not often asked of off-ball linebackers, it is still a skill coveted as it is typically hard to defend against from an offensive standpoint and is usually seen on blitz packages. LSU LB Devin White was a menace when asked to rush the passer last season, racking up 30 total QB pressures on just 86 pass-rush attempts.
To put that into perspective, White tied with Colorado LB Drew Lewis for most pressures by an off-ball linebacker, yet White rushed the passed 38 fewer times than Lewis did to accumulate 30 total pressures. His 27.3 pass-rush productivity leads all draft class linebackers. New Mexico State's Leon McQuaker recorded 15 pressures on just 44 pass-rush snaps to come in second while Penn State's Cam Brown brought in 10 pressures on a mere 29 pass-rushes.
Other notables: Khalil Hodge, Buffalo (24.4 PRP – 9th), Chase Hancock, Marshall (21.5 PRP – 15th), Fisher (21.4 PRP – 16th), Devin Bush, Michigan (20.9 PRP – T-21st), Markus Bailey, Purdue (19.5 PRP – 30th)
Tackling Efficiency
Tackling is arguably the most important ask of a linebacker. If an off-ball linebacker misses a tackle, odds are that player is scampering into the secondary and into the last line of the defense with momentum vaulting the linebacker's ability to tackle to levels of utmost importance.
The total number of snaps a linebacker spends on the field is our typical filter to showcase our signature stats, however for tackling efficiency, it's imperative to look at the entire body of work which includes total tackle attempts against missed tackles. That being said, Vanderbilt's Jordan Griffin attempted 73 total tackle attempts a season ago and missed just two of them to record the highest combined tackling efficiency figure among the qualified 2019 NFL Draft class linebackers.
Perry Young from Cincinnati also had a tremendous year bringing down ball carriers as he attempted 95 total tackles and missed just three of them. Young did not miss a single tackle in pass defense while 10 of his 21 total tackles in against the pass were recorded as stops. Michigan LB Devin Bush was also a sure tackler, missing just three attempts on his 91 total tackle attempts a year ago.
Other notables: Anthony Wheeler, Texas (two missed tackles, 46 tackle attempts), Chris Moore, Virginia (two missed tackles, 44 total tackle attempts), David Reese, Florida (six missed tackles, 101 total tackle attempts)
Passer Rating when Targeted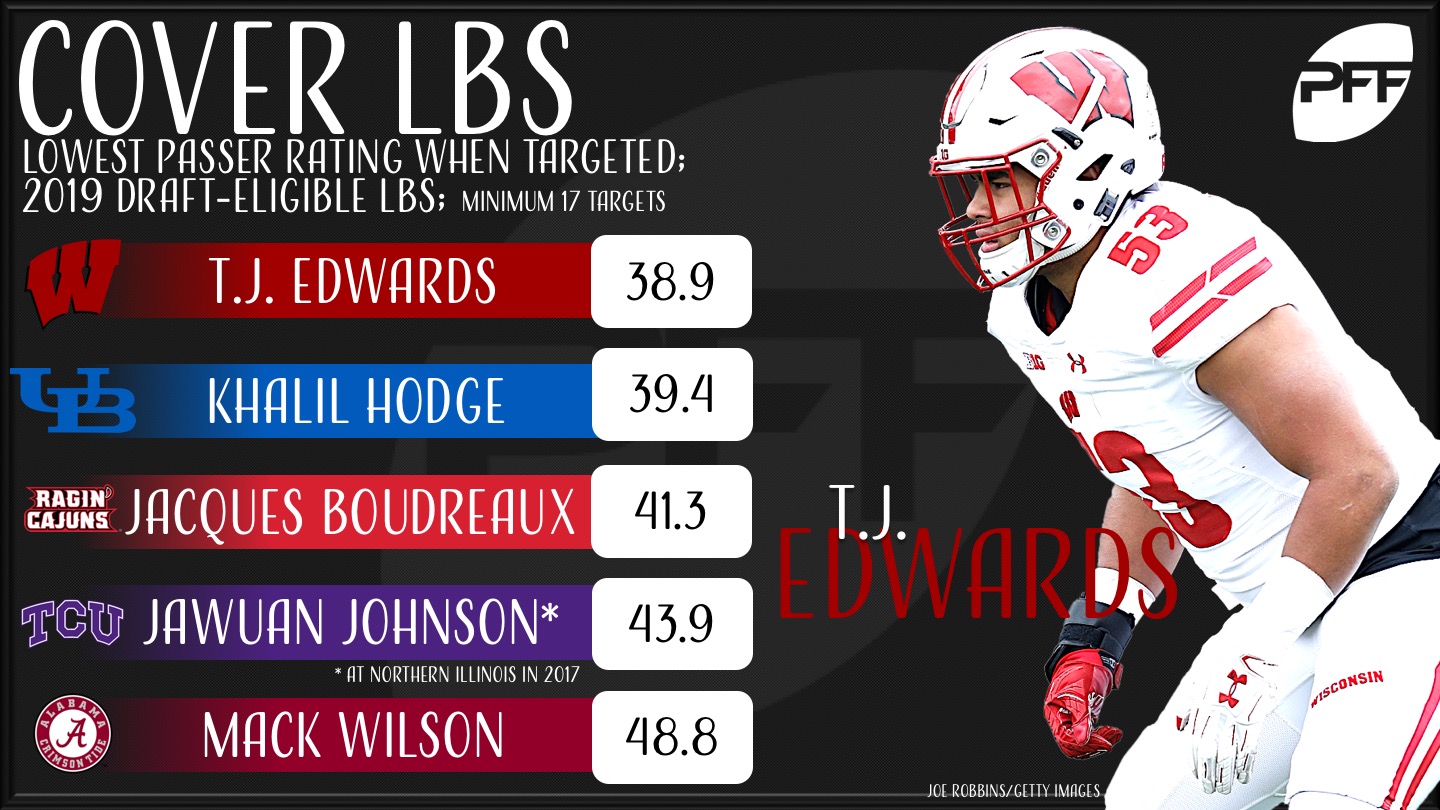 157 draft-eligible, off-ball linebackers saw 17 or more targets in their primary coverage last season. No one of them fielded a lower passer rating on such targets than Wisconsin LB T.J. Edwards who limited opposing quarterbacks to just a 38.9 passer rating into his coverage. That figure is lower than if the opposing quarterback would have spiked the ball on every play instead.
Edwards was targeted 41 times, allowed 28 receptions for just 192 yards and intercepted four passes while breaking up another six. He led all off-ball linebackers in total plays on the ball last season with 10. He did not allow a reception of longer than 19 yards all season long and was stingy against the run to boot.
Buffalo LB Khalil Hodge finds himself second on this list, recording a 39.4 passer rating on throws into his coverage, also lower than if the quarterback threw an incompletion on every pass. Hodge was targeted 24 times and allowed 14 receptions while intercepting two and breaking up two more.
New TCU linebacker Jawuan Johnson (transfer from Northern Illinois) recorded a 43.9 passer rating into his coverage last year with the Huskies. He saw 45 targets, allowing just 28 receptions and brought in five interceptions to lead the group of FBS linebackers last year.
Other notables: Dakota Allen, Texas Tech (55.9 passer rating, 8th), Germaine Pratt, NC State (57.3 passer rating, 9th), Joe Bachie, Michigan State (59.2 passer rating, 11th)