With the 2018 NFL Draft now just a touch over a week away, the Pro Football Focus analysis team makes a selection for all 256 picks, all seven rounds for every team. To accomplish this, we've assigned each analyst a team (with the exception a couple of teams who share a GM). We're making our picks for the first two rounds live and will ultimately reveal our selections for Rounds 3–7 on Wednesday of this week.
Be sure to follow all the action on Twitter (@PFF).
[Editor's note: this mock draft is what our individual analysts would do if they were GM of each team and sees draft day trades that included this year's picks and rumored players on the trading block only. This draft started before the transactions of Dez Bryant and C.J. Anderson as well as before the news of Reuben Foster's rising legal troubles.]
1. Cleveland Browns
Baker Mayfield, QB, Oklahoma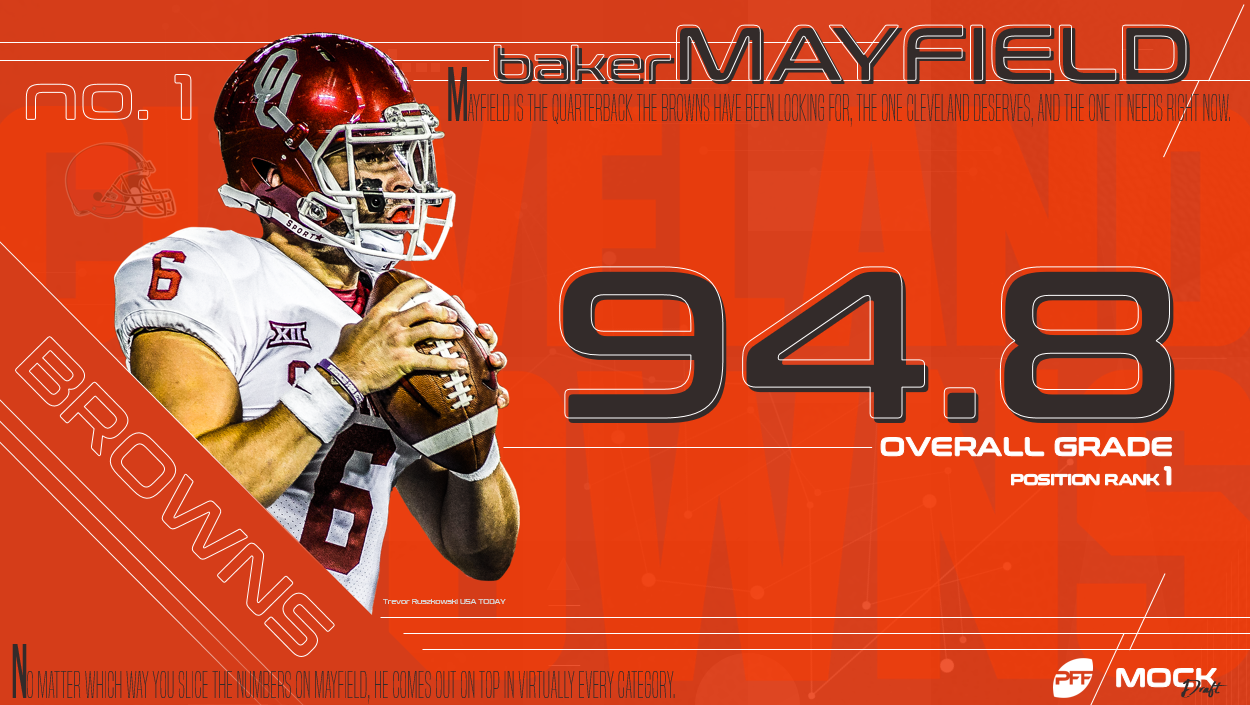 The No. 1 overall player on the PFF Big Board makes this selection a no-brainer. No matter which way you slice the numbers on Mayfield, he comes out on top in virtually every category. Some might question his system but he rises to the top when you look at just the "NFL throws" he had to make at Oklahoma. Too many open Sooner receivers inflating his stats? He was the most accurate on tight-window throws – eliminate that narrative. For the sake of allowing the other teams to give their explanations, no more reasons need be given. Baker Mayfield is the quarterback the Browns have been looking for, the one Cleveland deserves and the one it needs right now. – John Kosko, @PFF_JohnKosko
2. New York Giants
Sam Darnold, QB, USC
The second overall pick doesn't come around often and in today's NFL, it is paramount to have a quarterback. While no player is a sure thing, the only way to hit is by taking chances and the opportunity to take the No. 2 overall player on the PFF big board was too good to pass up. Davis Webb may be a capable starting quarterback, but the final nine weeks of his final college season (graded 142nd – last among FBS quarterbacks) didn't indicate a sign of good things to come. Darnold has shown the ability to carve up the middle of the field with anticipation, he ranked second in grade at the intermediate level in 2016. Darnold's big-time throw percentage of 6.8 percent in 2017 ranked second only behind Mayfield. – Gordon McGuinness, @PFF_Gordon
3. New York Jets (from Indianapolis)
Josh Rosen, QB, UCLA
The Jets traded up to No. 3 for a reason: to secure a potential franchise quarterback. "Chosen" Rosen possesses many traits that make up a successful NFL signal-caller, one being his prowess at throwing at the intermediate level (10-19 yards). At UCLA, he put on a display in this range by zipping the ball and flashing great accuracy on back shoulder passes. Rosen processes plays quickly, allowing him to throw over the middle of the field with anticipation. His aggressive nature creates big-play opportunities all over the field, but this same aggressiveness can get him into trouble at times (something Jeremy Bates will try to clean up). It's been quite some time since Gang Green has landed a top-tier quarterback, and Rosen has the ability to end this drought. – John Gatta, @PFF_JohnGatta
4. Cleveland Browns (from Houston)
Derwin James, S, Florida State
Some debate was had in Berea as offers to trade back were considered versus taking either Michigan DT Maurice Hurst or James. In the end, James and the positional value won out in the end. Despite all the moves the Browns have already made this offseason to improve the secondary, more work is still needed to improve a defense that ranked in the bottom of the NFL in numerous categories. Add James to the unit and he's someone that can be moved all over, as he has the athleticism, size and skills to cover quick slot receivers as well as big tight ends, defend against the run on the edge or from an off-ball linebacker position and rush the passer from any position. Think drafting James is giving up on last year's first round selection in Jabrill Peppers? Far from it. Load up the secondary with elite talent as defending the pass is a must in today's NFL. – John Kosko, @PFF_JohnKosko
5. Denver Broncos
Quenton Nelson, G, Notre Dame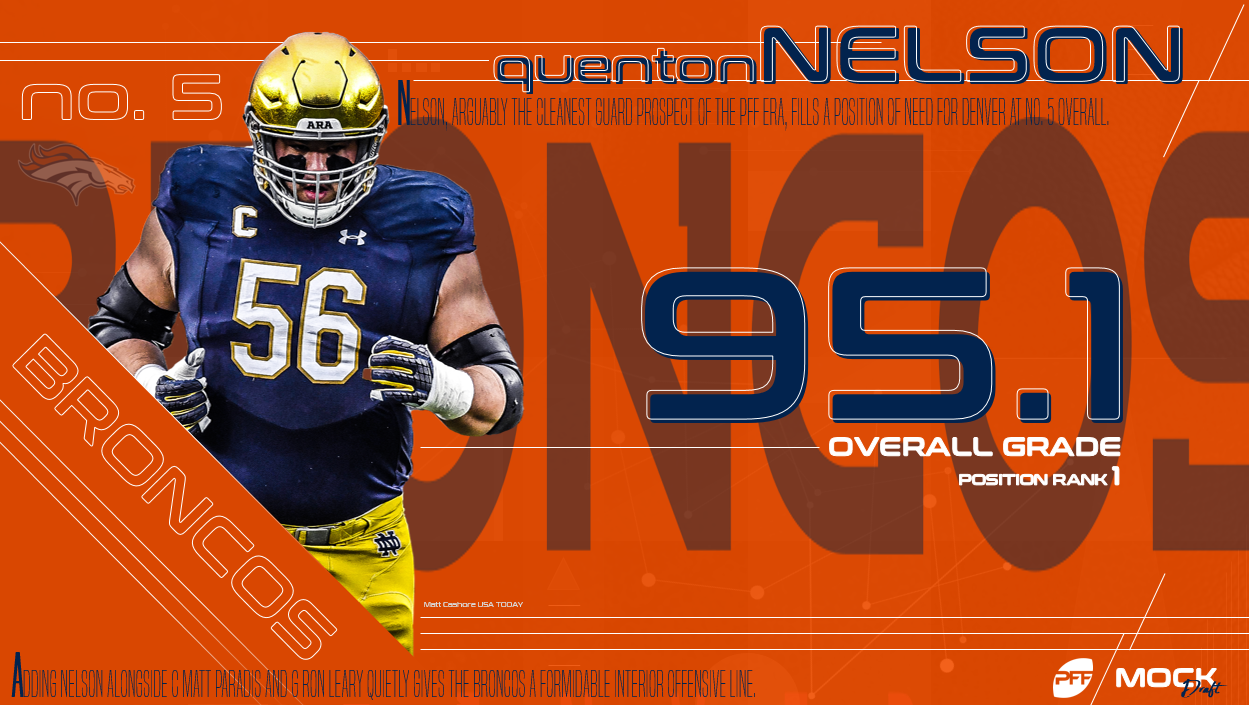 Despite positions of higher value available on the board, Nelson – arguably the cleanest guard prospect of the PFF era – fills a position of need for Denver at No. 5 overall. Adding Nelson alongside C Matt Paradis and G Ron Leary gives the Broncos a formidable interior offensive line. Nelson's potential as a tackle also serves as an added bonus for a Denver team intent on getting better protection for the newly signed Case Keenum – who finished sixth in the NFL with a 109.5 passer rating from a clean pocket last season. – Bill Boynton, @bill_boynton
6. Indianapolis Colts (from New York Jets)
Josh Jackson, CB, Iowa
As fun as Saquon Barkley promises to be, this pick was really one of three names: Quenton Nelson (the preference), Derwin James and Jackson. So by the time the pick arrived, it wasn't really a choice so much as a last-man-standing. – Daniel Kelley, @danieltkelley
7. Tampa Bay Buccaneers
Saquon Barkley, RB, Penn State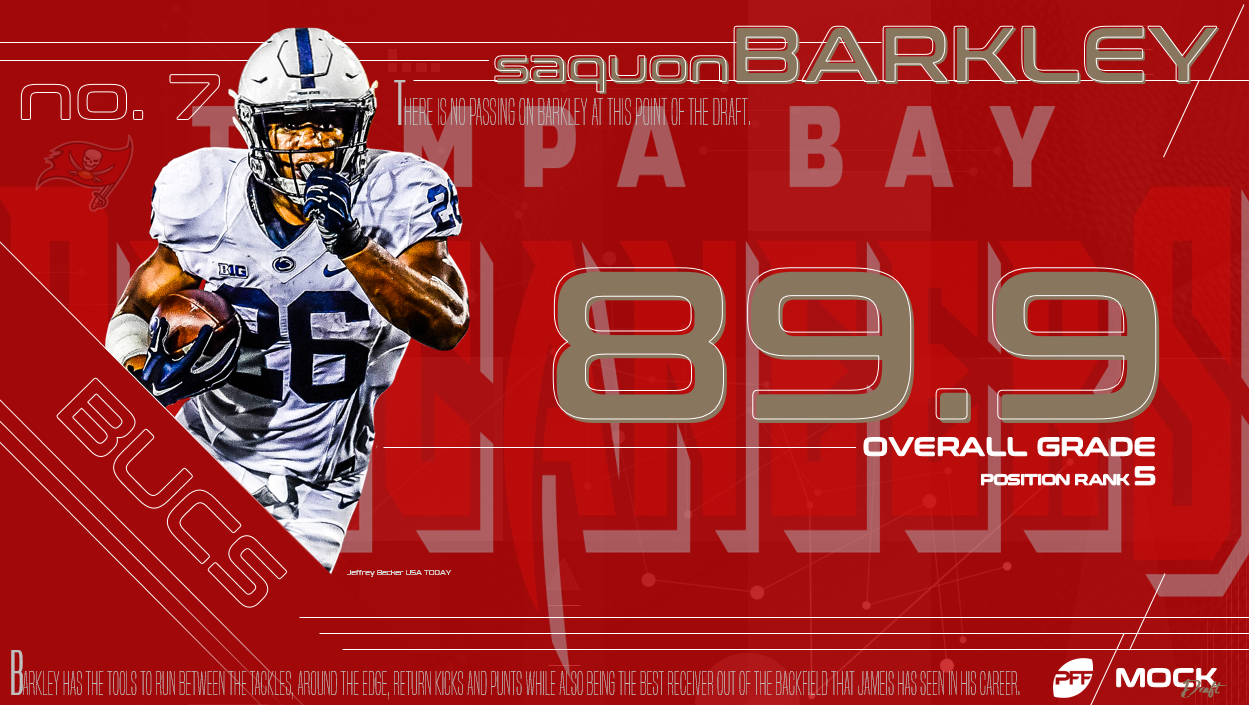 As enticing as an outside corner in Denzel Ward, a slot magician in Minkah Fitzpatrick or a space-eater against the run and pass in Maurice Hurst were here, there is no passing on Barkley at this point of the draft. Forget our history of drafting running backs in the first round, forgive the inherent risks of selecting a running back so high – Barkley has the tools to run between the tackles, around the edge, return kicks and punts while also being the best check down receiver out of the backfield that Jameis Winston has seen in his career to date. – Cam Mellor, @PFF_Cam
8. Chicago Bears
Harold Landry, edge, Boston College
Following the old adage that you can never have too many pass-rushers, the Bears take our top-ranked edge rusher in this draft class – Harold Landry. Landry wasn't at his best during an injury-riddled 2017, but he remains an elite athlete. His 2016 tape was terrific (he earned an 89.0 overall grade), and he has amassed 27 sacks and 135 total pressures over the past three seasons. – Kevin Connaghan, @PFF_Kev
9. TRADE: Los Angeles Chargers (from San Francisco)
Maurice Hurst, DI, Michigan
[Trade details: San Francisco sends their Round 1 pick (No. 9 overall) in exchange for Los Angeles' Round 1 pick (No. 17 overall) and Round 2 pick (No. 48 overall).]
Trading up is normally not something I'd try to accomplish, but Hurst's fall from the top of the board was too much to ignore. He's seemingly the most consistently dominant interior defender we've ever graded at the college level, so it was worth swallowing the loss of a second-round pick to grab him. While Hurst should be solid against the run when called upon, the potential of a Bosa, Hurst, Liuget, Ingram nickel defensive line in front of their talented secondary gives the Chargers a massive advantage in pass defense, the most important phase of defense. Hurst finished with the third-highest pass-rushing productivity among draft-eligible interior defenders. Moving up might not be something the Chargers have to do on actual draft day if they want to secure the services of Hurst. – Alejandro Chavez, @HondoCz
10. Oakland Raiders
Roquan Smith, LB, Georgia
Falling victim to the Chargers' trade (see above), the Raiders lose out on their top target in Hurst, forcing Oakland to pivot to the next best player available in Smith. Slotted as the seventh-best player on PFF's big board, head coach Jon Gruden & Co. address a key position of need at great value in selecting Smith at No. 10 overall. Stepping in for veteran NaVorro Bowman, Smith is potentially a Week 1 starter at inside linebacker in new defensive coordinator Paul Guenther's 4-3 scheme, adding marquee coverage ability and stout run defense to an Oakland team that has dearly missed such qualities at linebacker in recent years. – Austin Gayle, @AustinGayle_PFF
11. Miami Dolphins
Minkah Fitzpatrick, CB/S, Alabama
After just missing out on Smith, the Dolphins stay on the defensive side of the ball with Alabama's do-everything defensive back in Fitzpatrick. A prime example of a hybrid defender in today's game, Fitzpatrick played the majority of his snaps in 2017 inside as a slot corner while primarily manning the safety position the previous year. The Crimson Tide standout flashed potential in all aspects of the game this past season, allowing just one touchdown in coverage (Week 1), while leading all draft-eligible cornerbacks with 14 pressures as a pass-rusher and tying for sixth with 28 run stops. Fitzpatrick's versatility will allow the Dolphins to better utilize the strengths of their defensive personnel from a matchup standpoint across the board. – Ryan M. Smith, @PFF_RyanSmith
12. Buffalo Bills (from Cincinnati)
Lamar Jackson, QB, Louisville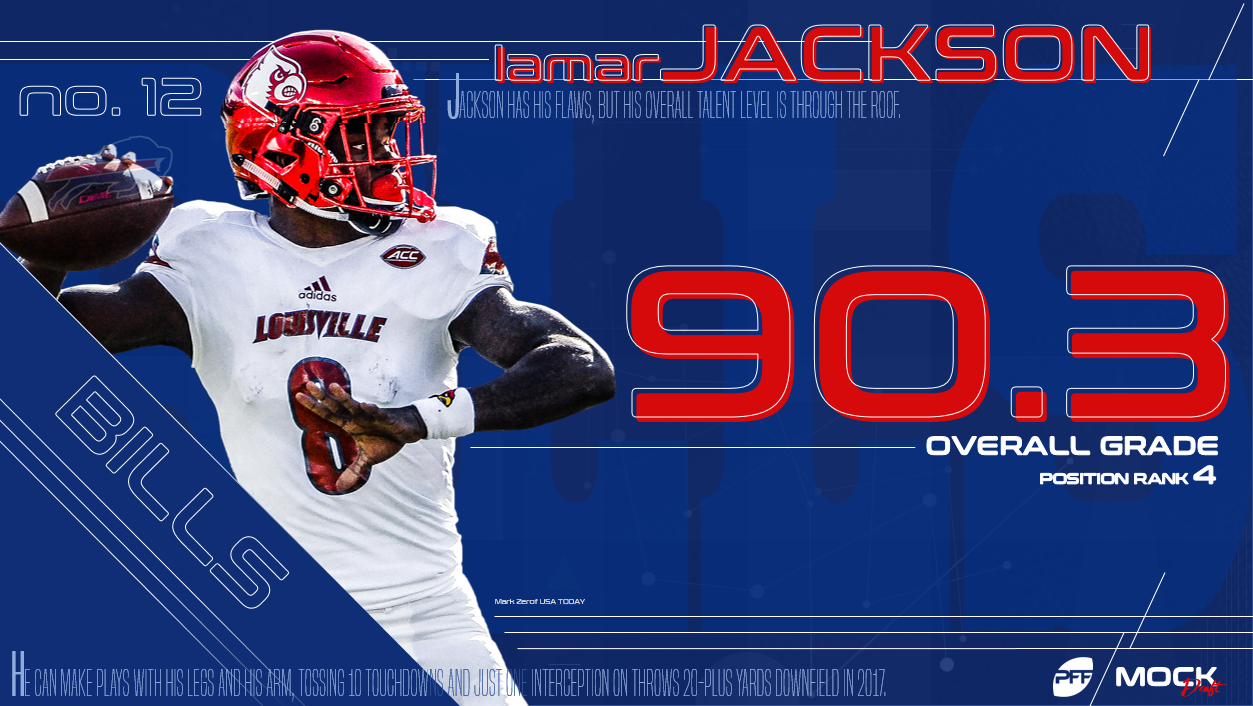 With the top three quarterbacks coming off the board one-two-three to open the draft, it was a nervy wait for the Bills to see if any others would be drafted ahead of them. Jackson has his flaws, but his overall talent level is through the roof, and he can make plays with his legs in addition to his arm, as he tossed 10 touchdowns and just one interception on throws 20-plus yards downfield in 2017. – Gordon McGuinness, @PFF_Gordon
13. TRADE: New England Patriots (from Washington)
Bradley Chubb, edge, NC State
[Trade details: Washington sends their Round 1 pick (No. 13 overall) & their Round 4 pick (No. 109 overall) in exchange for New England's Round 1 pick (No. 23 overall) and Round 2 pick (No. 43 overall).]
With Chubb still available at pick 13, New England trades up to take the type of talent the Patriots rarely have the ability to pick early enough in the draft to see, but this year are equipped with enough ammo to make the move. Belichick gets an explosive edge presence who excels against the run, as evidenced by his 11.0 percent run-stop percentage in 2017, which was second best among edge defenders in the 2018 draft class. – Louie Benjamin, @PFF_Louie
14. Green Bay Packers
Denzel Ward, CB, Ohio State
With Chubb coming off the board the pick before, the Packers took the best available player on their board, who also happened to fill arguably their biggest need. While newly-signed CB Tramon Williams had a career year last year in Arizona, he is 35 years old. Green Bay needs to find a dominant No. 1 corner and Ward can be that player. He's one of the best cover corners in the draft and should be comfortable sliding in across from Williams before moving into a shutdown No. 1 role in a year or two. – Bryson Vesnaver, @PFF_Bryson
15. Arizona Cardinals
Connor Williams, T, Texas
Four quarterbacks and four defensive backs were already selected so the Cardinals took one of the top pass-protecting tackles in the draft class. Williams only allowed four sacks and two QB hits in the last three seasons at Texas and he moves well enough to stay on the outside at tackle for the Cardinals and he should be able to start as a rookie. – Jordan Plocher, @PFF_Jordan
16. Baltimore Ravens
Marcus Davenport, edge, UTSA
The Ravens add some much-needed youth to their pass-rush with Davenport. He projects as a raw prospect, but one who could develop into a real talent should he harness his incredible athletic traits into NFL production. – Harley Sherman, @PFF_Harley
17. TRADE: San Francisco 49ers (from Los Angeles Chargers)
Donte Jackson, CB, LSU
[Trade details: San Francisco sends their Round 1 pick (No. 9 overall) in exchange for Los Angeles' Round 1 pick (No. 17 overall) and Round 2 pick (No. 48 overall).]
San Francisco does it again. By trading the ninth pick to the Chargers for picks 17 and 48, the 49ers pick up an extra top-50 pick while still being able to take one of the best cornerbacks in the draft at 17. Using Pro Football Reference Average Value, we simulated the outcome of the trade 100,000 times (for more on the process check out the PFF Forecast Podcast) and found that picks 17 and 48 result in more value on nearly 70 percent of the simulations making the trade a no-brainer.
Aside from quarterback play, coverage stands as the most powerful predictor of winning in the NFL and the 49ers made the lowest rate of positively graded coverage plays in 2017 and the second-highest rate of negatively graded plays in coverage. We recently found that targeting the slot is actually a more lucrative play for offenses than targeting players lined up on the outside. Jackson surrendered a passer rating of just 50.7 on 158 slot coverage snaps (seventh of 106 in the class) and ran a 4.32 40-yard dash, making him an excellent fit for a San Francisco team that allowed a 101.9 passer rating to players lined up in the slot last year (20th). – George Chahrouri, @PFF_George
18. Seattle Seahawks
Isaiah Wynn, G/T, Georgia
The Seahawks' offensive line improved after the arrival of Duane Brown (pass-blocking efficiency raised from 71.5, 30th, to 78.4, 20th) but there is still room to grow and with Wynn, they add quality and versatility to their line. Many project Wynn inside at the NFL level but he can offer insurance to Duane Brown's health at left tackle, while he could also replace Germain Ifedi's performance at right tackle and can be plugged in straight away to upgrade either guard position from Day 1. – Ben Stockwell, @PFF_Ben
19. Dallas Cowboys
Vita Vea, DI, Washington
Dallas adds a much-needed big body to their defensive front with Vea, who is an excellent run defender, but is also not just a one-trick pony. He ranked eighth in the draft class with a pass-rush productivity of 10.3 last season, as he has the power to push the pocket from the interior. – Steve Palazzolo, @PFF_Steve
20. Detroit Lions
Tremaine Edmunds, LB, Virginia Tech
Matt Patricia has gone on the record saying he wants his new defense to be multiple and with significant needs at both edge rusher and coverage linebacker, possibly no player in this draft better fits the "versatility" moniker than Edmunds. He posted six sacks in each of his last two seasons at Virginia Tech despite a primarily off-the-ball role and last year he posted a coverage grade of 81.0 while also owning the ninth-best run-stop percentage (12.5) among all FBS linebackers. At 6-foot-5, 250 pounds and still just 19 years old, the sky is the limit for Edmunds. – Josh Liskiewitz, @PFF_Josh
21. Cincinnati Bengals (from Buffalo)
Mike McGlinchey, T, Notre Dame
It doesn't take a PFF analyst to tell you that offensive line is a huge need for the Bengals this offseason. They already partially addressed it by trading for Cordy Glenn, now they solidify their edges by drafting PFF's top-rated tackle who has experience on the right side as well as left. – Mike Renner, @PFF_Mike
22. Buffalo Bills (from Kansas City)
Leighton Vander Esch, LB, Boise State
Vander Esch's production was outstanding in 2017, he ended the year with 76 tackles resulting in a defensive stop, the most of any linebacker when you factor in conference championships and bowl games. Four of those stops were sacks, as he produced four sacks, two QB hits and 12 hurries on 98 pass-rushing snaps. He impressed against the run, in coverage and as a blitzer, so he would be expected to make an immediate impact in Buffalo. – Gordon McGuinness, @PFF_Gordon
23. TRADE: Washington Redskins (from New England from Los Angeles Rams)
Frank Ragnow, C, Arkansas
[Trade details: Washington sends their Round 1 pick (No. 13 overall) & their Round 4 pick (No. 109 overall) in exchange for New England's Round 1 pick (No. 23 overall) and Round 2 pick (No. 43 overall).]
Ragnow has been the top-graded college center the past two seasons and posted the fifth-highest overall grade last year among all draft-eligible players with a 93.7 overall grade. The three-year starter from Arkansas, who didn't allow a single sack during his college career, is the second ranked interior offensive lineman, which is the key to this pick. Ragnow provides Washington with flexibility to immediately slide into either of the current soft spots at left guard or center to put together the best unit instead of plugging a position hole. – Trevor Lynch, @PFF_Lynch
24. Carolina Panthers
Jaire Alexander, CB, Louisville
A defense desperate for a playmaker in the secondary, the Panthers add a ton of ball skills as well as a shut-down element to their defense in Alexander. His skillset should allow him to not only kick inside to the slot if needed but also excel with the variety of coverages the Panthers will deploy. Over the past two seasons, Alexander has allowed a catch rate of just 41.8 percent and a passer rating against of 50.3. – Brett Whitefield, @PFF_Brett
25. Tennessee Titans
Rashaan Evans, LB, Alabama
Newly-minted Titans head coach Mike Vrabel maintains a defensive philosophy that covets versatility, and the Titans need to get faster and more athletic at the inside linebacker spot. Evans is just what the doctor ordered, as he can play the traditional linebacker role or get after the quarterback. As a pass-rusher, he posted an impressive pressure rate of 30.6 percent on 85 pass-rush snaps a season ago, tallying more combined sacks and QB hits than any other off-ball linebacker. – Charles Miller
26. Atlanta Falcons
Calvin Ridley, WR, Alabama
The Falcons offense took a step back in 2017, but adding a player who can rejuvenate their deep passing attack should create opportunities for other players. After a consistent period of focusing on defense, the time is right to replenish the offense. – Khaled Elsayed, @PFF_Khaled
27. New Orleans Saints
Dallas Goedert, TE, South Dakota State
The Saints patched up the tight end position by signing 37-year-old Ben Watson this offseason, but the team hasn't possessed a top-level talent at the position since they traded Jimmy Graham to the Seahawks. By drafting Goedert, they add the highest-graded draft-eligible tight end in the nation, who put up a monstrous 3.18 yards per route run last year. Any way you look at it, Goedert possesses the speed and athleticism to be matchup nightmare in the NFL. – Mark Chichester, @chichester_mark
28. TRADE: Denver Broncos (from Pittsburgh)
Mason Rudolph, QB, Oklahoma State
[Trade details: Pittsburgh sends their Round 1 pick (No. 28 overall) & their Round 3 pick (No. 92 overall) in exchange for Denver's Round 2 pick (No. 40 overall), Round 3 pick (No. 71 overall) & Round 4 pick (No. 113 overall).]
The Broncos throw another dart at their quarterback of the future, moving up into the late first round to grab Rudolph. The two-year deal signed by Case Keenum this offseason allows Rudolph to sit for at least one year without having to rush the difficult transition from Big 12 to NFL. Rudolph, who earned the second-highest grade in the nation both from a clean pocket and when pressured, is an excellent fit for a Denver team in the process of shoring up an offensive line that has been an area of struggle. – Bill Boynton, @bill_boynton
29. Jacksonville Jaguars
Courtland Sutton, WR, SMU
With the losses of receivers Allen Robinson and Allen Hurns in free agency, Sutton will be able to step in right away and make plays. Despite being one of the biggest receivers in the draft class, Sutton has shown the nimbleness of some of the more elusive players in the draft, forcing 26 missed tackles on 143 receptions over the last two seasons. Sutton's big body and catch radius will help him in contested catch situations and with any off-target throws QB Blake Bortles throws his direction. – Elliott Rooney, @PFF_Elliott
30. Minnesota Vikings
Will Hernandez, G, UTEP
The Vikings shore up their interior line with a player that fits their system perfectly, but also has the tape and grading to back it up. Hernandez allowed just three total pressures last season and is a true people-mover at the point of attack. – Sam Monson, @PFF_Sam
31. TRADE: Pittsburgh Steelers (from New England)
Josh Allen, QB, Wyoming
[Trade details: New England sends their Round 1 pick (No. 31 overall) in exchange for Pittsburgh's Round 2 pick (No. 40 overall) and Round 5 pick (No. 148 overall).]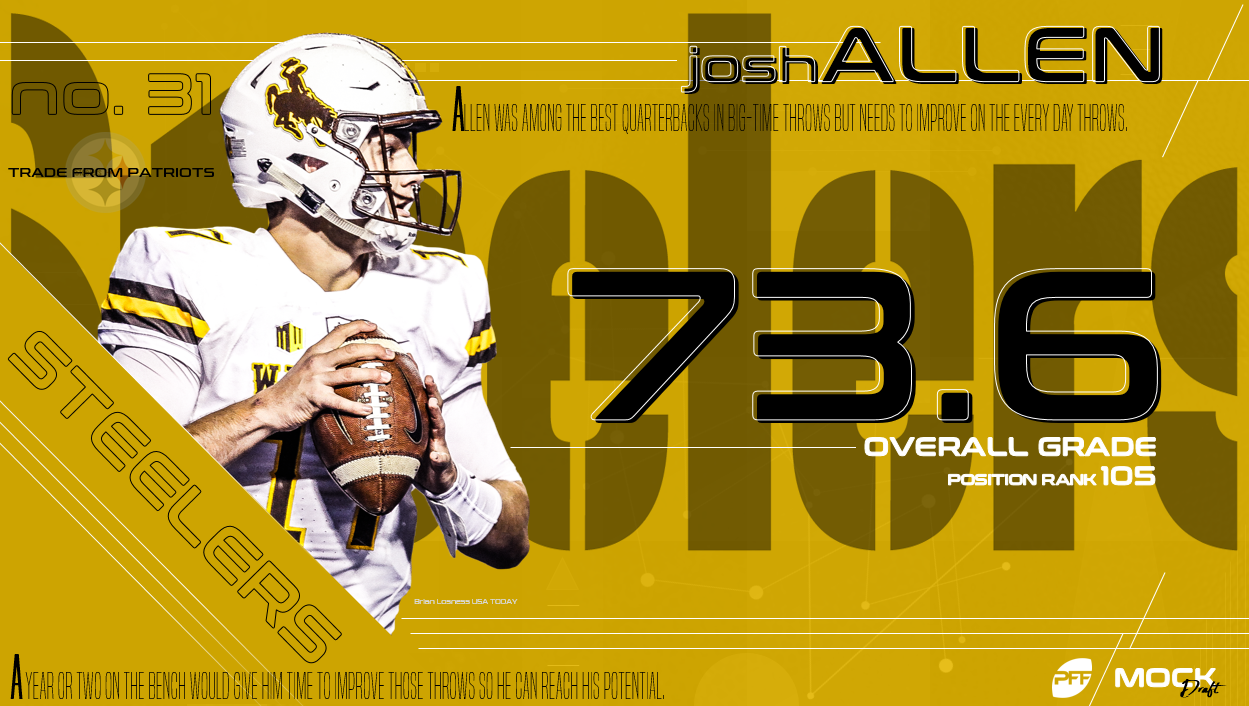 The Steelers traded back from Pick 28 because of a strong offer, but then traded up again to ensure the potential quarterback of the future, as well as to get a fifth-year option for Josh Allen. It's an ideal situation because Allen could benefit from siting behind a future Hall of Fame quarterback in Ben Roethlisberger before he retires. He was among the best quarterbacks in big-time throws but needs to improve on the every day throws. A year or two on the bench would give him time to improve and to adjust to the NFL. – Nathan Jahnke, @PFF_Nate
32. Philadelphia Eagles
Da'Ron Payne, DI, Alabama
Unable to trade down from No. 32, the Eagles select the best prospect available regardless of position in Payne. The Alabama interior defender is an athletic anomaly and one of the elite run defenders in this class. Payne's MVP peformance versus Georgia in the National Championship game is among the most dominant displays of work by any defensive lineman last season (96.3 game grade, two QB hits, five hurries). 38 percent of his pass-rushing snaps in 2017 came from the nose tackle position but with more space, and potentially a move away from nose, could unleash his pass-rush potential by allowing him to utilize his speed and quickness more when getting after the quarterback. – Aaron Bloch, @PFF_Aaron
ROUND 2
33. Cleveland Browns
Taven Bryan, DI, Florida
With a rather large dropoff in defensive tackle talent after Bryan and the need to bolster the position for the Browns, Bryan becomes an easy choice. His production and athleticism can be a disruptive force in the NFL. Turn on the Texas A&M or South Carolina games and his impact can instantly be seen as he was virtually unblockable for most of the two games. He backed it up with solid play the rest of the season, showing big improvement over his college career, and his production should translate well. – John Kosko, @PFF_JohnKosko
34. New York Giants
Jamarco Jones, T, Ohio State
The Giants continue to rebuild the offensive line with a breakout player from the 2017 season. Jones only allowed 11 total pressures his final year and he might not even be a finished product. His run-blocks might not be all that attractive, but they consistently get the job done (92.1 percent run-block success rate) and that is far more important than 'finishing.' – Gordon McGuinness, @PFF_Gordon
35. Cleveland Browns (from Houston)
D.J. Moore, WR, Maryland
Establish the pass, stop the pass. Moore grade profile, athleticism and size all resemble former Maryland WR Stefon Diggs and we all know how he has turned out after being drafted in the fifth round. The choice between a defensive back and a receiver here was tricky but Moore had all the remaining cornerbacks beat on our big board. – John Kosko, @PFF_JohnKosko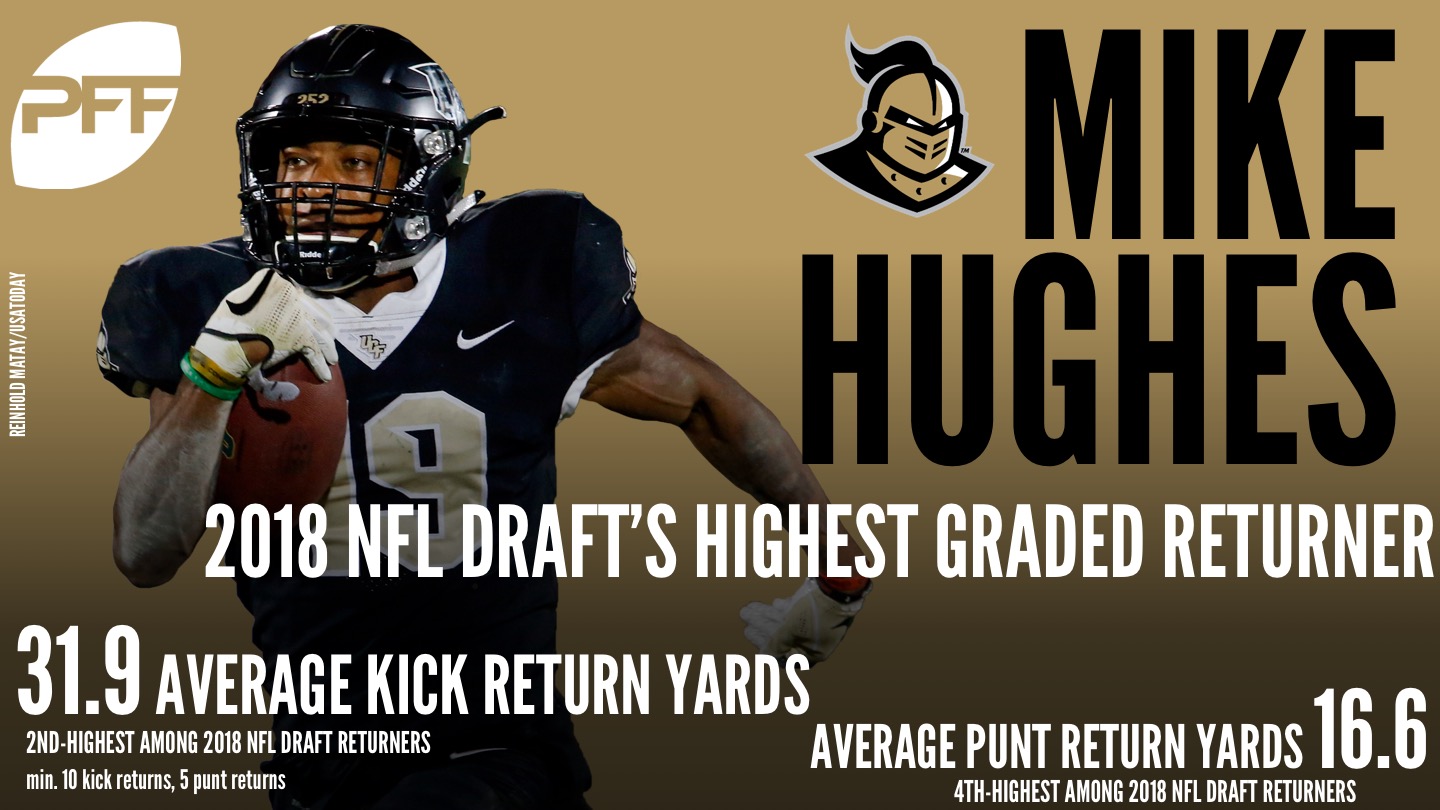 36. Indianapolis Colts
Mike Hughes, CB, UCF
Two rounds in and the Colts saw their preferred offensive lineman go off the board barely before their pick twice. In lieu of a lineman worth a pick here, better to double down on the secondary. – Daniel Kelley, @danieltkelley
37. Indianapolis Colts
Arden Key, edge, LSU
Key is a lottery ticket, even this early in the draft. He has the ceiling of an easy first-rounder, but there are enough worries there that he could legitimately never be an NFL starter. For this Colts team, the upside is well worth the risk. – Daniel Kelley, @danieltkelley
38. Tampa Bay Buccaneers
Isaiah Oliver, CB, Colorado
Oliver's versatility on the outside plays perfectly here, as this move allows Vernon Hargreaves to shift inside to the slot, where he performed much better in 2017. Oliver did not allow more than 53.1 percent of passes thrown his way to be caught in a single season and recorded a total of 26 plays on the ball during his three years in the vaunted Colorado secondary. – Cam Mellor, @PFF_Cam
39. Chicago Bears
Michael Gallup, WR, Colorado State
With the addition of Gallup, the Bears continue to add talent around their young franchise quarterback, making up for the departure of Cameron Meredith. Gallup is a smooth route runner with the shiftiness to make ground after the catch and he earned a nation-leading 92.0 receiving grade in 2017. – Kevin Connaghan, @PFF_Kev
40. TRADE: New England Patriots (from Pittsburgh from Denver)
Kyle Lauletta, QB, Richmond
[Trade details: New England sends their Round 1 pick (No. 31 overall) in exchange for Pittsburgh's Round 2 pick (No. 40 overall) and Round 5 pick (No. 148 overall).]
Josh Allen was available at pick 31, but Lauletta, who posted the top grade among quarterbacks in 1-on-1 drills at the Senior Bowl, was our target to take on the role of Brady successor. His short and mid-area accuracy make him a much better fit for the Patriots offense. We traded down to a spot we were comfortable we'd still be able to grab him and acquired an extra fifth-round pick in the process. – Louie Benjamin, @PFF_Louie
41. TRADE: Carolina Panthers (from Oakland)
James Washington, WR, Oklahoma State
[Trade details: Oakland sends their Round 2 pick (No. 41 overall) in exchange for Carolina's Round 2 pick (No. 55 overall), their Round 5 pick (No. 161 overall) & their Round 7 pick (No. 234 overall).]
2015 was not only Cam Newton's MVP season, but also his highest-graded season in the NFL. The one thing Newton has been missing since his 2015 run is a consistent deep threat. While Washington isn't limited to being just a deep threat, he finally gives Newton and Co. an elite option downfield. Washington leading the FBS in deep receptions (20) and deep receiving yards (869) speaks for itself. – Brett Whitefield, @PFF_Brett
42. Miami Dolphins
Mike Gesicki, TE, Penn State
The Dolphins approach to address the tight end position with aging and injury-riddled players (re: Jordan Cameron & Julius Thomas) has failed in recent years. Gesicki has the size (6-foot-6, 250 pounds) and athleticism to be a mismatch weapon in the NFL and one that QB Ryan Tannehill can rely on over the middle of the field or outside. Gesicki won't turn heads in the run game as a blocker, but he has the chance to be one of the better pass-catching tight ends in the league under head coach Adam Gase. – Ryan M. Smith, @PFF_RyanSmith
43. TRADE: Washington Redskins (from New England from San Francisco)
Rashaad Penny, RB, SDSU
[Trade details: Washington sends their Round 1 pick (No. 13 overall) & their Round 4 pick (No. 109 overall) in exchange for New England's Round 1 pick (No. 17 overall) and Round 2 pick (No. 43 overall).]
Washington ball-carriers collectively graded second-worst last season as a unit and Penny has too many accolades to fully account for. He leads a strong running back draft class in breakaway percentage, percent not tackled on first contact (42.8 percent), and missed tackles forced on carries (80). The San Diego State product also can add value returning both kicks and punts, as he returned eight for touchdowns in his college career. – Trevor Lynch, @PFF_Lynch
44. Washington Redskins
Ronnie Harrison, S, Alabama
Harrison has great range and brings the thunder against both the run and underneath passing plays. His impressive run-defense grade of 85.1 in his last season at Alabama will be a much-needed injection to a defensive unit that really struggled to stop the ground game last season. He also adds depth in coverage, as he allowed a passer rating of just 38.9 into his coverage while also knocking away two passes and intercepting three balls in 2017.  – Trevor Lynch, @PFF_Lynch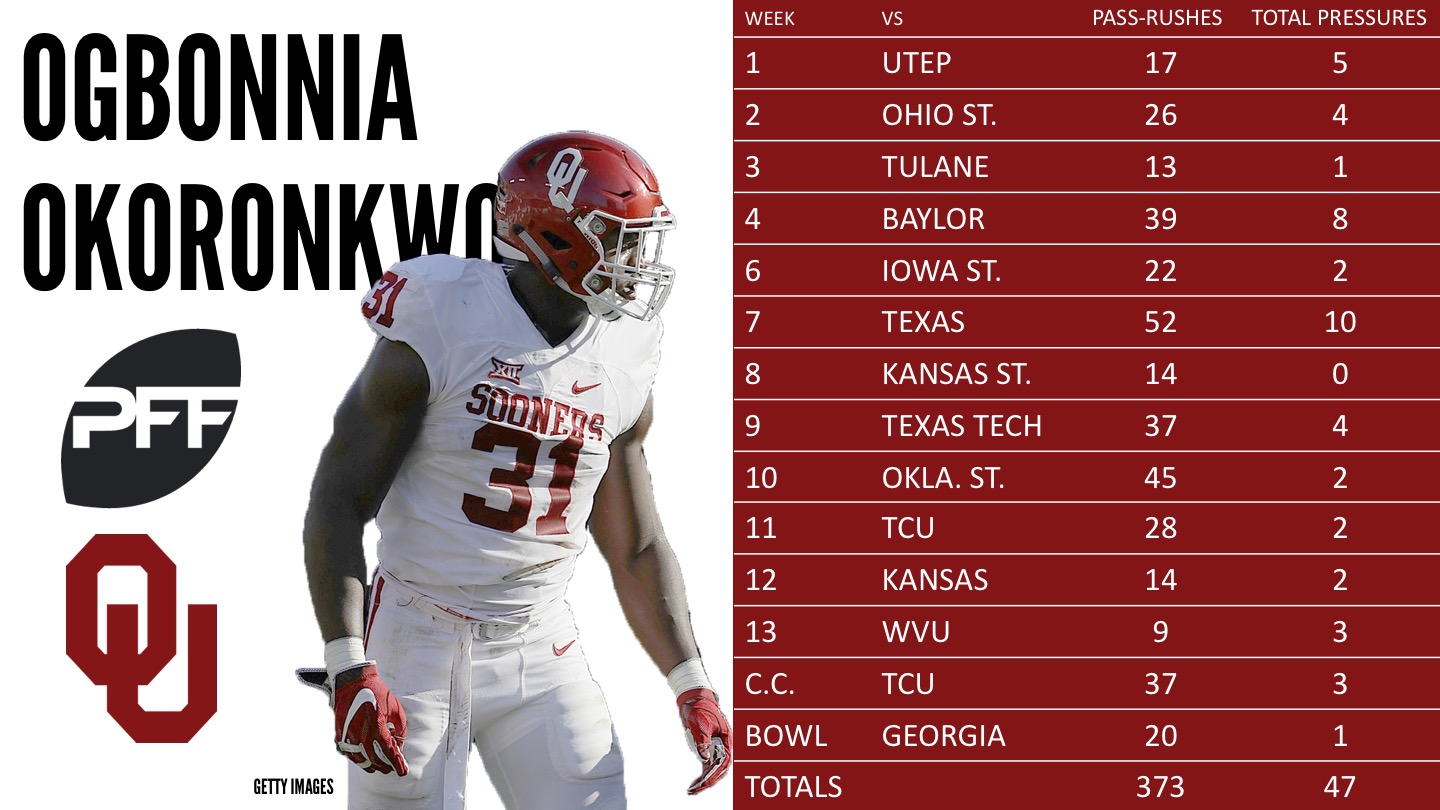 45. Green Bay Packers
Ogbonnia Okoronkwo, edge, Oklahoma
Clay Matthews will be 32 years old by the start of next season and the Packers need to start looking at replacements for the future. Okoronkwo is an explosive edge defender who plays a complete game. He can contribute immediately in an edge rotation, while he adds some size and strength in order to take over as a full time edge player in a season or two. – Bryson Vesnaver, @PFF_Bryson
46. Cincinnati Bengals
Justin Reid, S, Stanford
While there is no glaring 'need' defensively, an influx of talent on that side of the ball should be Cinci's goal. With that in mind, Cincinnati brings in the Stanford safety/corner/linebacker to fill a Swiss-army knife type role in Teryl Austin's defense. – Mike Renner, @PFF_Mike
47. Arizona Cardinals
Parry Nickerson, CB, Tulane
After missing out on the top corners in the first round the Cardinals swung back to the position here in the second to select Nickerson. He has a nose for the ball and collected 10 interceptions and 13 pass breakups over the past two seasons at Tulane. Nickerson would have the opportunity to win the starting job opposite of Patrick Peterson.  – Jordan Plocher, @PFF_Jordan
48. TRADE: San Francisco 49ers (from Los Angeles Chargers)
Carlton Davis, CB, Auburn
[Trade details: San Francisco sends their Round 1 pick (No. 9 overall) in exchange for Los Angeles' Round 1 pick (No. 17 overall) and Round 2 pick (No. 48 overall).]
Establish the pass, stop the pass. Trading down allowed the 49ers to pick up both a slot corner and a corner with the size and athleticism to play on the outside. With Richard Sherman coming off two Achilles surgeries and last year's third-rounder – Ahkello Witherspoon – both unproven and unable to man the left and right corner positions at once, this pick is much more of a need than might meet the eye. Last season, opposing quarterbacks generated a 101.4 passer rating when targeting the 49ers outside corner, the fifth-worst mark (the other four teams went 17-47). Davis has the height (6-foot-1) and the coverage skills to learn from the great Sherman and contribute immediately. In 2017, Davis allowed completions on just 49.1 percent of throws intro his coverage. The secondary revamp continues. – George Chahrouri, @PFF_George
49. Indianapolis Colts (from New York Jets from Seattle)
Ronald Jones II, RB, USC
The plethora of available running backs in this year's class meant that some guys started to slip, and Jones is among them. The Colts will still need to look hard at some offensive line help later in the draft, but with no obvious pick at the line here, the value for Jones – who immediately becomes the Colts' starter – was far too great to ignore.– Daniel Kelley, @danieltkelley

50. Dallas Cowboys
Equanimeous St. Brown, WR, Notre Dame
Adding playmakers to the offense was an offseason priority even before releasing Dez Bryant and St. Brown brings good size and impressive movement skills for his near-6-foot-5 frame. He dropped only 6-of-98 catchable attempts in his career and he has the large catch radius to make plays down the field. – Steve Palazzolo, @PFF_Steve
51. Detroit Lions
Derrius Guice, RB, LSU
Guice has been a popular first-round mock selection for Detroit, as his physical skillset matches a significant need for the Lions. In our scenario, the Lions do the right thing and wait for the board to fall to them and get an excellent value here in Round 2. For his LSU career, he averaged 6.6 yards per carry, but the most impressive stat he recorded is his 3.7 yards after contact average. – Josh Liskiewitz, @PFF_Josh
52. Baltimore Ravens
Cedrick Wilson, WR, Boise State
Wilson provides the Ravens with a smooth route runner who can do damage either outside or in the slot. His 150.3 passer rating when targeted over the middle of the field ranked second in the FBS last season and he has proven production against the best that the NCAA has to offer, leading all receivers with 4.58 yards per route run versus Power-5 opponents.  – Harley Sherman, @PFF_Harley
53. Buffalo Bills (from Kansas City)
Nick Chubb, RB, Georgia
#DraftPlayersNotPositions is something Steve Palazzolo likes to remind us of regularly, and Chubb is good value here. He can make people miss, ranking fourth among running backs in this draft class with a PFF elusive rating of 97.3. No, the Bills don't need a replacement to LeSean McCoy right now, but with McCoy playing 600-plus snaps every season of his career, and regularly over 700, it doesn't hurt to add a talented player like Chubb to complement him in the backfield. – Gordon McGuinness, @PFF_Gordon
54. Kansas City Chiefs
Nick Nelson, CB, Wisconsin
While Nelson injured his knee recently, he was projected to be a top-40 pick in PFF's mock draft just last week, and his projected recovery time puts him on track to be ready for the preseason. The Chiefs, after losing Marcus Peters, Darrelle Revis and Terrance Mitchell, are in need of someone that can step in and play on the outside right of their defense. Nelson was terrific in coverage during his only season of Big 10 play, allowing only a 37.7 percent completion rate for the Badgers in 2017. – Eric Eager, @PFF_EricEager
55. TRADE: Oakland Raiders (from Carolina)
Sony Michel, RB, Georgia
[Trade details: Oakland sends their Round 2 pick (No. 41 overall) in exchange for Carolina's Round 2 pick (No. 55 overall), their Round 5 pick (No. 161 overall) & their Round 7 pick (No. 234 overall).]
The former Georgia running back is an excellent pass-catcher with significant potential as a change-of-pace back at the next level. Rostering two older backs with expiring contracts 2018 (Marshawn Lynch and Doug Martin), Oakland needs youth at the running back position sooner rather than later, making Michel, who sits at 42nd on PFF's big board, the obvious selection at pick No. 55.  – Austin Gayle, @AustinGayle_PFF
56. Buffalo Bills (from Los Angeles Rams)
Anthony Miller, WR, Memphis
After grabbing a quarterback in the first round, the Bills go and grab a pass-catcher in Round 2. Miller was a big-play threat in 2017, scoring seven times on receptions traveling 20-plus yards in the air. – Gordon McGuinness, @PFF_Gordon
57. Tennessee Titans
Sam Hubbard, edge, Ohio State
The Titans sent extra rushers on 38 percent of pass plays a season ago and only four teams posted a higher blitz rate. However, the Titans generated a pressure rate of just 34 percent, below the league average, and they need youth and depth at edge rusher. Thus, the Titans welcome Hubbard to the Music City. Hubbard is a high-motor guy with the skills to instantly contribute and he was one of only eight edge defenders to generate 30 or more hurries while also compiling 10 or more sacks. – Charles Miller
58. Atlanta Falcons
Tim Settle, DI, Virginia Tech
Defensive tackle is a big need for Atlanta and Settle represents value here with his high upside. There are some concerns with conditioning, but he should be an early contributor replacing plenty of the snaps lost by Dontari Poe. – Khaled Elsayed, @PFF_Khaled
59. San Francisco 49ers (from New Orleans)
Marcell Ateman, WR, Oklahoma State
With both Miller and St. Brown off the board, we took the next best option. At 6-foot-4, Ateman provides a big target for Jimmy Garoppolo in the red zone and produced at a very high level last season at Oklahoma State. Ateman racked up 3.50 yards per route run during his senior season, fourth-best in the class. He also provides a nice downfield target, ranking ninth in the class with 455 receiving yards on targets 20-plus yards downfield. (Note: This pick was made before the Rueben Foster news and I likely would have looked to pick a linebacker in this spot with excellent coverage skills). – George Chahrouri, @PFF_George
60. Pittsburgh Steelers
Mark Andrews, TE, Oklahoma
For over a decade, Ben Roethlisberger had Heath Miller as his main receiving threat, and now it's time to find his long-term replacement. Andrews leads this tight end class in both deep yards and yards from the slot. He could help give the Steelers five legitimate targets on any pass play. – Nathan Jahnke, @PFF_NateJahnke
61. Jacksonville Jaguars
Kemoko Turay, edge, Rutgers
The Jaguars add another pass-rusher to an already stacked defensive line. Turay has shown he is capable of getting to the quarterback, with 110 total pressures during his Rutgers career, and could find a role as a third-down pass-rusher for the Jaguars. – Elliott Rooney, @PFF_Elliott
62. Minnesota Vikings
Orlando Brown, T, Oklahoma
The combine workout was catastrophic, but Brown's tape is impressive. He has flaws, but the Vikings have a flawed line in need of talent injection, and they've got some history with mountainous offensive tackles. – Sam Monson, @PFF_Sam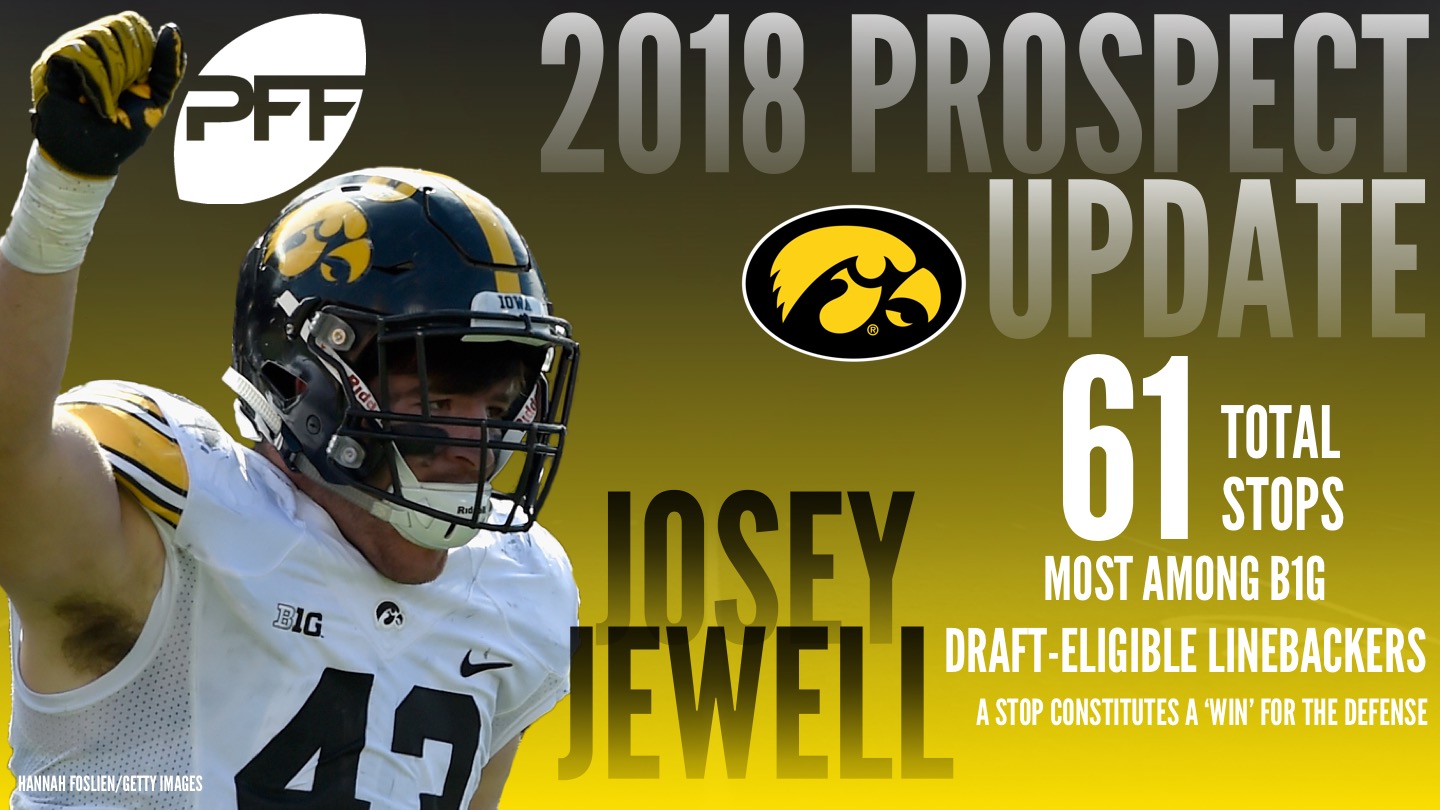 63. New England Patriots
Josey Jewell, LB, Iowa
Jewell will not blow you away athletically, but he is a football intelligent, instinctive player who's seven pass breakups in 2017 led the draft class for his position. He is solid in both run-defense and coverage as his grades would suggest, and has potential to be a three-down starter for the Patriots. – Louie Benjamin, @PFF_Louie
64. TRADE: Cleveland Browns (from Philadelphia)
Greg Stroman, CB, Virginia Tech
While the Browns have addressed the secondary heavily this offseason, adding more talent to the unit is needed. After failing to secure trades up in the draft to take the top players at the position, Stroman's fall to the back end of the second was welcomed. Excellent coverage grades the past two seasons and ridiculous coverage numbers in 2017 (26.8 passer rating allowed, 25.5 catch rate) make this an easy selection. – John Kosko, @PFF_JohnKosko
Round 3
65. Buffalo Bills
Wyatt Teller, G, Virginia Tech
A player who is not receiving as much attention as he deserves during the pre-draft process, Teller produced four impressive seasons of grading in a row at Virginia Tech, allowing just four sacks over the course of his college career.  – Gordon McGuinness, @PFF_Gordon
66. New York Giants
Darius Phillips, CB, Western Michigan
Phillips is a perfect example of a player who might not have the size and strength, but the consistency of his production over 2,331 snaps is simply excellent. The ball skills and athleticism Phillips possesses may mean he plays in the slot, but there's a good chance he will make plays on the ball just like he consistently did in college (38 PD+INT over 206 targets). – Gordon McGuinness, @PFF_Gordon
67. Indianapolis Colts
Tyrell Crosby, T, Oregon
In an ideal world, the Colts would have acquired offensive line help earlier in the draft than this, but there's no sense in overpaying. This is the right slot for Crosby, who should immediately help a unit desperate for it. – Daniel Kelley, @danieltkelley
68. Houston Texans
Kolton Miller, T, UCLA
Miller has work to do in order to improve his technique in pass protection after ranking 17th in the draft class with a pass-blocking efficiency of 97.8 last season. He has two solid years of production under his belt to go with a poor 2016 campaign. – Steve Palazzolo, @PFF_Steve
69. New York Giants (from Tampa Bay)
Royce Freeman, RB, Oregon
One of the nation's most electrifying backs in 2015, Freeman has essentially flown under the radar with this talented crop of running backs. A potential three-down back would give the Giants another spark on offense. His 'percent not tackled on first contact' of 38.7 percent ranked sixth in the class. – Gordon McGuinness, @PFF_Gordon
70. San Francisco 49ers (from Chicago)
Shaquem Griffin, edge, UCF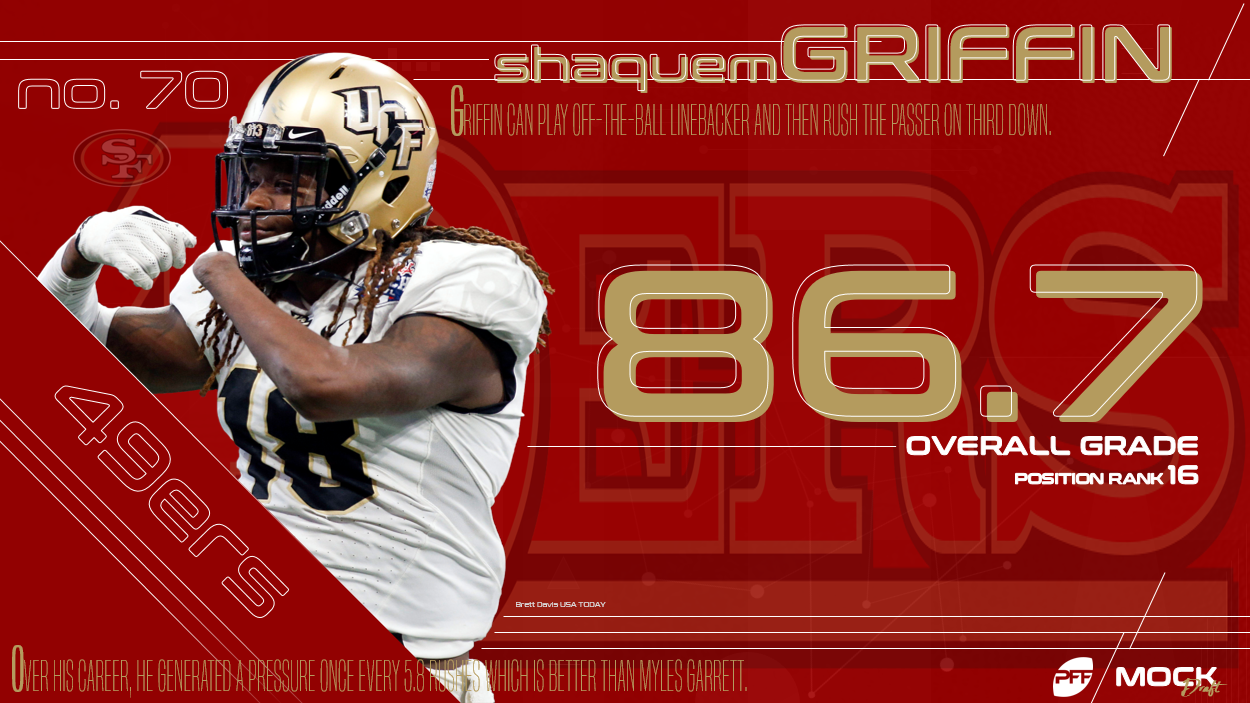 Griffin is yet another versatile defender who can impact the passing game. Griffin can play off-the-ball linebacker and then rush the passer on third down. He has 4.38 speed which should help him make plays in coverage and as a pass-rusher, where he dominated at UCF. Over his career, he generated a pressure once every 5.8 rushes, which is better than Myles Garrett, and he toasted Auburn for 10 pressures in their bowl game. Pass-rush grade is quite stable from college to pro (0.69 correlation coefficient), which makes us confident that Griffin will continue to produce. In light of the horrific details of the felony charges levied against Reuben Foster, Griffin's ability to make plays at linebacker will be even more valuable. – George Chahrouri, @PFF_George
71. TRADE: Miami Dolphins (from Pittsburgh from Denver)
Billy Price, C, Ohio State
[Trade details: this trade occurred on Day 2, after Denver sent this pick to Pittsburgh as a part of the package for No. 28 overall. Pittsburgh sends Round 3 (No. 71 overall) & Round 5 (No. 165 overall) in exchange for Miami's Round 3 (No. 73 overall) & Round 4 (No. 131 overall).]
Price was in the late first-/early-second-round conversation before suffering an unfortunate torn pectoral injury at the combine on the bench press. In Price, the Dolphins select a player who has experience at both the center and guard position and has been a mauler in the run game during his time at Ohio State, a welcomed addition for a team that ranked last collectively in run-blocking grade in 2017. – Ryan M. Smith, @PFF_RyanSmith
72. New York Jets
Hercules Mata'afa', edge, Washington State
Playing primarily as an undersized interior defender in college, Mata'afa was extremely productive rushing the passer for Washington State throughout his career. Because of his size, he is an edge project at the NFL level. The PFF favorite has many desirable traits at his disposal, including an incredible burst off the line of scrimmage. While Mata'afa can become a starting-caliber edge defender down the line, he could end up as a versatile pass-rush specialist for Todd Bowles to deploy from Day 1. – John Gatta, @PFF_JohnGatta
73. TRADE: Green Bay Packers (from Pittsburgh from Miami)
Christian Kirk, WR, Texas A&M
[Trade details: this trade occurred on Day 2, after Pittsburgh acquired No. 73 overall from Miami. Pittsburgh sends Round 3 (No. 73 overall) in exchange for Green Bay's Round 3 (No. 76 overall) & Round 5 (No. 174 overall).]
With the Packers having two fifth-round compensatory picks, they decided to use one to move up a few spots and ensure they get their man. Kirk is a playmaker who has the speed and quickness to turn any play into a monster one. He should fit right in with Aaron Rodgers and the Packers offense, having been compared by many to Randall Cobb. – Bryson Vesnaver, @PFF_Bryson
74. San Francisco 49ers
Kyzir White, S, West Virginia
More coverage please. White is listed at safety but lined up at slot corner on 64.0 percent of his snaps. He allowed a 66.3 passer rating on 265 slot coverage snaps (22nd among 106 players) and earned an 86.9 run-defense grade. White will be a dynamic chess piece in Robert Saleh's quickly improving defense, playing everything from slot to linebacker (where I would play him quite a bit). – George Chahrouri, @PFF_George
75. Oakland Raiders
M.J. Stewart, CB, North Carolina
Former North Carolina cornerback Stewart adds positional versatility and consistency to an Oakland secondary in desperate need for depth at safety, boundary cornerback and slot cornerback. – Austin Gayle, @AustinGayle_PFF
76. TRADE: Pittsburgh Steelers (from Green Bay)
Skai Moore, LB, South Carolina
[Trade details: this trade occurred on Day 2, after Pittsburgh acquired No. 73 overall from Miami. Pittsburgh sends Round 3 (No. 73 overall) in exchange for Green Bay's Round 3 (No. 76 overall) & Round 5 (No. 174 overall).]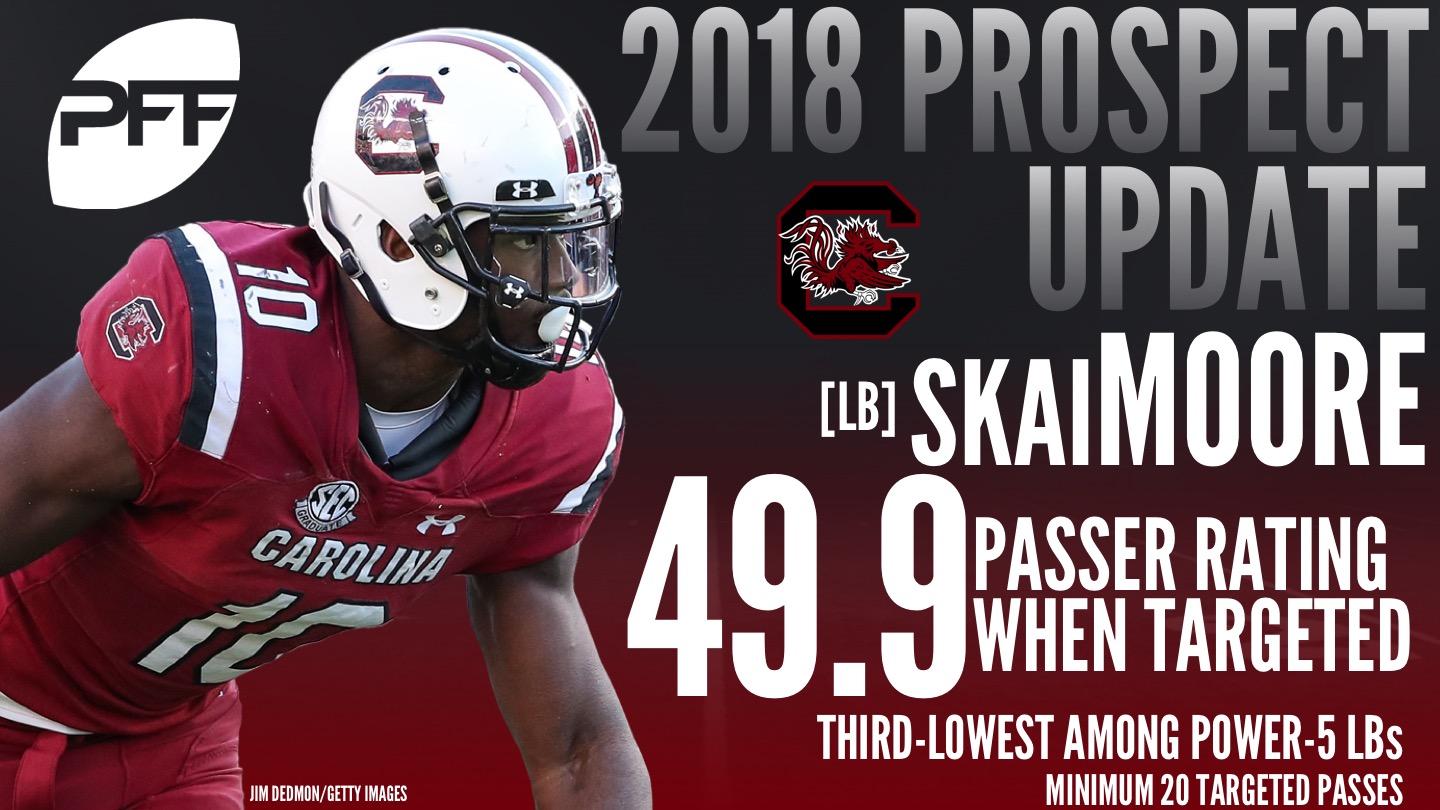 After back-to-back trades, the Steelers are in position where need matches one of the best remaining players. The NFL is a passing league and Moore has been one of the best coverage linebackers of recent memory. In his two years at South Carolina, he had seven interceptions compared to no touchdowns allowed. – Nathan Jahnke, @PFF_NateJahnke
77. Cincinnati Bengals
Braden Smith, G, Auburn
The Bengals needed interior offensive line help, as well as tackle, and address that here. Smith has graded out well every single year of his college career and is NFL-ready. – Mike Renner, @PFF_Mike
78. Kansas City Chiefs (from Washington)
Tarvarius Moore, S, Southern Miss
With Eric Berry coming off an Achilles injury and Ron Parker released early this offseason, the Chiefs acquire another body in their secondary. Using dime more than 40 percent of their snaps, they value the versatility that Moore offers – as he has shown the ability to play in the box, in the slot, and deep. – Eric Eager, @PFF_EricEager
79. Arizona Cardinals
Luke Falk, QB, Washington State
The Cardinals missed out on the top group of quarterbacks in the first round so they waited until the third round to address the position. Falk is coming off a down 2017 due to injury, but he finished 2016 with an impressive 87.2 overall grade. Falk is fully healthy now and has the high football IQ to run coach Mike McCoy's complex passing offense in Arizona. – Jordan Plocher, @PFF_Jordan
80. Houston Texans
Austin Corbett, C/G, Nevada
One of the most versatile offensive linemen in the draft, Corbett can fill a number of roles as Houston adds more pieces to their offensive line overhaul. He had a strong week at the Senior Bowl after four excellent years at Nevada, where he graded at 79.0 or above in each season as their left tackle. – Steve Palazzolo, @PFF_Steve
81. Dallas Cowboys
Duke Ejiofor, edge, Wake Forest
One of the more underrated defensive linemen in the draft, Ejiofor knows how to win with good technique in the run game and as a pass-rusher. He posted three straight years of 80.0-plus grades. . – Steve Palazzolo, @PFF_Steve
82. Detroit Lions
James Daniels, C, Iowa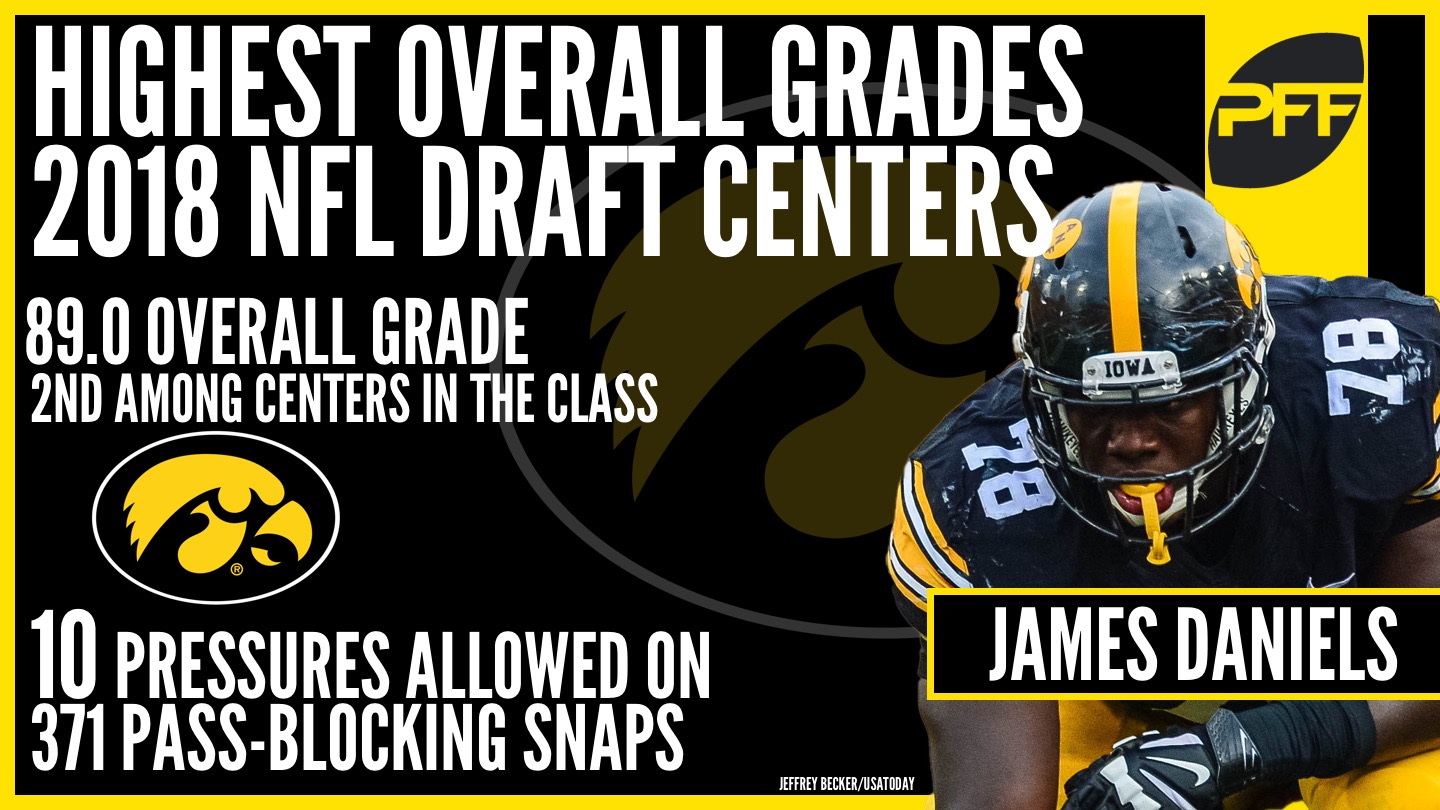 The Lions have at least one major need between left guard and center and Detroit really lucks out here in finding one of the top interior line athletes still on the board. Daniels is a plug-and-play Day 1 starter, and while his game lacks the physicality to warrant the first-round hype he is getting by some, the Lions would be exctatic to land a player of his caliber at pick No. 83. – Josh Liskiewitz, @PFF_Josh
83. Baltimore Ravens
Mike White, QB, Western Kentucky
The time is now right for the Ravens to draft a developmental quarterback to sit behind and potentially challenge Joe Flacco, and White represents the best option in the third round. His adjusted completion percentage of 76.3 ranked fifth in this draft class, and he has the arm talent to be moulded into a future starter. – Harley Sherman, @PFF_Harley
84. Los Angeles Chargers
Damon Webb, S, Ohio State
The Chargers currently don't have a true free safety on the team, so here they pick up one of the best pure free safety prospects on the board. Webb shows excellent closing burst and range when playing deep and, as a plus, could be called upon to cover slot receivers every now and again. Pairing him with Addae and Jenkins gives the Chargers lots of flexibility with how they deploy their safeties.  – Alejandro Chavez, @HondoCz
85. TRADE: Denver Broncos (from Carolina from Buffalo)
Keke Coutee, WR, Texas Tech
[Trade details: this trade occurred on Day 2, after Carolina acquired No. 85 overall from Buffalo. Carolina sends Round 3 (No. 85 overall) in exchange for Denver's Round 3 (No. 92 overall) & Round 5 (No. 149 overall).]
In 2017, Denver wide receivers combined for 1.03 yards per route run from the slot – sixth-lowest among NFL receiving corps. Bennie Fowler, who led the team in slot receptions, slot yards and slot touchdowns, was not tendered this offseason, leaving a major void at an already weak position. Coutee's 2.80 YPRR from the slot were second-best in the nation among receivers who ran 250 or more routes from the slot. He fits in perfectly here for Denver. – Bill Boynton, @bill_boynton
86. Kansas City Chiefs
Uchenna Nwosu, edge, USC 
With Dee Ford and Justin Houston's health always in question, and the release of Tamba Hali, the Chiefs add some depth to their edge group in Nwosu. – Eric Eager, @PFF_EricEager
87. Los Angeles Rams
Will Clapp, C, LSU
Clapp's ability to play both guard and center coupled with his experience in LSU's pro-style offense was too good for the Rams to pass up here. Over the course of three years, Clapp has allowed only one quarterback sack and 28 total quarterback pressures on 952 pass-blocking snaps. His 84.6 run-blocking grade ranked fourth among the draft's centers, while his run-block success percentage of 93.4 ranked second in the class. The 2018 season is the last year of guard Jamon Brown's contract, while center John Sullivan's deal was front-loaded to keep the deal team-friendly should past injuries catch up to him. Clapp is one of the most refined lineman in terms of technique in this class and possesses the ability to start sooner than later. – Mike Cahill, @FB_Cahill
88. Carolina Panthers (from Buffalo)
Kerryon Johnson, RB, Auburn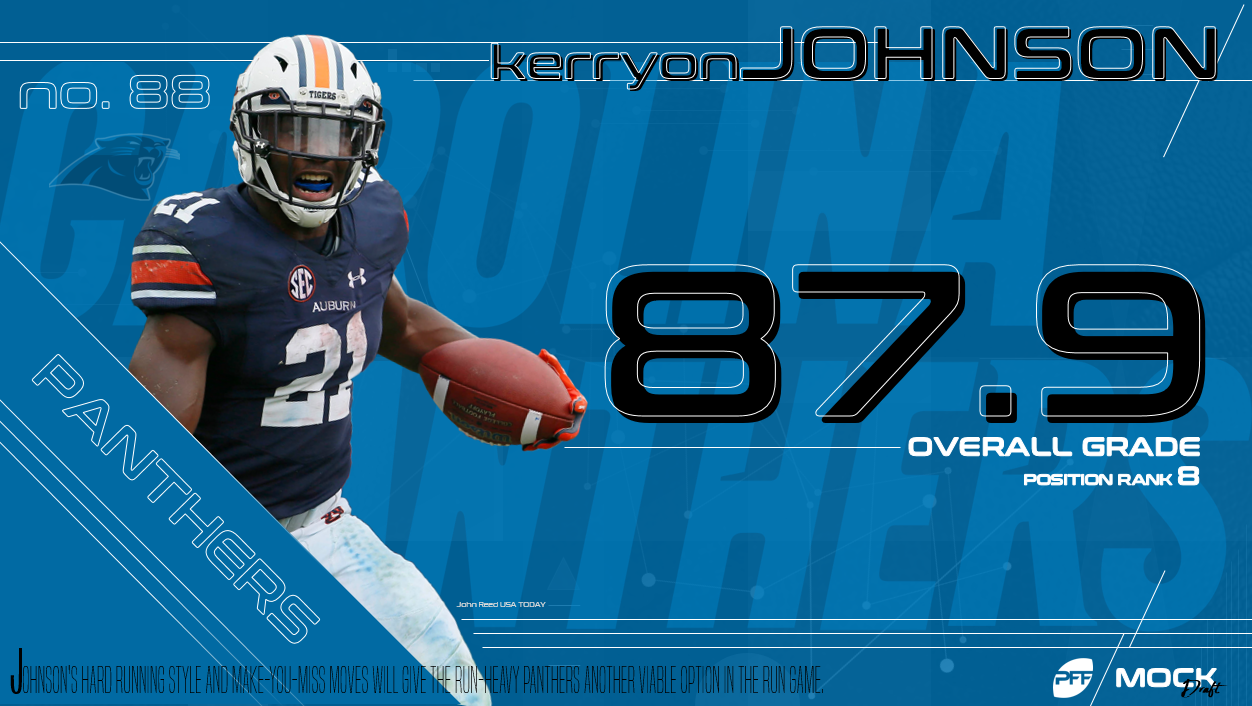 With the departure of Jonathan Stewart, the Panthers had a sizable need at running back behind Christian McCaffrey. It makes sense to fill such a need with a player ranked No. 70 on the PFF big board at No. 88 overall. Johnson's hard running style and make-you-miss moves will give the run-heavy Panthers another viable option in the run game. – Brett Whitefield, @PFF_Brett
89. Tennessee Titans
Hayden Hurst, TE, South Carolina
When looking beyond 2018, the Titans have more questions than answers at the tight end position. Current TE Delanie Walker remains a solid player, but he is on the plus side of 30 and his contract ends after the 2018 season. The former regime tagged Jonnu Smith as his eventual replacement, but Smith had a forgettable rookie season, earning the second-lowest overall grade among qualifying players (41.1), and he suffered a torn MCL in the divisional-round loss to the Patriots. Yes, Hurst will be a 25-year-old rookie, but he offers tremendous upside. He is a mismatch weapon and a sure-handed receiver, recording only three drops on 103 catchable passes during his career. He also possesses the after-the-catch skills to improve the Titans passing attack, averaging a hefty 7.0 yards after catch per reception as a Gamecock. – Charles Miller
90. Atlanta Falcons
RJ McIntosh, DI, Miami (Fla.)
Falcons double dip at defensive tackle with a guy who has the ability to wreak havoc from the inside. Doubling up at the spot increases the chances of finding a long-term partner to Grady Jarrett. – Khaled Elsayed, @PFF_Khaled
91. TRADE: Cleveland Browns (from New Orleans)
Justin Lawler, edge, SMU
[Trade details: New Orleans sends Round 3 (No. 91 overall) & Round 6 (No. 201 overall) in exchange for Cleveland's Round 4 (No. 114 overall) & Round 6 (No. 188 overall).]
A super productive edge rusher, Lawler sports three straight years of good and improving grades with his senior season topping as one of the best in the nation. A 13.2 pass-rush productivity combined with excellent run-defense gives the Browns needed depth that could turn into a quality starter in the NFL. – John Kosko, @PFF_JohnKosko
92. TRADE: Carolina Panthers (from Denver from Pittsburgh)
Tyquan Lewis, edge, Ohio State
[Trade details: this trade occurred on Day 2, after Carolina acquired No. 85 overall from Buffalo. Carolina sends Round 3 (No. 85 overall) in exchange for Denver's Round 3 (No. 92 overall) & Round 5 (No. 149 overall).]
The Panthers get younger at edge with the addition of Lewis. Despite slightly regressing from 2016 to 2017, Lewis not only brings a high level of college productivity to the Panthers but also a prototypical size and length profile. With an aging Julius Peppers and an unsigned Charles Johnson, Lewis could be called on immediately. – Brett Whitefield, @PFF_Brett
93. Jacksonville Jaguars
Troy Fumagalli, TE, Wisconsin
The Jaguars released the best run-blocking tight end from a season ago in Marcedes Lewis and while the team did add Niles Paul and Austin Seferian-Jenkins in free agency, both graded as poor run-blockers in 2017. The addition of Fumagalli gives the Jaguars a capable run blocking tight end and one who can work the middle of the field. – Elliott Rooney, @PFF_Elliott
94. TRADE: Cincinnati Bengals (from Minnesota)
P.J. Hall, DI, Sam Houston State
[Trade details: Minnesota sends Round 3 (No. 94 overall) in exchange for Cincinnati's Round 3 (No. 100 overall), Round 5 (No. 151 overall) & Round 7 (No. 252 overall).]
We don't have data on Hall but from what little film we could find, Hall's explosiveness jumps off the tape. He's a total project at this point, but they can afford that along the defensive line – Mike Renner, @PFF_Mike
95. New England Patriots
Dante Pettis, WR, Washington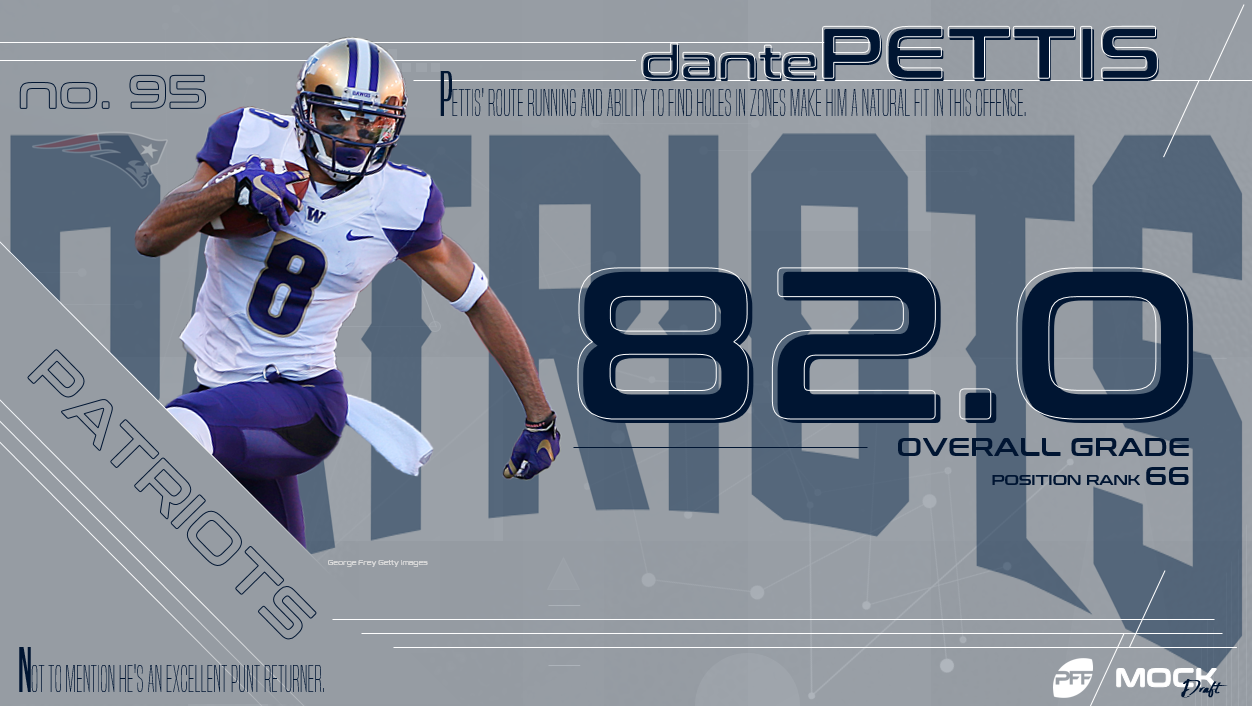 Julian Edelman is 32 years old and coming off a torn ACL, and Danny Amendola departed via free agency. Dante Pettis' route running and ability to find holes in zones make him a natural fit in this offense. Not to mention he's an excellent punt returner. – Louie Benjamin, @PFF_Louie
96. Buffalo Bills (from Philadelphia)
Brian O'Neill, T, Pittsburgh
O'Neill was solid in 2017, but if you look back at his 2016 season there is a lot of potential there. In 2016, he didn't allow a single sack and just four total pressures on 390 pass-blocking snaps.  – Gordon McGuinness, @PFF_Gordon
97. Arizona Cardinals (compensatory)
Nyheim Hines, RB, NC State
Hines is one of the most versatile players in the draft who is capable of playing running back or slot receiver with equal precision. Hines will provide the Cardinals a change-of-pace back for David Johnson as well as being a mismatch weapon in the passing game that Mike McCoy can use to attack linebackers in the middle of the field. Hines can also pass protect effectively and his 98.2 pass-blocking efficiency was fifth among backs in the draft class. – Jordan Plocher, @PFF_Jordan
98. Houston Texans (compensatory)
Tre'Quan Smith, WR, UCF
Smith was one of the nation's deep threats last season, catching 71 percent of his deep attempts, which ranked second in the class. He has good size and ball skills to make an impact as an outside receiver and he caught 54.5 percent of his contested opportunities last seasons, 13th-best in the nation. – Steve Palazzolo, @PFF_Steve
99. Denver Broncos (compensatory)
Dorian O'Daniel, LB, Clemson
Denver addresses another position of need here at linebacker – specifically from a pass coverage standpoint. Bronco linebackers yielded a passer rating of 112.7 when targeted in 2017, sixth-worst among linebacking units. A combine standout, O'Daniel allowed a passer rating of just 62.9 when targeted in coverage – best in the FBS among linebackers who saw 40 or more targets their way. – Bill Boynton, @bill_boynton
100. TRADE: Minnesota Vikings (from Cincinnati) (compensatory)
Kris Weatherspoon, S, Troy
[Trade details: Minnesota sends Round 3 (No. 94 overall) in exchange for Cincinnati's Round 3 (No. 100 overall), Round 5 (No. 151 overall) & Round 7 (No. 252 overall).]
Weatherspoon has the potential to be a matchup weapon on defense in the NFL. He has the talent to play either safety spot, can cover the slot, and would add impressive instincts to a solid secondary in Minnesota. – Sam Monson, @PFF_Sam
Round 4
101. Green Bay Packers (from Cleveland)
Will Richardson, T, NC State
With tackle Bryan Bulaga coming off a torn ACL, the Packers look for some tackle help in the form of Richardson. – Bryson Vesnaver, @PFF_Bryson
102. TRADE: Los Angeles Rams (from Tampa from New York Giants)
Malik Jefferson, LB, Texas
[Trade details: Tampa sends their Round 4 (No. 102 overall) & Round 6 (No. 202 overall) in exchange for Los Angeles' Round 4 (No. 111 overall) & Round 6 (No. 176 overall).]
Jefferson is an athletic freak who recorded 57 defensive stops during the 2017 season, three less than what he had in his first two seasons at Texas combined. – Mike Cahill, @FB_Cahill
103. Houston Texans
Quin Blanding, S, Virginia
Blanding finds the ball well in the run game and he's a sure tackler, as he missed only 43 of his incredible 502 tackles attempts during his career. – Steve Palazzolo, @PFF_Steve
104. Indianapolis Colts
Jerome Baker, LB, Ohio State
Adding Baker at linebacker addresses yet another hole left on one of the league's worst rosters. – Daniel Kelley, @danieltkelley
105. Chicago Bears
B.J. Hill, DI, NC State
Hill has flashed talent as an interior pass rusher, and stood out at the Senior Bowl, where he won 73 percent of his 1-on-1 reps. – Kevin Connaghan, @PFF_Kev
106. Denver Broncos
Kalen Ballage, RB, Arizona State
Ballage's much-talked-about receiving display at the Senior Bowl, coupled with his explosive tools (top-five results at NFL Combine in 40-yard dash, broad jump and 3-cone drill), make him the pick here. – Bill Boynton, @bill_boynton
107. New York Jets
Darious Williams, CB, UAB
A 2017 PFF First-Team All-American, Williams' ball skills and range are very impressive and he allowed a mere 34.6 passer rating in his coverage last season. – John Gatta, @PFF_JohnGatta
108. New York Giants (from Tampa)
Chad Thomas, edge, Miami (Fla.)
The loss of Jason Pierre-Paul creates some depth issues for the Giants at the edge position and Thomas is incredibly athletic, giving New York more of a rotation along the edge going forward. – Gordon McGuinness, @PFF_Gordon
109. TRADE: Philadelphia Eagles (from New England from Washington from Denver)
Jaylen Samuels, RB/WR, NC State
[Trade details: New England sends their Round 4 (No. 109 overall) in exchange for Philadelphia's Round 4 (No. 130 overall) & Round 6 (No. 206 overall).]
Samuels is arguably the most versatile offensive weapon in this draft. In 2017, he took snaps from every offensive position except for offensive line. This TE/WR/RB out of NC State gives the offense a myriad of options and he'll pick up where Trey Burton left off. – Aaron Bloch, @PFF_Aaron
110. Oakland Raiders
Derrick Nnadi, DI, Florida State
Nnadi is at his best when defending the run, as evidenced by his 81.0-plus run-defense grades in each of the past three seasons. – Austin Gayle, @AustinGayle_PFF
111. TRADE: Tampa Bay Buccaneers (from Los Angeles Rams from Miami)
Trey Quinn, WR, SMU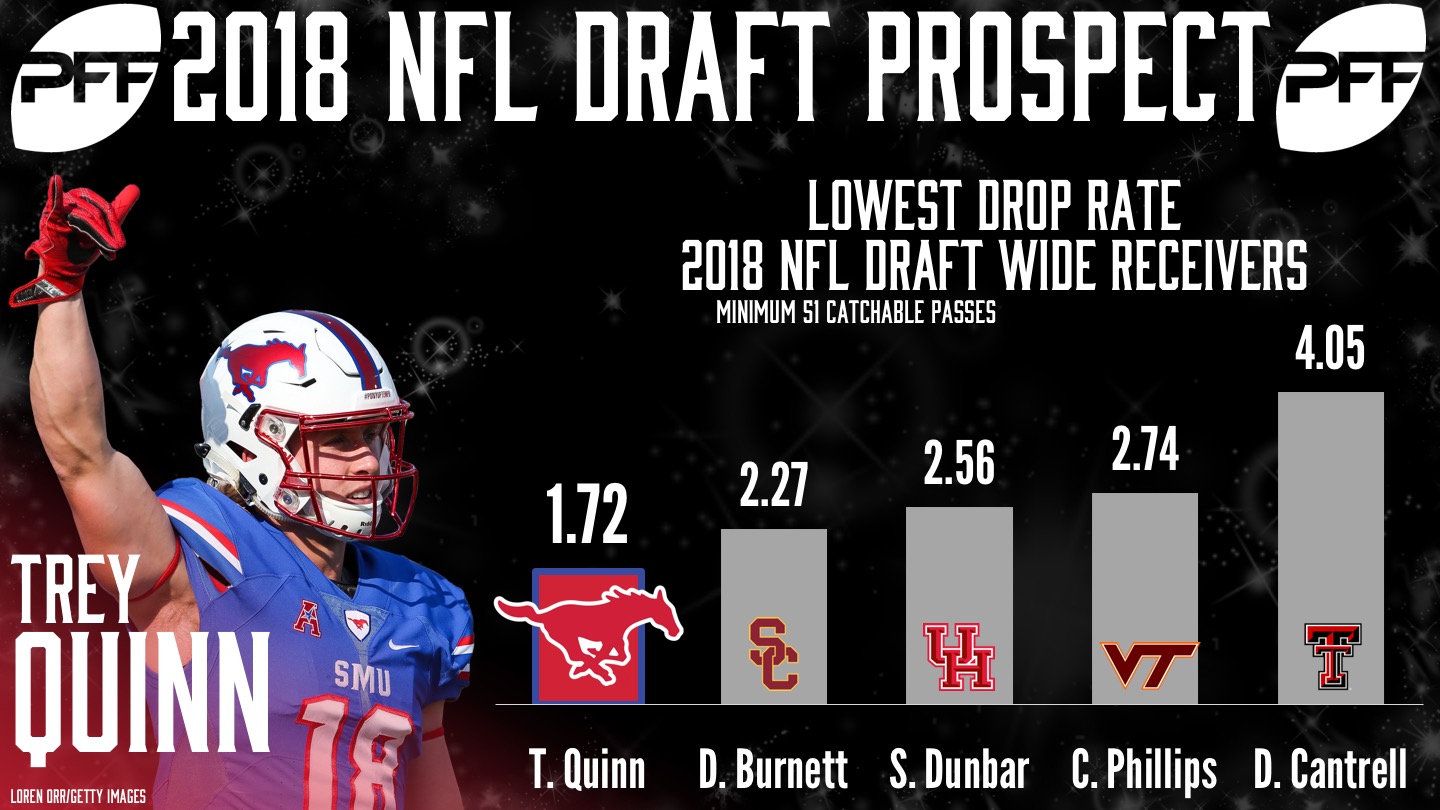 [Trade details: Tampa sends their Round 4 (No. 102 overall) & Round 6 (No. 202 overall) in exchange for Los Angeles' Round 4 (No. 111 overall) & Round 6 (No. 176 overall).]
After trading down, the Bucs target in Quinn is still available. He enters the fold as another weapon for Winston and Co., this time from the slot where Quinn excelled at SMU, as he posted the lowest drop rate among 2018 NFL Draft receivers (1.72). – Cam Mellor, @PFF_Cam
112. Cincinnati Bengals
Antonio Callaway, WR, Florida
Bengals have struggled to get consistent production out of the slot over the past few seasons. Callaway can step in and add some dynamism there immediately. He'll drop due to off-field issues, but that hasn't bothered the Bengals in the past. – Mike Renner, @PFF_Mike
113. TRADE: Pittsburgh Steelers (from Denver from Washington)
Ja'Von Rolland-Jones, edge, Arkansas State
[Trade details: Pittsburgh sends their Round 1 pick (No. 28 overall) & their Round 3 pick (No. 92 overall) in exchange for Denver's Round 2 pick (No. 40 overall), Round 3 pick (No. 71 overall) & Round 4 pick (No. 113 overall).]
Rolland-Jones graded out in the 80.0's each of his four years at Arkansas State, and can be used as an edge rusher in clear pass rushing situations. – Nathan Jahnke, @PFF_Nate
114. TRADE: New Orleans Saints (from Cleveland from Green Bay)
Joe Ostman, edge, Central Michigan
[Trade details: New Orleans sends Round 3 (No. 91 overall) & Round 6 (No. 201 overall) in exchange for Cleveland's Round 4 (No. 114 overall) & Round 6 (No. 188 overall).]
Ostman gives the Saints a productive and talented edge rusher, who ended the 2017 college season with the fourth-highest grade among all players at the position. – Mark Chichester, @chichester_mark
115. Chicago Bears (from Arizona)
Mason Cole, C/G, Michigan
Cole brings a wealth of experience in college, and the versatility to fill in at multiple positions along the line. – Kevin Connaghan, @PFF_Kev
116. TRADE: Carolina Panthers (from Dallas)
Jessie Bates III, S, Wake Forest
[Trade details: Dallas sends Round 4 (No. 116 overall) in exchange for Carolina's Round 5 (No. 149 overall) & Round 6 (No. 197 overall).]
Bates brings a similar skill set to former Panther Kurt Coleman, as a guy who can play as a high safety, around the LOS or occasionally lined up over a receiver in the slot.  – Brett Whitefield, @PFF_Brett
117. Detroit Lions
Lorenzo Carter, edge, Georgia
We may view Carter as a bit of a "boom or bust" player, but at this stage his potential makes him an absolute steal. – Josh Liskiewitz, @PFF_Josh
118. Baltimore Ravens
Bradley Bozeman, C, Alabama
Only allowing 10 total pressures in his college career, Bozeman brings great technical skills and the versatility to play either guard or center. – Harley Sherman, @PFF_Harley
119. Los Angeles Chargers
Al-Rasheed Benton, LB, West Virginia
Linebacker health and depth was an issue for the Bolts last year and Benton provides depth with a shot of upside. – Alejandro Chavez, @HondoCz
120. Seattle Seahawks
Javon Wims, WR, Georgia
Wims could offer a new contested-target receiver as a rookie having snagged four touchdowns on 24 contested targets for Georgia on their run to the SEC championship last year. – Ben Stockwell, @PFF_Ben
121. Buffalo Bills
Michael Dickson, P, Texas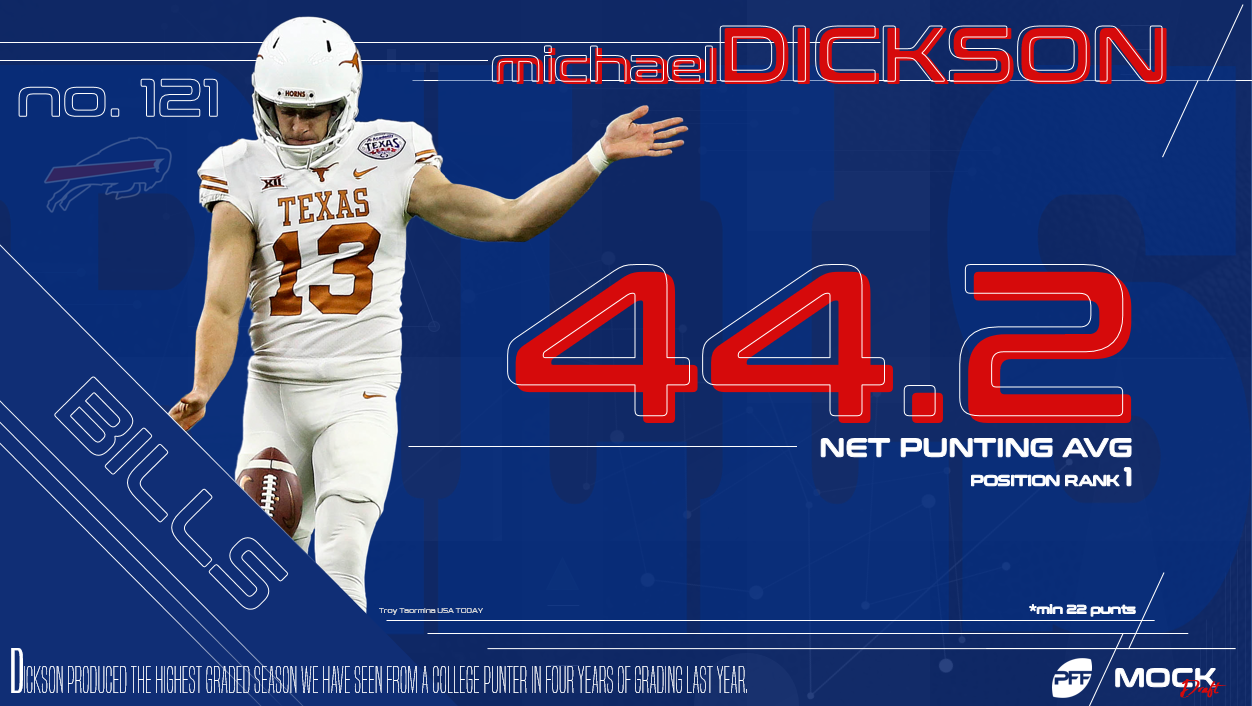 Dickson produced the highest graded season we have seen from a college punter in four years of grading last year. Averaging 44.2 net yards per punt, and dropping 42 of his 84 punts inside the opposing 20-yard line, he could set the Bills up at the position for a number of years. – Gordon McGuinness, @PFF_Gordon
122. Kansas City Chiefs
Arrion Springs, CB, Oregon
The Chiefs go back the to the cornerback well to pick Springs, who was very strong in coverage in 2017. Almost exclusively an outside cornerback in 2017 for the Ducks, Springs could compete for playing time in the Chiefs secondary right away at a position of need. His 0.74 yards per coverage snap allowed versus Power-5 teams a year ago was 28th among 220 qualifying cornerbacks, while only 40.6 percent of the 64 passes into his coverage were complete. – Eric Eager, @PFF_EricEager
123. Miami Dolphins (from Cleveland from Carolina)
Micah Kiser, LB, Virginia
Kiser has racked up 154 stops over the last three seasons and has shown the ability to get after the QB too with 78 total pressures in that time. – Ryan M. Smith, @PFF_RyanSmith
124. Kansas City Chiefs (from Los Angeles Rams)
Jeremiah Kolone, G, San Jose State
The Chiefs first offensive pick of the 2017 draft is at a position of great question for them. Gone is Zach Fulton and his 3,286 snaps played over the past four years, and the combination of Bryan Witzmann (40.6) and Parker Ehinger (35.8) struggled to play effectively and recover from a 2016 ACL injury, respectively. Kolone missed a significant portion of the 2017 season but allowed just one pressure (a hurry) in his 251 pass-blocking snaps through six weeks, while also grading positively as a run-blocker. – Eric Eager, @PFF_EricEager
125. Tennessee Titans
Josh Sweat, edge, Florida State
As previously mentioned, the Titans need more youth and depth at edge rusher. A former five-star recruit, Sweat never quite lived up to the hype at FSU, but he owns all the traits to be a special player at the next level. While his 76.1 pass-rush grade in 2017 represented the best effort of his college career, he tends to rely exclusively on his athleticism. – Charles Miller
126. Atlanta Falcons
Colby Gossett, G, App. State
The Falcons missed Chris Chester and the kind of blocks he was able to execute in the run game, especially on outside zone runs. Gossett, albeit against weaker opposition, has shown an ability to make those plays and would immediately compete for a starting spot. – Khaled Elsayed, @PFF_Khaled
127. New Orleans Saints
Stacy Thomas, LB, Louisville
Thomas put forth top-20 rankings in the class in run-stops and in yards allowed per coverage snap, injecting youth to the Saints linebacking corps that sees both Alex Anzalone and A.J. Klein returning from injuries in 2018. – Mark Chichester, @chichester_mark
128. San Francisco 49ers (from Pittsburgh)
Cody O'Connell, G/T, Washington State
The 6-foot-9, 368 pound O'Connell ranked eighth in the class in pass-blocking efficiency and earned a pass-block grade of 90.0+ in each of the last two seasons. While his run-block grade took a dip in 2017, finding a guard with this upside and past success running outside zone in round four is another get for Lynch and Co. – George Chahrouri, @PFF_George
129. Jacksonville Jaguars
Duke Dawson, CB, Florida
Following the loss of Aaron Colvin this offseason, Dawson is ready-made to play the slot having played 170 snaps there last season and only allowing a passer rating of 41.0 when targeted. – Elliott Rooney, @PFF_Elliott
130. TRADE: New England Patriots (from Philadelphia from Minnesota)
Chukwuma Okorafor, T, Western Michigan
[Trade details: New England sends their Round 4 (No. 109 overall) in exchange for Philadelphia's Round 4 (No. 130 overall) & Round 6 (No. 206 overall).]
Okorafor had a decent pass-block grade in 2017 of 81.0, but is a raw prospect. With this pick, I have faith offensive line coach Dante Scarnecchia will be around another 1-2 years to mold a player in Okorafor, who has all the phsysical tools, into a future starter at tackle. – Louie Benjamin, @PFF_Louie
131. TRADE: Pittsburgh Steelers (from Miami from New England from Philadelphia)
Jack Cichy, LB, Wisconsin
[Trade details: this trade occurred on Day 2, after Denver sent this pick to Pittsburgh as a part of the package for No. 28 overall. Pittsburgh sends Round 3 (No. 71 overall) & Round 5 (No. 165 overall) in exchange for Miami's Round 3 (No. 73 overall) & Round 4 (No. 131 overall).]
Here the Steelers double down on talented linebackers who missed significant time in college with injury. Cichy is the perfect kind of fourth-round gamble that could pay off as a solid starter, or could never become an NFL starter. – Nathan Jahnke, @PFF_Nate
132. Philadelphia Eagles (from Minnesota)
DeShon Elliott, S, Texas
Corey Graham remains unsigned and Rodney McLeod is a potential cap casualty as we look ahead to 2019. Enter Elliott who had 13 combined plays on the ball for Texas last year, second-most in the nation among FBS safeties. – Aaron Bloch, @PFF_Aaron
133. Green Bay Packers (compensatory)
Kyle Bosch, G, West Virginia
The Packers need interior offensive line depth and Bosch should help with that. He has good size and strength for the position and finished top-20 in both pass-blocking efficiency and run-block success percentage. – Bryson Vesnaver, @PFF_Bryson
134. Arizona Cardinals (compensatory)
Darius Leonard, LB, South Carolina State
Under the new regime, additional linebackers who can cover will be needed in Arizona. Leonard finished the week of Senior Bowl practices as PFF's highest-graded coverage defender showing he can cover running backs and tight ends down the field. – Jordan Plocher, @PFF_Jordan
135. Los Angeles Rams (from New York Jets) (compensatory)
Olasunkanmi Adeniyi, edge, Toledo
Adeniyi doesn't have prototypical size in terms of NFL pass-rushers, but his production in both the passing and running game show that doesn't matter. His relentless motor and low pad level helped produce the nation's second most quarterback hits among all edge defenders on his was to the 15th highest pass-rush productivity of 12.5. – Mike Cahill, @FB_Cahill
136. Los Angeles Rams (from New England) (compensatory)
Deadrin Senat, DI, South Florida
Senat's 12.5 run-stop percentage ranked second in the draft class among interior defenders while playing mostly at the nose tackle position but has the ability to play anywhere between the tackles. – Mike Cahill, @FB_Cahill
137. Dallas Cowboys (compensatory)
Harrison Phillips, DI, Stanford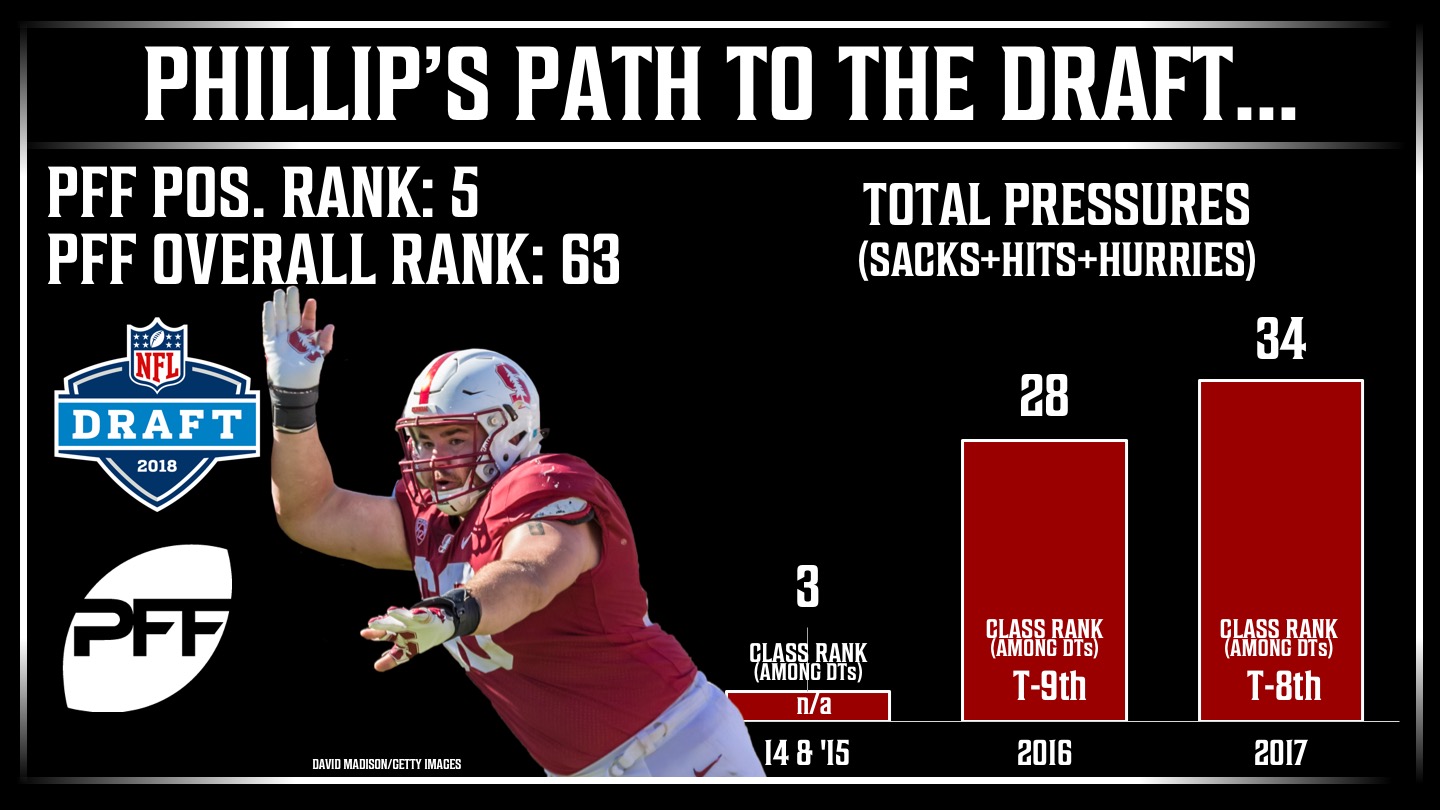 Phillips is a run-stopper, manning that role at Stanford last year to the tune of 46 stops against the run, 14 more than any other interior defender in the class.  – Steve Palazzolo, @PFF_Steve
Round 5
138. Green Bay Packers (from Cleveland)
Marcus Allen, S, Penn State
The Packers have a good cover safety in Ha Ha Clinton-Dix, but they don't have much beyond him. Allen is a great in-the-box safety who excels playing the run and covering short passes. – Bryson Vesnaver, @PFF_Bryson
139. New York Giants
Tony Adams, G, NC State
Adams improved each season of his career culminating in an 86.9 overall grade in 2017. During his final season, he did not allow a sack or a hit and allowed just 10 hurries over 460 pass blocking snaps. – Gordon McGuinness, @PFF_Gordon
140. Indianapolis Colts
DaeSean Hamilton, WR, Penn State
Hamilton is a good receiver, which the Colts need behind T.Y. Hilton and Ryan Grant, but he also brings in a good blocking game, with the fourth-highest WR blocking grade in the draft class. – Daniel Kelley, @danieltkelley
141. Seattle Seahawks (from Houston)
Quenton Meeks, CB, Stanford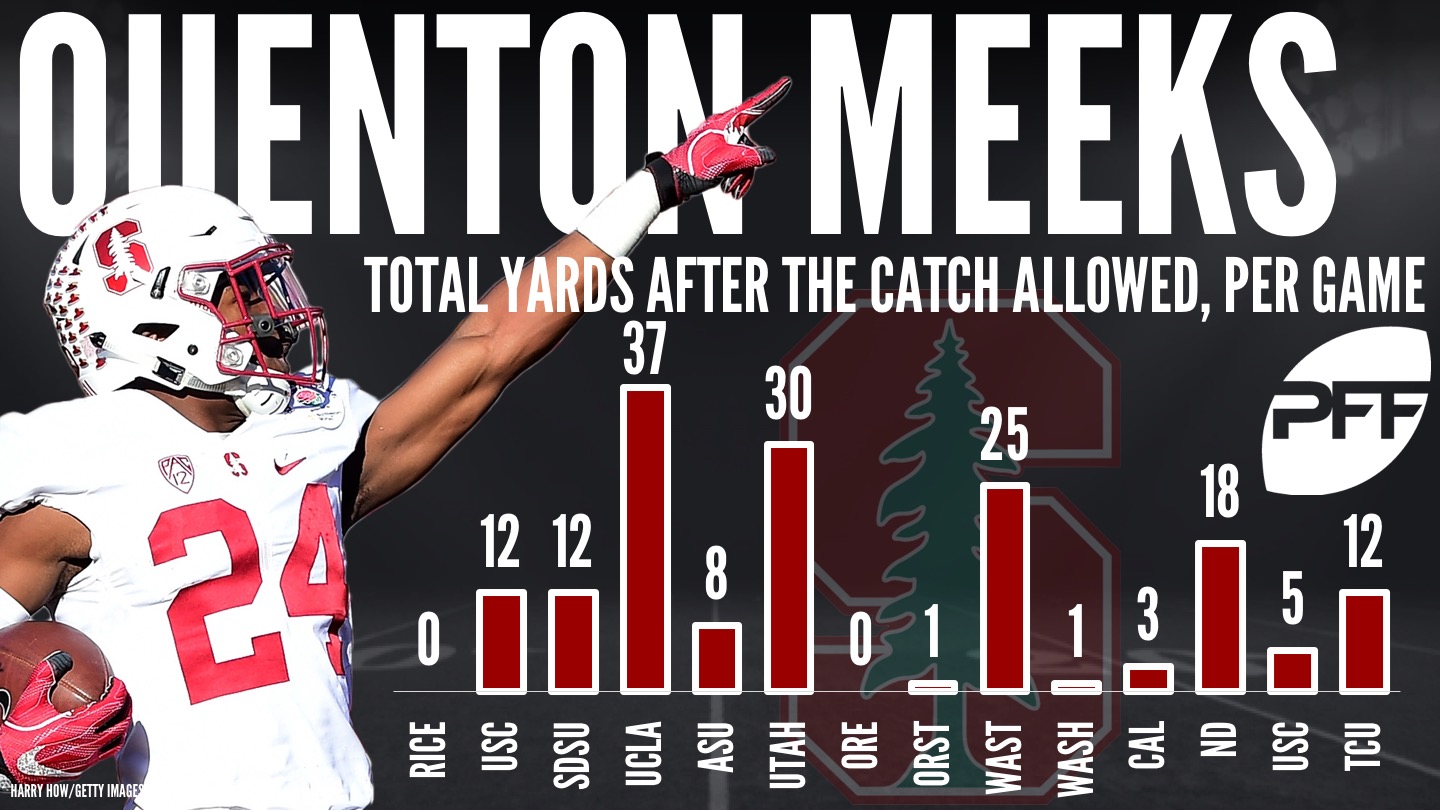 After parting ways with Richard Sherman, the Seahawks have a clear need to continue turning over their cornerback corps. The 6-foot-2 Meeks improved year-on-year at Stanford, ending his final season with two interceptions, four pass defenses and a career high 84.4 overall grade. – Ben Stockwell, @PFF_Ben
142. Washington Redskins (from Denver)
D.J. Chark, WR, LSU
The Redskins lacked a deep threat last year and have yet to fully replace the void that DeSean Jackson left upon his exit from the team in 2016. Chark ranked in the top-5 in both deep pass receptions (20-plus yards) and deep pass yards. – Trevor Lynch, @PFF_Lynch
143. San Francisco 49ers (from New York Jets)
Deon Cain, WR, Clemson
Again, we get sniped at the last second with a wide receiver. Hoping to nab D.J. Chark, Cain might not have the raw talent of Chark but he could be more ready to contribute at each level of the field (and hopefully from the slot though he only ran 13 slot routes in 2017). His 4.43 speed will be useful in stretching the field and he is just a season removed from catching 43.8 percent of his deep targets with Deshaun Watson as his quarterback. – George Chahrouri, @PFF_George
144. Buffalo Bills (from Tampa)
Levi Wallace, CB, Alabama
Wallace has one of the more interesting stories in this draft class, walking on at Alabama and playing just 101 snaps heading into the 2017 season. He grabbed a spot in the starting lineup this past season though, allowing just 31 receptions to go with three interceptions and 11 pass breakups over the course of the year. – Gordon McGuinness, @PFF_Gordon
145. Chicago Bears
Fred Warner, LB, BYU
With the size of a linebacker, and the mobility of a safety, Warner is an intriguing prospect who should start his career as a sub-package cover linebacker. He earned a career-high 86.5 overall grade in 2017. – Kevin Connaghan, @PFF_Kev
146. Seattle Seahawks (from Oakland)
Isaac Yiadom, CB, Boston College
Another shot at a long corner for the Seahawks in the space of six picks, Yiadom played 146 special teams snaps for Boston College this year and could bolster a Seahawks' special teams' unit that ranked 21st in our end of season rankings. – Ben Stockwell, @PFF_Ben
147. New Orleans Saints (from Miami)
Logan Woodside, QB, Toledo
The Saints signed Drew Brees to a two-year contract this offseason, so the team shouldn't panic about finding a signal-caller, but drafting Woodside here seems like a good move for both the team and the former Toledo quarterback. Woodside has a couple of years of strong grading under his belt and he finished his final college season with an adjusted completion percentage of 75.6 percent – the sixth-best mark in the class. – Mark Chichester, @chichester_mark
148. TRADE: New England Patriots (from Pittsburgh from San Francisco)
D.J. Reed, CB, Kansas State
[Trade details: New England sends their Round 1 pick (No. 31 overall) in exchange for Pittsburgh's Round 2 pick (No. 40 overall) and Round 5 pick (No. 148 overall).]
D.J. Reed allowed a passer rating of just 55.5 when targeted in 2017 while not surrending a reception longer than 30 yards, and his tape is outstanding and he projects to the slot, standing just 5-foot-9. – Louie Benjamin, @PFF_Louie
149. TRADE: Dallas Cowboys (from Carolina from Denver from Washington)
Jordan Akins, TE, UCF
[Trade details: this trade occurred on Day 2, after a Carolina-Denver trade. Dallas sends Round 4 (No. 116 overall) in exchange for Carolina's Round 5 (No. 149 overall) & Round 6 (No. 197 overall).]
Dallas adds another playmaker to their offense with Akins who shows good speed and quickness as a route runner and ranked fifth in the draft class with 1.93 yards per route last season. Like most tight ends in the class, Akins has work to do as a run-blocker where his 69.0 grade in 2017 was the best of his career. – Steve Palazzolo, @PFF_Steve
150. Cleveland Browns (from Green Bay)
Avonte Maddox, CB, Pittsburgh
Maddox is small but super athletic and has graded well the past three seasons at Pittsburgh. Maddox allowed just 53.7 percent of targets his way to be caught in his career while racking up eight interceptions and 30 pass breakups. – John Kosko, @PFF_JohnKosko
151. TRADE: Minnesota Vikings (from Cincinnati)
Brandon Parker, T, North Carolina A&T
[Trade details: Minnesota sends Round 3 (No. 94 overall) in exchange for Cincinnati's Round 3 (No. 100 overall), Round 5 (No. 151 overall) & Round 7 (No. 252 overall).]
Few players in this draft have the kind of movement skills that Brandon Parker possesses. There are plenty of question marks, but the Vikings take a chance on a rare athlete with development potential. – Sam Monson, @PFF_Sam
152. Arizona Cardinals
Sam Jones, G, Arizona State
Interior offensive line was one of the deepest position groups in the draft class and the Cardinals find a potential starter at guard in Jones. Jones only allowed two sacks, two QB hits and 21 pressures on his 929 career pass-blocking snaps at Arizona State. – Jordan Plocher, @PFF_Jordan
153. TRADE: Cleveland Browns (from Detroit)
Genard Avery, LB, Memphis
[Trade details: Detroit sends Round 5 (No. 153 overall) in exchange for Cleveland's Round 6 (No. 175 overall) & Round 6 (No. 201 overall).]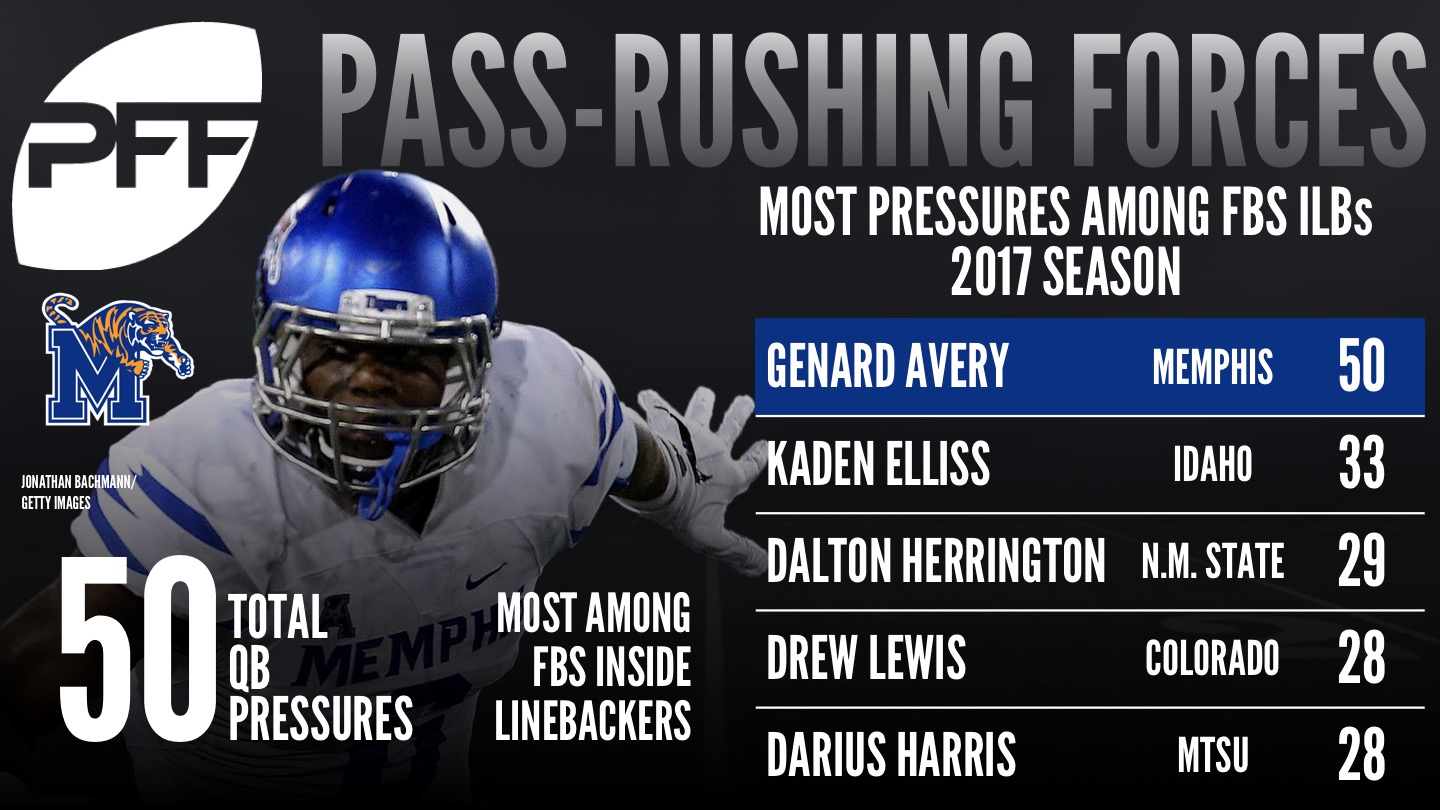 Avery would be deployed as a pass-rush specialist as his production and athletic profile screams that roll. A profile that includes nine sacks, 14 QB hits and 34 hurries on just 276 pass-rushes. Avery might not have the prototypical size and length to rush in the NFL but that didn't stop Carl Lawson from excelling as a rookie. – John Kosko, @PFF_JohnKosko
154. TRADE: Miami Dolphins (from Baltimore)
Folorunso Fatukasi, edge,  Connecticut 
[Trade details: Baltimore sends Round 5 (No. 154 overall) & Round 6 (No. 215 overall) in exchange for Miami's Round 5 (No. 165 overall), Round 6 (No. 209 overall) & Round 7 (No. 229 overall).]
Fatukasi is a raw but talented interior defender who would fit nicely in the Dolphins' 4-3 base defense as a 3-technique. The Dolphins get solid value here in the fifth round with a 6-foot-4, 300-plus pound defensive tackle who racked up 108 stops and 87 total pressures in his productive college career. – Ryan M. Smith, @PFF_RyanSmith
155. Los Angeles Chargers
Kyle Queiro, S, Northwestern
With Travis Kelce in the division, the Chargers could use a tight end coverage specialist. Step in Queiro at 6-foot-3, 220 pounds, he's a safety by name, but can be used as a dime coverage man or even nickel linebacker in a pinch. He's a playmaker on the ball, with five interceptions and eight breakups last year alone and he graded well in run-defense. – Alejandro Chavez, @HondoCz
156. Seattle Seahawks (from Philadelphia from Seattle)
Alex Cappa, T, Humboldt State
Cappa's first exposure to top level competition came at the Senior Bowl where he had his struggles but also came up with some dominant reps in both team and individual sessions, highlighting the physicality and blocking ability that he showed on a consistent basis at Humboldt State. – Ben Stockwell, @PFF_Ben
157. New York Jets (from Dallas)
Scott Quessenberry, C, UCLA
While it was a coincidence that we pair our quarterback with his center from UCLA, Quessenberry adds much-needed depth to an interior OL that struggled mightilty in 2017. Stout in pass protection last year, Quessenberry allowed 16 pressures across 581 pass-blocking snaps. – John Gatta, @PFF_JohnGatta
158. Cincinnati Bengals (from Buffalo)
Nathan Shepherd, DI, Fort Hayes State
Shepherd is a hoss of a defensive lineman. He has as much raw power as any defensive line prospect in this class, but will need some seasoning after coming out of Fort Hayes State. – Mike Renner, @PFF_Mike
159. Oakland Raiders (from New England from Cleveland from Kansas City)
Anthony Averett, CB, Alabama
PFF's 19th-ranked cornerback entering the 2018 NFL Draft, Averett is capable of mirroring wide receivers in man coverage. He can make an early impact on special teams and will provide key depth in Oakland. – Austin Gayle, @AustinGayle_PFF
160. Denver Broncos (from Los Angeles Rams)
Kameron Kelly, CB, San Diego State
With Chris Harris and Bradley Roby firmly entrenched as the starting corners, Kelly has another year to work towards the transition and improve on the ball skills he showcased at San Diego State, amassing 21 interceptions and passes defensed combined on 138 targets over his 3-year career. – Bill Boynton, @bill_boynton
161. TRADE: Oakland Raiders (from Carolina)
Martinas Rankin, T, Mississippi State
[Trade details: Oakland sends their Round 2 pick (No. 41 overall) in exchange for Carolina's Round 2 pick (No. 55 overall), their Round 5 pick (No. 161 overall) & their Round 7 pick (No. 234 overall).]
Rankin is a bit of a project with his underwhelming athleticism and hand usage, but if equipped with proper NFL coaching, he can excel as a swing tackle if not a potential starter at guard. He could compete for a starting role at right tackle in Year 1 and ultimately provide key depth at both tackle and guard. – Austin Gayle, @AustinGayle_PFF
162. Tennessee Titans
Rashaan Gaulden, CB, Tennessee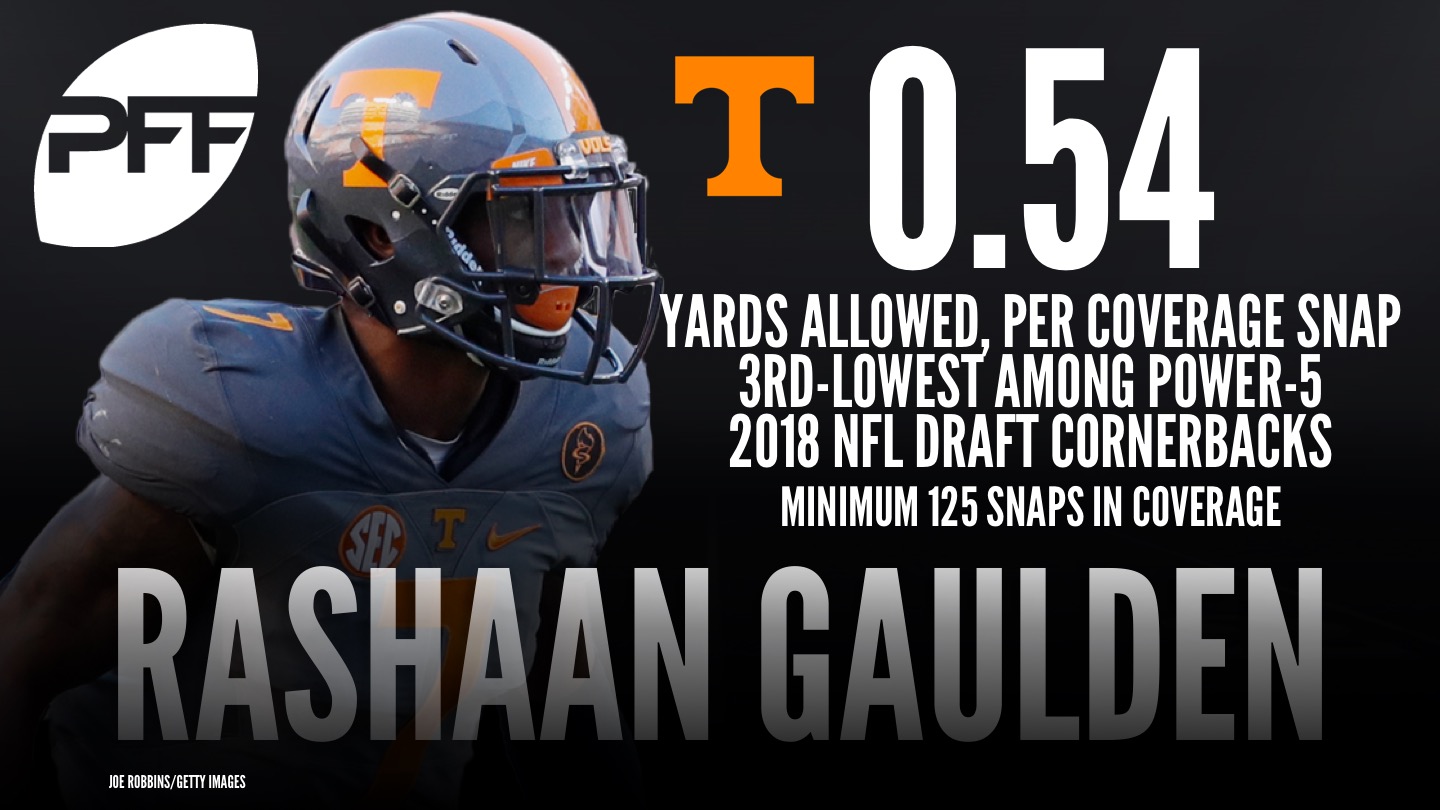 Gaulden adds talent and depth to the Titans secondary. He is a tough, battle-tested corner, earning an 84.1 overall grade in 2017, which ranked sixth among SEC cornerbacks. He allowed just 0.61 yards per cover snap against Power-5 opponents, the fourth-best mark among draft-eligible cornerbacks. – Charles Miller
163. Washington Redskins (from Denver from Atlanta)
Holton Hill, CB, Texas
The Redskins have 1,575 cornerback snaps to replace from last season and Hill will provide depth to the position bringing his receiver size at 6-foot-3 and 200 pounds. He played largely off-coverage at Texas on top of receivers so his ability to consistently turn and run at the line of scrimmage is still in question however ceding ground on virtually every target, he still only allowed 50.9 percent of balls thrown at him to be caught in 2017. – Trevor Lynch, @PFF_Lynch
164. New Orleans Saints
Armani Watts, S, Texas A&M
Watts has a wealth of experience at the college level and he will bring the talent and flexibility to fill a number of roles on the Saints' defense. As a safety, he racked up 32 defensive stops in 2017, which tied for the seventh-most in the nation. – Mark Chichester, @chichester_mark
165. TRADE: Baltimore Ravens (from Miami from Pittsburgh)
Kentavius Street, edge, NC State
[Trade details: this trade occurred on Day 2, after a Denver-Pittsburgh & Pittsburgh-Miami trade. Baltimore sends Round 5 (No. 154 overall) & Round 6 (No. 215 overall) in exchange for Miami's Round 5 (No. 165 overall), Round 6 (No. 209 overall) & Round 7 (No. 229 overall).]
Street adds more youthful talent to the edge as an exciting, powerful defender who made more of a name for himself against the run than rushing the passer at NC State. His dominant performance at the Shrine game will hopefully be a sign of good things to come, although a torn ACL suffered during a private workout likely makes him a project who will be stashed until the 2019 season. – Harley Sherman, @PFF_Harley
166. Tampa Bay Buccaneers (from Buffalo from Jacksonville)
Cole Madison, G/T, Washington State
An offensive line in desperate need of versatile players to possibly fill multiple roles, enter Madison who logged 1,030 snaps at right tackle last season, but projects inside in Tampa. Gone is Joe Hawley and with starting guards Evan Smith & Ali Marpet the only players viable to fill in for C Ryan Jensen if injured, Madison's big frame becomes that much more important for depth. With his experience at tackle coupled with the woes of Donovan Smith and Demar Dotson returning from injury, Madison's selection this late is a no-brainer. – Cam Mellor, @PFF_Cam
167. Minnesota Vikings
Deatrick Nichols, CB, South Florida
A small of stature cornerback with elite coverage skills, Nichols could have upside at the NFL level if he manages to add weight or functional strength. – Sam Monson, @PFF_Sam
168. Seattle Seahawks (from New England)
Josh Adams, RB, Notre Dame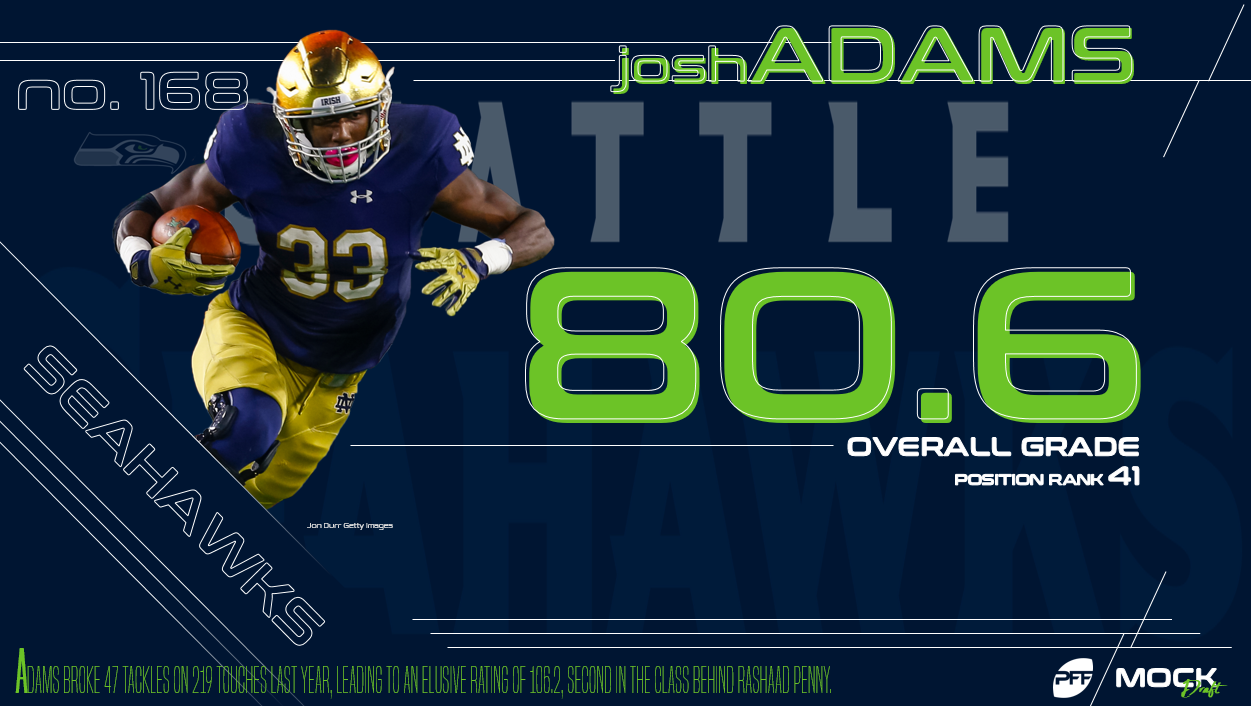 The Seahawks have a recent track record of backs who break tackles for fun and Adams fits that mould. Adams broke 47 tackles on 219 touches last year, leading to an elusive rating of 106.2, second in the class behind Penny. – Ben Stockwell, @PFF_Ben
169. Philadelphia Eagles
Geron Christian, T, Louisville
Christian's 88.3 pass-blocking grade in 2017 ranked 11th in the nation among offensive tackles. He improved every season at Louisville while rotating between left and right tackle during games.  – Aaron Bloch, @PFF_Aaron
170. Cincinnati Bengals (compensatory)
Rasheem Green, DI, USC
Green often played out of position on the interior at USC as his athleticism and size will be best suited on the edge in the NFL. He fits the size profile that the Bengals generally tend to go after. – Mike Renner, @PFF_Mike
171. Dallas Cowboys (compensatory)
Deontay Burnett, WR, USC
Burnett will compete for snaps in the slot where he ranked fourth in the draft class with 883 yards a year ago. He dropped only four of his 156 catchable targets in his career while showing a knack for making highlight-reel catches. – Steve Palazzolo, @PFF_Steve
172. Green Bay Packers (compensatory)
Jordan Lasley, WR, UCLA
Lasley is an interesting prospect that could be great value for the Packers here if he can fix his serious drop issues (12.5 percent drop rate, 167th). He's a fantastic route runner and knows how to separate from coverage. That's something Packers receivers have struggled to do in recent years and Lasley could help fix that. – Bryson Vesnaver, @PFF_Bryson
173. Oakland Raiders (from Dallas) (compensatory)
Andrew Brown, DI, Virginia
Though he struggled with consistency in his career, Brown flashed high-end pass-rushing talent in spurts. Oakland can tap into his potential by playing to his strengths and allowing him to develop into a pass-rushing force. – Austin Gayle, @AustinGayle_PFF
174. Pittsburgh Steelers (from Green Bay) (compensatory)
Dalyn Dawkins, RB, Colorado State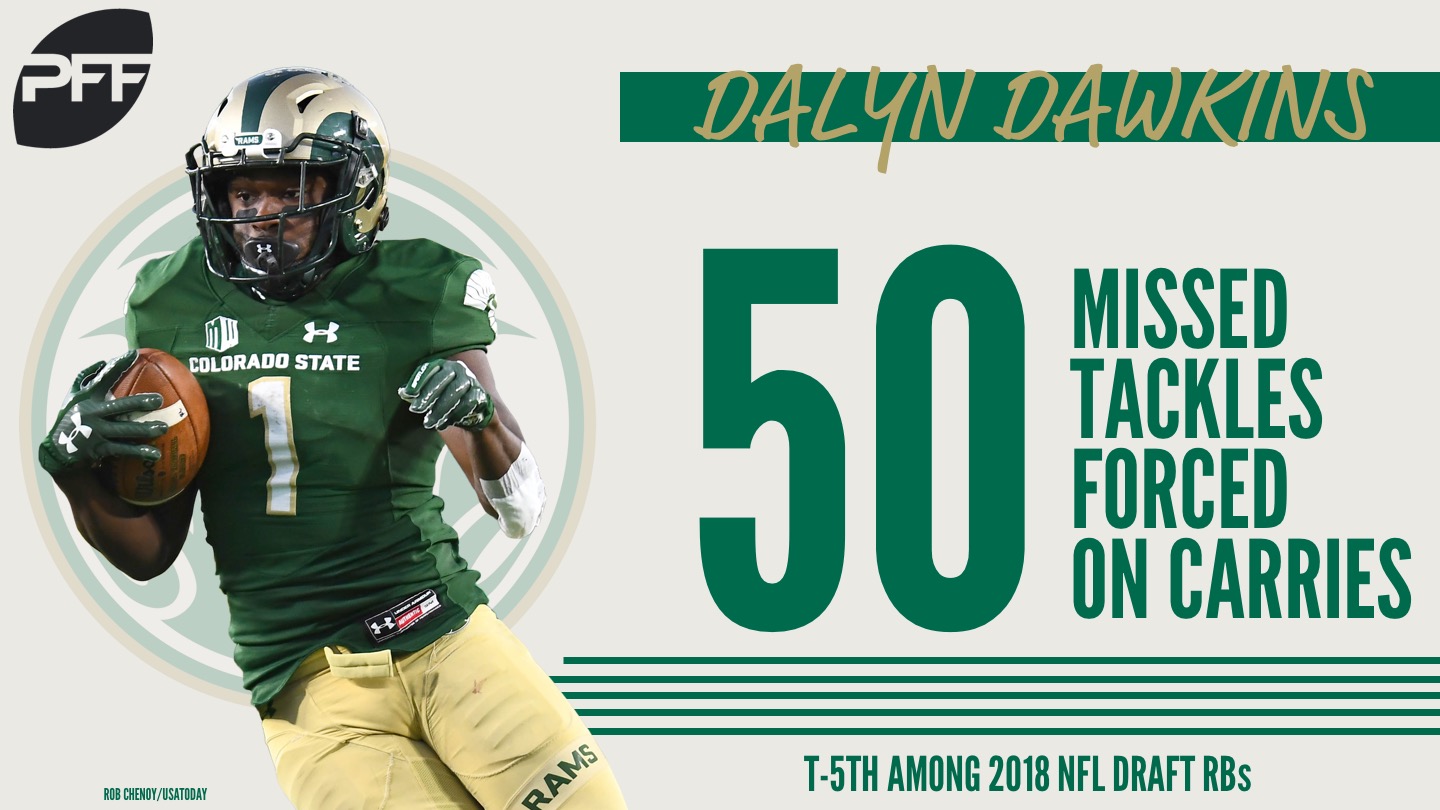 [Trade details: this trade occurred on Day 2, after a Pittsburgh-Miami trade. Pittsburgh sends Round 3 (No. 73 overall) in exchange for Green Bay's Round 3 (No. 76 overall) & Round 5 (No. 174 overall).]
Dawkins is the kind of player Pittsburgh can get the ball to a few times a game, and hope for an explosive play. He was among the top-10 of the draft class in terms of elusive rating. He likely won't be durable enough to be a lead back if Le'Veon Bell were to get hurt, but is someone that allows for some creative play-calling. – Nathan Jahnke, @PFF_Nate
Round 6
175. TRADE: Detroit Lions (from Cleveland)
Cam Serigne, TE, Wake Forest
[Trade details: After a trade between Cleveland and New Orleans, Cleveland sends Round 6 (No. 175 overall) & Round 6 (No. 201 overall) in exchange for Detroit's Round 5 (No. 153 overall).]
Serigne has the quickness to create separation on own despite lacking blazing speed and last year won 61.5 percent of his contested targets. He also improved his hands significantly in 2017, as he scored nine times while dropping just one ball. – Josh Liskiewitz, @PFF_Josh
176. TRADE: San Francisco 49ers (from Tampa from Los Angeles Rams from New York Giants)
Foyesade Oluokun, LB, Yale
[Trade details: After a trade between Tampa Bay & Los Angeles, Tampa sends their Round 6 (No. 176 overall) in exchange for San Francisco's Round 6 (No. 184 overall), Round 7 (No. 223 overall) & Round 7 (No. 240 overall).]
At 6-foot-1, 230 pounds, Oluokun posted a 4.56 40-yard dash, 4.12 20-yard shuttle, 37-inch vertical, and 10-foot-3 broad jump at his pro day which would have ranked sixth, second, sixth and fourth in the linebacker class, respectively. With Foster's future in serious jeopardy we made the trade to get the best linebacker prospect remaining, one who's athletic measurables are strikingly similar to Foster's. Foye made tremendous plays in coverage and against the run while at Yale while obtaining a degree in Economics. The charge of two seventh-rounders won't be too tough to swallow. – George Chahrouri, @PFF_George
177. Houston Texans
Mark Walton, RB, Miami (Fla.)
Walton has dynamic playmaking potential as he combines speed and quickness that led to 71 forced missed tackles on 394 career carries, including a number of other runs in which defenders couldn't even get in position to make a tackle due to his quick-cutting running style. – Steve Palazzolo, @PFF_Steve
178. TRADE: New England Patriots (from Indianapolis)
John Kelly, RB, Tennessee
[Trade details: Indianapolis sends their Round 6 (No. 178 overall) in exchange for New England's Round 6 (No. 198 overall), & Round 6 (No. 210 overall).]
We inject some youth to the running back room with the pick of Kelly, who has ability to contribute on all three downs in the NFL. Kelly forced 14 missed tackles on receptions in 2017, and has some of the best natural balance of any running back in this class. – Louie Benjamin, @PFF_Louie
179. New York Jets
Auden Tate, WR, Florida State
The Jets have a ton of receivers on the roster, but many won't make the 53-man and just a few are on the books for 2019. Auden Tate was too much value to pass up in the 6th round – he is 6-foot-5 but lacks speed, which projects him as a viable red zone target in the NFL. He showed up during bowl week, hauling in three touchdowns against Southern Miss. – John Gatta, @PFF_JohnGatta
180. Tampa Bay Buccaneers
Jeremy Reaves, S, South Alabama
Tackling has long since been an issue in the Bucs secondary, so enter Reaves – a small school product with production against the run, pass and sure-tackling. He recorded a stop on 6.6 percent of his run-defense snaps, the second-highest rate among all draft-class safeties. Reaves topped the charts among safeties in terms of most stops in the passing game with 19, and could be a contributor early after a rookie year to forget from Justin Evans. – Cam Mellor, @PFF_Cam
181. Chicago Bears
Aaron Davis, CB, Georgia
Davis has the quickness to play in the slot (350 coverage snaps as a slot defender over the past two seasons), and the size to perhaps become something more. He's very durable as he was on the field 80.8 percent of Georgia's defensive snaps over the past four years. – Kevin Connaghan, @PFF_Kev
182. Arizona Cardinals (from Denver)
Poona Ford, DI, Texas
Ford was a combine snub largely due to his height as there isn't a long track record of 5-foot-11 defensive tackles succeeding in the NFL. However, Ford is a highly disruptive interior defensive lineman who can be used as a one-gap penetrator. – Jordan Plocher, @PFF_Jordan
183. Los Angeles Rams (from Miami)
Dontrell Hilliard, RB, Tulane
A true breakaway threat at Tulane, Hilliard forced 39 missed tackles on just 209 carries and broke 16 of those carries for 15 or more yards in 2017. – Mike Cahill, @FB_Cahill
184. TRADE: Tampa Bay Buccaneers (from San Francisco)
Antonious Sims, DI, App. State
[Trade details: After a trade between Tampa Bay & Los Angeles, Tampa sends their Round 6 (No. 176 overall) in exchange for San Francisco's Round 6 (No. 184 overall), Round 7 (No. 223 overall) & Round 7 (No. 240 overall).]
Tee Sims was an absolute dominant force on the inside for the Mountaineers, recording a ridiculous 43 total QB pressures on just 175 pass-rushing snaps. That figure is good enough for second among interior defenders, and especially terrific considering that every interior defender that had at least 27 QB pressures last year, needed over 200 pass-rushing snaps (except Sims). – Cam Mellor, @PFF_Cam
185. Oakland Raiders
Ian Thomas, TE, Indiana
Thomas is a bit of a work-in-progress in terms of technique at the moment, but with Jared Cook atop the depth chart, Oakland can afford to bring a project like him into the building. – Austin Gayle, @AustinGayle_PFF
186. Green Bay Packers
Kylie Fitts, edge, Utah
Fitts was drafted here because of his strong play in 2015 before injuries derailed his last two seasons. In 2015, he led the nation with nine batted passes and recorded eight sacks and 41 total pressures. If he can get healthy and regain that form, he could be a steal here. – Bryson Vesnaver, @PFF_Bryson
187. Tampa Bay Buccaneers (from Buffalo from Cincinnati)
Oren Burks, LB, Vanderbilt
Burks rocketed up draft boards after a 4.59 40-yard dash, 39.5-inch vertical leap, 131.0-inch broad jump and quick times in the 3-cone and 20-yard shuttle drills. He was disruptive against the run (28 run stops) but will need to cut down on the missed tackles (43 missed on 275 total tackle attempts in his career). – Cam Mellor, @PFF_Cam
188. TRADE: New Orleans Saints (from Cleveland from Washington)
Kevon Perry, edge, Louisiana
[Trade details: New Orleans sends Round 3 (No. 91 overall) & Round 6 (No. 201 overall) in exchange for Cleveland's Round 4 (No. 114 overall) & Round 6 (No. 188 overall).]
Bolstering the Saints front-seven, Perry ended the 2017 campaign with a whopping 32 run stops, the second-most among draft-eligible players at the position, on the way to an elite grade of 90.5. – Mark Chichester, @chichester_mark
189. New Orleans Saints (from Arizona)
J'Mon Moore, WR, Missouri
With the addition of tight end Dallas Goedert in the first round, the Saints now possess one of the most talented offensive units in the NFL, but they could certainly use some depth at wide receiver. Drafting Moore would give the team a productive pass-catcher, who ended the 2017 season with an average of 2.85 yards per route run, the 13th-best mark among draft-eligible wide receivers. – Mark Chichester, @chichester_mark
190. Baltimore Ravens
Ja'Whaun Bentley, LB, Purdue
PFF's top-graded linebacker in this draft class in 2017, Bentley was an impressive run-stopper at Purdue and can serve as a reliable back up and special teams contributor. – Harley Sherman, @PFF_Harley
191. Los Angeles Chargers
Dejon Allen, T, Hawaii
Allen has good athleticism and is a good fit for the zone scheme the Chargers utilize, he has also made protection calls at the line, giving him a mental edge, and although he will likely be a guard when he finds a home, he does have enough position versatility to play tackle in emergencies. – Alejandro Chavez, @HondoCz
192. Dallas Cowboys (from Oakland from Seattle)
Ben Niemann, LB, Iowa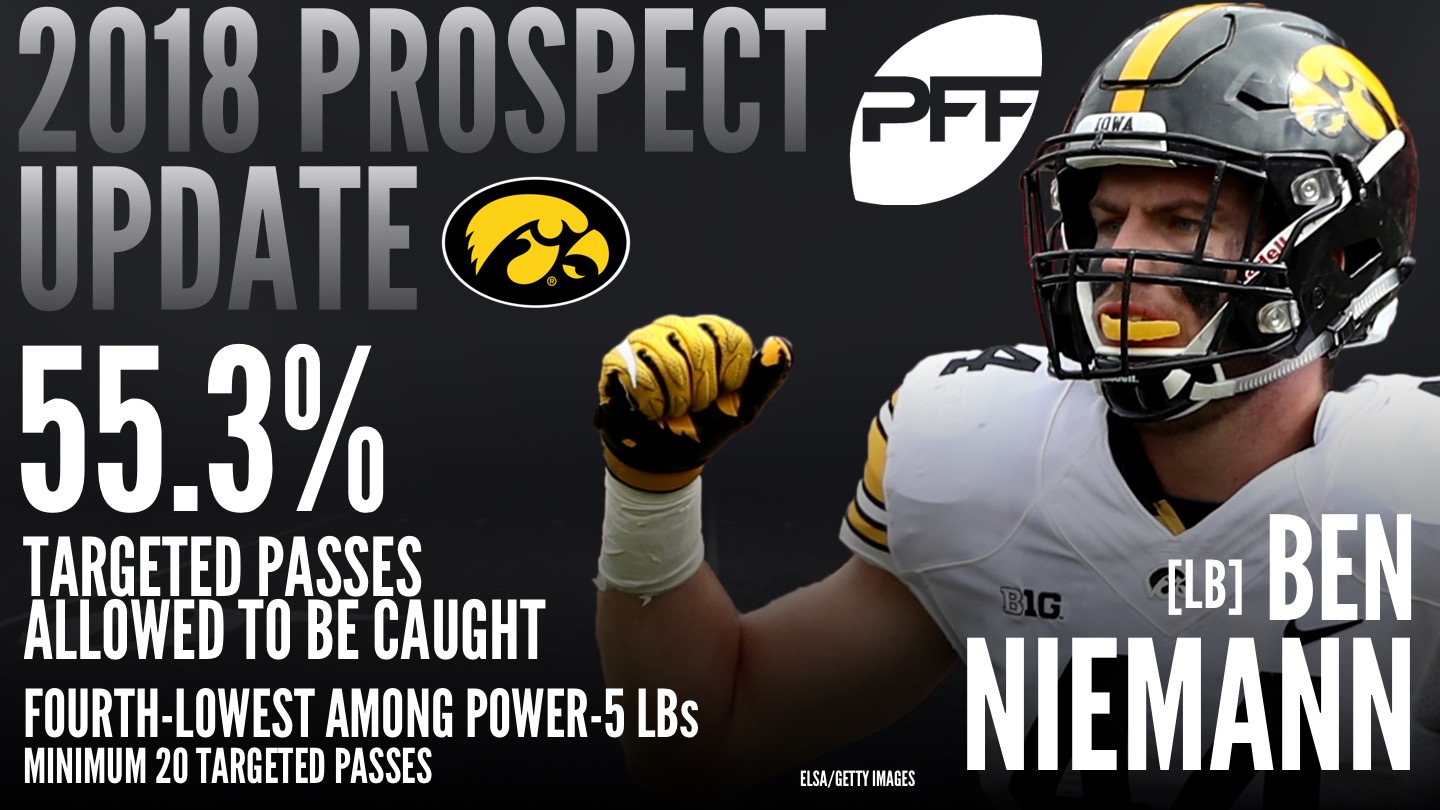 Iowa linebackers play a challenging role in their zone-heavy scheme and Niemann has performed well in coverage with three strong grades over the last three years, including a 88.4 mark last season. He'll compete for a potential role in nickel situations. – Steve Palazzolo, @PFF_Steve
193. Dallas Cowboys
Zachary Crabtree, T, Oklahoma State
Crabtree has the ability to add depth to the offensive line after showing continuous improvement during his career at Oklahoma State. He capped it off with an 87.8 overall grade last season, allowing only 12 pressures on 460 pass-blocking attempts. – Steve Palazzolo, @PFF_Steve
194. Los Angeles Rams (from Carolina)
Matt Pryor, G, TCU
Pryor is another lineman that has played an extensive amount of time at both right tackle and right guard. His highest graded game of the season came against Stanford where he played right tackle and didn't allow a single quarterback pressure. This past season he allowed his fewest amount of quarterback pressures in a season with 12 total for the class' 27th-ranked pass-blocking efficiency of 98.2. – Mike Cahill, @FB_Cahill
195. Los Angeles Rams (from Buffalo)
Dorance Armstrong, edge, Kansas
The Rams double-down on edge defenders, this time taking Armstrong who was third in the draft class among his position in run-stop percentage at 10.6. Of his 43 total defensive stops, 38 were in the run game and were the most in the draft class. – Mike Cahill, @FB_Cahill
196. Kansas City Chiefs
Nic Shimonek, QB, Texas Tech
For the second consecutive year, the Chiefs take a quarterback out of Texas Tech. While there are always concerns about scheme with 'Air Raid' guys (only about 35 percent of his passes in 2017 were considered "NFL Throws" by our algorithm), Shimonek was in the upper 20 percent of college quarterbacks in terms of grade generated on 'NFL Throws,' and was first among qualifiers in passer rating on deep passes (135.4). – Eric Eager, @PFF_EricEager
197. TRADE: Dallas Cowboys (from Carolina)
Boston Scott, RB, Louisiana Tech
[Trade details: Dallas sends Round 4 (No. 116 overall) in exchange for Carolina's Round 5 (No. 149 overall) & Round 6 (No. 197 overall).]
Scott posted the fourth-best elusive rating in the draft class at 99.1 last season and his 89.4 overall grade ranked third in the draft class. He adds a potential pass-game weapon to the Dallas offense. – Steve Palazzolo, @PFF_Steve
198. Indianapolis Colts (from New England from Los Angeles Rams)
Shaun Dion Hamilton, LB, Alabama
If Hamilton hadn't suffered two significant injuries in the last season-plus, he'd have gone much higher in this draft. Those injuries count, and could hurt his future prospects, but there is high reward here if he can stay healthy and show the skills he displayed alongside Reuben Foster in 2016. – Daniel Kelley, @danieltkelley
199. Tennessee Titans
Richie James, WR, MTSU
Richie James was PFF's highest graded returning receiver heading into the 2017 season, but unfortunately, his 2017 season was marred with injuries. Nonetheless, he was one of the nation's most effective slot receivers over the 2015 and 2016 seasons. His ability after the catch is what makes him such a tantalizing prospect, recording 953 yards after the catch in 2015, the most in the nation and in 2016, he finished second with 875 yards after the catch. – Charles Miller
200. Atlanta Falcons
Natrell Jamerson, S, Wisconsin
Jamerson is at his best when playing a pure free safety role and that's just what Atlanta needs for their cover-3-heavy scheme. He tied for 14th in the nation with six pass breakups last season. – Khaled Elsayed, @PFF_Khaled
201. TRADE: Detroit Lions (from Cleveland from New Orleans)
Will Geary, DI, Kansas State
[Trade details: After a trade between Cleveland and New Orleans, Cleveland sends Round 6 (No. 175 overall) & Round 6 (No. 201 overall) in exchange for Detroit's Round 5 (No. 153 overall).]
Geary's all-around college productivity and fit for need in Detroit is too much to ignore. He had outstanding run-defense grades each of the past three seasons, but really elevated his pass-rush ability in 2017 (37 total pressures) which is of highest importance to the Lions. – Josh Liskiewitz, @PFF_Josh
202. TRADE: Los Angeles Rams (from Tampa from Pittsburgh)
Da'Shawn Hand, edge, Alabama
[Trade details: Tampa sends their Round 4 (No. 102 overall) & Round 6 (No. 202 overall) in exchange for Los Angeles' Round 4 (No. 111 overall) & Round 6 (No. 176 overall).]
Hand is a phsyical freak that carries a muscled-up 290-pound frame that is built to excel in Wade Phillips' 3-4 defensive scheme. This past season was his first with at least 200 pass-rushing snaps and he produced four quarterback sacks, five QB hits and nine hurries. – Mike Cahill, @FB_Cahill
203. Jacksonville Jaguars
Sean Welsh, G, Iowa
Welsh brings experience and versatility to the Jaguars offensive line with 3,235 career snaps, with starts at right tackle and guard. Welsh took a step back in 2017 with an overall PFF grade of 74.4 but was one of the best guards in the nation in 2016 with an overall PFF grade of 88.1 and a run-block grade of 89.6. – Elliott Rooney, @PFF_Elliott
204. Minnesota Vikings
Ito Smith, RB, Southern Miss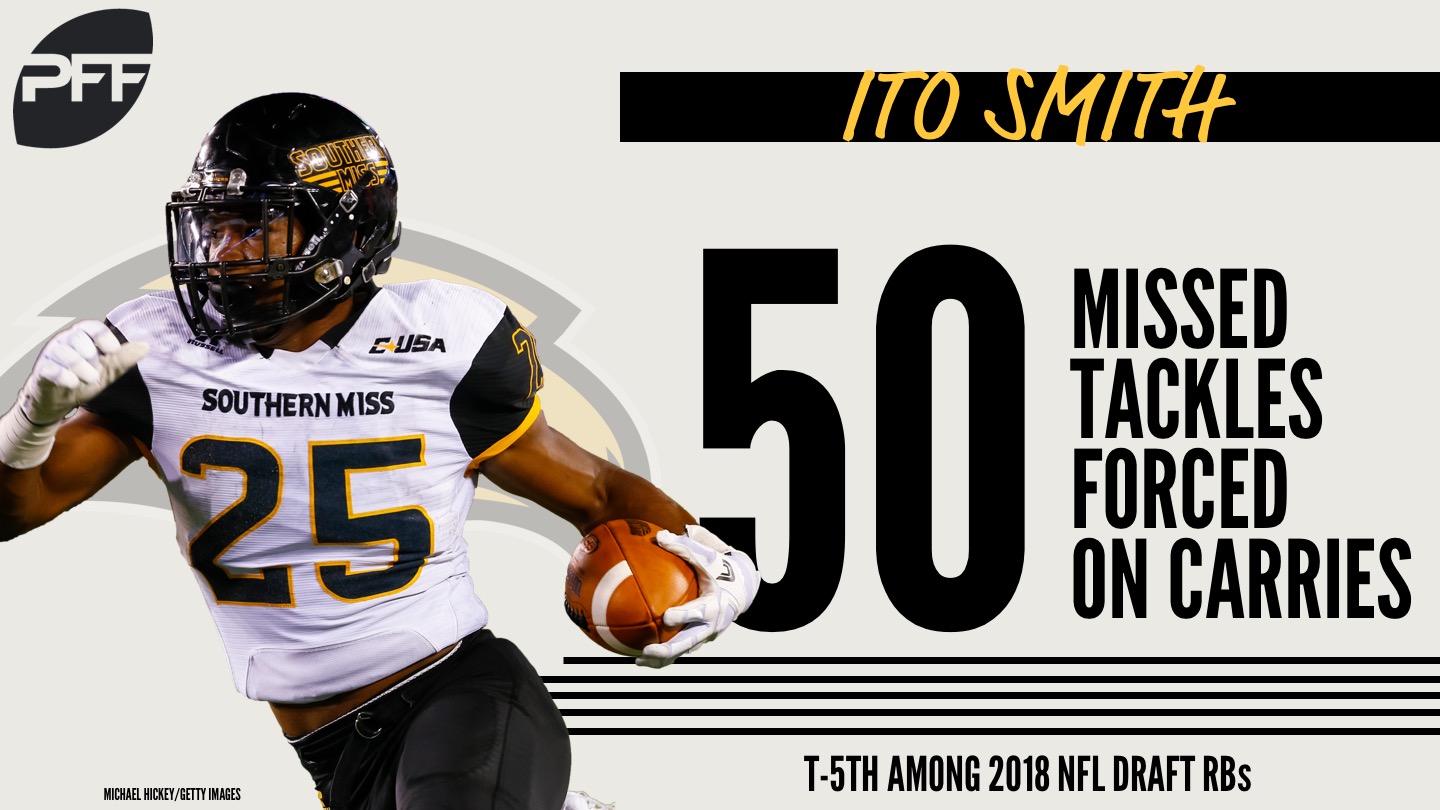 Few players have the every-down potential that Ito Smith has. Capable of making people miss in space or in a phone booth, he provides an interesting change-of-pace option. – Sam Monson, @PFF_Sam
205. Washington Redskins (from Cleveland from New England)
Trenton Thompson, DI, Georgia
Washington was atrocious stopping the run last season and unfortunately this is not a deep class to fill those needs up front. Thompson's ticket into the league is his ability to do exactly that, ranking seventh among interior defenders with a 11.5 run-stop percentage. – Trevor Lynch, @PFF_Lynch
206. TRADE: New England Patriots (from Philadelphia)
Troy Apke, S, Penn State
[Trade details: New England sends their Round 4 (No. 109 overall) in exchange for Philadelphia's Round 4 (No. 130 overall) & Round 6 (No. 206 overall).]
Apke blew up at the combine, but let's not forget he graded well in coverage in 2017 (83.7 coverage grade), though had just four pass breakups and two interceptions in three seasons at Penn State and will likely have to earn a living on special teams to start his career. – Louie Benjamin, @PFF_Louie
207. Green Bay (compensatory)
Larry Rose III, RB, New Mexico State
While the Packers have a stable of running backs, injuries plauged them last year and Rose III has shown he can be a workhorse. He averaged 3.1 yards after contact per carry for his career and also ran routes as a slot receiver, proving he could be a matchup problem that the Packers can utilize. – Bryson Vesnaver, @PFF_Bryson
208. Dallas Cowboys (compensatory)
Jaleel Scott, WR, New Mexico State
Scott's highlight reel is as good as any receiver in the class as he uses his long frame to make spectacular catches in contested situations. He's not the sharpest route runner, but he can be a possession and red zone threat. – Steve Palazzolo, @PFF_Steve
209. TRADE: Baltimore Ravens (from Miami from Los Angeles Rams from Kansas City) (compensatory)
Deon Yelder, TE, Western Kentucky
[Trade details: Baltimore sends Round 5 (No. 154 overall) & Round 6 (No. 215 overall) in exchange for Miami's Round 5 (No. 165 overall), Round 6 (No. 209 overall) & Round 7 (No. 229 overall).]
Yelder can serve as a potential deep target in the slot, ranking in the top-three in both slot and deep pass yards per receptions. In 2017, he saw his overall grade leap from 48.2 to 83.7. – Harley Sherman, @PFF_Harley
210. Indianapolis Colts (from New England from Oakland) (compensatory)
Jacob Alsadek, G, Arizona
The Colts could go just about anywhere with this and their next pick, but given all the problems the offensive line has had for the last three or four forevers, let's just load up there and hope quantity turns into quality. – Daniel Kelley, @danieltkelley
211. Houston Texans (compensatory)
Brian Allen, C/G, Michigan State
Houston adds even more depth to the offensive line with Allen who is coming off strong seasons with an 88.0 overall grade in 2016 while playing guard and an 86.7 grade in 2017 while playing center. – Steve Palazzolo, @PFF_Steve
212. Oakland Raiders (compensatory)
Jeff Holland, edge, Auburn
Shilique Calhoun and James Cowser have failed to leave their mark in rotation behind Khalil Mack and Bruce Irvin along the edge, leaving the door open for Holland to compete for reps in Year 1. – Austin Gayle, @AustinGayle_PFF
213. Minnesota Vikings (compensatory)
C.J. Reavis, S, Marshall
A former top college prospect who found his way to Marshall after being kicked out of Virginia Tech and then starring on Netflix series 'Last Chance U.' Reavis has elite movement skills and the ability to play safety and cover the slot. – Sam Monson, @PFF_Sam
214. Houston Texans (compensatory)
Teo Redding, WR, Bowling Green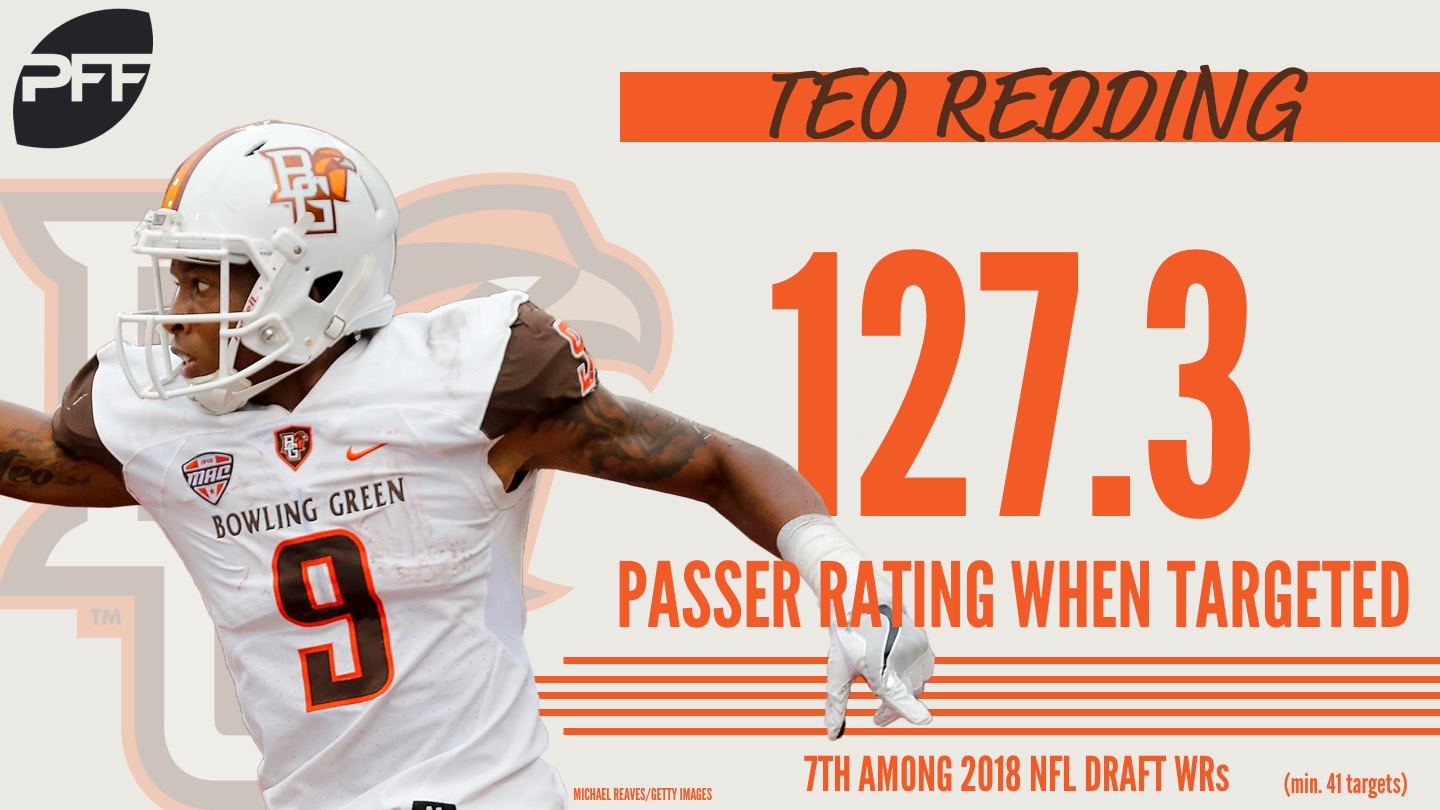 Redding can make big plays at the catch point and he has a chance to compete for snaps on the outside to complement WR Deandre Hopkins. He dropped only five of his 94 catchable targets over the last three years. – Steve Palazzolo, @PFF_Steve
215. TRADE: Miami Dolphins (from Baltimore) (compensatory)
Akrum Wadley, RB, Iowa
[Trade details: Baltimore sends Round 5 (No. 154 overall) & Round 6 (No. 215 overall) in exchange for Miami's Round 5 (No. 165 overall), Round 6 (No. 209 overall) & Round 7 (No. 229 overall).]
Wadley forced 86 missed tackles over the last two seasons and has the ability to catch passes out of the backfield or line up in the slot creating mismatch problems for linebackers. – Ryan M. Smith, @PFF_RyanSmith
216. Oakland Raiders (compensatory)
Tegray Scales, LB, Indiana
Scales has the smarts and build to be a star linebacker in the NFL. He'll compete for special teams reps early in his career and provide reliable depth behind Roquan Smith & Co. – Austin Gayle, @AustinGayle_PFF
217. Oakland Raiders (compensatory)
JK Scott, P, Alabama
After releasing Marquette King in early April, Oakland opened up a need at punter heading into the draft. With Texas' Michael Dickson already off the board, the Raiders select former Alabama punter JK Scott to compete with Colby Wadman for the starting job in 2018. – Austin Gayle, @AustinGayle_PFF
218. Minnesota Vikings (compensatory)
Mike Minter Jr., CB, MTSU
NFL bloodlines see the Vikings taking a shot on a player that has graded well across all his college seasons at PFF. – Sam Monson, @PFF_Sam
Round 7
219. New England Patriots (from Cleveland)
Dalton Schultz, TE, Stanford
Though Shultz graded poorly overall this past season, he had zero drops on 22 catchable targets and in 2016 posted the third-best run-blocking grade among FBS tight ends. He is no future Rob Gronkowski, but Shultz is a very good athlete with the potential to develop into a solid No. 2 TE. – Louie Benjamin, @PFF_Louie
220. Pittsburgh Steelers (from New York Giants)
Jeromy Irwin, T, Colorado
The Steelers add another player who was productive in college but has question marks to if that can translate to the pros. He was among the top-20 draft-eligible tackles in pass-blocking efficiency. He can move to guard for Pittsburgh and be among the top backups, and would only need to see the field if there are a few injuries which gives him time to develop. – Nathan Jahnke, @PFF_Nate
221. Indianapolis Colts
Tuni Kanuch, G, BYU
See their sixth-round pick. Kanuch and Alsadek together don't make one elite prospect, but they have strengths that could develop into some better blocking than the Colts have seen. – Daniel Kelley, @danieltkelley
222. Houston Texans
Tarvarus McFadden, CB, FSU
McFadden posted an 82.5 grade in 2016 when he picked off eight passes and broke up seven more, though he also gave up his fair share of big plays as well. His 2017 season was a big step back, but he's worth a look at this point in the draft as a developmental long corner on the outside. – Steve Palazzolo, @PFF_Steve
223. Tampa Bay Buccaneers (from San Francisco from Miami from Tampa Bay)
Ryan Nall, RB, Oregon State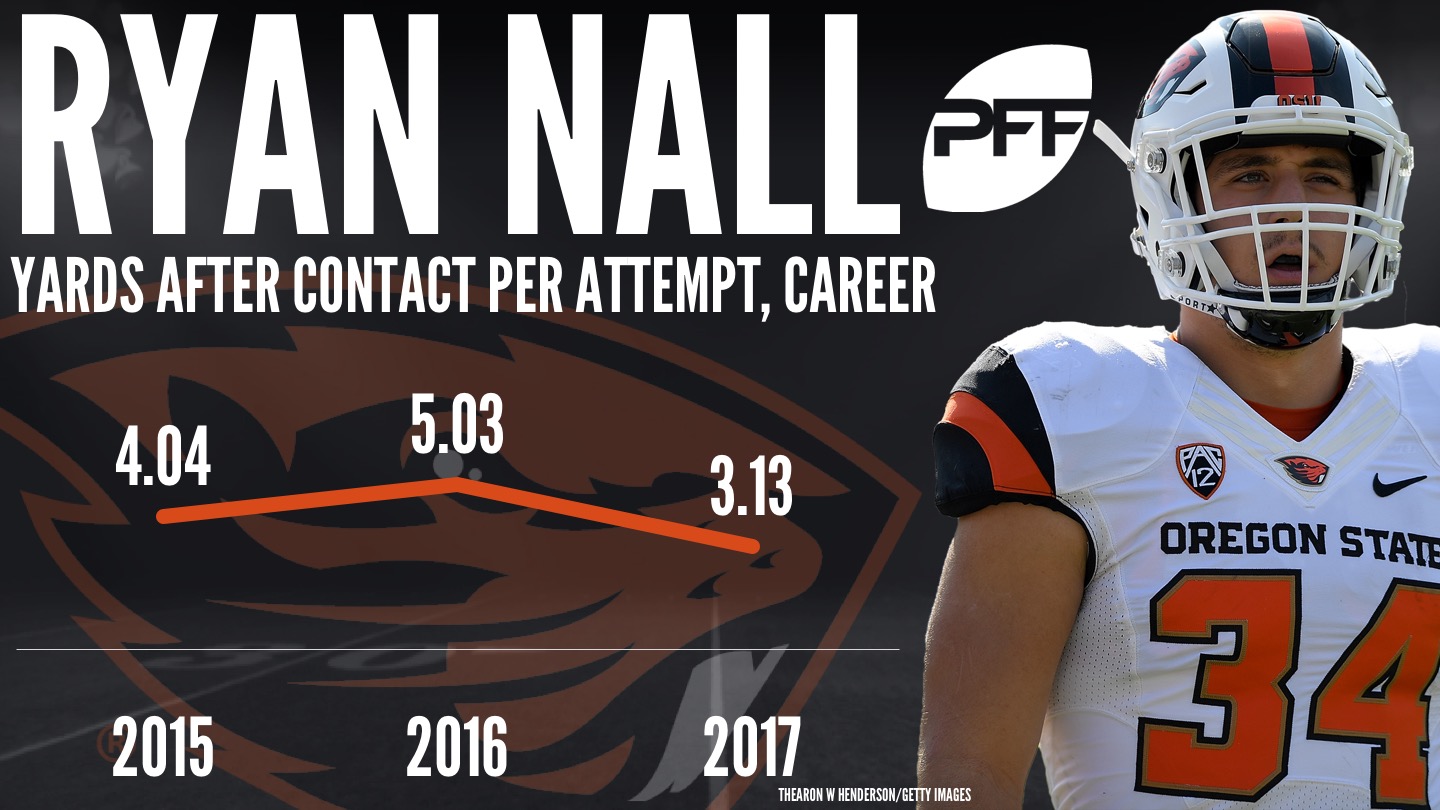 Gone are the days of bulky H-backs setting the tone on lead blocks, and here are the days of dynamic, athletic hybrid runners who can stretch the field in the passing game as easy as they can make people miss in short area. Nall is, at this point, two seasons removed from leading the nation in elusive rating, but his skills as a pass-catcher are unmatched for a man of his size and speed combination. At 6-foot-2, 230-plus pounds, Nall forced a whopping 85 missed tackles on 386 carries through his career, adding in another 16 missed tackles on 55 receptions and averaging 10.2 yards after the catch over his three seasons. – Cam Mellor, @PFF_Cam
224. Chicago Bears
Godwin Igwebuike, S, Northwestern
Igwebuike tested well at the combine, as expected, and with two interceptions and eight pass breakups in 2017, he has the ability to make plays on the ball. – Kevin Connaghan, @PFF_Kev
225. Minnesota Vikings (from Detroit)
Alvin Jones, LB, UTEP
An athletic linebacker whose bigest issue was breaking down and securing the tackle, but in the seventh round there is too much talent to pass up. – Sam Monson, @PFF_Sam
226. Seattle Seahawks (from New York Jets)
Michael Joseph, CB, Dubuque
Joseph stepped up from Division III to compete at the Senior Bowl in Mobile, in 1-on-1 drills he forced three incompletions in eight reps in press coverage. – Ben Stockwell, @PFF_Ben
227. Miami Dolphins (from San Francisco)
Daniel Carlson, K, Auburn
Carlson was our highest-graded draft-eligible kicker in 2017 and a solid replacement for the Dolphins after Cody Parker left for Chicago in free agency. – Ryan M. Smith, @PFF_RyanSmith
228. Oakland Raiders
Allen Lazard, WR, Iowa State
At 6-foot-5, 227 pounds, Lazard uses his menacing size and physicality to best his opposition, yet he won't scare defenses with his speed and athleticism. He can certainly develop into a red-zone threat if not more in Oakland. – Austin Gayle, @AustinGayle_PFF
229. TRADE: Baltimore Ravens (from Miami Dolphins)
Ian Togiai, DI, Utah State
[Trade details: Baltimore sends Round 5 (No. 154 overall) & Round 6 (No. 215 overall) in exchange for Miami's Round 5 (No. 165 overall), Round 6 (No. 209 overall) & Round 7 (No. 229 overall).]
More productive as a run-stuffer than pass-rusher at Utah State, Togiai offers some depth on run downs for Baltimore's defensive line. – Harley Sherman, @PFF_Harley
230. Jacksonville Jaguars (from Cincinnati)
Breeland Speaks, DI, Ole Miss
One of the more athletic interior defenders in this year's draft class, Speaks as shown to be capable in both the pass game and run game. His 11.3 pass-rush productivity ranks fifth in the class while also producing a 83.7 grade in run-defense. – Elliott Rooney, @PFF_Elliott
231. Washington Redskins
Jalyn Holmes, LB, Ohio State
Holmes had to fight with top prospects and future top draft picks at Ohio State for playing time resulting in only 1,059 snaps in college. He showed enough to get an invite to the Senior Bowl where he had a terrific game, posting five pressures and two stops.  – Trevor Lynch, @PFF_Lynch
232. Green Bay Packers
Quenton Poling, LB, Ohio
Poling was a four-year starter for Ohio and was extremely consistent during that span. He had overall grades of 84.1, 86.8, 84.1 and 83.0 in those four years while he also posted above-average grades in pass-rushing, run-defense and coverage every single year except one (pass-rush grade of 69.9 in 2015). – Bryson Vesnaver, @PFF_Bryson
233. Kansas City Chiefs (from Arizona Cardinals)
Devin Abraham, S, South Florida
South Florida's highest-graded player in 2017, Abraham becomes the fourth new player to join the Chiefs secondary in this draft. As stated with the pick of Moore, the Chiefs use three or more safeties on more than 40 percent of their defensive snaps, moving them around frequently. Of his 848 snaps in 2017, Abraham played 237 snaps at linebacker, 131 in the slot and another 298 at deep safety – able to provide the Chiefs with the type of versatility they crave at that spot. – Eric Eager, @PFF_EricEager
234. TRADE: Oakland Raiders (from Carolina from Los Angeles Chargers from Buffalo)
Jamarcus King, CB, South Carolina
[Trade details: Oakland sends their Round 2 pick (No. 41 overall) in exchange for Carolina's Round 2 pick (No. 55 overall), their Round 5 pick (No. 161 overall) & their Round 7 pick (No. 234 overall).]
Similar to Lazard, King has great size (6-foot-1, 185 pounds) for his position and uses it to his advantage. Of course, his lack of short-area quickness and long speed is a concern, but if he can refine his technique to thrive along the boundary against bigger receivers, he can carve out a significant role in Oakland's defense. – Austin Gayle, @AustinGayle_PFF
235. New York Jets (from Seattle)
Joseph Noteboom, T, TCU
Noteboom is very athletic for his size, but lacks sound technique and consistency. Although he has been a liability in the run game throughout college, he flashed in pass protection in 2017. Noteboom's 97.9 pass blocking efficiency ranked tied for 11th among 121 qualified tackles this past season. – John Gatta, @PFF_JohnGatta
236. Dallas Cowboys
Matthew Thomas, LB, Florida State
The Cowboys go back to linebacker for the athletic Thomas who came in as a top recruit, but never truly lived up to the hype at Florida State. However, 2017 was the best season of his career at 83.4 overall and he may be able to find a roster spot after posting two straight years of 80.0-plus coverage grades. – Steve Palazzolo, @PFF_Steve
237. Detroit Lions
Dane Cruikshank, CB, Arizona
Cruikshank was a surprise to find on the board at this point, as he measures 6-foot-1, 206 pounds and had a huge pro day. He has experience playing in both the slot and outside, and last season notched three picks and four pass breakups. – Josh Liskiewitz, @PFF_Josh
238. Baltimore Ravens
Bo Scarbrough, RB, Alabama
A physical specimen, Scarbrough is a powerful, bruising player. He is somewhat of a throwback, offering little as a blocker or pass-catcher, but could provide some value spelling Alex Collins for 5-10 carries a game. – Harley Sherman, @PFF_Harley
239. Green Bay Packers (from Buffalo)
Patrick Morris, C, TCU
Morris is an extremely athletic center, running a 5.09 40-yard dash, benching 37 reps, jumps of 35.5″ (vertical) and 117″ (broad) on top of a very impressive 4.38 short cone drill. In three seasons with TCU, Morris did not allow a sack or even a hit on the quarterback. He also had a 91.4 percent run-block success that ranked 11th in the NCAA – Bryson Vesnaver, @PFF_Bryson
240. TRADE: Tampa Bay Buccaneers (from San Francisco from Kansas City)
Andrew Motuapuaka, LB, Virginia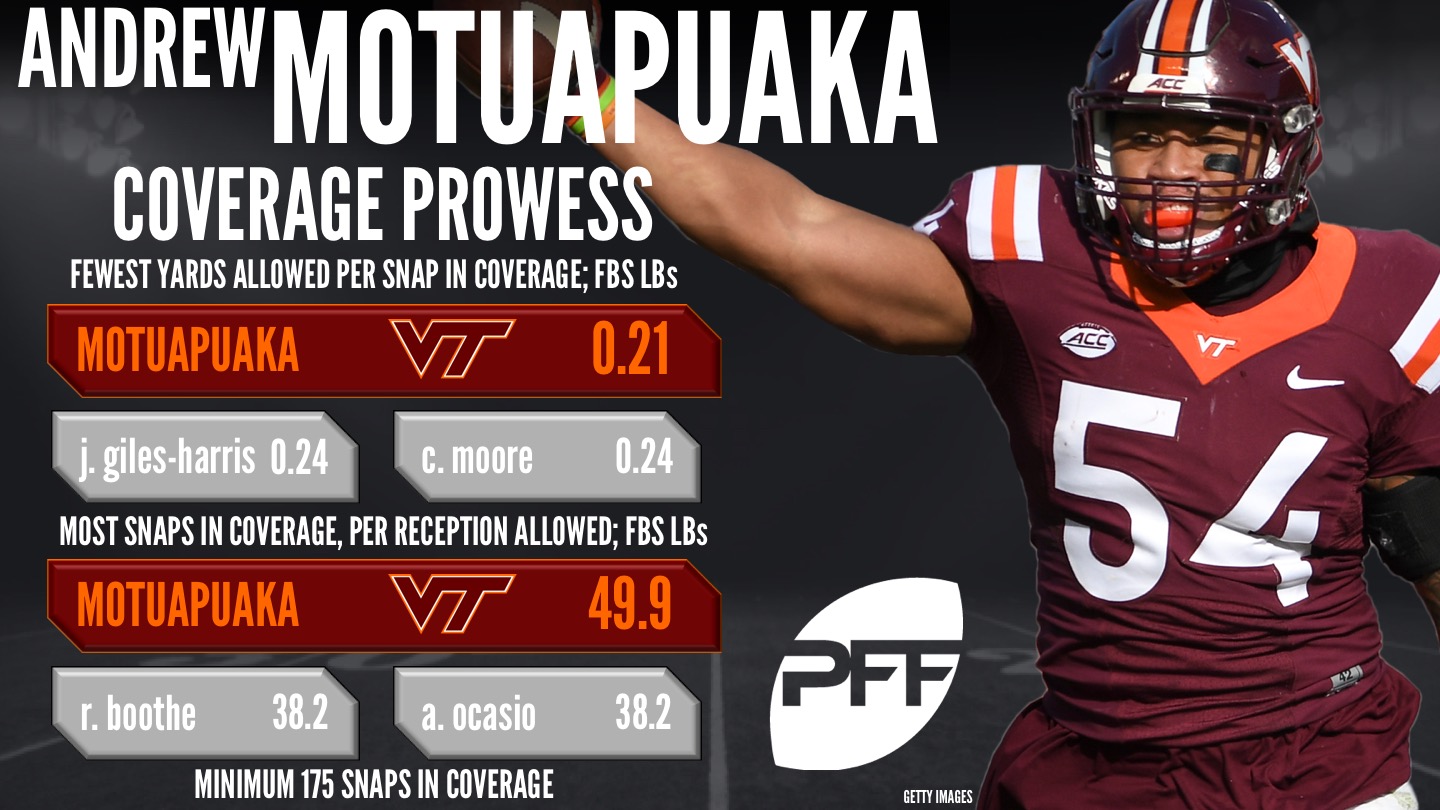 [Trade details: After a trade between Tampa Bay & Los Angeles, Tampa sends their Round 6 (No. 176 overall) in exchange for San Francisco's Round 6 (No. 184 overall), Round 7 (No. 223 overall) & Round 7 (No. 240 overall).]
Motuapuaka enters the fold at linebacker on the heels of arguably one of the better seasons in coverage from a linebacker we've seen in four years of grading at the college level. Among all linebackers with at least 171 snaps in coverage, Motuapuaka ranked first in yards allowed per snap (0.21), snaps per reception allowed (49.9) and was second in terms of fewest YAC allowed (34). All told, he allowed a passer rating of just 31.3, second-lowest among linebackers with at least 10 targeted passes. – Cam Mellor, @PFF_Cam
241. Washington Redskins (from Los Angeles Rams)
Mike McCray, LB, Michigan
The two-year starter at Michigan at a minimum will provide depth as a necessary run-stopping inside linebacker racking up 77 stops in college. A rebound in coverage, and McCray could push Mason Foster for starting time on the inside. – Trevor Lynch, @PFF_Lynch
242. Carolina Panthers
Tyler Conklin, TE, Central Michigan
With Greg Olsen heading towards his mid 30s and Ed Dickson leaving for Seattle, it would have been nice to draft a tight end earlier in this draft, however need and value were better matched at other positions early on. Conklin showed to be an effective receiver the past two seasons in college and ranked sixth nationally in yards per route run last season with a mark of 1.87. – Brett Whitefield, @PFF_Brett
243. Kansas City Chiefs (from Tennessee)
DeQuinton Osborne, DI, Oklahoma State
The Chiefs struggled all over defensively in 2017, rating as the worst unit in the league by our rating system. They especially struggled up front against the run, surrendering over 100 yards per game 11 of the first 12 weeks of the season. Osborne was great against the run at State, and this generally translates to the next level, and even added 26 total pressures his final college season for good measure. – Eric Eager, @PFF_EricEager
244. Atlanta Falcons
Christopher Herndon IV, TE, Miami (Fla.)
Herndon put forth a big year at the right time, fielding plus-grades in nearly every facet a season ago. Not only effective as a receiver, he also was solid in pass protection, allowing just one QB hurry over 64 pass-blocking snaps. Perhaps more importantly, he logged an impressive 2.26 yards per route run from the slot, fourth-best among all tight ends last year. – Khaled Elsayed, @PFF_Khaled
245. New Orleans Saints
Tejan Koroma, C, BYU
The Saints close out the draft by taking the second-highest graded center in the nation and with 32-year-old Max Unger's play slightly declining in 2017, it makes sense to try and draft a potential replacement. Koroma was solid enough in pass protection in 2017, allowing just 12 QB pressures on 459 pass-blocking snaps, but shined in run-blocking, ending the 2017 campaign with a run-blocking grade of 86.4 – the third-highest among centers in the nation. – Mark Chichester, @chichester_mark
246. Pittsburgh Steelers (from New York Giants)
Baron Poole II, DI, Troy
Poole was productive as an interior pass-rusher in college, with 25-plus hurries each of the last two years. The Steelers are set with their starting defensive line but their backups are better run-defenders then pass-rushers. Pittsburgh has the depth where they would only ever need to use Poole where he's at his best. – Nathan Jahnke, @PFF_Nate
247. Jacksonville Jaguars
Tre' Williams, LB, Auburn
The Jaguars add depth to the linebacker position after the retirement of Paul Posluszny. Williams was limited to just 308 snaps last season through injury, but he can contribute as a backup linebacker with great ability in the run game. His run-stop percentage of 13.8 was the third-best among linebackers in this year's draft class. – Elliott Rooney, @PFF_Elliott
248. Seattle Seahawks (from Minnesota)
Beau Nunn, T, App. State
Part of an exceptional Appalachian State offensive line, Nunn offers further competition to the Seahawks continued overhaul of their offensive line. Nunn allowed only three pressures in 372 pass protection snaps, leading the draft class with a 99.3 pass-blocking efficiency. – Ben Stockwell, @PFF_Ben
249. Cincinnati Bengals (from New England)
Dylan Cantrell, WR, Texas Tech
A big-bodied player and the third Texas Tech receiver to be drafted, Cantrell ranked seventh among the nation's 54 receivers with at least 100 targets in terms of drop rate, dropping just three of his 74 catchable passes last year. – Mike Renner, @PFF_Mike
250. Philadelphia Eagles (from Seattle from Philadelphia from Seattle from New England)
Ryan Carter, CB, Clemson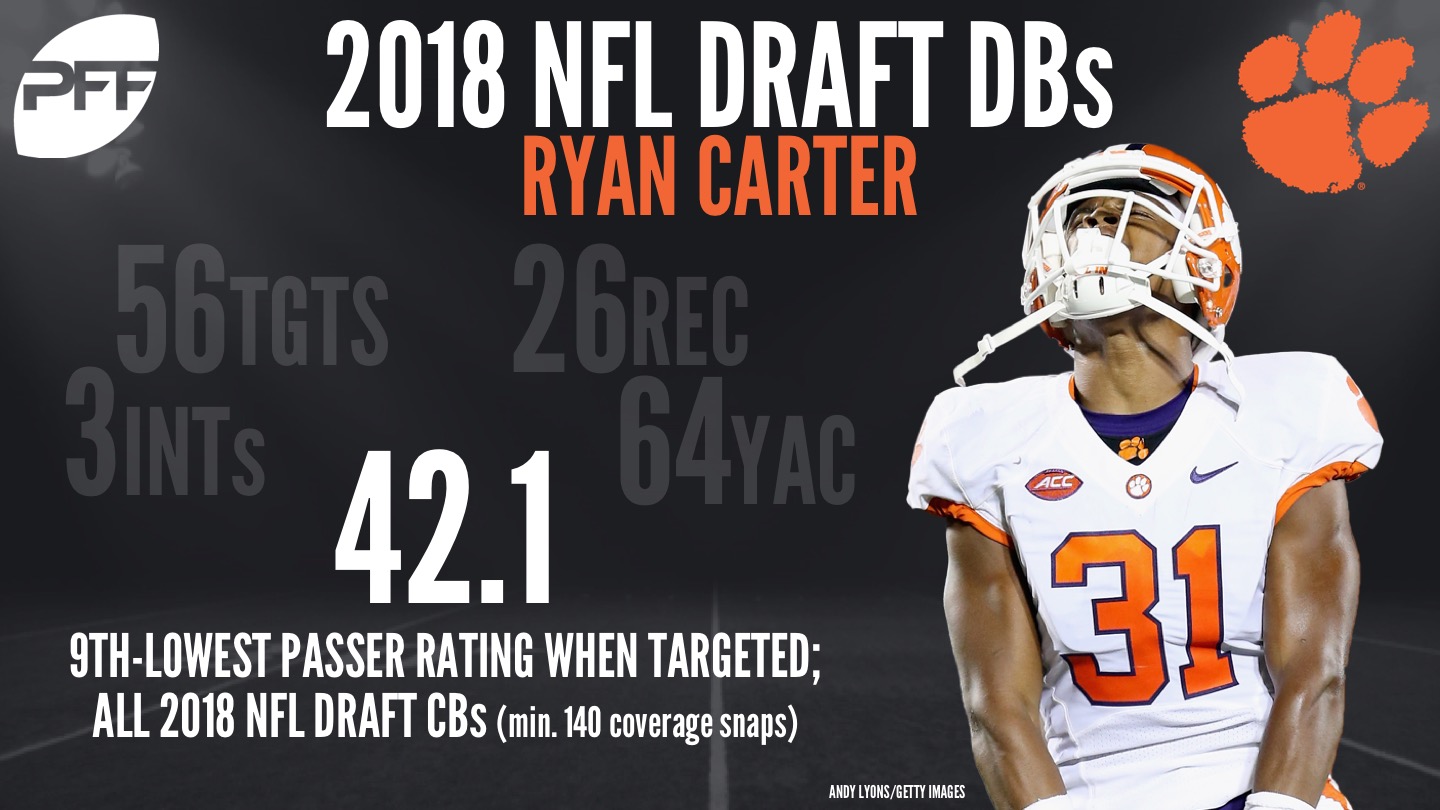 What Carter lacks in size (5-foot-8), he makes up for in playmaking ability. Over the last two years at Clemson, he allowed fewer than half of all targets (46 percent) in his coverage to be caught while accumulating four interceptions and 11 pass breakups with only one touchdown surrendered. – Aaron Bloch, @PFF_Aaron
251. Los Angeles Chargers (compensatory)
Toby Weathersby, T, LSU
Weathersby brings a toughness from Day 1 and isn't that far away from being a solid contributor in the run game. However, his pass protection needs cleaning up before a team would feel comfortable putting him in front of their quarterback. – Alejandro Chavez, @HondoCz
252. TRADE: Minnesota Vikings (from Cincinnati) (compensatory)
Dalton Sturm, QB, UTSA
[Trade details: Minnesota sends Round 3 (No. 94 overall) in exchange for Cincinnati's Round 3 (No. 100 overall), Round 5 (No. 151 overall) & Round 7 (No. 252 overall).]
There is something to like about how Sturm plays the game. He won't win any measurables contest, but his arm is more than sufficient and he has that intangible 'it' factor. – Sam Monson, @PFF_Sam
253. Cincinnati Bengals (compensatory)
Jester Weah, WR, Pittsburgh
The second receiver drafted in five picks, the Bengals take a flier on Weah who had an exceptional year in 2016 but fell off with inconsistent quarterback play in 2017. His opening day catch against Youngstown State is a testament to what he can do in contested catch situations. – Mike Renner, @PFF_Mike
254. Arizona Cardinals (compensatory)
Jalen Davis, CB, Utah State
Davis is a versatile defensive back who has logged significant snaps both outside and in the slot during his career at Utah State. In 2017, opposing quarterbacks only had a 27.7 passer rating when targeting Davis in the slot, a number which ranked first among all draft-eligible cornerbacks. Davis is also ballhawk who had five interceptions and 12 pass breakups in 2017. – Jordan Plocher, @PFF_Jordan
255. Tampa Bay Buccaneers (compensatory)
DeVante Kincade, QB, Grambling State
The Ole Miss transfer had two solid years at Grambling State, throwing for 54 touchdowns compared to just eight interceptions during his time with the Tigers. What separates Kincade, and makes him viable for the second-to-last pick, is his shiftiness with the ball in his hands not only on carries, but buying time in the pocket and extending plays. He is well worth the project here to sit behind Winston, Fitzpatrick, as a wildcat quarterback or even switch positions entirely. – Cam Mellor, @PFF_Cam
256. Atlanta Falcons (compensatory)
Chris Worley, CB, Ohio State
Coming from a winning program, Worley has a chance to latch on with his special teams experience. Worley missed only 11 tackles on 146 attempts over the last three years. – Khaled Elsayed, @PFF_Khaled