Name: Chris Godwin
School: Penn State
Position fit: X receiver
Stats to know: Used strictly as an outside receiver, lining up in the slot just 13 times in 2016 (2 percent of snaps). 2016 target profile: 22 percent out, 21 go, 14 post, 13 hitch.
What he does best:
Deep threat: 14 catches for 504 yards (20th among NCAA WRs) and 7 touchdowns on passes thrown 20-plus yards.
Runs the post route very well. Caught 10-of-13 targets for 330 yards and two scores on posts.
Beats defenders physically at the catch point on contested passes. Uses his body well to keep cornerbacks off him.
Shows the ability to adjust to poorly thrown passes.
Catches the ball in traffic, using his frame to box out defensive backs; will make tough catches in the middle of the field.
Finished 10th among all NCAA wide receivers in blocking grade in 2016.
Aggressive, physical blocker in the run game. Effective crack blocker against linebackers and safeties, though effort can be inconsistent in this area.
Has some wiggle at the top of his routes.
Biggest concern:
Speed doesn't always show up against man coverage, especially given his 4.42 40 time at the combine. Does not consistently separate against man coverage.
Not explosive in the open field (4.5 YAC, 294th/510 NCAA WRs, nine broken tackles on 59 catches).
Average hands, 7.8 percent drop rate in 2016 (129th of 262 NCAA WRs), 8 percent in 2015 (141st/332).
Bottom line: Godwin has an intriguing skillset as he has enough wiggle to create separation as a route-runner but he's at his best when winning at the catch point on contested catches. His speed doesn't always show up on tape, but he's savvy enough to win down the field and add an intermediate and deep threat to an offense. Godwin should also be an early contributor on special teams due to the aggressive blocking ability that he has displayed in the run game.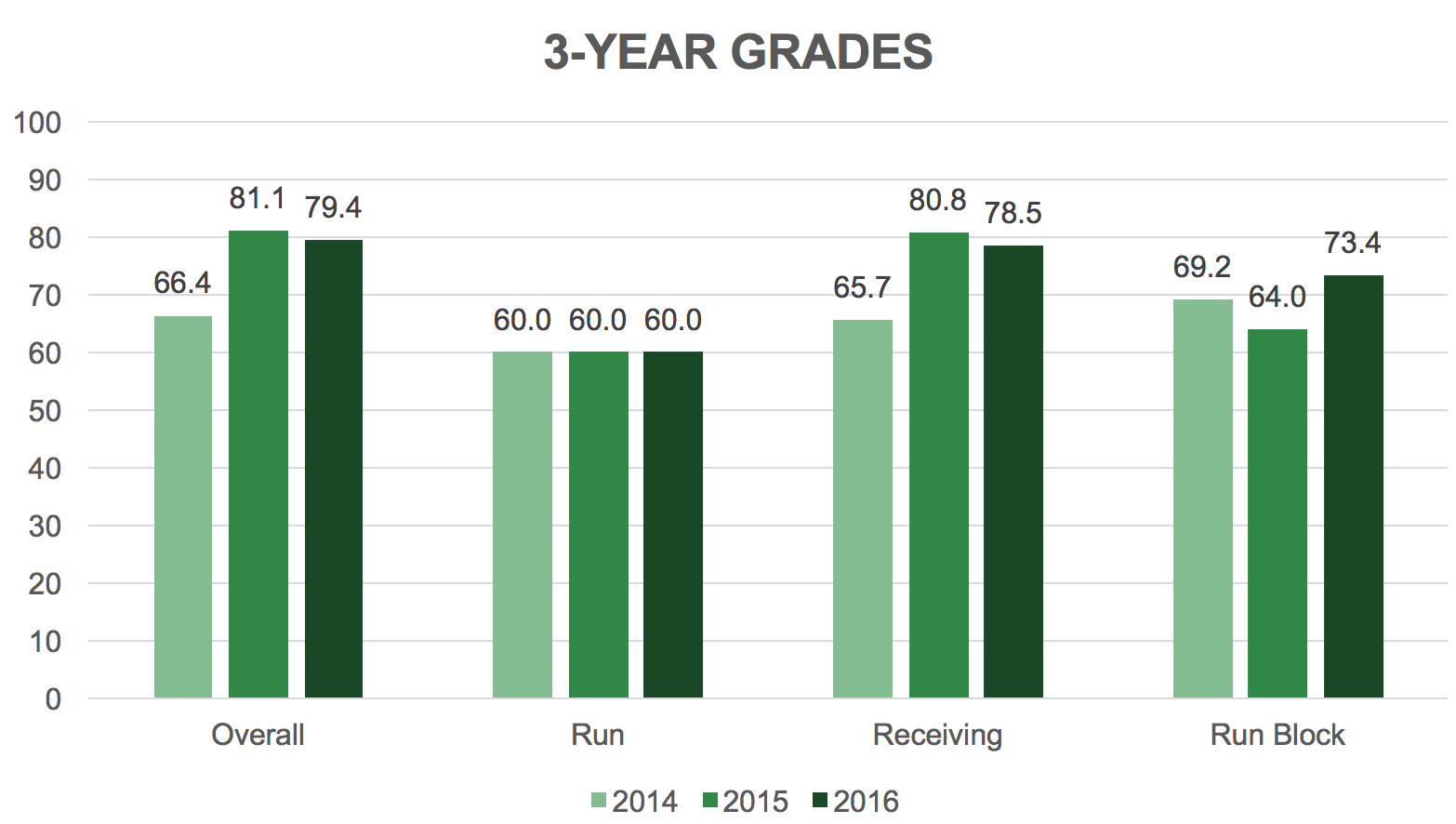 | | | | | | | | | | | |
| --- | --- | --- | --- | --- | --- | --- | --- | --- | --- | --- |
| | Targets | Rec | Catch% | Yards | Yards/Comp | YAC | YAC/Comp | Yds/Target | TD | DP |
| Three Year Stats | 250 | 154 | 61.6% | 2422 | 15.7 | 922 | 6.0 | 9.7 | 18 | 11 |
| 2016 | 92 | 59 | 64.1% | 982 | 16.6 | 266 | 4.5 | 10.7 | 11 | 5 |
| 2015 | 116 | 69 | 59.5% | 1101 | 16 | 510 | 7.4 | 9.5 | 5 | 6 |
| 2014 | 42 | 26 | 61.9% | 339 | 13 | 146 | 5.6 | 8.1 | 2 | 0 |
| | | |
| --- | --- | --- |
| Advanced Stats | Stat | Rank |
| Yards/Route | 2.31 | 45 |
| Drop Rate | 7.81 | 76 |
| Deep Pass Receptions (20+ yds) | 14 | 10 |
| Deep Pass Yards | 504 | 13 |
| Deep Pass Catch % | 43.8 | 32 |
| Slot Receptions | 1 | 111* |
| Slot Yards | 0 | 112* |