While we obviously feel great about all of our 2021 NFL Draft projections, some we feel a little more confident about than others.
While that's the case for obvious blue-chip guys like Micah Parsons, Penei Sewell and DeVonta Smith, the players listed below may not be thought of in such high regard but still fit the bill. That's because these players have an elite grading profile combined with a physical skill set that's proven to succeed at their respective position in the NFL. Basically, we're going to be higher on these guys than most.
While it may not be particularly uncommon to have Wilson as QB2, we feel confident enough to have him as No. 2 overall on the draft board, as well.
Wilson not only possesses special arm strength, but he also fit more footballs into tight windows than anyone else in the draft class. He not only completed more passes than anyone else when targeting a receiver with less than a step of separation, but he also earned a 94.2 grade on such throws — higher than Joe Burrow's grade last season and over 10 grading points higher than the next best quarterback in the '21 draft class. You can't fake that, no matter the competition.
Williams was not only the highest-graded running back in college football this year, but his 2020 season earned the highest PFF grade we have ever given to a running back. That shouldn't be particularly surprising, given that he led college football with 75 broken tackles despite only a meager 157 carries. With NFL size and burst, that's a winning profile.
Moore may get pigeonholed as an undersized slot only — the position he played this past year at Ole Miss — but that shouldn't necessarily be a bad thing with how dominant he was there. Moore not only possesses speed, but he also has quicks. More importantly, though, he's as tough as they come. He hauled in 9-of-11 contested targets this year despite being only 5-foot-9, 185 pounds. On top of all that, Moore won't even turn 21 until days before the draft.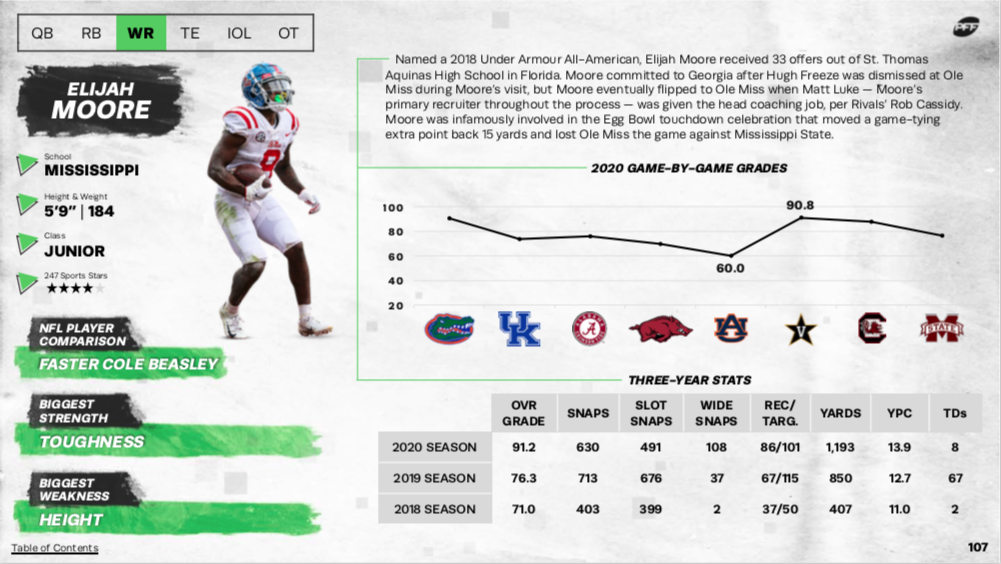 This one isn't about his overall grade, but rather his run-blocking grade, as his 83.7 mark ranked first among tight ends in 2020. He is the single most violent run-blocking tight end in the country. However, pigeonholing him as a tight end is doing him a disservice; Tremble is an H-back through and through. He can line up in the backfield or slot and be just as effective as a blocker. And don't sell his receiving ability short, either. Expect Tremble to test as one of the fastest tight ends in the class.
Don't be surprised if we hear Darrisaw's name creeping up draft boards toward the top 10 this year. He's a people-mover who barely lost this past season. Despite facing a relatively tough slate of rushers in the ACC, Darrisaw didn't allow a single sack or hit and only gave up six pressures.
Sadly, Dickerson's draft stock will take a hit after he tore his ACL in the SEC title game. But given the kind of person he is, it would be unwise to write him off as a rookie. Dickerson led the Power 5 with 14 big-time blocks this season, and that came playing high-level SEC competition and two playoff games. He was consistently excellent when he wasn't pancaking guys, too, and should be a steal wherever he lands on Day 2.
McNeil made Bruce Feldman's Freaks List last summer and lived up to that billing on the field during the fall. The 320-pound nose tackle led all Power 5 interior defenders with a 92.1 run-defense grade this past season; he didn't face a center who could take him off the line of scrimmage one-on-one. While he's still raw, it's encouraging that he's producing on a football field despite that.
The 74.7 grade may not sound impressive, but if you take it back to the beginning of 2019 when Bolton took over as the starter, his 91.2 overall grade is easily the highest of any Power 5 linebacker who played both seasons (Micah Parsons' 91.6 from 2019 has him beat). In fact, the next closest in the draft class is Auburn's K.J. Britt at 81.8. Bolton doesn't have quite ideal physical tools, but he has more than enough to be a quality middle linebacker in the league.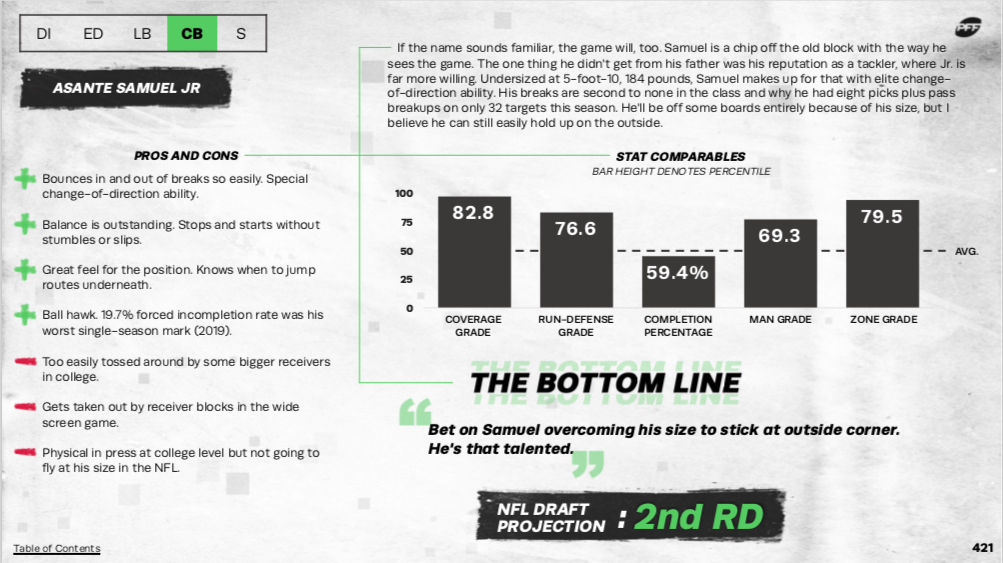 Cornerbacks at every single lever of football were under fire this past fall, but Samuel still managed to come out unscathed. His 82.8 coverage grade was the eighth-highest among all starting cornerbacks in college football. He allowed a passer rating of 46.2 in his coverage all season, giving up only seven first downs and one touchdown all year. With similar instincts and athleticism to his father, Samuel seems a safe bet to overcome his small stature.
Washington was another player whose 2020 grade may not look exceptional, but it's his body of work over his career that puts him over the top. His 90.8 grade since the start of 2019 trails only TCU teammate — and PFF's top-ranked safety — Trevon Moehrig. Washington may not have the size, at 5-foot-8, 179 pounds, but he does have the explosiveness, as he too was a member of the Freak's List last summer.
While Moehrig may have more splash plays, Washington wasn't even given the opportunities by opposing quarterbacks, who were often scared to throw his way. Over a career that spanned 601 coverage snaps, Washington gave up only 16 catches on 37 targets for 172 yards.