• Round 1, Pick 3: WR Marvin Harrison Jr., Ohio State — With Caleb Williams and Drake Maye now projected to go off the board early, New England takes the best non-quarterback in the draft.
• Round 2, Pick 35: QB Jayden Daniels, LSU — A quarterback change for the Patriots seems all but certain, and Daniels has earned an elite 91.2 passing grade in 2023.
• Draft and trade for yourself: Try PFF's mock draft simulator — trade picks and players and mock for your favorite NFL team.
Estimated Reading Time: 4 minutes
---

The New England Patriots are in an unfamiliar position. It's been more than two decades since they have picked in the top five of a draft. Things are very different from the Tom Brady years, and there is a lot that needs to improve for the 2-8 Patriots. Here is a 2024 five-round mock draft to kickstart that.
---
As much as Patriots fans might think it is quarterback or bust with the team's first-round pick, the math doesn't add up. If they don't hold a top-two selection — they currently have the No. 3 pick — then quarterbacks Caleb Williams and Drake Maye will most likely be off the board. As of right now, I don't see them reaching for QB3 at this spot.
Instead, they'll have their pick of the best non-quarterback, and it's a good year to be in that position. New England needs offensive line help, and Penn State's Olu Fashanu or Notre Dame's Joe Alt would be worthy top-five selections. But, positional importance aside, Marvin Harrison Jr. would likely be the consensus No. 1 player on big boards for this draft cycle. If the Patriots can get him, he would be the most talented receiver in New England since Randy Moss.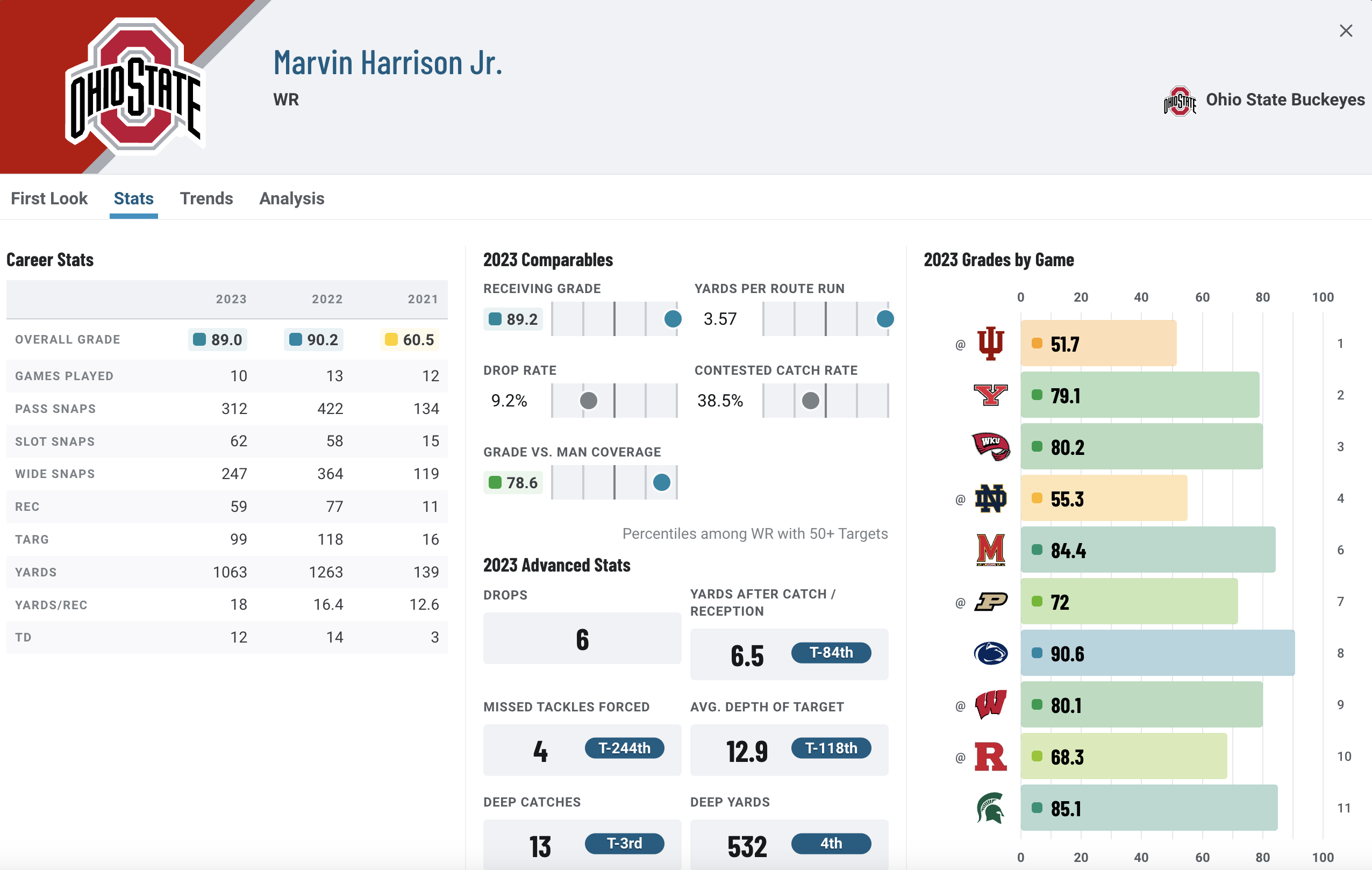 ---
Daniels is putting on a show in 2023. He has recorded an elite 94.6 overall grade with a 91.2 passing grade and a 92.0 rushing grade. Among FBS players, running backs included, Daniels ranks 11th in rushing yards (1,028), all while placing third in total passing yards (3,163). He is second to only Drake Myae in big-time throws (27), yet he still has a low turnover-worthy play percentage (2.4%), building on how well he took care of the ball in 2022.
There is certainly a world where Daniels doesn't make it to the top of the second round. But the Patriots should be interested in this dynamic, dual-threat quarterback, regardless of how much his draft stock swings.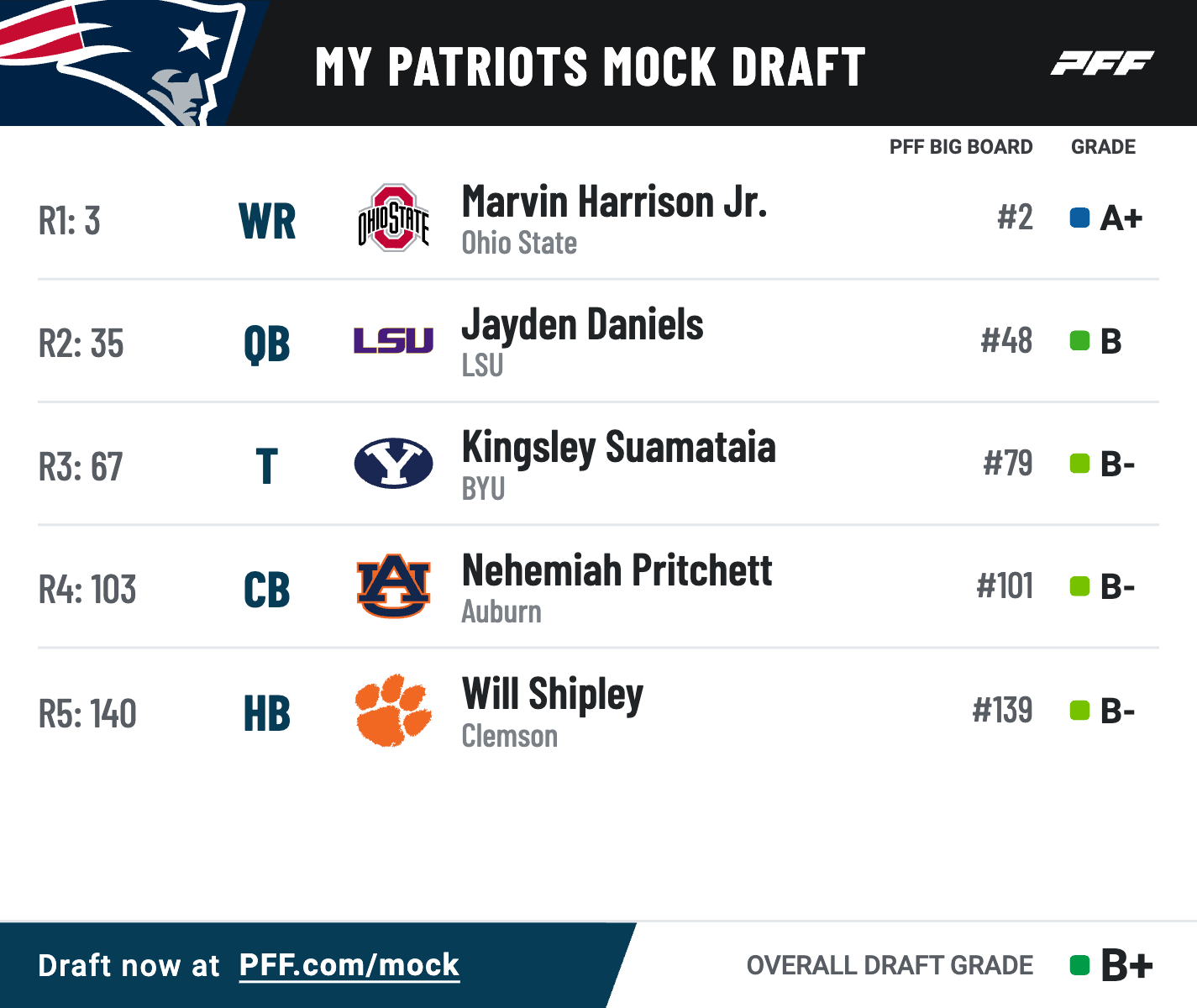 ---
It felt odd not giving the Patriots an offensive lineman with one of their first two selections, but hopefully it's understandable through the above analysis.
In the third round, pickings are slim for starting-caliber offensive line talent. Even so, Kingsley Suamataia is an easy choice. Suamataia is a former five-star offensive lineman who moves very well despite his 6-foot-6, 325-pound frame. He could end up going higher than Pick 67. But, there are still inconsistencies in his game, especially in run blocking. While his lack of mastery might bring him back to BYU for one more season, even what he is showing now would make him a good player to draft and develop.
---
Pritchett missed some time earlier this year due to injury and is flying under the talent radar. He has good length for an outside cornerback at 6-foot-1. He is also allowing a catch on just 35.3% of the targets into his coverage. After the Patriots drafted Christian Gonzalez in the first round last season, cornerback won't be a Tier 1 need, but getting another defensive back in the middle rounds wouldn't be a bad idea.
---
The Patriots have Rhamondre Stevenson as their starting running back, but we all know you need more than just one back to make for a truly effective running back room. Shipley was considered a Day 2 pick coming into the season and may end up still being that, but he has posted career lows in missed tackles forced and yards after contact in 2023, two important stats that help separate a running back's individual ability from their offensive line.
That doesn't mean the all-purpose back isn't a good player, but his draft stock might be that of a mid-rounder. Still, as a talented receiver, Shipley has seen more than 30 targets in each of the past two seasons, a role that could pair well with Stevenson.